Chicken is a family favorite for dinner. It has a pleasant mild flavor that even picky children love. Chicken is also reasonably priced so it's a great option for a tight budget. If you eat chicken multiple times a week, it can get boring fast! We love combining chicken with pasta for a wallet friendly meal. We collected the top 8 chicken pasta dishes, submitted from Half Hour Meals users, including the famous cheddar bacon ranch chicken pasta.
*Click on the image to view the full recipe.
8. Chipotle Chicken Alfredo
A classic Italian dish gets a Mexican make-over in this creamy, spicy pasta dish. Here's a tip for working with chipotles in adobo: puree the entire can at once, and freeze individual portions in ice cube trays. Whenever a recipe calls for chipotle in adobo puree, pop out a cube and add it directly to the dish!
7. Chicken and Spinach Meatballs
Group chicken is a great alternative to ground beef. It is lower in calories, lower in fat, and lower in cholesterol. It can get quite dry, so be sure to include moist ingredients. The spinach in this recipe adds a great flavor and vitamins, but it also keeps the meatballs really moist.
6. Chicken and Broccoli Pasta
The star of this recipe is the sauce. It's a cheese sauce, but it's made with white wine and chicken broth rather than milk, so it's not heavy at all. The roasted garlic adds a rich, deep flavor. Toss in some chicken and broccoli, and you have one decadent pasta dinner!
5. Chicken Spaghettini with Capers
This refreshing dish is packed with flavor and will give your taste buds a kick! It's a personal favorite way of eating pasta. Lemon zest and juice gives a great acidic flavor to the dish and pairs beautifully with the salty Parmesan and capers. Spice it up with chili flakes.
4. Fancy Macaroni and Cheese
This mac and cheese is about as far from the blue box stuff as you can get. The sauce is a decadent combination of garlic and herb cheese and cream, with chicken and bacon stirred in at the end. Add some fresh rosemary, and it's downright heavenly. A delicious indulgence!
3. Pumpkin Macaroni and Cheese Casserole
Pumpkin is a great addition to recipes because of its vitamins and minerals. It also has a wonderful savory/sweet flavor that pairs with many different ingredients. This recipe uses canned pumpkin as a sauce for the macaroni and cheese. Be sure you get the pure canned pumpkin and not pumpkin pie filling!
2. Greek Grilled Chicken Orzo Salad
In this recipe, orzo pasta is combined with grilled chicken, fresh vegetables, and a dressing that is both tangy and sweet. Try adding fresh spinach or using sundried tomatoes instead of cherry. This is a light, healthy, and delicious lunch or dinner!
1. Cheddar Bacon Ranch Chicken Pasta
Chicken, bacon, and ranch dressing together are a favorite culinary trifectas. In this creamy, flavorful pasta dish, they're combined in a cheesy sauce for a quick and delicious dinner. This is one of the most popular recipes of all time on Half Hour Meals! We hope you love it too.
Ravioli is a great weeknight meal idea. Not only is it filling and delicious but the leftovers are great for work or dinner the...
Vegetarian dishes can be boring. It seems that all recipes are made for meat eaters.
Our spring celebration continues today with 13 amazing pasta dishes using fresh fruits and  vegetables that will keep your family...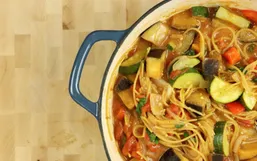 This was actually my first recipe attempt at making a pasta dinner, completely in one pot.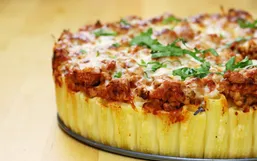 Forget traditional pasta casseroles! With the noodles standing upright, the sauce and cheese bake down into the pasta making each...
Pasta is a popular meal choice for many families because it's easy-to-make and relatively inexpensive.
Pasta is a family favorite meal. You can create infinite number of unique dishes with pasta.
Busy weeknight dinner can be hectic. Instead of ordering takeaway food, why not try one of these pasta dinners?
Garlic bread has long time been a best friend of pasta dinners.
Carb-filled foods are hard to give up. For many of us, they act as comfort foods.
Noodle dishes make for some of the most comforting meals. The awesome thing about them is that they can come in many shapes,...
Planning a special gathering this spring or summer? The prettier the food it, the more delicious it tastes.