Christmas is the perfect time of year to reconnect with family and friends. It's time to take a few days off and just relax with your loved ones. We love Christmas parties and throwing intricate dinners together, but you don't want all that work at Christmas. We found 12 great Christmas appetizer ideas that are quick, easy and – most importantly – taste wonderful. Don't slave away in the kitchen this holiday season – check out these fast and fabulous appetizer recipes below:
Related Topics (Ads):
1. Shrimp Cocktail
One of the classiest appetizers to serve at any dinner party is a shrimp cocktail. The shrimp mixed with the cocktail sauce and brine is guaranteed to be a crowd pleaser every single time! Serving it in perfectly portioned cocktail glasses is also guaranteed to earn you points for presentation. If you want to make shrimp cocktail for Christmas, check out this recipe from the Food Network.
The recipe yields four servings with homemade brine and cocktail sauce. Its sauce uses just half a cup of prepared chilli sauce that will provide a bit of heat, perfectly balanced along the other seasoning. You can make the sauce ahead of time and leave it in the fridge until it's to serve.
2. Eggplant Appetizer
Whether or not your dinner guests are vegetarians, they are guaranteed to love this grilled eggplant appetizer. The grilled slices are paired with tomato, garlicky mayo parmesan sauce, and fresh herbs that will leave people looking for seconds (maybe even thirds if there's any left). This recipe makes anywhere from 10 to 15 servings in less than half an hour.
To get started, slice the eggplants and toss it with olive oil, salt, and pepper. You can choose to grill fry, or bake the eggplants for about five minutes. Then, mix together the garlic parmesan mixture and spread it onto the eggplant slices on a plate, along with a tomato slice. You can make this dish ahead of time and serve cool.
3. Red Pepper Goat Cheese Spread
Goat cheese is tasty enough on its own, but why not take 10 minutes to make it even better? You can take your goat cheese spread to the next level simply using honey, pink pepper, and fresh thyme leaves. This recipe says to begin by spreading the cheese into a small ramekin or gratin dish.
Once the dish is prepped, drizzle the cheese with honey. Sprinkle it with a mix of whole and crushed pink pepper. Top it off with some thyme and bake it in the oven for about 10 minutes. The cheese should be warm and soft throughout. Serve it with some crackers or sliced baguette for dipping!
4. Mozzarella Basil and Tomato Skewers
Looking for something vegetarian, gluten-free, and low-carb to serve up in just half an hour? Then check out these mozzarella basil and tomato skewers. It combines tomatoes, rich cheese, basil, and other Italian flavors to make an appetizer that's perfect for the holidays. This recipe can be complete in just four steps and yields 16 individual servings.
Simply combine the olive oil, balsamic vinegar, salt, and pepper in a bowl. Marinate the mozzarella in this dressing for about 30 minutes. You can then add the tomatoes, basil, and mozzarella onto the skewers. Not only will these taste delicious, but its Christmas colors will look great arranged on a platter.
5. Tiny Tomato Tarts
There's nothing quite like bite-sized appetizers to serve up during the holidays. You're guaranteed to have even potions and they can easily be munched on by guests without cutlery! These tiny tomato tarts deliver on this with ease and can be made in just 30 minutes.
No need to make your pie crusts by scratch. Pick up a refrigerated pack at the grocery store and roll out 24 servings before baking them in the oven. While that's cooking, you can prep the tomato filling. Its flavor is infused with mayonnaise fresh basil, and three different types of cheeses that will instantly melt in your mouth with each bite.
6. Cranberry Blue Cheese Puffs
Nothing quite screams "the holidays" more than cranberries. This flavorful fruit can be used in so many different recipes, including these cranberry blue cheese puffs. This Pilsbury recipe creates 16 perfectly portioned servings in just 32 minutes. It's also a make-ahead appetizer that can save you time on the day of your dinner party.
The recipe has you create a spread with chive and onion cream cheese, egg, blue cheese, and cranberry sauce. You fill up your muffin pie crusts with the spread and bake in the oven until they appear a light golden brown. If you're looking to give these puffs an extra crunch, add some chopped walnuts on top.
7. Bruschetta
Would it be a dinner party this Christmas without serving up bruschetta as an appetizer? These crunchy, garlicky, and tomato-topped baguette slices are beloved for a reason. Not only can it be made quickly, but one baguette can make 30 to 40 servings — which is great for those hosting extra guests this holiday.
Start by toasting the bread until the pieces are golden and crispy. In the meantime, mix together the cream cheese, feta, lemon juice, and pepper. You will also have to mix the tomatoes and seasoning ingredients separately. Once that's all done, add a spoonful of the cheese spread to each piece and top with the marinated tomatoes.
8. Feta and Prosciutto Rolls
With just four ingredients and 10 minutes of your time, you can whip these feta and prosciutto rolls in a jiffy. You can also make these rolls ahead of time and refrigerate the platter until an hour before you need them.
All you have to do is slide the prosciutto into one inch strips and cut the feta into one-inch long matchsticks. Lay out the precipitate strips with a leaf of basil and stick of feta on top. Roll the prosciutto to the other side and you're done! To serve, place them on a platter and drizzle with olive oil.
9. Goat Cheese and Red Pepper Pesto Crisps
Another bite-sized finger food that is sure to be a crowd pleaser are these goat cheese and red pepper pesto crisps. It's so easy to make and the flower-like presentation will definitely earn you some compliments from guests. This recipe uses some mouthwatering ingredients and makes 14 servings.
From roasted red peppers to Parmigiano Reggiano cheese to Italian parsley, each bite will have a burst of flavor. You will need to have a food processor or blender to mix the filling. Once that's done, you can add the cream cheese, parsley and roasted red pepper mixture into each cup. The last step has you pipe a small dot of pesto in each cup to complete your flower appetizer!
10. Baked Cranberry Brie
Something you'll almost always find on the appetizer table is brie. But how can you step up this classic cheese for Christmas? Add some cranberry! This recipe tops the baked brie with cranberry sauce and melted butter, instantly turning it into a holiday dish.
After adding melted butter to the layered pastry sheets, you can place the brie in the middle. Coat it with the cranberry sauce and twist the edges to enclose the cheese. The preparation takes minutes to make and only cooks in the oven for 20 minutes. Let the baked brie sit for 20 minutes before serving and bon appetit!
11. Roasted Asparagus Wrapped With Serrano Ham
Do you have 20 minutes to spare on Christmas Day? Then you have enough time to make this roasted asparagus wrapped with serrano ham recipe. It has three ingredients seasoned with salt and pepper, making it another low maintenance appetizer to serve up guests this holiday.
Simply place the asparagus on a baking sheet and drizzle on some olive oil, followed by salt and pepper. Let it roast for about 12 minutes and then let them cool off. You're then able to wrap each asparagus with half a slice of ham. It's super easy and is a great finger food for friends and family to munch on before the main course.
12. Crockpot Drunken Bourbon Whiskey Meatballs
Put your crockpot to good use on Christmas Day by following this Forkly meatball recipe. The frozen meatballs are cooked to perfection and become irresistible once its covered in the homemade bourbon whiskey and Worcestershire sauce.
No need to use a ton of dishes to cook this up. Simply toss all the sauce ingredients into your slow cooker and mix it together until smooth. Add the frozen meatballs, mix well, and cook on HIGH for one hour. You will then reduce to LOW heat for one to two hours, depending on the size of your meatballs. Serve them individually on a platter with toothpicks or leave them in the crockpot to serve!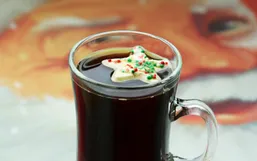 During the holidays, depending on where you live of course, it often involves gathering around with warm beverages in hand.
There's something...well...magical...yes, Christmas magical about a Reese's Peanut Butter Cup.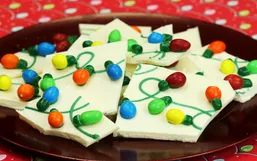 Chocolate barks are my absolute favorite go-to for large batch treats you can store for weeks and hand out as needed to neighbors,...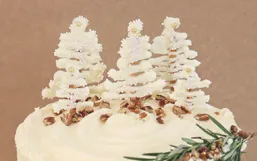 Last year, we created these adorable festive Christmas Tree Brownies, and well...the video recipe for them went viral overnight!
The holidays are known to be the hardest season of the year in terms of the age-old battle of the bulge.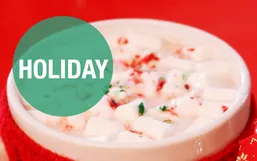 It's that time of year, the season of giving. It's magical and wonderful - and oh, don't forget the mailman!
The centerpiece for your Christmas dinner is a great turkey or ham, but the side dishes are just as important.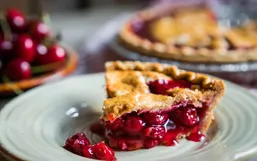 Christmas pies are a delicious addition to the holiday season. While we love the classic pumpkin pie, there are a ton of other...
A Christmas cake is the centerpiece of your holiday meal. After you're stuffed with turkey and all the fixings, the only thing...
Decorating the tree always gets me into the mood for the holidays. As soon as the tree is up I'm in full force Christmas mode.
So you've volunteered to host Christmas dinner this year. The initial voluntary statement may have sounded exciting but if you...
When the holidays roll around the first order of business is setting up the Christmas tree and decorations.