Christmas pies are a delicious addition to the holiday season. While we love the classic pumpkin pie, there are a ton of other fantastic ideas. We have discovered 15 unique and delicious pies you could make for Christmas this year. We've included a few classics, as well as some you may have never thought of. Get your apron on because you'll be baking up a storm once you check out these recipes!
Related Topics (Ads):
15. Salted Caramel Apple Pie
Apple pie is a holiday classic that you can't go wrong with. This recipe in particular takes your classic apple pie recipe and gives it a delicious makeover. This pie contains hints of salted caramel and will surely be the talk of your dinner party. Everyone will be begging for the recipe! It also happens to be vegan-friendly, great for allergies and dietary restrictions!
This recipe will take about 25 minutes to prep and 45 minutes to cook. The result will be drool-worthy sweet apple pie filled with delicious salted caramel. Top with a dollop of vegan ice cream and enjoy!
14. Cherry Pie
Cherry pie is another holiday classic that never fails to impress. Sweet cherry pie filling and a flaky crust, what is not to like? This recipe will walk you through detailed instructions on how to create this pie starting with the delicious crust.
While cherry pie may initially seem like an intimidating dessert to make, you'll be relieved to know this recipe is actually quite simple and only requires a few ingredients. For the crust you'll need all-purpose flour, butter, salt and sugar. For the cherry pie filling you'll need cherries, sugar and cornstarch. Serve and enjoy this holiday season!
13. Pumpkin Custard Pie
Many associate pumpkin pie with Thanksgiving and the fall season, but this comforting dessert can definitely be served at Christmas too. It's light, creamy and spiced with delicious cinnamon flavors. This particular pumpkin custard pie is a great option for Christmas since you can make it ahead of time for stress-free holiday entertaining.
This may be a crustless recipe but once you taste it you won't even think about what you're missing. An added bonus: since it doesn't require any pie crust, this means it's a a great low-carb dessert option. Serve with a dollop of whipped cream and enjoy!
12. Cranberry Cream Pie
Cranberries always remind me of the holiday season so naturally adding them into a dessert is a great idea. This non-traditional holiday pie is a refreshing break from regular desserts. You can make this pie quickly with store-bought cranberry sauce and graham cracker crust, or spend extra time making those from scratch.
Many of the ingredients for this simple cream pie recipe you likely already have around the house, which is a huge bonus. This recipe can also be made ahead of time which definitely eases some of the holiday stress. Top with sliced almonds, serve and enjoy! Your guests will love this recipe.
11. Chocolate Raspberry Cream Pie
This raspberry chocolate custard pie is rich, yet light in texture. The layers are not only stunning and vibrant but they're delicious too. This may be unlike the traditional pies you serve on Christmas, but that's what makes it unforgettable. The combination of chocolate and raspberry is both sweet and tart, and the custard adds a delicious creamy texture.
To make this recipe you'll need a cooked pie crust, dark chocolate chips, cream cheese, sugar, heavy whipping cream, and raspberry Jello. Be sure to also purchase some fresh raspberries, whipped cream and chocolate curls for garnish. Your guests will be so impressed with this recipe.
10. Rhubarb Orange Meringue Pie
Tart pies work brilliantly with sweet meringue. Think about lemon meringue pie. It's a wonder why we don't add meringue on top of other pies. This recipe uses it with a tart rhubarb and orange filling. In the winter, look for frozen chopped up rhubarb in your grocer's freezer section.
This rhubarb meringue pie is perfect to serve during the holidays with its beautiful flavors of orange zest, cinnamon and ground ginger contrasted with a light and fluffy meringue. You can also make this recipe using a frozen pie crust to save yourself some time and still get a delicious final result.
9. Easy Banana Cream Pie
Ever since I was little I've always loved the flavor of banana, especially in desserts! Try something different this Christmas by whipping up this easy banana cream pie. The fluffy center will melt in your mouth and the flavor will have you asking for seconds.
It's a super quick and easy recipe to make since it uses a store-bought crust and instant banana pudding. The only other ingredients you'll need are milk, cool whip and bananas. This recipe is very straightforward but the result is insanely delicious! Be sure to top with the remaining whipped topping and garnish with banana slices.
8. No Bake Chocolate Pecan Pie
Are you used to making traditional pecan pie for the Christmas dessert? Try a unique recipe this year that puts a fun twist on a classic. It's a no-bake recipe that contains enticing layers of chocolatey goodness and savory pecan pie filling.
The beauty of this recipe is that it requires no oven space, which is a huge bonus during the holidays when you're cooking so many dishes at once. Since its no bake, it can also be made up to a week or two in advance! Velvety chocolate cheesecake paired with sweet pecan pie filing, what could be better?
7. Salted Caramel Apple Cheesecake Pie
Pecans, sweet apples and salted caramel all wrapped up into one delicious cheesecake pie, sounds amazing! This drool-worthy recipe combines many crowd-favorite flavors and transforms them into an unforgettable dessert.
This pie starts with a graham cracker crust that sits beneath a delicious cheesecake layer alongside caramel, pecans, and apples. It's topped with fresh whipped cream and more caramel and pecans for a fabulous layered dessert. If this recipe seems intimidating for you, there are a few steps you can take to simplify the process. An easy one would be to substitute store-bought caramel sauce for the homemade salted caramel.
6. Apple Pie Bites
Don't have time to whip up a whole apple pie from scratch? No problem! Instead, create these adorable and tasty apple pie bites. The best part about this recipe? It only takes a few minutes to make which means it's quickly ready for you and your dinner guests to enjoy! Even better yet, you'll only need a few simple ingredients to put it together.
To make this recipe you'll need light brown sugar, apple pie spice, unsalted butter, chopped pecans, Granny Smith apples and one tube of Pillsbury Original crescent rolls. Serve with vanilla ice cream and/or caramel syrup!
5. Candy Cane Pie
There are always candy canes hanging around the house during the holiday season, so why not gather them up and turn them into a delicious dessert? This recipe takes a Christmas classic, candy canes, and turns those flavors into an exciting pie. This candy cane pie contains flavors of vanilla, chocolate and of course, peppermint.
This dessert is another no-bake recipe which is perfect for saving on highly coveted oven space while hosting. The crust is made with crumbly Oreo cookies and white chocolate ganache is used as a topper. This tasty Christmas dessert will be the talk of your next holiday party!
4. Easy Key Lime Pie
Add a dessert that is overflowing in vibrancy this Christmas. This key lime pie recipe is so easy it only requires 4 simple ingredients and no eggs! It's light in texture and fresh and tangy in flavor. This will be the perfect light dessert that your guests will appreciate after the big holiday feast.
To make this recipe you'll need sweetened condensed milk, sour cream, key lime juice, and whip cream. The recipe takes less than 30 minutes to make and can easily be made in advance, which is a huge bonus while hosting during a stressful season. Serve and enjoy!
3. Lemon Meringue Pie
Along with key lime, lemon meringue pie is irresistibly delicious and fresh. Its vibrant color will draw all kinds of attention and the tangy flavor will leave you wanting more. Add this pie to your dessert table for a fun variety. It's a lightweight treat that all your guests will be able to make room for following the big Christmas meal.
Flaky pie crust paired with tangy and fluffy lemon meringue — what could be better? This recipe also provides all the tips and tricks you'll need to make a weep free meringue, which is quite a difficult skill to achieve.
2. Pumpkin Pecan Pie
Combine two traditional favorites: pumpkin pie and pecan pie. Then transform them into one delicious dessert. When you bake this pie in the oven, the smell alone will lure all your guests into the kitchen. Who says pumpkin should only be served at Thanksgiving? The warm flavors of cinnamon and caramel are perfect for the holiday season as well.
You can make this recipe as simple or intricate as you'd like by either buying a store bought crust or making one from scratch. Top each slice with a dollop of whipped cream or a scoop of vanilla bean ice cream!
1. Vegan Mini Pecan Pies
Instead of baking a full pie, you could create fun little mini pies for each guest this holiday season. This is a pecan pie recipe that gets a vegan makeover! The pie bites are naturally sweetened with maple syrup and coconut sugar — even the non-vegans won't notice a difference. These are the perfect make-ahead dessert for holiday get togethers or a great idea to give out instead of traditional Christmas cookies.
To make this recipe you'll need a vegan piecrust, raw pecan halves, vegan shortening or butter, flour, water, maple syrup, coconut or brown sugar, salt and vanilla extract. Serve and enjoy!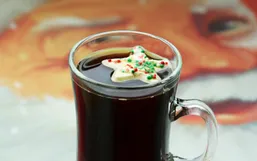 During the holidays, depending on where you live of course, it often involves gathering around with warm beverages in hand.
There's something...well...magical...yes, Christmas magical about a Reese's Peanut Butter Cup.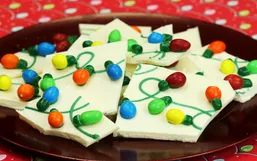 Chocolate barks are my absolute favorite go-to for large batch treats you can store for weeks and hand out as needed to neighbors,...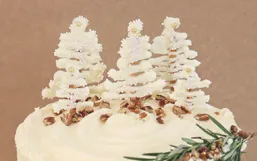 Last year, we created these adorable festive Christmas Tree Brownies, and well...the video recipe for them went viral overnight!
The holidays are known to be the hardest season of the year in terms of the age-old battle of the bulge.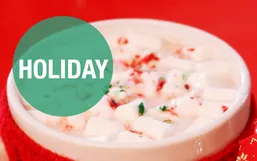 It's that time of year, the season of giving. It's magical and wonderful - and oh, don't forget the mailman!
The centerpiece for your Christmas dinner is a great turkey or ham, but the side dishes are just as important.
A Christmas cake is the centerpiece of your holiday meal. After you're stuffed with turkey and all the fixings, the only thing...
Christmas has this tendency to sneak up on us each year. It approaches at a fast rate and before we know it the big day has...
So you've volunteered to host Christmas dinner this year. The initial voluntary statement may have sounded exciting but if you...
When the holidays roll around the first order of business is setting up the Christmas tree and decorations.
Snacks are crucial for everyone. They keep us full in between meals and quench our cravings.