Christmas has this tendency to sneak up on us each year. It approaches at a fast rate and before we know it the big day has arrived. Counting down the days is fun on its own but make it more enjoyable with an advent calendar!
Related Topics (Ads):
You could go to the store and buy an advent calendar with tiny chocolates or you could create one of these amazingly unique and fun DIY advent calendars. We have searched for some of the best DIY advent calendars that you and your family can make together. Or consider making one for your food-loving friend or family member and gift it to them! Each day they get to experience a fun little treat that they can indulge in. Now, let's get crafting!
1. Beer-y Christmas Advent Calendar
Attention all beer lovers, this advent calendar is calling your name! We have created an extremely fun beer-y Christmas advent calendar and we're going to show you how you can easily create one yourself.
We'll provide you with free printables and easy to follow instructions. The advent calendar is made up of repurposed pringle cans and decorated perfectly for the holidays. Once your calendar is assembled you can fill them with beer cans of your choice. You could also create this advent calendar for wine-lovers and fill each tube with a mini bottle of wine!
http://www.forkly.com/recipes/beer-y-christmas-advent-calendar/ PHOTOS AND RECIPE HERE: FORKYL
2. DIY Advent Calendar From A Shoe Organizer
I love how creative this idea is. Transform an everyday item like a shoe organizer into an exciting advent calendar. This tutorial will walk you through how to decorate the shoe organizer and the best part is because it's generic you can use it year after year.
If you don't have a white shoe organizer on hand, we've provided a link to get one. Once the calendar is complete you can buy your family's favorite treats and snacks or whatever other food items you all love. Wrap up the treats with wrapping paper and enjoy a new snack each day.
Shoe Organizer ? Buy it: https://amzn.to/2Qk9wgr
https://www.hometalk.com/6025217/diy-advent-calendar-from-a-shoe-organizer? PHOTO 1 AND TUTORIAL HERE: HOME TALK
PHOTO 2 BY: AMAZON
3. DIY Toilet Paper Roll Advent Calendar
We showed you how you can repurpose pringle cans for a beer advent calendar so now we're sharing another great repurposing idea. This blogger proves that you can turn something so ordinary like toilet paper rolls into a fun advent calendar too!
All you'll need for this calendar is toilet paper rolls, tissue paper, patterned paper to decorate and printed numbers. Fill the rolls with candies or any other favorite treats and your kids will love ripping open a new gift every day.
http://mindypitcher.blogspot.com/2011/12/our-countdown-to-christmas.html PHOTOS AND TUTORIAL HERE: MINDY PITCHER
4. Simply DIY Advent Calendar
I love how simple yet elegant this advent calendar is. It's so pretty it would look lovely hanging on your wall. All you'll need to create this calendar is an embroidery hoop, greenery, pine cones, wire, twine, and brown wrapping paper.
This tutorial will explain how to adhere the greenery and in no time you'll have a simple yet beautiful advent calendar created. Once again choose snacks or treats of your choice, wrap up and tie to the wreath with twine.
http://www.lapinblu.com/advent-calendar-v2/ PHOTOS AND IDEA HERE: LAPINBLU
5. DIY Branch Advent Calendar
This idea is similar to the last but perhaps even more simple. Instead of a wreath, you'll hang the surprises on a piece of driftwood or any branch of your choice.
Get creative with your surprises and mix it up. You could fill a bag with chocolates, candies, or possibly even a gift card to get a beverage. The options are endless and this is a great way to customize the surprises to your liking.
http://the-thud.com/diy-advent-calendar-pinterest-challenge-1/ PHOTOS AND IDEA HERE: THE THUD
6. Wood Advent Calendar
If you want to customize your advent calendar but you don't enjoy crafting then there is no need to worry we have got you covered too! We're including a link so you can buy an empty advent calendar.
This wooden box is beautiful and you'll be able to use it year after year. The fun thing about purchasing an empty advent calendar is you can fill it with whatever you like.
? Buy it: https://amzn.to/2yRafiA
PHOTOS BY: AMAZON
7. Reverse Advent Calendar
I love this reverse advent calendar idea and once you discover exactly what it is you will love it too! A reverse advent calendar is more about giving than receiving. This idea is simple but is a great way to give back this holiday season!
How it works is you'll set up an empty basket somewhere in your home. Then each day leading up to Christmas you'll place in one item for the food bank. Right before Christmas, you'll have a beautiful basket ready to gift to a family in need!
https://www.muminthemadhouse.com/reverse-advent-calendar/?utm_campaign=coschedule&utm_source=pinterest&utm_medium=Jen%20Walshaw&utm_content=A%20Reverse%20Advent%20Calendar PHOTO AND IDEA HERE: THE MAD HOUSE
8. DIY Booze Advent Calendar
This advent calendar would be an excellent gift for any liquor or cocktail-loving friend. This calendar gets an adult makeover and creates an exciting Christmas countdown.
The tutorial will walk you through how to create the calendar as well as provides free printables. Fill each box with mini-sized bottles of liquor and they can have a different cocktail every day until Christmas.
https://feastandwest.com/2017/11/22/booze-advent-calendar/ PHOTOS AND TUTORIAL HERE: FEAST AND WEST
9. Dog Treat Advent Calendar
Our furry best friends like to feel included too! Consider gifting your pooch a fun advent calendar that they can enjoy this holiday season.
In this tutorial, you'll find instructions on how to sew the little treat bags all the way to assembling the calendar. Place a doggy treat in each bag and then your furry friends can enjoy the holiday countdown with you!
https://suzyssitcom.com/2015/11/fun-to-make-doggie-advent-calendar.html?utm_source=feedblitz&utm_medium=FeedBlitzRss&utm_campaign=suzysartsycraftsysitcom PHOTOS AND TUTORIAL HERE: SUZY SITCOM
10. Tea Bag Wreath Advent Calendar
This tea wreath wasn't originally designed to be an advent calendar, however, it would certainly make for a great one. This would be a wonderful gift for any tea lover and it's quite easy to make.
Follow this tutorial to create a tea wreath! Then once it's assembled make sure you have 24 clothespins and 24 bags of tea! At random, number the tea bags from 1-24 and each day until Christmas they'll have a new flavor of tea to enjoy.
http://kojo-designs.com/2010/03/kojotutorial-tea-tea-tea-kitchen-wreath/ PHOTOS AND RECIPE HERE: KOJO DESIGNS
11. Tea Lover Advent Calendar
Another great tea-lover advent calendar idea would be to use these tin storage containers. You can fill them with a variety of loose leaf tea flavors. It's similar to David's Tea advent calendar but is budget-friendly.
To assemble the calendar fill each container with a tea of your choice and label the bottom of the container with the name of the flavor. You can either number the jars with a marker or use number stickers. Then store the containers in a cute box of your choice and you'll have a lovely gift to give in no time.
Tin Storage Jar ? Buy it: https://amzn.to/2Drn1bx
PHOTOS BY: AMAZON
12. Hot Drink Advent Calendar
Last but not least we're sharing a hot drink advent calendar. This gift would be great for any coffee-lovers or those who enjoy a hot drink. To build the advent calendar start with disposable coffee cups. We're linking a fun festive set that would be perfect for the holidays. However, it only comes as a set of 12 so makes sure to order 2.
Then, you'll want to fill the cups with any hot drink mix you think they would enjoy. Some great options would be different flavors of instant coffee, hot chocolate mix, mochas and so much more. Then you can either number the lids 1-24 with a marker or tie these beautiful wooden numbers around each cup with a ribbon. Place the cups on a tray and wrap it up for a lovely gift.
Christmas Coffee Cups ? Buy it: https://amzn.to/2RAv2h2
Wooden Advent Calendar Gift tags ? Buy it: https://amzn.to/2RE4F9X
PHOTOS BY: AMAZON
Forkly.com is a participant in the Amazon Services LLC Associates Program, an affiliate advertising program designed to provide a means for sites to earn advertising fees by advertising and linking to Forkly.com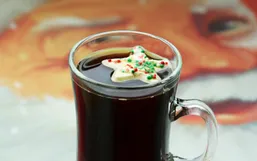 During the holidays, depending on where you live of course, it often involves gathering around with warm beverages in hand.
There's something...well...magical...yes, Christmas magical about a Reese's Peanut Butter Cup.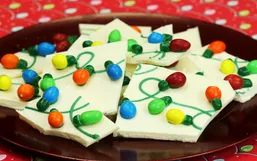 Chocolate barks are my absolute favorite go-to for large batch treats you can store for weeks and hand out as needed to neighbors,...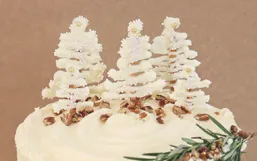 Last year, we created these adorable festive Christmas Tree Brownies, and well...the video recipe for them went viral overnight!
The holidays are known to be the hardest season of the year in terms of the age-old battle of the bulge.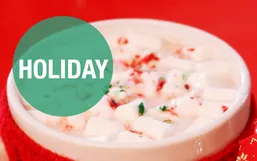 It's that time of year, the season of giving. It's magical and wonderful - and oh, don't forget the mailman!
The centerpiece for your Christmas dinner is a great turkey or ham, but the side dishes are just as important.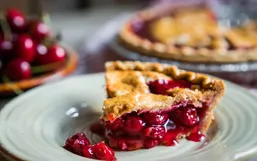 Christmas pies are a delicious addition to the holiday season. While we love the classic pumpkin pie, there are a ton of other...
A Christmas cake is the centerpiece of your holiday meal. After you're stuffed with turkey and all the fixings, the only thing...
So you've volunteered to host Christmas dinner this year. The initial voluntary statement may have sounded exciting but if you...
When the holidays roll around the first order of business is setting up the Christmas tree and decorations.
Snacks are crucial for everyone. They keep us full in between meals and quench our cravings.