A Christmas cake is the centerpiece of your holiday meal. After you're stuffed with turkey and all the fixings, the only thing left is to tuck into your cake! We love both the traditional fruitcakes, but there are some amazing modern options too. You can turn any of your regular cake recipes into a beautiful Christmas cake with some simple changes. Use red or green food coloring in your white icing to kick up the colors. If you make a plain chocolate cake, try topping it with crushed candy cane pieces. Your local cake decorating supply store will also have pre-made Christmas sugar decorations you can use on top.
Related Topics (Ads):
Check out our diverse list of the top 16 Christmas cake recipes that we have found for you!
*Click on the bottom link to view the full recipe.
16. Tie-Dye Christmas Wreath Cake
This beautiful cake is fun to make and intriguing to look at. Your kids with love helping you make it. Just take a white cake mix and divide it into three. Color one part red, one part green, and leave the last natural. Take turns layering the mixture into the pan. After it cooks, you'll get a wicked final product that will wow your guests.
http://www.cookingwithsugar.com/rainbow-tie-dye-christmas-wreath-bundt-cake/ PHOTOS AND RECIPE HERE: COOKING WITH SUGAR
15. White Christmas Tree Toppers
You don't have to have fancy baking skills to make a stunning Christmas cake! This idea shows you how you can create a few adorable Christmas tree toppers out of chocolate and pretzels to instantly upgrade any store-bought cake! It's so easy you have to try it.
http://www.forkly.com/recipes/white-christmas-tree-dessert-toppers/ PHOTOS AND RECIPE HERE: FORKLY
14. Cranberry Upside Down Cake
There's something so festive about cranberries. They have a beautiful red color, perfect for Christmas. They have a tangy tart yet sour flavor, and with the help of some sugar, they make a beautiful dessert. This cake really highlights the humble cranberry and gives it a French cake kick.
http://theitaliandishblog.com/imported-20090913150324/2009/12/11/cranberry-upside-down-cake-for-the-holidays.html PHOTOS AND RECIPE HERE: THE ITALIAN DISH
13. Christmas Fruitcake
This wonderful fruitcake gets its flavor from Marsala and brandy. It's topped with apricot jam and marzipan. You can find marzipan in tubes at your larger grocery stores or a baking supply shop. It's made from ground almonds and sugar and has a lovely nutty flavor. You can shape marzipan into almost any form.
https://seedtofeedme.blogspot.com/2011/11/christmas-cakes.html#axzz2Dx2wXUtO PHOTOS AND RECIPE HERE: SEED TO FEED ME
12. Peppermint Meringue Cake
This beautiful cake is a show stopper. Layers of cake and meringue are brought together with a fudge-like icing. Each bite will be chocolatey, chewy, and moist. Make this cake extra Christmasy by topping with crushed candy canes instead of the raspberries.
https://www.creative-culinary.com/peppermint-meringue-cake-chocolate-buttercream-frosting/ PHOTOS AND RECIPE HERE: CREATIVE CULINARY
11. Gingerbread Cake With Cream Cheese Frosting
Gingerbread houses always remind me of the holidays. It's a fun activity that children and adults alike can enjoy creating together. So take your gingerbread house making skills one step further and create this festive cake. A moist ginger cake is paired with a delicious cream cheese frosting.
https://livforcake.com/gingerbread-cake/ PHOTOS AND RECIPE HERE: LIVE FOR CAKE
10. Christmas Cranberry Pound Cake
Along with gingerbread, cranberries are also popularly enjoyed during the holidays! We often enjoy cranberries in a sauce for turkey dinner, in beverages and even use them for decor. Here, cranberries are in the pound cake and used on top for a garnish too. This luxurious pound cake contains sweet flavors of cranberry but also white chocolate.
https://omgchocolatedesserts.com/christmas-cranberry-pound-cake/ PHOTOS AND RECIPE HERE: OMG CHOCOLATE DESSERTS
9. Spiced Eggnog Cake
When eggnog hits the stores we know that the holiday season has begun. This beloved Christmas beverage is loved by so many. So why not take the flavors you love about a perfect holiday drink and transform them into a stunning cake you can enjoy during the holidays! This cake has a boozy touch from the spiked rum cake and is paired with a cream cheese frosting and white chocolate ganache.
https://livforcake.com/eggnog-cake/ PHOTOS AND RECIPE HERE: LIV FOR CAKE
8. Chocolate Chip Coffee Cake
This chocolate chip coffee cake is exploding with intriguing flavors such as sour cream, nuts, chocolate and of course, coffee! The wreath shape is simply created from a bundt pan. This won't take long to make and you can enjoy it Christmas morning or any time with friends and family during the holidays.
https://theviewfromgreatisland.com/chocolate-chip-coffee-cake-and-a-blog-award/ PHOTOS AND RECIPE HERE: THE VIEW FROM GREAT ISLAND
7. Peppermint Fudge Cake
Enjoy a fudgy chocolate cake smothered in a peppermint frosting. This blogger strategically only put peppermint flavor in the buttercream frosting to prevent an overpowering taste of peppermint. The cake looks stunning and each bite will remind you of the holidays.
https://www.bakedbyanintrovert.com/peppermint-fudge-cake/ PHOTOS AND RECIPE HERE: BAKED BY AN INTROVERT
6. Christmas Red Velvet Poke Cake
Red velvet cake would be perfect for Christmas because of it's vibrant color. This recipe requires simple store-bought ingredients and requires minimal effort to put together. The filling is made of a creamy vanilla pudding and you can garnish the cake with festive snowflakes and red and green sprinkles.
http://yummiestfood.com/christmas-red-velvet-poke-cake/ PHOTO AND RECIPE HERE: YUMMIEST FOOD
5. Santa's Belt Surprise-Inside Cake
A surprise cake would be an excellent idea for the holidays. It looks stunning untouched but once you cut into it, that's where the real surprise will be. This cake is a lot easier to create than you might think and requires just a few simple ingredients. Follow the tutorial so you can create your own fun surprise cake this Christmas!
https://iambaker.net/santas-belt-surprise-inside-cake/?utm_medium=social&utm_source=pinterest&utm_campaign=tailwind_tribes&utm_content=tribes PHOTOS AND RECIPE HERE: I AM BAKER
4. Festive Cranberry Orange And Walnut Cake
This cake would be another great option for Christmas. Garnished and filled with cranberries and flavored with zesty orange and bold walnuts. What I love about this cake is that it's simple, yet stunning. There aren't any extravagant frosting techniques needed here, instead, a frosted cranberry crown adds the perfect finishing touch.
https://www.supergoldenbakes.com/festive-cranberry-orange-walnut-cake/ PHOTOS AND RECIPE HERE: SUPERGOLDEN BAKES
3. Chocolate Cranberry Christmas Mini Cakes
Instead of making one cake to share why not create these mini cakes to share with friends and family this holiday season. This happens to be a vegan-friendly, nut-free and gluten-free cake. Although, don't worry the fantastic flavors will have you focusing on what's in it instead of what is missing.
https://nirvanacakery.com/chocolate-cranberry-christmas-mini-cakes/ PHOTOS AND RECIPE HERE: NIRVANA CAKERY
2. Christmas Vanilla Roll Cake
If you love simple and delicious cakes then you'll love this recipe. This sweet vanilla cake is rolled with a dreamy buttercream frosting and is topped with festive red and green sprinkles. Follow the recipe and discover how easy it is to put together.
http://atreatsaffair.com/christmas-vanilla-roll-cake-recipe/ PHOTOS AND RECIPE HERE: A TREATS AFFAIR
1. Vanilla Bean Pistachio Cake
A pistachio cake may not scream Christmas but you have to admit it is stunning and the soft green will fit in perfectly with your holiday decor. The fluffy vanilla bean cake is paired with an irresistible pistachio frosting. Garnish the cake with pistachio pieces and green rosettes.
https://tornadoughalli.com/vanilla-bean-pistachio-cake/ PHOTOS AND RECIPE HERE: TORNADOUGH ALLI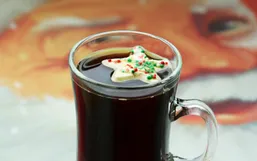 During the holidays, depending on where you live of course, it often involves gathering around with warm beverages in hand.
There's something...well...magical...yes, Christmas magical about a Reese's Peanut Butter Cup.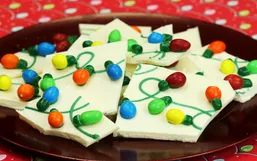 Chocolate barks are my absolute favorite go-to for large batch treats you can store for weeks and hand out as needed to neighbors,...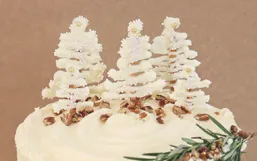 Last year, we created these adorable festive Christmas Tree Brownies, and well...the video recipe for them went viral overnight!
The holidays are known to be the hardest season of the year in terms of the age-old battle of the bulge.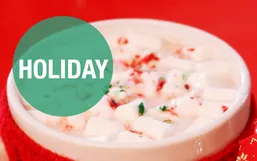 It's that time of year, the season of giving. It's magical and wonderful - and oh, don't forget the mailman!
The centerpiece for your Christmas dinner is a great turkey or ham, but the side dishes are just as important.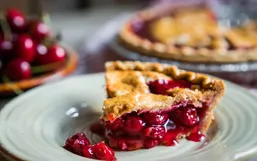 Christmas pies are a delicious addition to the holiday season. While we love the classic pumpkin pie, there are a ton of other...
Christmas has this tendency to sneak up on us each year. It approaches at a fast rate and before we know it the big day has...
So you've volunteered to host Christmas dinner this year. The initial voluntary statement may have sounded exciting but if you...
When the holidays roll around the first order of business is setting up the Christmas tree and decorations.
Snacks are crucial for everyone. They keep us full in between meals and quench our cravings.