'Tis the season for giving! Luckily, giving goes in hand with receiving with a holiday cookie exchange. This cookie swap has become a popular and convenient way to bake up a batch of your favorite Christmas cookies for sharing—and to come home with a sweet variety.
Related Topics (Ads):
We know Santa would give a jolly "ho-ho-ho!" if these eight festive cookie recipes made the cookie cut at your holiday cookie exchange…
1. Chocolate Ginger Crinkle Cookies
These chocolate ginger crinkle cookies are the definition of Christmas on a plate. The rich and chocolatey cookie is topped powdered sugar, which will look so festive during your next cookie exchange. Its addicting taste can be credited to the Dutch cocoa powder, chopped chocolate, and mix of ginger and cinnamon.
This recipe makes 40 cookies and takes about an hour and 15 minutes to whip up. While you typically might panic when cookies start looking cracked, the opposite is true for this recipe. You'll know they are properly baked once they appear spread and cracked. Top with powdered sugar for extra sweetness and enjoy.
2
2. Traditional Sugar-Cookie Cutouts
The sky is the limit when it comes to Christmas cookie decorating. You can let your creativity run wild and design cookies however you like! This is especially easy when you make sugar cookies. From snowflakes to presents to Christmas trees and beyond, sugar cookies can be rolled and cut into any shape or size.
This Martha Stewart recipe uses eight ingredients to make melt-in-your-mouth sugar cookies. The dough is easy to work with, giving you opportunity to shape it into anything using cookie cutters or a knife. The recipe also shares a two ingredient icing that can easily be dyed various colors to bring your Christmas vision to life!
3
3. Raspberry-Almond Linzers
Want to serve up some Christmas cookies with fruity flavor? Look no further than these raspberry-almond linzers. This recipe from Real Simple creates a shortbread-like dough, topped with raspberry jam and confectioners sugar. It's the perfect cookie to serve up at a Christmas tea party or cookie exchange!
This recipe, which yields 36 cookies, requires about one hour of hands-on working. The dough needs to be chilled for at least three hours. Once that's done, you can roll out the dough and bake in the oven. Make sure to let them to cool completely before adding the confectioners sugar and jam.
4
4. Stained-Glass Ornaments
Looking to make a Pinterest-worthy cookie that's almost too pretty to eat? Then you'll want to make these colorful stained-glass ornament cookies. The cookies are prepared with a sugar cookie dough and crushed candies to give it that delicate, glassy looking appearance.
If you think these edible masterpieces are tough to make homemade, think again! You start by prepping and chill the cookie dough like normal. In the meantime, crush the candy in a food processor to achieve a sand-like consistency. After making a hole in the dough, you can fill it up with the candy and bake in the oven. Easy peasy — and delicious!
5
5. Beurre and Sel Jammers
If you want to take your cookie baking game to the next level, then you have to try out this Beurre and Sel Jammers recipe shared by Bon Appetit. These are not your average cookies since they use muffin tins to create large portions that give it a gourmet-like appearance and taste.
There are two parts to this recipe: the cookie dough and the streusel. The dough is pressed into the muffin tins, followed by the jam and a tablespoon of streusel. This recipe yields 36 servings of flaky, rich, and sweet cookies that will leave your stomach feeling full and tastebuds satisfied!
6
6. Buckeyes
There's nothing like a cookie with peanut butter and chocolate flavor combination. It's a classic and guaranteed crowd pleaser, especially when you follow this buckeyes recipe from Real Simple. It yields 30 servings and takes just an hour and 15 minutes to make. Even better? It's a no-bake recipe that doesn't use the oven.
The first step is to make the actual cookie mixture, which includes the peanut butter. Roll the mixture into balls and let them freeze until firm. In the meantime, you can work on the chocolate mixture using the stovetop. Dip the cookie balls into the chocolate so about two-thirds it are covered. Refrigerate until the chocolate is firm and the cookies are ready to serve!
7
7. Butterscotch Gingerbread Cookies Recipe
Would it be the Christmas season without munching on some gingerbread? Serve up gingerbread with a twist this year by trying out this butterscotch gingerbread recipe from Taste of Home. It takes just 15 minutes of hands-on prep, 10 minutes of baking and yields a generous three dozen servings.
To get that butterscotch flavor, this recipe says to use cook-and-serve butterscotch pudding mix. After mixing all the cookie ingredients together, refrigerate the dough for an hour so it's easier to shape with cookie cutters. Bake the cookies until firm and once they cooled down, you can pipe on some icing for decoration.
8
8. Reindeer Cookies
Not only is cookie baking great for your tastebuds, but they can also be fun to look at! These reindeer cookies are a prime example of that. It elevates your typical peanut cookie with some details that really scream "tis the season" — and it couldn't be easier to replicate yourself. This recipe could also be a great way to have your kids help out in the kitchen.
It makes 36 cookies that are decorated before going into the oven. Once your cookie dough is rolled into balls and flattened, place two pretzels in the top corners for the reindeer antlers. Add two chocolate chips to the center for the eyes and an M&M on the bottom for the mouth. Cook for 10 to 15 minutes and they are done!
9
9. Dark Chocolate Candy Cane Cookies
Is there a candy more fitting for Christmas than candy canes? It's a classic sweet is one of the easiest to incorporate into cookie recipes. This dark chocolate candy baked good is especially tasty and will score you points for presentation at the cookie exchange.
Once the dark chocolate cookies are baked and cooled down, you can dip them into your choice of candy melts or white chocolate. Dip half the cookie in to achieve black-and-white look. While it dries, sprinkle the cookie with crushed candy canes and give it time to set. This recipe yields 36 cookies but can easily be multiplied to bake more.
10
10. Eggnog Cookies
Love it or hate it, eggnog is something you're guaranteed to be offered once the holidays roll around. Recreate the sweet, smooth and creamy taste of eggnog in the form of a cookie by following this cookie recipe. Its flavor is boosted through sprinkled nutmeg and half a cup of eggnog, which will definitely have people begging for more!
These cookies deliver a cakey texture that would taste great dipped in milk (or even eggnog). It takes just 20 minutes to prep, 23 minutes in the oven and yields 45 servings. You'll know the cookies are properly baked once they appear golden brown in color.
11
11. Snickerdoodles
Anyone looking for a low maintenance recipe to prepare for an upcoming cookie exchange should consider snickerdoodles. These cinnamon-sugar-coated pieces of heaven are soft, chewy and burst with melt-in-your-mouth flavors. The key ingredient to pick up at the grocery store is cream of tartar, which gives the cookie its distinct taste.
This recipe yields 20 cookies and takes about 15 minutes to make. It's a one-bowl recipe, so you don't have to worry about doing a ton of dishes after baking. You'll need to roll the dough into balls and cook them until it appears slightly golden brown. Make sure not to overbake or you risk losing that pillowy softness!
12. Hot Chocolate Cookie Cups
There's nothing quite like warm hot chocolate on a winter day. Incorporate this holiday comfort drink with cookies by making these hot chocolate cookie cups. It's made up of sugar cookie dough, chocolate fudge, and candy cane handles that you will be craving long after the holidays are over.
You'll need a mini muffin pan to prepare the cookies, which you can bake using pre-made dough. The chocolate fudge filling is pretty low maintenance and can be made using your microwave. Once both elements are ready, transfer the filling into a piping bag, fill each cookie and top with marshmallows.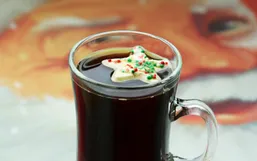 During the holidays, depending on where you live of course, it often involves gathering around with warm beverages in hand.
There's something...well...magical...yes, Christmas magical about a Reese's Peanut Butter Cup.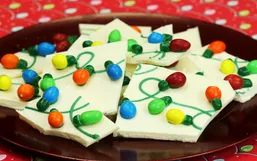 Chocolate barks are my absolute favorite go-to for large batch treats you can store for weeks and hand out as needed to neighbors,...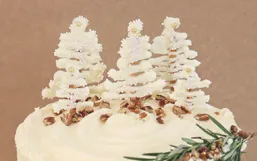 Last year, we created these adorable festive Christmas Tree Brownies, and well...the video recipe for them went viral overnight!
The holidays are known to be the hardest season of the year in terms of the age-old battle of the bulge.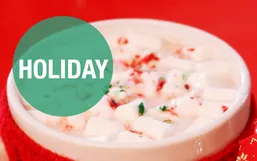 It's that time of year, the season of giving. It's magical and wonderful - and oh, don't forget the mailman!
The centerpiece for your Christmas dinner is a great turkey or ham, but the side dishes are just as important.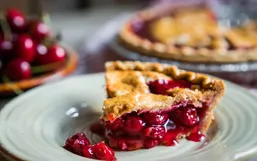 Christmas pies are a delicious addition to the holiday season. While we love the classic pumpkin pie, there are a ton of other...
A Christmas cake is the centerpiece of your holiday meal. After you're stuffed with turkey and all the fixings, the only thing...
Decorating the tree always gets me into the mood for the holidays. As soon as the tree is up I'm in full force Christmas mode.
So you've volunteered to host Christmas dinner this year. The initial voluntary statement may have sounded exciting but if you...
When the holidays roll around the first order of business is setting up the Christmas tree and decorations.