'Tis the season for giving! Luckily, giving goes in hand with receiving with a holiday cookie exchange. This cookie swap has become a popular and convenient way to bake up a batch of your favorite Christmas cookies for sharing—and to come home with a sweet variety.
Related Topics (Ads):
We know Santa would give a jolly "ho-ho-ho!" if these eight festive cookie recipes made the cookie cut at your holiday cookie exchange…
1. Chocolate Ginger Crinkle Cookies
Creamy milk chocolate meets the tangy, spicy taste of ginger in this deliciously crispy and chewy medallion-style cookie. Not only are this cookies impressive upon presentation; they taste just as sweet and mouth-watering as they look!
Source: Style At Home

2
2. Traditional Sugar-Cookie Cutouts
Santa and his reindeer would be proud seeing these traditional sugar-cookie cutouts stacked on a plate. They really do remind me of the cookies that my Nana always made for Christmas—warm, sweet, sugar cookie cutouts cookies cut into heartstring-tugging Christmas icons.
Source: Martha Stewart
3
3. Raspberry-Almond Linzers
Not only does the rich red raspberry puree make the perfect festive color in these delicious almond-Linzer delights—you can made a mélange of festive berry favorites with strawberry, cranberry, cherry, and more!
Source: RealSimple.com
4
4. Stained-Glass Ornaments
Beautifully-delicate for placing on your tree, but just as tempting for plucking off and devouring, these lovely stained-glass ornamental cookies are beyond basic decorations. The dainty opaque "glass" centers are made with crushed hard peppermint candies or candy canes for authentic winter-fresh cookie.
Source: Epicurious.com
5
5. Beurre and Sel Jammers
There's more than a fancy name to these impressive cookies.  The jam-filled centers can be filled with your choice of holiday jams, fruit preserves, nuts and dates, or even with cranberry sauce or mincemeat.
Source: CBC.ca
6
6. Buckeyes
In my books nothing goes better together than creamy peanut butter and bittersweet dark chocolate. These festive holiday balls are simple to make and absolutely irresistible to resist at a Christmas pot luck or for after dinner treat!
Source: Real Simple
7
7. Butterscotch Gingerbread Cookies Recipe
These classic gingerbread cookies will evoke memories childhood holidays past when you get a hearty whiff of the spicy gingerbread and decadent butterscotch. Get the kids to help you whip up a batch and create new family memories in your own kitchen.
Source: Taste of Home
8
8. Reindeer Cookies
These traditionally festive cookies don't have time for any reindeer games—despite their shape. You'll have as much fun making these cute cookies, with their candy eyes and pretzel antlers, as you will eating and sharing them with friends.
Source: iVillage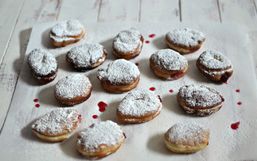 Aside from opening up a can each year when Thanksgiving rolls around, how often do you cook with cranberries?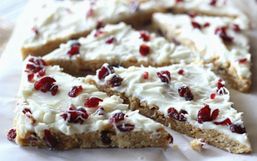 Call me eager but as soon as Halloween is over I'm ready for Christmas!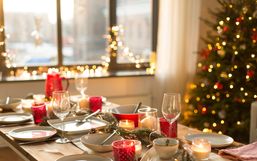 So you've volunteered to host Christmas dinner this year. The initial voluntary statement may have sounded exciting but if you...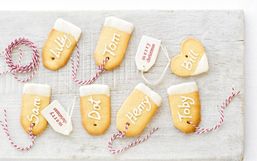 When the holidays roll around the first order of business is setting up the Christmas tree and decorations.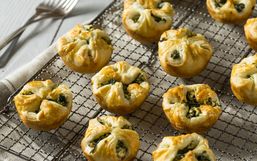 The holidays are the busiest time of year! There are countless Christmas parties, dinners, family gatherings, and potlucks.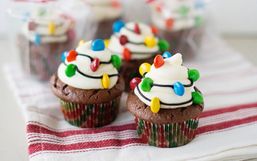 Cupcakes are relished all year round. You can enjoy them for birthdays, holidays, any celebration really, or to treat yourself!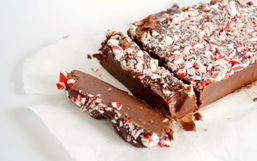 My favorite thing about the holidays is time spent with family, however, my second favorite thing has to be the delicious food!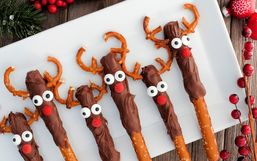 With Christmas coming, your children may be invited to bring food for their class Holiday party.
The holiday season seems to creep up on us each year.  After all, we're busy gift shopping, grocery shopping and preparing menus...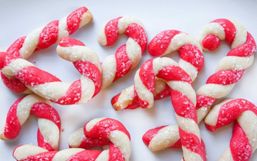 Looking for Christmas-themed food ideas for the annual office potluck party?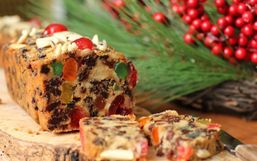 Rise and shine like a holiday star this Christmas morning when you get a whiff of these delicious and traditional holiday sweet...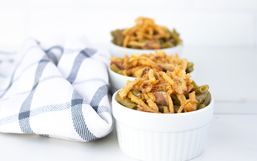 Do you love drool-worthy casseroles? Then get ready for a true treat!