Decorating the tree always gets me into the mood for the holidays. As soon as the tree is up I'm in full force Christmas mode. The fun thing about tree decorations is you have free range to do whatever you want and no one can judge you!
Related Topics (Ads):
Perhaps you've chosen a color theme for your tree, or possibly a fun theme for all your ornaments. Everyone decorates their tree differently and that is what makes this time of year so fun. If you're a lover of all things food then you need to check out these ornaments. They would even make excellent Christmas gifts for friends, family and secret Santa gifts for work too! The great thing about gifting an ornament is it can represent something significant that happened that year such as a new job, a favorite food etc. A little gift can hold a lot of meaning and that is what makes ornaments such great Christmas gifts. We dove deep to find you some of the most epic food ornaments ever!
1. Pickle
Are you a pickle-lover or do you know a pickle-lover? Then you need to check out this adorable glass ornament.
If you don't already know, a Christmas pickle has a bit of a history and stems from a German tradition. It is said that the pickle was the last ornament to be hung on the tree. Then, Christmas morning the child that found the pickle on the tree would receive an extra present. Whether you want to participate in this German tradition or not, a pickle would be a cute and a little funny contribution to the tree!
? Buy it: https://amzn.to/2SOD1Zn
PHOTOS BY: AMAZON
2. Pineapple
If you're like me and have jumped on the pineapple trend then you'll love this Christmas ornament. A glass blown pineapple with vibrant colors will stand out on your tree this year.
I love how a simple fruit has transformed into this trendy item! They're deliciously sweet and are adorable too! Get one for yourself or gift to another pineapple-lover!
? Buy it: https://amzn.to/2JJohHa
PHOTOS BY: AMAZON
3. A Dozen Donuts
Gift a dozen donuts for Christmas this year. Instead of donuts fresh from the bakery gift these donut ornaments that you can hang on the tree year after year. This set comes with 12 so you could give a couple away and save a few for yourself!
These donut ornaments are actually quite realistic. The donut itself is made out of foam material and is squishy to the touch. They're also decorated with life-like frosting and sprinkles. Everyone who sees this ornament will be blown away and will most definitely be tempted to touch it.
? Buy it: https://amzn.to/2PIwVLo
PHOTOS BY: AMAZON
4. Set Of 6 Cupcakes
These cupcakes would look lovely alongside the donut ornaments. Just like the donuts, these cupcakes have a realistic design and are also made from a foam material.
In this set, you'll get 6 cupcake ornaments. Keep one for yourself and gift the other 5. You could also consider saving them all for yourself and decorate your tree with a fun food theme!
? Buy it: https://amzn.to/2REt8fj
PHOTOS BY: AMAZON
5. Pizza Slice
Who doesn't love pizza? Order a slice of pizza (literally) and gift it to any pizza-lover this Christmas! They'll love it and will be blown away by the detail.
This glass blown ornament is stunning! Every time you look at it you're bound to crave a slice.
? Buy it: https://amzn.to/2DpWpHS
PHOTOS BY: AMAZON
6. Taco
Give them something to tacobout with this taco ornament! It'll look awesome on your tree or would be a great gift for any taco-lover.
This is another hand-painted glass ornament that has so much detail it looks like the real deal. You're bound to crave a taco everytime you look at it.
? Buy it: https://amzn.to/2RDAxM1
PHOTOS BY: AMAZON
7. Margarita
Wash down that taco with a tasty lime margarita. While you sip on your margarita you may want to consider hanging a margarita ornament on your tree!
This ornament would also make a great gift for any margarita-lovers and will have you dreaming of paradise.
? Buy it: https://amzn.to/2RD3Qy6
PHOTOS BY: AMAZON
8. Hot Dog
Satisfy your hot dog craving with this dashing ornament. The attention to detail on this ornament is unreal!
It's not just adorable but stunning too and anyone who loves hot dogs will appreciate it. Barbeque season may be put on pause during the winter months but this ornament will have you anticipating the warmer months to come.
? Buy it: https://amzn.to/2Qoje1k
PHOTOS BY: AMAZON
9. Burger
Hungry for a juicy burger? Quench the craving with this adorable burger ornament!
This glass ornament is drool-worthy. Perfectly layered with all the essential condiments, every burger-lover will surely get a kick out of it.
? Buy it: https://amzn.to/2qxGcYk
PHOTOS BY: AMAZON
10. Fries
Would you like fries with that? No, but really, how about gifting fries this Christmas.
It may be niche but any French fry lover will appreciate this ornament. This fry ornament will definitely make you crave a drive-through run!
? Buy it: https://amzn.to/2RB1lMQ
PHOTOS BY: AMAZON
11. Ice Cream
Enjoy a lovely ice cream cone even in the winter with this ice cream ornament! It's sparkly and colorful and would be great for any ice cream lover.
In addition, This glass ornament is about 3.5 inches tall. Don't be surprised when guests try to take a lick.
? Buy it: https://amzn.to/2Dt6pQu
PHOTOS BY: AMAZON
12. Hershey Kisses
Gift your significant other a kiss this Christmas! These Hershey's Kisses are adorable and would look awesome on the Christmas tree.
This set comes with three kisses so you may want to consider keeping 1 for yourself and gifting the other 2. Further, the ornaments are made of glass and are about 3 inches tall.
? Buy it: https://amzn.to/2JKqvGn
PHOTOS BY: AMAZON
13. Pancakes
Breakfast is served with this pancake ornament! Every time you walk by this ornament you'll be craving a plate of fluffy pancakes smothered in syrup.
This ornament would be an awesome idea for any breakfast-lover. This is another glass blown ornament and is around 3.5 inches in diameter.
? Buy it: https://amzn.to/2JKwDyn
PHOTOS BY: AMAZON
14. Bacon And Eggs
If you don't love pancakes then how about another popular breakfast item, bacon, and eggs! It's perfect for every bacon and breakfasting loving person.
It's made of glass and has lovely details that make it look realistic. This ornament will definitely have you saying mmm…bacon!
? Buy it: https://amzn.to/2OuyqIq
PHOTOS BY: AMAZON
15. Avocado
Do you love guac or avocado toast? Then this ornament has your name on it!
Hang a trendy fruit like the avocado on your tree. Anyone who truly appreciates this food will love this ornament!
? Buy it: https://amzn.to/2qvf0K3
PHOTOS BY: AMAZON
16. Beer
Sometimes coming home to a nice cold brew is a great way to unwind from a hectic day. This beer ornament is perfect for any beer-lover.
It can add a little pizzazz to your tree and will definitely capture everyone's attention if you hang it on your tree.
? Buy it: https://amzn.to/2SRnpUT
PHOTOS BY: AMAZON
17. Lime
Need a lime to go with that beer? Or perhaps, you love anything vibrant and fun! If that's you then this lime ornament has your name on it.
It's bright green and sparkly. This glass ornament is adorable and can add variety to your ornament collection.
? Buy it: https://amzn.to/2JIhtJT
PHOTOS BY: AMAZON
18. Wine
We've found the perfect ornament for any wine-lover! This tiny merlot wine glass ornament is adorable and would make a great addition to any tree.
The fun thing about this ornament is the faux wine actually moves which makes the ornament appear realistic. It's a generous size, about 4 inches tall and would be an excellent gift for yourself or a friend!
? Buy it: https://amzn.to/2RGuTJa
PHOTO BY: AMAZON
19. Watermelon Wedge
Reminisce the summer months with this watermelon wedge ornament! This ornament is vibrant in color and would definitely be a fun contribution to your tree.
It would be great for anyone who loves watermelon or to simply remind you of the warmer months. While this may not be a conventional ornament it's something fun and different and will surely be a conversation starter.
? Buy it: https://amzn.to/2PKThfh
PHOTOS BY: AMAZON
20. Coffee
Any true coffee lover (addict) would truly appreciate a coffee ornament like this one! It's stunning and has lovely details that will stand out on the Christmas tree.
This would also make an excellent gift for any new baristas. You'll crave a cup of coffee everytime you see this ornament!
? Buy it: https://amzn.to/2F7dE2j
PHOTOS BY: AMAZON
Forkly.com is a participant in the Amazon Services LLC Associates Program, an affiliate advertising program designed to provide a means for sites to earn advertising fees by advertising and linking to Forkly.com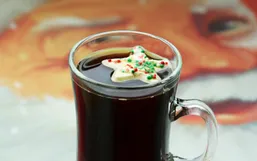 During the holidays, depending on where you live of course, it often involves gathering around with warm beverages in hand.
There's something...well...magical...yes, Christmas magical about a Reese's Peanut Butter Cup.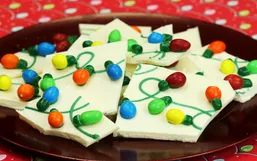 Chocolate barks are my absolute favorite go-to for large batch treats you can store for weeks and hand out as needed to neighbors,...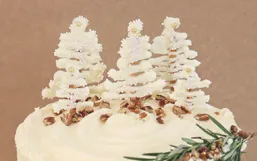 Last year, we created these adorable festive Christmas Tree Brownies, and well...the video recipe for them went viral overnight!
The holidays are known to be the hardest season of the year in terms of the age-old battle of the bulge.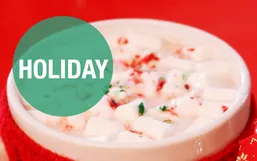 It's that time of year, the season of giving. It's magical and wonderful - and oh, don't forget the mailman!
The centerpiece for your Christmas dinner is a great turkey or ham, but the side dishes are just as important.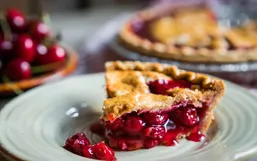 Christmas pies are a delicious addition to the holiday season. While we love the classic pumpkin pie, there are a ton of other...
A Christmas cake is the centerpiece of your holiday meal. After you're stuffed with turkey and all the fixings, the only thing...
So you've volunteered to host Christmas dinner this year. The initial voluntary statement may have sounded exciting but if you...
When the holidays roll around the first order of business is setting up the Christmas tree and decorations.
Snacks are crucial for everyone. They keep us full in between meals and quench our cravings.