Christmas dinner is the highlight of the holiday season. Every family has their own traditional meal. Most in the United States have the big turkey dinner with all the fixings. Some also make a holiday ham with their turkey to feed all their guests. Some people go untraditional and instead make lamb or a fish dish.
Related Topics (Ads):
Whatever your preference, we've rounded up a list of 12 easy meals you can make this upcoming holiday season. We included both traditional and non-traditional mains, as well as a few add-ons such as a recipe for delicious homemade gravy. Follow along for 12 easy Christmas dinner recipes that you can make this year.
12. Easy Lasagna
Warm, cheesy and filled with flavor, lasagna is another great and easy option for your upcoming holiday dinner. This one takes 45 minutes to prep and 45 minutes to bake. You can also easily double this recipe and make two casseroles if you're serving a larger crowd.
To begin to make this recipe you'll need ground beef, pork sausage, onion, green pepper, condensed tomato soup, eggs, and mushroom stems. Some of the seasonings include Italian seasoning, salt, pepper and garlic powder. It's key to also layer in multiple different types of cheese including cottage cheese, ricotta, Parmesan and mozzarella.
11. Christmas Salad
This Christmas salad is the perfect side dish to pair with any main course at your upcoming holiday gathering. It could even work as a main course if you have any vegans or vegetarians attending your event. This particular salad starts with a kale base and is topped with delicious add-ins to give its holiday flavor. Think apple slices, crunchy pecans and sweet pomegranate arils.
This recipe is a welcome healthy addition to any holiday table spread. You can also feel free to experiment with this recipe depending on your preferences. Try oranges instead of apples, or blue cheese instead of feta!
10. Homemade Gravy
No matter what meat you opt for as your main course this holiday season, be sure to make a homemade gravy to go alongside it. From classic turkey, chicken, pork, or beef, savory gravy can transform any dish into something memorable that your guests will not forget.
While gravy from a can may be easier, your guests will be impressed if you make it homemade, and it's surprisingly easy to do.
All you need for homemade gravy is drippings, fat, flour, parsley, thyme, salt, and pepper. It's an easy, foolproof recipe that's ready in 5 minutes and will leave a lasting impression.
9. Roast Beef
Ultra juicy roast beef topped with thyme, rosemary, salt, and pepper — what sounds better for the holidays? While turkey and ham may be your initial first idea for Christmas dinner this year, roast beef is another great option. While roast beef may seem intimidating at the first, it's actually very easy.
The key is to ensure the meat you're purchasing is high quality. Next, get creative with your seasonings. Sage, parsley, oregano, thyme and rosemary are a few popular options when it comes to roast beef. Lastly, allow the beef to roast slowly in the oven until done. Slice and enjoy!
8. Classic Roast Turkey
What would Thanksgiving be without a roast turkey? This is your classic turkey recipe for the holidays. While turkey can seem intimidating at first, this recipe will give you a step by step guide for a delicious and surprisingly easy way to tackle this seasonal tradition.
After big holidays, you can also buy turkeys on sale at the grocery store and keep them in the freezer. Every so often pull one out and either roast it or cut it into pieces and use it like you would chicken. You can find them at great prices so it's a good way to save money.
7. Stuffed Turkey Roll
If you're having a smaller group this year for Thanksgiving, it might be a good idea to consider a stuffed turkey roll instead of a traditional large turkey. It's a great seasonal dish to make if you're only feeding 2-3 people. If you're hosting more people, you can always just double or triple the recipe.
This unique stuffed turkey breast has some special flavors that are perfect to compliment the season. It's got a cranberry, apricot, and pistachio stuffing which gives tangy, savory flavor in every bite. Your guests will be so impressed with this delicious turkey roll recipe. Enjoy!
6. Pistachio Crusted Lamb
If you like lamb for the holidays, this pistachio crusted lamb is a great option. The pistachios are a beautiful green color, which make a great holiday theme for Christmas. You could easily turn this recipe into a crown roast by buying two racks of lamb and tying it together with string.
The even better news? This recipe only takes 10 minutes to prepare and 30 minutes to cook, meaning you can definitely whip this up if you're in a pinch. The crust is filled with beautiful flavors such as pistachios, Parmesan cheese, rosemary, and olive oil that your guests will definitely love.
5. Cranberry Glazed Duck Breast
Duck is a great option if you're having an intimate Christmas dinner and don't want to cook a huge turkey. This sweet and sour duck recipe combination is beautiful. It makes a really impressive special occasion dish but it's actually easy to make. The cranberry glaze is really festive.
While duck may seem intimidating at first, rest assured that this recipe is incredibly easy to pull off. It's easy to cook and looks amazing on a holiday table. Duck meat is naturally rich in flavor and pairs perfectly with a fruity sauce. This particular sauce only requires three ingredients: honey, balsamic vinegar, and dried cranberries.
4. Roast Pork With Crackling
This roast pork dish is really impressive. Crackling isn't an easy thing to make, so your guests will be extra surprised when you bring this to the table. This recipe is a good method for foolproof crackling. It includes tips and tricks, like using foil balls to level the pork skin to ensure the perfect crispy crackle all over.
This recipe is a guaranteed hit, especially when paired with homemade gravy. If you're feeling a little more experimental this holiday season, this crackled pork recipe is definitely worth a try! You and your guests will not be disappointed at its tender yet crispy texture.
3. Roast Turkey Breast
Cooking a turkey breast for Christmas is a great option if you're feeding only a few people, and if you all like dark meat. It's cheaper than buying the whole turkey and you get exactly what you want. You can find them in the frozen section of your large supermarkets around the holiday season.
You still have all the benefits of turkey with its crispy skin and tender meat without the hassle of cooking an entire bird. Pair this with some homemade gravy, creamy mashed potatoes, cranberry sauce, and green beans, and you have a delicious holiday spread that all your guests will love.
2. Honey Ham
Honey hams are a classic Christmas dinner option. Baked honey hams are the perfect party food. They're salty, delicious and a classic that you can't go wrong with. This honey ham recipe is glazed with the delicious flavors of pineapple juice and basted with a buttery, sticky glaze. Juicy on the inside and crispy on the outside, you can't go wrong with this honey ham recipe!
Another good tip is that you can find good quality and very affordable hams after the holidays are over. They're great to have in your freezer for Sunday dinners any time of the year.
1. Easy Baked Salmon
Salmon is definitely a non traditional Christmas dinner. It is common is the coastal States, but uncommon in the central ones. Regardless of where you're located, salmon is a delicious and healthy option for your holiday dinner that you may not have previously considered.
This particular salmon recipe uses a no-fail method to bake the fish. It's made with lemon and garlic which gives the fish a wonderful flavor and is baked in the oven for a delicious flaky finish. This recipe is delicious and definitely works well as a holiday main course that your guests won't be expecting. Enjoy!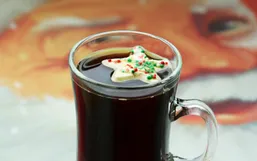 During the holidays, depending on where you live of course, it often involves gathering around with warm beverages in hand.
There's something...well...magical...yes, Christmas magical about a Reese's Peanut Butter Cup.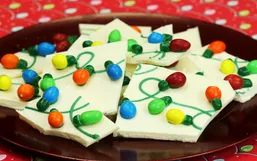 Chocolate barks are my absolute favorite go-to for large batch treats you can store for weeks and hand out as needed to neighbors,...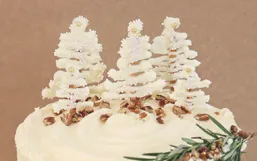 Last year, we created these adorable festive Christmas Tree Brownies, and well...the video recipe for them went viral overnight!
The holidays are known to be the hardest season of the year in terms of the age-old battle of the bulge.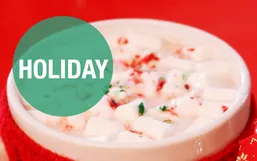 It's that time of year, the season of giving. It's magical and wonderful - and oh, don't forget the mailman!
The centerpiece for your Christmas dinner is a great turkey or ham, but the side dishes are just as important.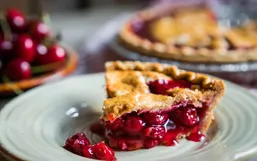 Christmas pies are a delicious addition to the holiday season. While we love the classic pumpkin pie, there are a ton of other...
A Christmas cake is the centerpiece of your holiday meal. After you're stuffed with turkey and all the fixings, the only thing...
Decorating the tree always gets me into the mood for the holidays. As soon as the tree is up I'm in full force Christmas mode.
So you've volunteered to host Christmas dinner this year. The initial voluntary statement may have sounded exciting but if you...
When the holidays roll around the first order of business is setting up the Christmas tree and decorations.