Pasta is a family favorite meal. You can create infinite number of unique dishes with pasta. We love pairing beef with our pasta, whether it's in the sauce, or by making meatballs. Ground beef is a great choice for pairing with pasta because it will cook quickly and you don't have to worry about it getting tough. Add ground beef to fortify sauces and add some great protein. Look for lean ground beef to cut some calories from the fat.
1. Slow Cooker Cincinnati Chili
Want that Cincinnati Chili flavor, even when you're short on prep time? This is the perfect answer! Just a few simple steps and a few hours in the slow cooker will leave you with chili that can rival that of any 3-way chili parlor. It's deliciously different!
https://www.familyfreshmeals.com/2017/09/crockpot-cincinnati-chili.html Photos and Recipe By: Family Fresh Meals
2. Classic Lasagna
This classic Italian dish is not for those on a diet! This recipe is rich with ricotta cheese, ground beef and Italian sausage, and topped with tons of cheese. Adding the sausage with the beef will keep everything moist and flavorful.
http://www.nerdswithknives.com/lasagna-bolognese/ Photos and Recipe By: Nerds With Knives
3. Taco Macaroni and Cheese
This delicious mac and cheese was inspired by a couple of guilty pleasure boxed dinners, but it's made from scratch and tastes a lot better. It's spicy and creamy and loaded with flavor!
http://www.mostlyhomemademom.com/2011/08/taco-mac-casserole.html#_a5y_p=1476037 Photos and Recipe By: Mostly Home Made Mom
4. Cheesy Macaroni and Ground Beef
This homemade recipe will remind you of the famous grocery store boxed meal called Hamburger Helper. This recipe is infinitely better than that thought! Your kids will love the familiar flavors and you'll love the great nutrition it has.
http://www.spendwithpennies.com/beef-macaroni-casserole/ Photos and Recipe By: Spend With Pennies
5. Classic Ragu Bolognese
Anyone who cares about what they eat knows that Ragu is not the sauce that comes out of a jar. This is the classic Italian meat sauce. It can be served with fresh tagliatelle egg pasta, or spaghetti. This is also the same sauce that is used to make a traditional meat lasagna A delicious meat sauce is the ultimate comfort food, and it never disappoints.
http://pinchofyum.com/slow-cooker-beef-ragu-with-pappardelle#easyrecipe-32573-0 Photos and Recipe By: Pinch Of Yum
6. Meatballs with Spaghetti
These spaghetti and meatballs will make you weep. The meat mixture is superb, but the sauce is what makes it. It's deep. Taste it and you'll swear you're in the Godfather movie.
http://www.recipetineats.com/classic-italian-meatballs-extra-soft-and-juicy/ Photos and Recipe By: Recipe Tin Eats
7. Beef Stew with Pappardelle Falso
Pappardelle is a very broad kind of fettuccine and you can simulate a similar effect in the mouth using my improvised broken lasagna pieces (careful, when you break them bits of shrapnel will fly everywhere). Of course, if you have real pappardelle, use that.
http://pinchofyum.com/slow-cooker-beef-ragu-with-pappardelle#easyrecipe-32573-0 Photos and Recipe By: Pinch Of Yum
8. Italian Sausage and Beef Ragu
Wrap your fork up with these thick, rich noodles covered in the perfect amount of Italian Sausage and Beef sauce. The only thing you absolutely must have on hand that you may not already, is fresh parmesan.
http://www.recipetineats.com/italian-sausage-beef-ragu/ Photos and Recipe By: Recipe Tin Eats
9. Homemade Hamburger Helper Beef Noodles
Running low on groceries? How about a tight budget? This meal will deliver some major protein for a fraction of the cost that you would normal spend on a regular meal.
http://cincyshopper.com/homemade-hamburger-helper-beef-noodle/ Photos and Recipe By: Cincy Shopper
10. Skillet Beef Ziti
Oh boy. Save this recipe up for a cheat day like no other! Doused in piles of cheese and beef, this pasta is rich in flavor and is extremely filling. Serve this up at a family get together to fill lots of stomachs.
https://addapinch.com/skillet-beef-ziti-recipe/ Photos and Recipe By: Add A Pinch
Chicken is a family favorite for dinner. It has a pleasant mild flavor that even picky children love.
Ravioli is a great weeknight meal idea. Not only is it filling and delicious but the leftovers are great for work or dinner the...
Vegetarian dishes can be boring. It seems that all recipes are made for meat eaters.
We've all been there. You've had a long day, and you want a simple dinner idea that isn't going to leave you in the kitchen...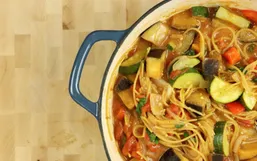 This was actually my first recipe attempt at making a pasta dinner, completely in one pot.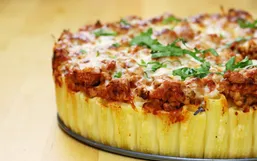 Forget traditional pasta casseroles! With the noodles standing upright, the sauce and cheese bake down into the pasta making each...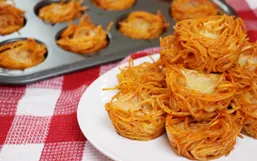 As a mother of 3, making dinners are often made with the intention of leftovers. Why? Well...lunches the next day!
Busy weeknight dinner can be hectic. Instead of ordering takeaway food, why not try one of these pasta dinners?
Garlic bread has long time been a best friend of pasta dinners.
Carb-filled foods are hard to give up. For many of us, they act as comfort foods.
Noodle dishes make for some of the most comforting meals. The awesome thing about them is that they can come in many shapes,...
Planning a special gathering this spring or summer? The prettier the food it, the more delicious it tastes.