The best part of every party is undoubtedly the food. If you're not eating good food are you really having a good time? The Super Bowl only happens once a year so eat your heart out with sinfully delicious comfort foods!
Unfortunately, the common Super Bowl party foods are chicken wings, cheesy dips and loads of other foods filled with animal products. With that said if you follow a plant-based diet, require foods that are dairy-free or enjoy trying something different then these recipes have your name written all over them! We have discovered some of the most drool-worthy comfort foods that are perfect for game day! Even your meat-loving best friend will be astounded that your dish doesn't contain any animal by-products.
1. Vegan Chicken Wings
You don't need animals to enjoy finger licking good food! These vegan "chicken" wings are savory, sticky and oh so delicious! They're also chock full of protein.
To create them you'll need either tempeh or tofu. Additionally, you'll be provided with a savory homemade barbecue sauce. Once you have your ingredients ready you'll cook these wings on the stovetop.
https://www.brokefoodies.com/vegan-chicken-wings/ PHOTOS AND RECIPE HERE: BROKE FOODIES
2. Vegan Loaded Texas Fries
Once you experience these loaded Texas fries you may never want to have plain fries again! This delicious plate begins with waffle cut fries and is loaded with exciting and delicious toppings.
While the fries cook in the oven you'll want to prepare the portabello mushrooms on the stove top. When the fries are golden and crispy evenly spread the prepared mushrooms and vegan cheese shreds on top. Place the baking sheet back in the oven until the cheese has melted and then serve with a drizzle of barbecue sauce and sliced jalapenos.
https://www.rabbitandwolves.com/vegan-loaded-texas-fries/ PHOTOS AND RECIPE HERE: RABBIT AND WOLVES
3. Buffalo Cauliflower Bites And Vegan Ranch Dip
Buffalo chicken wings or dip is one of the most common game day foods! You don't have to miss out on this crowd favorite because these buffalo cauliflower bites are insanely delicious!
Cauliflower florets are covered in panko breadcrumbs and then are smothered in a buffalo-style hot sauce! These crispy bites even come equipped with an exciting vegan ranch dipping sauce recipe. You'll be amazed by the texture of the cauliflower and if you share this with your fellow foodies this plate will be gone in seconds.
https://www.veggieinspired.com/buffalo-cauliflower-bites/ PHOTOS AND RECIPE HERE: VEGGIE INSPIRED
4. Vegan Pretzel Bites With Spicy Mustard Dip
Many pretzel recipes require an egg wash and that clearly is not allowed on a plant-based diet. This recipe proves that with a few simple substitutions you can create a vegan egg wash that makes these pretzel bites taste like the real deal.
You'll be making these pretzels from scratch which means this recipe requires a couple of steps, however, the payoff is well worth it. Along with the pretzels bites you'll also be provided with a recipe to make a savory homemade spicy mustard dip that pairs perfectly!
https://www.veganricha.com/2015/01/vegan-pretzel-bites-spicy-mustard-dip.html PHOTOS AND RECIPE HERE: VEGAN RICHA
5. Vegan Cheesy Sheet Pan Nachos
Who doesn't love sharing a giant plate of nachos? These sheet pan nachos are definitely game day and party approved! They're loaded with homemade nacho cheese, black beans, green onions, diced tomatoes, and spicy jalapeno slices.
The best thing about sheet pan recipes is that they require minimal effort to make and create a minimal mess too! The vegan nacho cheese is so easy to make and so insanely good that you'll be pairing it with more than just nachos!
http://www.forkly.com/recipes/vegan-cheesy-sheet-pan-nachos/ PHOTOS AND RECIPE HERE: FORKLY
6. Vegan Pulled "Pork" Sandwiches
Enjoy a bun that is filled with juicy vegan pulled "pork" on game day! The vegan "pork" is actually made from jackfruit. If you're unfamiliar with jackfruit it has a mild taste and a meaty texture which makes it the perfect pork substitute.
You can find it fresh or in a canned form and either will work great for this recipe! For these pulled "pork" sandwiches you'll combine jackfruit with a savory barbecue sauce and a few seasonings. You'll also be provided with a simple vegan slaw recipe that pairs perfectly with this sandwich!
https://www.veganricha.com/2018/10/pulled-jackfruit-sandwiches.html PHOTOS AND RECIPE HERE: VEGAN RICHA
7. Vegan Jalapeno Poppers
Generally, jalapeno poppers are filled with cream cheese and are often deep fried. These vegan jalapeno poppers are not only dairy-free but they're healthier too! The best part is they're so savory and delicious you won't even notice that they're the healthier version.
You'll need 30 minutes to put this delicious game-day appetizer together. Begin by cutting jalapenos in half and scooping out all the seeds. While you prepare the vegan cheese toast crushed tortillas and red pepper flakes in the oven. Lastly, assemble the jalapeno poppers and finish by baking them in the oven.
https://minimalistbaker.com/vegan-jalapeno-poppers/ PHOTOS AND RECIPE HERE: MINIMALIST BAKER
8. Incredible Instant Pot Vegan Red Lentil Chili
Every Super Bowl party needs a big pot of delicious chili. Blow your meat-eating friends away with this vegan red lentil chili. It has so many delicious flavors and exciting textures that they won't even notice that it doesn't contain meat.
The best part is that this is an Instant Pot recipe so you can show up to the party with your Instant Pot and ingredients in hand and have this whipped together in less than 30 minutes! Pair this chili with your favorite toppings such as avocado, vegan sour cream, and corn chips.
http://www.forkly.com/recipes/incredible-instant-pot-vegan-red-lentil-chili/ PHOTOS AND RECIPE HERE: FORKLY
9. Vegan 7 Layer Dip
Don't tell your friends this dip is vegan because they won't even notice! This 7 layer dip is so easy to make and is the perfect dip to dig into on game day! This dip will even store well in the fridge so consider making it the day before the big game.
The dip begins with a refried bean layer and to make this recipe easy you can use refried beans from a can! The bean layer is then followed by vegan sour cream which you can find at stores like Whole Foods or the like. Finish the dip by layering on a guacamole layer and lastly a salsa layer. To bring this dip from cool to awesome add diced peppers, tomatoes, black olives, and green onion!
https://www.hotforfoodblog.com/recipes/2016/2/2/the-best-vegan-7-layer-dip PHOTOS AND RECIPE HERE: HOT FOR FOOD
10. Vegan Jalapeno Popper Mac and Cheese
Bring an ordinary mac and cheese recipe to the next level by infusing it with spicy flavors of jalapeno poppers. This creamy mac and cheese is most certainly dairy-free and will be hit at your Super Bowl party.
Cashews provide the sauce with a creamy texture while nutritional yeast provides an authentic cheesy flavor. This dish is spicy, creamy, and so comforting! Don't be surprised when you find yourself going home with no leftovers!
https://choosingchia.com/vegan-jalapeno-popper-mac-and-cheese/ PHOTOS AND RECIPE HERE: CHOOSING CHIA
11. Vegan Caprese Pizza
Vegan takeout pizza is few and far between but you do not need to worry! With this recipe, you can show up to the Super Bowl party with a delicious pizza that everyone will go crazy for!
To help save time start you'll use store-bought multi-grain pizza dough. You'll also be provided with instructions to create a homemade vegan cashew mozzarella! The combination of fresh tomatoes and basil will truly make this pizza stand out.
https://www.blissfulbasil.com/vegan-caprese-pizza/ PHOTOS AND RECIPE HERE: BLISSFUL BASIL
12. Vegan Deviled Potatoes
Devilled eggs are another party favorite, especially on game day. Our vegan deviled potatoes recipe would make the perfect vegan-friendly substitute!
Tender mini potatoes are filled with a creamy potato filling that together mimics the texture of a deviled egg! You'll also experience authentic devilled egg flavors such as mayonnaise, mustard, and paprika.
http://www.forkly.com/recipes/vegan-deviled-potatoes/ PHOTOS AND RECIPE HERE: FORKLY
13. Sweet and Spicy Gluten-Free Chex Mix
Serving some type of party mix is always a good idea for any party! Everyone can gather around the TV pass the bowl around and keep munching all game long! This Chex mix is surprisingly dairy-free and gluten-free but you don't need to worry, no one will notice!
This party mix is made up of Corn Chex, Rice Chex, cashews, and gluten-free pretzels. To give this tasty treat a delicious flavor you'll use a combination of sweet and spicy spices mixed with melted vegan butter.
https://theprettybee.com/vegan-chex-mix/ PHOTOS AND RECIPE HERE: THE PRETTY BEE
14. Game Day Vegan Chipotle Sliders
Sliders are exciting finger foods and these miniature treats can pack a lot of flavors. These vegan chipotle sliders are not only spicy and delicious but they're healthy too!
First, you'll need to make a black soybean pattie that is filled with wholesome ingredients such as black soybeans, flax seeds, and enough seasonings to make the flavor stand out. You'll also be provided with a homemade vegan chipotle avocado and lime mayonnaise that tastes wonderful alongside the patties.
https://simpleseasonal.com/recipes/meal-types/appetizers/game-day-vegan-chipotle-sliders PHOTOS AND RECIPE HERE: SIMPLE SEASONAL
15. Dijon Vegan Pigs in a Blanket
Pigs in a blanket are another game day classic! This homemade version is exquisite and is most definitely vegan-friendly.
To create these you'll need vegan puff pastry and vegan sausages. You'll be able to find these ingredients at supermarkets such as Whole Foods. Lastly, once prepared, serve this appetizer with a dijon mustard dipping sauce.
https://wellvegan.com/snack/dijon-vegan-pigs-in-a-blanket-super-bowl-snacks PHOTOS AND RECIPE HERE: WELL VEGAN
Super Bowl Sunday is just a few weeks away: Are you ready for the big game?
Are you ready for Super Bowl Sunday? If you're looking for food ideas to impress your guests this year, we have some truly unique...
Football and chicken wings....ahhh sweet, sweet (and spicy) traditions.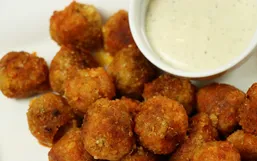 That delicious familiar buffalo sauce is often accompanied by something breaded and fried,  like chicken wings, or a...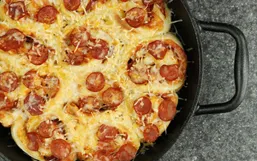 Years back my Mom taught me the life hack of using store bought pre-made pizza dough for cinnamon rolls.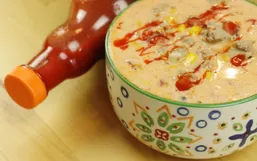 A different spin on a traditional chili, with a creamy buffalo ranch chicken version that will kick up your crock pot dinner a few...
A delicious combination of tacos and enchiladas, for the most simplified of Mexican dinners without all the fuss.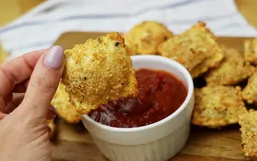 These baked crispy raviolis are like bite sized pasta casseroles you can serve at a party, or enjoy for dinner.
Super Bowl is one of the biggest food events of the year. A Super Bowl party just wouldn't be a Super Bowl party without some kind...
Are you gearing up for the Super Bowl? To some, this is the biggest sports event of the year and what better way to celebrate than...
The Super Bowl is that time of year when people gather together to cheer, laugh, cry and dance to the halftime show.
A&W Canada is back at it again and is listening loud and clear to the needs and wants of their customers.