That delicious familiar buffalo sauce is often accompanied by something breaded and fried, like chicken wings, or a buffalo chicken sandwich, more often that not, not-so-gluten-free. Ugh, hard times. However, there's always fun alternatives to be made, and ones that can still fill you with protein, too! These dip-worthy nuggets are pan-fried instead of deep-fried, hand rolled and delicious on top of a salad, or just as finger food for your next get together. The quinoa is blended perfectly with a white bean (in this case, cannellini beans) to make a nugget you can feel good about eating!
Ingredients
FOR THE SAUCE:
2 tbsp butter (or dairy free alternative, like Earth Balance spread)
2 tbsp olive oil
1/3 cup hot sauce (like Frank's Red Hot)
1/2 tsp seasoning salt
FOR THE NUGGETS:
2 cups cooked quinoa
1 cup white beans, drained, rinsed & mashed (we used cannellini beans)
1/2 cup gluten-free panko bread crumbs
1 large egg, lightly beaten (to make this recipe vegan - use an egg replacer)
1/2 tsp table salt
1 tsp black ground pepper
3 tbsp olive oil
Equipment
Fork for mashing beans
Mixing Bowl
Non-Stick Pan
Baking Sheet
Tongs
Method
First, make your buffalo sauce using the butter, oil and hot sauce. Set aside.
Next up, drain, rinse and mash the beans.
Combine the cooked quinoa, beans, GF bread crumbs, egg, salts, pepper and then 4 tablespoons of the buffalo sauce mixture you just made. Mix together with your hands.
Once mixed thoroughly, begin forming balls tightly in your hands with the quinoa mixture, around the size of a tablespoon for each. Set them aside one at a time on a baking sheet. This should form 24 balls, minimum.
In a large non-stick skiller, heat olive oil over a medium high heat. Begin adding the quinoa nuggets to the pan, and cook until you can see them browning and crisp on all edges. Remove the nuggets with tongs, and set aside. Continue this until all the nuggets and cooked. Be gentle, they can crumble.
Next, gently toss each ball into the buffalo sauce.
Serve with dipping sauce such as ranch or blue cheese dressing (or alternatively a vegan substitute like Daiya dressings)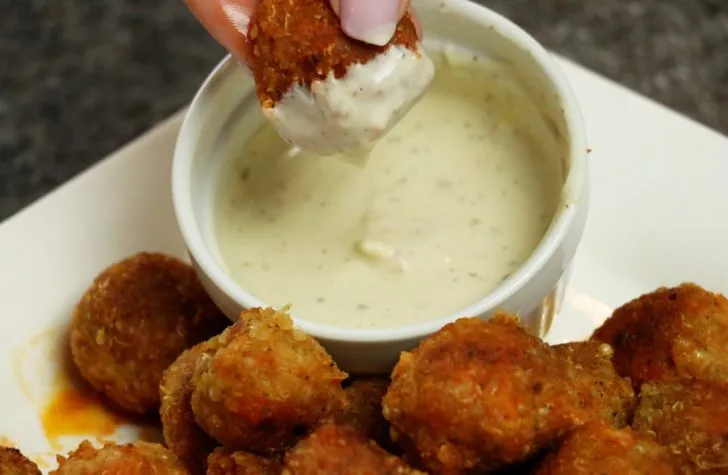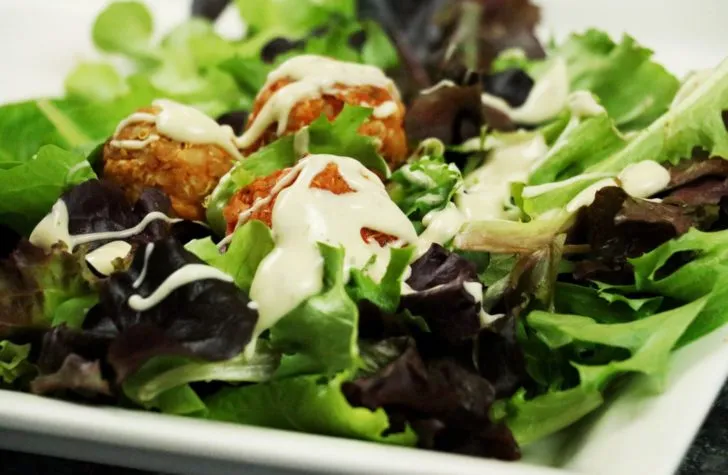 Super Bowl Sunday is just a few weeks away: Are you ready for the big game?
Are you ready for Super Bowl Sunday? If you're looking for food ideas to impress your guests this year, we have some truly unique...
Football and chicken wings....ahhh sweet, sweet (and spicy) traditions.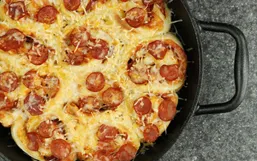 Years back my Mom taught me the life hack of using store bought pre-made pizza dough for cinnamon rolls.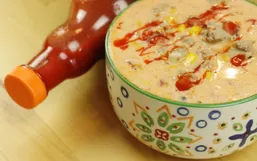 A different spin on a traditional chili, with a creamy buffalo ranch chicken version that will kick up your crock pot dinner a few...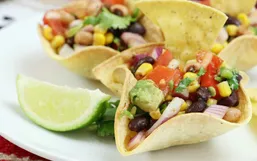 If you love salsa, this recipe is for you. If you love bean salads, this recipe is for you. If you love guacamole...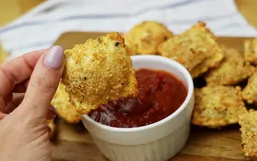 These baked crispy raviolis are like bite sized pasta casseroles you can serve at a party, or enjoy for dinner.
Super Bowl is one of the biggest food events of the year. A Super Bowl party just wouldn't be a Super Bowl party without some kind...
For many, Starbucks is the place they start their day, for others, it's the perfect pick-me-up or a place to meet friends and...
The best part of every party is undoubtedly the food. If you're not eating good food are you really having a good time?
The Super Bowl is that time of year when people gather together to cheer, laugh, cry and dance to the halftime show.
Hosting Thanksgiving can be stressful, especially when you hear a vegetarian will be joining you.