Super Bowl Sunday is just a few weeks away: Are you ready for the big game?
Whether you're hosting a Super Bowl party, attending one or simply watching it at home with your family, one thing's for sure – you need good food!
Grab your chips, pitas, tortillas and baguettes because we have 25 mouth-watering, irresistible dip recipes you can easily whip up for the big event.
Try making one – or several – of these dips this Super Bowl weekend!
1. Crockpot Cheesy Spinach and Artichoke Dip
This mayo-free dip is a delicious dip that's super easy to make. It's perfect for any Super Bowl party or for any party or potluck throughout the year. Hope you enjoy!
https://www.yourcupofcake.com/2014/11/slow-cooker-cheesy-spinach-artichoke-dip.html PHOTOS AND RECIPE HERE: YOUR CUP OF CAKE
2. Mexican Seven Layer Dip
Nothing says party more than chips and dip, and this version of the seven layer dip is sure to please. Play with different ingredients and create your own version, or use this quick recipe and have a delicious dip ready in no time!
3. Beer Cheese Dip
Wanna be a rock star at your Super Bowl party? Serve your friends this beer cheese dip, and everyone will be clamoring for the recipe! The beer adds such a wonderful tangy quality to the dip, and it's so creamy and addictive. It's good served warm or at room temperature, with a big pile of pretzels for dipping.
4. Mediterranean Hummus
Hummus is a classic Middle Eastern dip, particularly Levantine Arab, which was made from mashed chickpeas, blended into tahini,olive oil, lemon juice, seasoned with some Arab spices and chilis, garnished with some tomatoes, olives, chili powder, and parsly. This is a great version to try.
5. Layered BLT Dip
This quick and easy dip will surely be a hit at your next get together. It's a BLT, like you've never had it before! Even better, it only takes minutes to prepare. Serve it up with crackers or a crusty, sliced baguette.
6. Jalapeno Bacon Dip
Perfect Game Day appetizer! There's no better combination that jalapenos and bacon and this dip combines both to form a delicious dip your guests will love!
7. Roasted Red Pepper and Garlic Hummus
I make dips quite a lot at my house, especially when company comes over. This is a simple dip to make, that is not only delicious and healthy but it looks great in the bowl as well.
8. Garden Vegetable Dip
A delicious dip to be served with healthy fresh vegetables. Perfect for you or your guests who've made a New Year's resolution to watch what you eat.
9. Jalapeno Red Bean Salsa
Looking for something spicy and filling that doesn't necessarily require a handful of chips to be delicious? This tasty dip is perfect paired with pitas or vegetables so you can cut back on calories without cutting back on taste.
10. Bacon Guacamole
With football season nearly upon us, I'm readying my arsenal of game-day snacks, and this bacon guacamole is definitely at the top of the list. In this twist on the traditional recipe, bacon and chipotle in adobo are stirred into the guacamole, which adds a wonderful smoky flavor that pairs so perfectly with the cool, creamy avocado.
11. Homemade Bean Dip
If you like bean dip but aren't really a fan of the canned versions, try making this authentic dip that will put a smile on everyone's face this Super Bowl Sunday!
12. Appetizer Surprise
If you love artichokes this dip is for you. It has a great taste and is very simple to throw together. A real party pleaser.
13. Homemade Salsa
This is an all natural salsa. It is so simple and delicious. Perfect for parties or a weeknight snack. Enjoy!
14. Mexican Spinach Dip
In this recipe, spinach dip goes south of the border with a Mexican spin. It's creamy, cheesy, spicy and delicious. It couldn't be easier to make, and it's always a huge hit when I serve it.
15. Real French Onion Dip
Forget that store-bought stuff or the "mix the soup mix with some sour cream" dip. Next time you need something to dip your favorite chips in, try this real, French Onion dip! Chock full of deliciously fresh caramelized onions, it's the perfect game day fare. You'll never look at that tub of dip in the grocery store the same way again!
16. Crab Guacamole
Why choose between crab dip and guacamole? Have them both. Spice up traditional guacamole and try making this dip on the big day. Your guests won't be disappointed.
17. Southwestern Corn Dip
A few quick ingredients come together to make this spicy, but cool, party pleasing dip. Serve it up with tortilla scoops and you're ready to go!
18. Bacon Cheddar Ranch Dip
This creamy, flavorful dip is loaded with bacon and cheddar cheese. Try this for your next party; it'll definitely be a hit!
19. Easy Artichoke Dip
I love this recipe! It's super easy and so good if you like artichokes. You can keep it simple with the main ingredients or add some garlic or hot sauce to spice it up to you liking!
20. Spicy Grilled Buffalo Chicken Dip
Here's an easy appetizer that will warm your innards on a cold winters day. If you love the taste of Buffalo Chicken and you love cheese then you'll really love this dip. It has some kick from the Franks Red Hot sauce (accept no imitations) but the cheese helps to mellow the heat to a nice slow burn.
21. Easy Guacamole
This easy guacamole recipe will be a family favorite. It will soon become your favorite appetizer, you can even make it a main dish. Serve with pita, breadsticks or your favorite chips.
22. Mango and Avocado Salsa
Many recipes for this type of salsa include idiotic things like bell peppers or vinegar. This one doesn't, and so preserves the intended tropical flavor. Chop the ingredients finely for a salsa, or chop large or julienne and serve as a side salad. In general, the mango and avocado should be cut to the same size.
23. Warm Spinach Dip
This recipe is simple yet oh-so delicious. Serve with crackers, bagel chips, bread, veggies, etc. The possibilities are endless.
24. Fresh Guacamole
A Super Bowl party just isn't a Super Bowl party without guacamole! This is the perfect, traditional dip that all of your guests will be expecting. Don't disappoint them!
25. Jackie's Award-Winning Salsa
This recipe was created by me to enter a Caribbean Foods Competition several years ago. It was one of 2 that I entered that won, hence the name "Jackie's Award-Winning Salsa."
Are you ready for Super Bowl Sunday? If you're looking for food ideas to impress your guests this year, we have some truly unique...
Football and chicken wings....ahhh sweet, sweet (and spicy) traditions.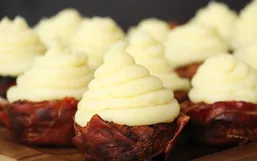 Whether it's game day, or just a regular Wednesday night meatloaf dinner, this recipe is GOING to win the mouths you feed.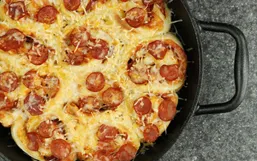 Years back my Mom taught me the life hack of using store bought pre-made pizza dough for cinnamon rolls.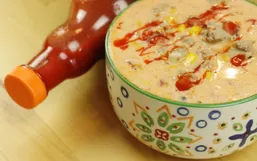 A different spin on a traditional chili, with a creamy buffalo ranch chicken version that will kick up your crock pot dinner a few...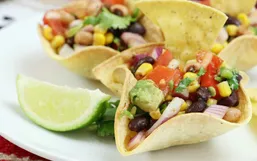 If you love salsa, this recipe is for you. If you love bean salads, this recipe is for you. If you love guacamole...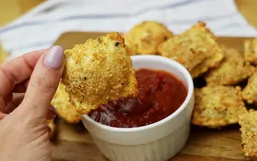 These baked crispy raviolis are like bite sized pasta casseroles you can serve at a party, or enjoy for dinner.
Super Bowl is one of the biggest food events of the year. A Super Bowl party just wouldn't be a Super Bowl party without some kind...
For many, Starbucks is the place they start their day, for others, it's the perfect pick-me-up or a place to meet friends and...
The best part of every party is undoubtedly the food. If you're not eating good food are you really having a good time?
The Super Bowl is that time of year when people gather together to cheer, laugh, cry and dance to the halftime show.
Happy National Chip and Dip Day everyone! To help you celebrate this special occasion, we've collected the 10 best dip recipes we...