Wondering how to hard boil your eggs? You're not alone. Terms like "How to Hard Boil Eggs" and "Hard Boil Eggs Time" are some of the most highly-searched topics this time of year. Luckily, we have this incredibly easy, step-by-step guide to help make sure you prepare the perfect hard-boiled egg every time. We also shared some tasty recipes that include hard boiled eggs as an ingredient.
Here's what you need:
Eggs (I usually do 6 per round in a large pot)
Pot (the bigger the better, so the eggs don't crack)
Bowl (big as well – you'll be transferring the eggs into this bowl after they're cooked)
Spoon (to help get the eggs out of the pot once they're boiled)
Water (tap water will do)
Step-by-Step Guide for How to Hard Boil Eggs:
1. Place the eggs into the pot carefully so they don't crack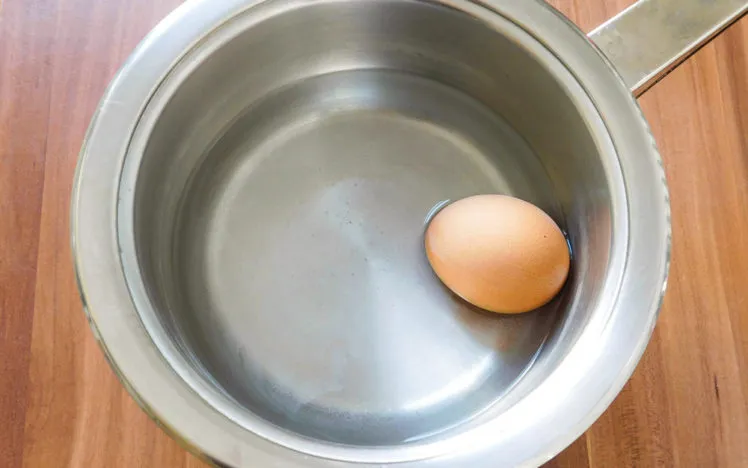 2. Pour cold water into the pot, making sure every egg is covered by at least 1 inch of water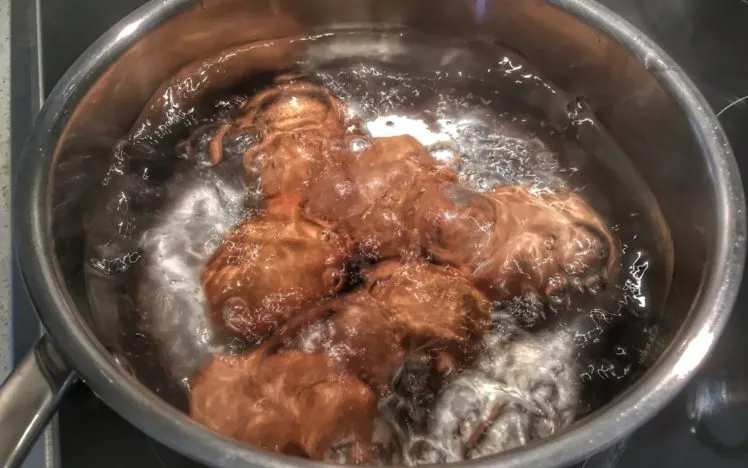 3. Place the pot on the stove and heat on medium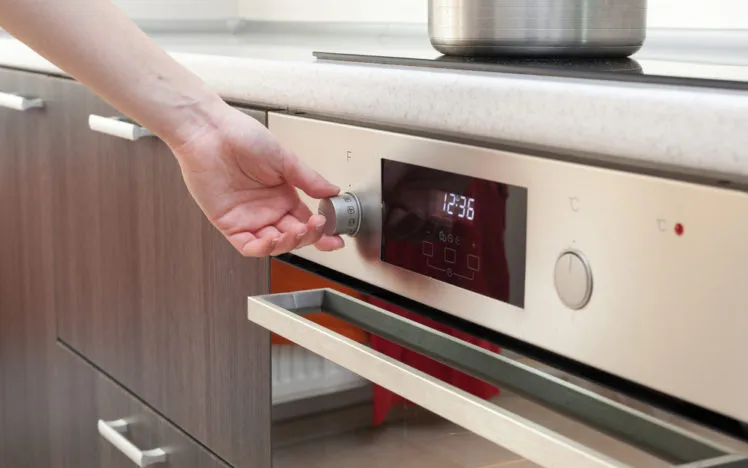 4. Once the water comes to a boil, turn off the element and cover the pot with a lid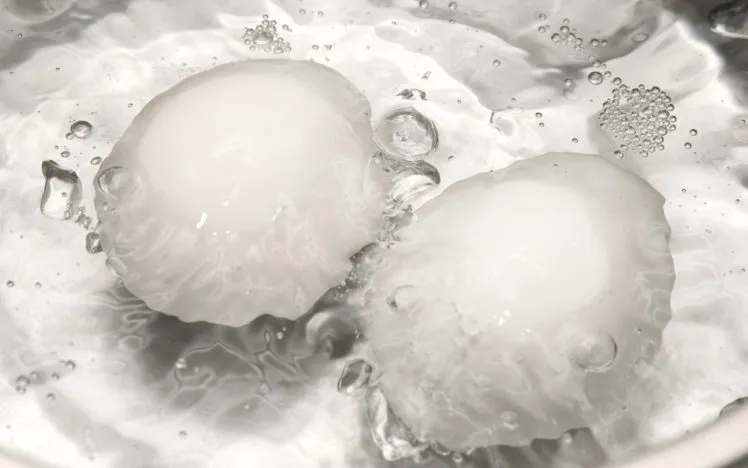 5. Leave the pot on the element (with the lid on it) for an additional 15-17 minutes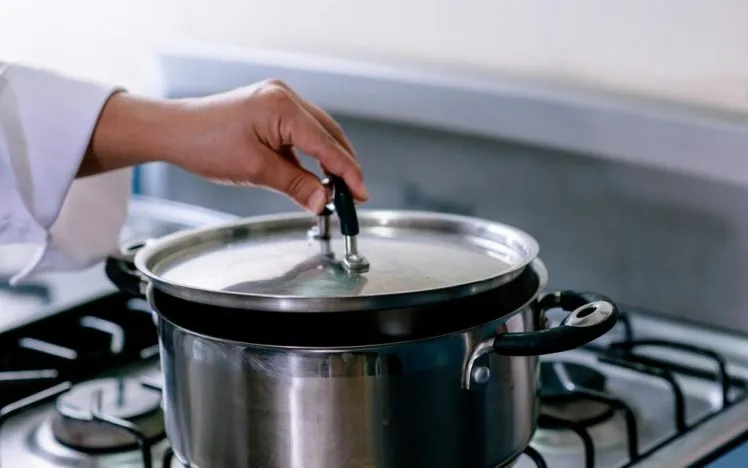 6. Once the time is up, transfer the eggs from the pot into the bowl using your spoon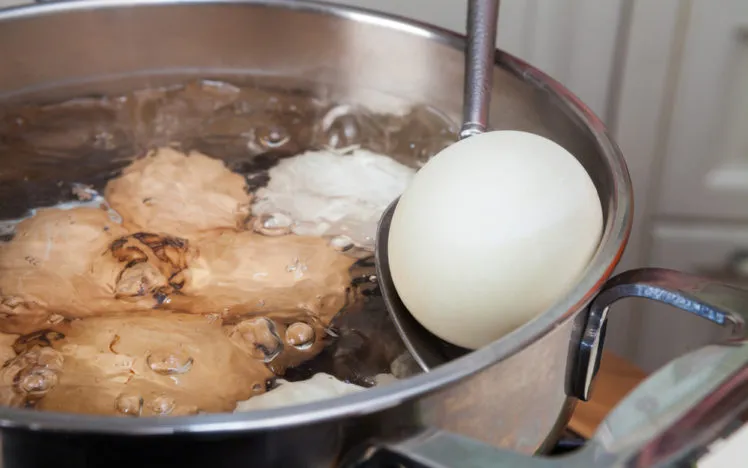 7. Pour cold water into the bowl and let the eggs sit for an additional 10 minutes
8. The eggs are done! Either serve them as-is or place them in a bowl in the fridge for later
It's really as easy as that!
How to Tell if an Egg is Hard Boiled
Still not confident that your eggs are hard boiled? Place the egg on its side on a countertop. Spin it softly. If the egg spins nicely, it's hard boiled. If it flops all over, it probably needed more time.
Hard Boiled Egg Recipes
Now that you know how to make hard boil eggs like a pro, it's time to get inspired and see what you can actually serve up with this dish. There are plenty of recipes that call for hard boiled eggs as an ingredient. Whether you're wondering what to do with some leftovers or feel like whipping up a meal with hard boiled eggs, here are some recipes to consider.
1. Herb Tuna Sandwiches
Who doesn't love a loaded tuna sandwich for lunch? This recipe from Taste of Home elevates your average hard boiled egg sandwich with a tasty tuna mixture and cheese. It uses chives, fresh parsley, dried basil, and a few other ingredients that give you a fusion of flavor.
There are only two steps to follow. Start by preheating the broiler and combining the first seven ingredients. Place the toasted brad onto a baking sheet and top with the tune mixture. Broil the toast for about one to two minutes until the cheese is melted to perfection. That's all it takes!
2. Nicoise Salad
Salads are one of the easiest ways to implement hard boiled eggs into a meal and this nicoise salad recipe is no exception. The salad itself screams "summertime" but can obviously be enjoyed any time of year. This vegetarian-friendly salad is full of olives, artichokes, capers, and flavored with a lemon vinaigrette that you will love.
It takes about 45 minutes to prepare this salad, which provides between four and six servings. You'll get a good heaping of protein thanks to the white beans. The salad is topped with flaky sea salt, chopped parsley, and freshly ground black pepper that will also score you points for presentation.
3. Jammy Soft-Boiled Egg
Those looking to enjoy an elevated twist on hard boiled eggs can check out this jammy soft-boiled egg recipe from Bon Appetit. It only takes about six and a half minutes to prepare. Unlike a traditional hard-boiled egg, this alternative gives you a firm but gooey yolk.
You can enjoy the egg on its own or pair it with some flatbread or bowl of ramen noodles. For added convenience, feel free to cook and peel the eggs up to three days in advance. Just make sure to store them in an airtight container in the fridge to keep them fresh.
4. Classic Egg Salad
You can never go wrong with a classic egg salad. This creamy, vegetarian-friendly, and gluten-free meal takes no more than 25 minutes to whip up. The hard-boiled eggs are chopped and flavored with green onion, Greek yogurt, mayonnaise, and a few other ingredients.
The recipe gives you the option of adding either fresh dill or basil to the salad, depending on your preference. Feel free to enjoy this salad for up to five days after preparing it as long as it's stored in the refrigerator. You can also make this salad dairy-free by substituting the mayonnaise with an ingredient of your choice.
5. Deviled Eggs
Transform your hard boiled eggs into a fan favorite snack! Deviled eggs are a delicious and super easy snack to make in just 35 minutes. This recipe from the Food Network yields about four servings and only has three simple steps to follow.
Once you had the hard boiled eggs ready, you can slice them in half and remove the yolks. Place the whites onto a serving platter and mash the yolks into a find crumble. After mixing the yolk with other ingredients, you can place spoonfuls into the egg whites. Garnish with some smoked Spanish paprika and bon appetit!
6. BLT Chicken Salad
There's nothing quite like a BLT chicken salad. This go-to comfort food is a healthy and delicious lunch idea that couldn't be any easier to make. After cooking up some chicken breasts, bacon strips, and hard boiled eggs, you can indulge in a filling and protein-packed salad that will satisfy your tastebuds.
All you have to do is combine the mayonnaise, barbecue sauce, chopped onion, lemon juice, and pepper together in a bowl. Leave it covered in the fridge until you're ready to serve. Place the salad greens into a bowl along with the tomatoes, chicken, bacon, and eggs. Drizzle with the dressing and you're done!
7. Grilled Cheese with Mayo and Egg
Put your hard boiled eggs to good use by following this grilled cheese recipe! This twist on an old favorite uses mayonnaise instead of butter and is extra filling thanks to the hard boiled eggs. The mayonnaise makes the bread perfectly crispy, convincing you to ditch the butter for good.
To make this grilled cheese, start by chopping up the hard boiled egg and shredding the cheesed. You can then spread the mayonnaise onto your bread and make a sandwich with the ingredients. Cook the bread until it appears golden brown and toasted. Serve immediately while the cheese is warm!
8. Cobb Salad
Another classic and simple recipe to whip up in just half an hour is cobb salad. This recipe from Natasha's Kitchen teaches you how to make an addicting salad dressing from scratch. The salad itself is packed with protein, avocado, cherry tomatoes, and more. This salad is sure to fill you up since cooked chicken breasts and hard boiled eggs are two of the main ingredients.
The homemade dressing is just as easy to make. It uses balsamic vinegar, dijon mustard, garlic, and a few other ingredients to give it a rich flavor. All you have to do is transfer the ingredients into a mason jar and shake until the dressing is well combined.
9. Tangy Potato and Egg Salad
Hard boiled eggs can be used in endless salad recipes, including this tangy potato and egg salad recipe from Woman's Day. It takes a little over half an hour to prepare and yields about six servings. It's loaded with potatoes, sour cream, half-sour pickles, and a few other ingredients that aim to please.
The recipe is quite straightforward once the potatoes and hard boiled eggs are prepared. You whisk together the dressing ingredients and add the potatoes. Then all you do is fold in the eggs, pickles, and dill. Feel free to make salad ahead of time without the eggs, pickles, and dill for up to two days.
10. Ham Salad
If you're a lover of ham, this easy ham salad recipe will become your new go-to lunch. The recipe uses cooked ham, one hard boiled egg, sweet salad cubes, mayonnaise, and black pepper. This filling mixture can be eaten on its own, made into a sandwich, or even used as a topping for your favorite crackers.
To prep the ham, you can use a food processor or mince the ham finely with a knife. Chop the egg and combine it with the ham. Add in the rest of the ingredients and stir enough mayonnaise to make it smooth and creamy. You'll want to let it chill for about an hour before serving. Enjoy!
11. Asparagus with Egg Mimosa
Anyone in need of a last minute side to serve with lunch or dinner can check out this asparagus with egg recipe. It takes just 35 minutes to prepare and yields about eight servings. This dish is a really convenient way to utilize leftover hard boiled eggs. Just make sure they were refrigerated until you're ready to use them again!
The asparagus is flavored with a homemade vinaigrette made up of lemon juice, olive oil, red wine vinegar, snipped chives, and sugar. Once the asparagus is served, simply drizzle on the vinaigrette and coarsely grate the eggs on as well. Garnish with a lemon peel and you're ready to serve.
12. Hard Boiled Egg Breakfast Casserole
Start the day off on a high note with this hard boiled egg breakfast casserole recipe. It's a hearty dish that yields a generous amount of servings with a nine by 13-inch pan. The recipe uses a ciabatta loaf, ham, butter, flour, and other ingredients that will definitely fill you up.
The casserole is flavored with sour cream, dijon mustard, yellow mustard, and shredded cheddar cheese. This homemade sauce is poured over the eggs, bread slices, and ham that you place into the pan. Those who would prefer a crunchier base can simply toast the bread before adding it to the casserole dish.
Want to make hard boiled eggs for Easter that will really wow your guests?
For an Easter brunch that will put a hip-hop in your step, feast your eyes on these delectable, egg-inspired dishes—including...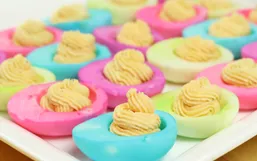 Color-dying eggs at Easter is most definitely a beloved holiday tradition. Eating eggs, is too.
Breakfast is the most important meal of the day – that's why it's essential that you have cool, fun and healthy Easter...
When we released our 10 Cute Easter Cupcake Ideas for Kids we received such an overwhelmingly positive response that we've...
Looking to make Easter fun and memorable for your kids? We've scoured the web for the best and coolest food ideas!
Looking to make this Easter memorable for your kids? We have all the recipes you need to make this holiday season fun and...
The Forkly countdown to Easter continues today with 7 healthy Easter dessert recipes that will top off your fantastic dinner with...
As Easter quickly approaches, the search for easy deviled egg recipes becomes more and more popular.
Happy National Amaretto Day everyone! Amaretto has quickly become one of America's favorite ingredients.
Are you looking for delicious little treats to make for your family and friends this Easter?
Easter is just a few weeks away and many parents are searching online for great ways to make this holiday fun for kids.