Wondering how to hard boil your eggs? You're not alone.
Terms like "How to Hard Boil Eggs" and "Hard Boil Eggs Time" are some of the most highly-searched topics this time of year.
Luckily, we have this incredibly easy, step-by-step guide to help make sure you prepare the perfect hard-boiled egg every time.
Here's what you need:
Eggs (I usually do 6 per round in a large pot)
Pot (the bigger the better, so the eggs don't crack)
Bowl (big as well – you'll be transferring the eggs into this bowl after they're cooked)
Spoon (to help get the eggs out of the pot once they're boiled)
Water (tap water will do)
Step-by-Step Guide for How to Hard Boil Eggs:
1. Place the eggs into the pot carefully so they don't crack
2. Pour cold water into the pot, making sure every egg is covered by at least 1 inch of water
3. Place the pot on the stove and heat on medium
4. Once the water comes to a boil, turn off the element and cover the pot with a lid
5. Leave the pot on the element (with the lid on it) for an additional 15-17 minutes
6. Once the time is up, transfer the eggs from the pot into the bowl using your spoon
7. Pour cold water into the bowl and let the eggs sit for an additional 10 minutes
8. The eggs are done! Either serve them as-is or place them in a bowl in the fridge for later
It's really as easy as that!
How to Tell if an Egg is Hard Boiled
Still not confident that your eggs are hard boiled? Place the egg on its side on a countertop. Spin it softly. If the egg spins nicely, it's hard boiled. If it flops all over, it probably needed more time.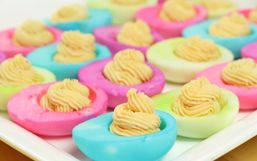 Color-dying eggs at Easter is most definitely a beloved holiday tradition. Eating eggs, is too.
Want to make hard boiled eggs for Easter that will really wow your guests?
For an Easter brunch that will put a hip-hop in your step, feast your eyes on these delectable, egg-inspired dishes—including...
Breakfast is the most important meal of the day – that's why it's essential that you have cool, fun and healthy Easter...
When we released our 10 Cute Easter Cupcake Ideas for Kids we received such an overwhelmingly positive response that we've...
Looking to make Easter fun and memorable for your kids? We've scoured the web for the best and coolest food ideas!
The Forkly countdown to Easter continues today with 7 healthy Easter dessert recipes that will top off your fantastic dinner with...
As Easter quickly approaches, the search for easy deviled egg recipes becomes more and more popular.
Silk tie Easter eggs are quickly becoming the coolest and most innovative way to decorate eggs this time of year.
Are you looking for delicious little treats to make for your family and friends this Easter?
Easter is just a few weeks away and many parents are searching online for great ways to make this holiday fun for kids.
Planning an amazing Easter dinner for your family and friends this year?