Before Easter, we are always looking forward to the seasonal Easter sweets that the Easter Bunny leaves behind in our homes. Or just waiting until the day after Easter to get all the candy half price. Once the excitement dies down, however, we are left with a pile of sugar and the upcoming poolside season of Summer. Sorry, that was depressing. But we all needed to hear it. So, to solve this problem, you're going to do the following:
Step 1: Invite 5 to 10 friends over for coffee and desserts.
Step 2: Pull together all the Easter chocolate and candy you can find.
Step 3: Select a recipe below that best suits what sugary resources you have.
Step 4: Make all your friends help you eat some Easter sweets.
1. Mini Eggs Brownie Parfait
For this recipe, you'll need some brownie mix, whipped cream and a few other miscellaneous items. It looks so creative and your guests won't know that you're just trying to get rid of chocolate -which is a major bonus for you.
http://thebusybaker.ca/mini-eggs-brownie-parfait/ Photos By: The Busy Baker
2. Chocolate Cadbury Eggs Cookies
Not feeling like making individual parfaits? Are the guests going to be here in half an hour? No problem, bake these with a little love, and soon, your kitchen will have the aroma of warm cookies.
http://tastesbetterfromscratch.com/chocolate-cadbury-egg-cookies/ Photos By: Tastes Better From Scratch
3. Spring Chocolate Bark
For bark, throw in whatever candy is lying around and place in the fridge or freezer to chill. Send your friends home with goodie bags filled with bark and they'll have thought they went to a party where you were just really thoughtful. Not trying to get rid of candy.
https://ilonaspassion.com/spring-chocolate-bark-gift-idea/ Photos By: Ilona's Passion
4. Edible Monster Cookie Dough
Score some "cookie" points with your pals when you bring out a bowl of cookie dough, packed with their most crave-able easter sweets. Add onto pretzels, or opt for an ice cream bar where this is a topping.
http://whatmollymade.com/edible-monster-cookie-dough/ Photos By: What Molly Made
5. Spring Coconut Cream Pie
So you invited your neighbors over a little too soon and have no idea how you're going to pull off this Easter-Leftover-Candy party. Grab a pre-made coconut creme pie and decorate it to look ever so springy!
http://www.upstateramblings.com/spring-coconut-cream-pie/ Photos By: Upstate Ramblings
6. Chocolate Peanut Butter Peeps Skillets
Easter has not yet arrived, so if it looks too good to be a leftover, serve it at Easter for dessert! Get your guests excited for summer with Easter S'Mores.
http://www.howsweeteats.com/2015/04/chocolate-peanut-butter-peeps-skillet-smores/ Photos By: How Sweet Eats
7. Chocolate Rice Crispy Fridge Cake
Each bite of these squares will have a different flavor! Surprise your tastebuds with the ultimate leftover dessert square that will pair perfectly with a hot cup of coffee.
http://gillianskitchen.com/chocolate-rice-crispy-fridge-cake/ Photos By: Gillian's Kitchen
8. Bunny to Mousse
You get it? Bunny? Into a MOUSSE? Oh you get it. Okay good. This recipe is simple and sweet and won't even look like it's made out of Chocolate Easter Bunnies!
https://zagleft.com/recipe/how-to-turn-your-bunny-into-a-mousse/ Photos By: Zagleft
9. Peeps Show S'Mores Bar
This is where Granola Bars and S'Mores collide with Easter. Send these squares to school with the kids to share with their class and you won't have to worry about any more neon marshmallows filling your cupboards. They're even peanut free!
http://bakeat350.blogspot.ca/2012/04/peeps-show-smores-bars.html Photos By: Bake At 350
10. Cadbury Creme Egg Chocolate Fudge
This is the answer for all those Creme Eggs you bought when you got a little too excited about seeing them appear at the beginning of Easter season. It's so rich you may have to send some home with your guests instead of expecting them to eat it all at once!
http://kerrycooks.com/cadbury-creme-egg-chocolate-fudge/ Photos By: Kerry Cooks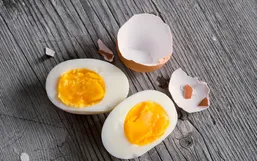 Wondering how to hard boil your eggs? You're not alone. Terms like "How to Hard Boil Eggs" and "Hard Boil Eggs Time" are some of...
Today is National Margarita Day and we want you to celebrate this special occasion with 5 of the tastiest and most delicious...
Breakfast is the most important meal of the day – that's why it's essential that you have cool, fun and healthy Easter...
When we released our 10 Cute Easter Cupcake Ideas for Kids we received such an overwhelmingly positive response that we've...
Looking to make Easter fun and memorable for your kids? We've scoured the web for the best and coolest food ideas!
Looking for ways to make this Easter special for your kids but don't have countless hours to waste baking extravagant treats and...
The Forkly countdown to Easter continues today with 7 healthy Easter dessert recipes that will top off your fantastic dinner with...
As Easter quickly approaches, the search for easy deviled egg recipes becomes more and more popular.
Silk tie Easter eggs are quickly becoming the coolest and most innovative way to decorate eggs this time of year.
Are you looking for delicious little treats to make for your family and friends this Easter?
Easter is just a few weeks away and many parents are searching online for great ways to make this holiday fun for kids.
Planning an amazing Easter dinner for your family and friends this year?