Whether it's game day, or just a regular Wednesday night meatloaf dinner, this recipe is GOING to win the mouths you feed. With a prosciutto wrapping (mimicking a cupcake liner) as well as an incredibly moist and flavorful turkey meatloaf fill, it's then finished off with a topping of piped-on mashed potatoes creating a hand-held meatloaf that makes for perfect portions and easy serving, perfect for parties. It's also perfect for toting the leftovers in lunches the next day (you know, if you manage to have any leftovers). This adorable meatloaf "cupcake" is going to be requested again and again. So, just go ahead and pin it right now, you're going to need it.
Ingredients
1 1/2lbs ground turkey
1 cup bread crumbs (substitute for gluten-free breadcrumbs if desired)
1 medium onion, finely chopped
1 tbsp minced garlic
1 egg
1 1/2 tsp salt
1/2 tsp pepper
1 can of tomato paste, 8oz
2 tbsp brown sugar
1 1/2 tbsp Dijon mustard
1 1/2 tbsp Worcestershire sauce (use a gluten-free variety if desired)
12 slices of prosciutto
Homemade or storebought mashed potatoes (must be mashed or whipped enough to pipe though a 1/2" tip)
*optional* cheddar cheese topping, green onion, crumbled bacon as "sprinkles"
Equipment
Muffin Tin
Mixing Bowl
Piping Bag
Measuring Cups
Method
First, set your oven to 350 degrees F. Prepare your mashed potatoes if needed, and set aside.
Next, line your muffin tin with slices of prosciutto. We used one slice per tin, folded over once.
In a large mixing bowl, combine your meatloaf mixture, using your hands, using all of the remaining ingredients.
Using a measuring cup, scoop a heaping 1/4 cup of the mixture into each prosciutto lined muffin tin. If you have leftover meat mixture, add more to each cup until it's all evenly dispersed.
Bake in the oven for 45 minutes, or until the prosciutto is crispy on the outside, and the meatloaf is cooked through.
Using a piping bag filled with mashed potatoes, pipe the mashed potatoes on to the top of each meatloaf cupcake, resembling a cupcake frost (short on time? you can use an ice cream scoop of mashed potato on the top of each one).
Serve once cool enough to handle. Or, optionally - you can put them back in the stove for another 5 minutes to crisp the tops of the mashed potatoes (this is a great time to add shredded cheese, and bacon crumbles to the top!).
Super Bowl Sunday is just a few weeks away: Are you ready for the big game?
Are you ready for Super Bowl Sunday? If you're looking for food ideas to impress your guests this year, we have some truly unique...
Football and chicken wings....ahhh sweet, sweet (and spicy) traditions.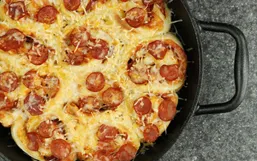 Years back my Mom taught me the life hack of using store bought pre-made pizza dough for cinnamon rolls.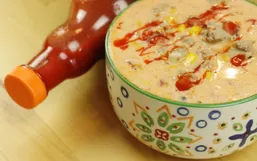 A different spin on a traditional chili, with a creamy buffalo ranch chicken version that will kick up your crock pot dinner a few...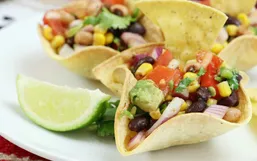 If you love salsa, this recipe is for you. If you love bean salads, this recipe is for you. If you love guacamole...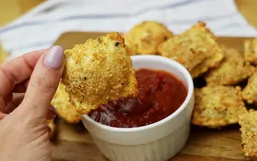 These baked crispy raviolis are like bite sized pasta casseroles you can serve at a party, or enjoy for dinner.
Super Bowl is one of the biggest food events of the year. A Super Bowl party just wouldn't be a Super Bowl party without some kind...
For many, Starbucks is the place they start their day, for others, it's the perfect pick-me-up or a place to meet friends and...
The best part of every party is undoubtedly the food. If you're not eating good food are you really having a good time?
The Super Bowl is that time of year when people gather together to cheer, laugh, cry and dance to the halftime show.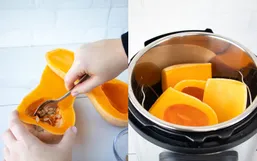 The holidays are a busy time of year, between hosting guests, planning a dinner, and catering to everyone's needs it can get...