Thanksgiving in its entirety no longer has to rest on the shoulders of the family matriarch. This year, mom or grandma can start a new tradition of collaboration, one that no longer requires making everything, from scratch, on Thanksgiving Day.
In fact, these traditional Thanksgiving dishes can be made ahead or contributed in pot luck fashion so that everyone in the family can enjoy the holiday…
1. Roasted Butternut Squash Soup
This roasted butternut squash soup is an excellent choice for anyone in need of a delicious appetizer or side dish this Thanksgiving. You can roast the vegetables in advance and follow the rest of the steps on the day or, or even prepare the dish entirely one or two days ahead. Just make sure to store the soup in an airtight container in the fridge to keep it fresh.
This recipe walks you through prepping, seasoning, and roasting the vegetables to achieve decadent results. It takes about an our and a half to prepare and yields eight servings. Plus, it's a vegan recipe that everyone will love.
2. Roasted Vegetables
There's no easier way to serve up vegetables than with a roasted veggie tray. All you do is chop up the veggies, drizzle on some olive oil, and serve once the oven timer dings! It takes less than an hour to prepare and is a healthy dish to prepare on Thanksgiving Day.
To make a fall themed roasted veggie plate, there are some must-have vegetables to include on your shopping list. This recipe calls for sweet potatoes, cauliflower florets, acorn squash, zucchini, and some others. Topping it off with cinnamon and oregano among other seasoning will deliver the fall flavors you're looking for.
3. Make-Ahead Turkey and Gravy
It wouldn't be Thanksgiving Day at most households without serving up a turkey dinner. The tender, juicy, and well seasoned bird is a fan favorite during the holidays. You can get started on the turkey and gravy ahead of the big day by following this mouthwatering recipe!
For this recipe, you will have to rub the turkey about two or three days before roasting. The homemade gravy can also be made ahead of time and refrigerated in an airtight container until you're ready to serve. All you have to do when you're ready is to heat it over the stovetop and add some last minute ingredients like the wine and seasonings.
4. Pineapple-CranberrySauce
Looking to experiment with your cranberry sauce this year? Then check out this pineapple cranberry sauce recipe. It elevates this classic holiday sauce with a hint of pineapple flavor that is sure to impress guests once they get a taste. It's also an easy homemade recipe that will have you never wanting to buy pre-made cranberry sauce ever again.
The recipe takes less than 20 minutes to prepare and can be made up to two days in advance. Just store it in an airtight container in the fridge. Alternatively, you could also freeze it for up to two months. It uses just six ingredients and is guaranteed to taste good with everything else at the dinner table.
5. Simple Scalloped Potatoes
Potatoes are a staple at the holiday dinner table. As for what type? These cheesy scalloped potatoes are an excellent option. The creaminess of the potatoes mixed with the homemade beshamel sauce make for a melt-in-your-mouth side plate. This recipe takes less than an hour to make from start to finish.
If you decide to make the potatoes one day ahead of Thanksgiving, simply cover it with plastic wrap or foil in the fridge. You can also make it earlier and freeze it. Simply thaw overnight in the fridge the day before you need it and follow the instructions for reheating. Without baking the potatoes, this dish can be frozen for up to three months.
6. Herb & Cheddar Biscuits
One of the easiest and most dippable side dishes to prepare for Thanksgiving Day are biscuits. These flaky and savory breads pair well with gravy and other sides at the dinner table. Even better, this is a one-bowl recipe that flavors the biscuits with garlic and cheddar.
You can prepare the dry mix in advance to save time. On the day of, you can continue the recipe by adding in the grated cheddar and buttermilk to form the dough. This recipe yields 10 biscuits and takes a little over half an hour to make. Have some gravy on the table for dipping and enjoy!
7. Olive Bread Stuffing with Fennel
Gourmet dreams do come true when artisanal olive bread bits are assembled in a baking dish with buttered mushrooms, chopped fennel and onions, sundried tomatoes, chicken stock, and fresh herbs (i.e., thyme, basil, tarragon, salt, and black pepper), and sprinkled with Parmesan cheese. Voila, a rustic, stuffing that can be made up to two days prior to Thanksgiving.
This recipe yields 12 servings and takes about 20 minutes of hands-on preparation. You have to bake it in the oven covered for 40 minutes. After sprinkling it with the remaining cheese, continue to bake for up to 25 minutes longer uncovered.
8. Free-Form Apple Tart
Prepare to impress your dinner guests for both presentation and flavor when serving up these homemade apple tarts. This recipe, which takes less than two hours to prepare, gives you a buttery and flaky crust with a sweet apple filling that's hard to resist.
Since you must allow tarts to cool completely, it's a dessert that makes sense to make ahead of time. Cover it loosely with tinfoil or plastic wrap to make sure it stays fresh until you're ready to serve. The tarts can keep well for up to 24 hours at room temperature or for up to three days in the refrigerator.
9. Mashed Potato Casserole
Load up your mashed potatoes with cheese, bacon, and fresh chives by following this House of Yumm recipe. This side dish not only tastes delicious, but will immediately draw people in based on presentation alone. It's loaded with shredded cheese that will melt in your mouth with every bite.
Feel free to make this dish the day before Thanksgiving. You can cook and mash the potatoes, add the cheese to your casserole dish, and simply bake it on the day you're serving it. Don't forget to add the toppings! To make this dish vegetarian-friendly, just omit the bacon.
10. Spinach Puffs
What better way to serve evenly sized dishes than by using a muffin tin? You can do exactly that by following this spinach puff recipe. These bite-sized appetizers yield 12 servings and takes about 20 minutes to bake in the oven.
To make this recipe ahead of time, simply do not brush the puffs with egg wash just yet. Freeze them in the muffin tins and wrap it with foil or plastic wrap. The hood news is you can bake them frozen! Just make sure to brush them before baking and give them some extra time in the oven so they are fully cooked.
11. Turkey-Shaped Cheese Platter
The nice thing about serving platters is that you can make it ahead of time and simply pull it from the fridge when you're ready to serve. If you're looking for a way to spice up presentation, then check out this turkey-shaped cheese platter. It has salami, cheese, and crackers arranged on the platter in the shape of a turkey — so cute!
Follow this recipe to see how easy it is to shape your board into a turkey. On the day of Thanksgiving dinner, all you'll have to do is uncover and serve. Prepping this cheese platter ahead of time can also be a fun activity to do with the kids.
12. Apple Cider Sangria
Don't forget about the drinks on Thanksgiving Day! What better way to celebrate than with a festive adult beverage? This apple cider sangria recipe is perfect for fall and your guests will most definitely be raving over it. The recipe uses white wine, apples, fresh apple cider, and other flavorful ingredients.
Making the sangria can't get any easier. All you have to do is mix together all the ingredients and let it sit for anywhere from two to 24 hours, so feel free to make it the day before. You can add in the carbonated water once you're ready to serve.
It's easy to get into the habit of throwing whatever pre-packaged items you have in your house into your bag before you run out...
As we approach summer, there are so many more fun things to do on the weekend!
Summer is here and there is fresh produce finally to be found at every market!
It's a wonder how much we can pack into a work week! Limited time is often why we hardly have time for healthy eating.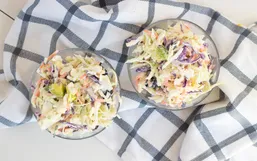 Coleslaw might be on the most beloved summer salads in North America. Why you ask? I have no idea.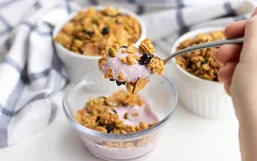 Granola is delicious breakfast food, whether it's with yogurt, milk (or non-dairy milk!), or on its own.
Deep frying a turkey can be the most dangerous method of cooking people try.
Here is your detailed checklist for preparing for Thanksgiving. We will go through week by week to help you get ready.
Living with celiac disease means gluten is your enemy. There is a social stigma that gluten free individuals chose to live that...
After stuffing yourself with the great Thanksgiving feast, it can be hard to think about eating dessert.
Thanksgiving is right around the corner, but it can be a difficult time for those with Celiac disease or who eat gluten free.
Thanksgiving is nothing without the cranberry sauce for the turkey. Such a simple dressing, and yet it elevates the entire meal.