It's a wonder how much we can pack into a work week! Limited time is often why we hardly have time for healthy eating. However, nutritious and delicious lunches are vital if you expect to get everything accomplished. We have searched for delicious meals that are easy to prepare and even more exciting to dig into!
You'll experience some excellent freezer-friendly recipes, casseroles, childhood favorites and so much more! Prepare these meals ahead and enjoy a nutritious and satisfying meal all week long.
1. Chicken Enchiladas
The beauty of this recipe is that it yields some seriously meaty, zesty, cheesy enchiladas from scratch in no time at all! This mix of lean chicken breast covered in fresh cilantro, gooey cheese, and thick and fragrant tomato sauce all rolled up in flour tortillas can be frozen individually for lunches.
2. Black Bean-Turkey Chili
This hearty combination of lean ground turkey; hearty black beans; fresh onions, mushrooms, and peppers; and zesty spices makes for an easy meal that you can have for dinner at the beginning of the week—and then freeze the rest in individual plastic containers to pop in your lunch bag over a very hectic week for work.
3. Coconut Chicken Curry
Mild enough the wee ones and with enough of a kick for mom and dad's lunches too, this fragrant coconut chicken curry is a heavenly blend of delicious curry and cooling coconut flavors that together are ideal for the tail end of rainy springtime weather.
4. Crispy Prosciutto Cheesy White Lasagna
The very best lasagna recipes are passed on from mother to daughter and from aunt to nephew. So even though this particular recipe was not a direct gift from your grandma or Aunt Edna, you won't be disappointed one bit with the traditional soft noodles smothered with sauce, smeared with ricotta and cottage cheese, and baked up golden brown.
5. Bean and Cheese Burritos
These bean burritos are a great way to get more delicious fiber in your diet. Each one is jam-packed with beans, cheese, garlic, onion and avocado that freezes brilliantly for healthy lunch options all week long.
6. Slow Cooker Chicken Gyros
Transport yourself to the Greek islands at 12:30 pm every week—when you whip up a batch of these succulent slow cooker chicken gyros and freeze them individually for your lunch pack. The tender meat is thanks to the slow cooking method and the blend of garlic, lemon, olive oil, and red wine vinegar, which acts as a tangy marinade.
7. Cream of Chicken Soup
A hearty and hot bowl of chicken soup is the perfect mid-day comfort "pick-me-up" when the work day is going a little askew. Ideal for Mondays and those chilly spring days, this soup recipe will warm your cockles so you can get back to work and be productive.
8. Chicken Fajitas
Why can't you enjoy a hearty chicken fajita, folded over with veggies and gooey cheese, piled up on a plate with melted cheese, salsa, and a dollop of light sour cream and guacamole? You certainly can—thanks to this totally lunch-able chicken fajita recipe.
9. Slow Cooker Jambalaya
If you like zesty, spicy, and easy then this super quick and convenient jambalaya recipe is just what tomorrow's lunch ordered! Have a delicious supper and then freeze it in individual microwave-safe containers for lunches all week long!
10. Quinoa Salad in a Jar
Make great use of your leftover mason jars—and get yourself a week's worth of healthy and nutritious lunches at the same time with time! These ideal grab-and-go salads in a jar make for the most convenient lunches around!
11. Freezer-Friendly Baked Turkey Meatballs
These healthy oven-baked turkey meatballs are freezer-friendly and they're great for meal prepping! The turkey meatballs are full of delicious seasonings such as parsley, onion, garlic and are bound together with breadcrumbs and an egg. For easy meal prepping combine the meatballs with spiralized zucchini and tomato sauce!
12. Healthy Baked Cauliflower Chickpea Samosas
Healthy baked cauliflower and chickpea samosas are incredibly easy to make! Bake and then store them in the freezer for easy grab and go snacks or bake them and transfer to lunch containers. When eating these for lunch pair them with steamed veggies and a scoop of rice and store in the fridge for up to 5 days! In addition, these samosas are made with store-bought egg roll wrappers which diminishes a ton of the prep work!
13. Easy Tortilla Soup
This vegetarian meal may be meatless but you won't miss the meat because it's flourishing in delicious flavors and textures! Better yet, this delicious soup can be made in just 10 minutes and will fill your belly all week long! It's also an excellent freezer-friendly option if you're looking to prepare for the weeks ahead!
14. Healthy Homemade Hot Pockets
Are pizza pockets your guilty pleasure? Try making these healthy homemade hot pockets that might actually taste better than the store-bought version! They do require a bit of extra work but the pay off will be well worth it. Once the pockets have cooled you can wrap them individually and keep them in the freezer until you're ready to pack your lunch!
15. Roasted Sweet Potato Quinoa Black Bean Salad
Sometimes salads sound boring, however, this isn't your average leafy green salad. This quinoa-based salad has exciting flavors, is an excellent source of protein to keep you full and has a delicious honey and lime dressing that keeps you interested! You'll love indulging in this type of salad all week long!
16. Ginger Lime Chicken Cauliflower Rice Meal Prep
These simple chicken and cauliflower rice bowls are delicious and incredibly healthy. Cauliflower rice is easy to make in a food processor and helps cut back on the overall carbs. The combination of veggies and proteins will help keep you full all day long and to get you through until your next meal!
17. Meal Prep Lunch Bowls With Spicy Chicken
Create a healthy meal that is gluten-free, dairy-free and low carb that remains insanely delicious. You can cook this spicy chicken meal all on one sheet pan which makes the preparation easy and the clean up even easier. Serve with sliced apples so you can finish your meal with a crisp sweet bite!
18. Chicken And Hummus Plate Lunch Meal Prep
This grown-up version of a Lunchable might be the type of meal you need to encourage healthy eating habits! Fresh cut veggies are paired with the perfect protein-packed dipping sauce, hummus! Instead of processed meat, you'll add boneless chicken breast and finish the meal with a few slices of cheese and sweet grapes!
19. Vegan Turmeric Quinoa Power Bowls
Vegan power bowls are a great option for everyone! Turmeric provides these bowls with exciting color and amazing health benefits too! It's a natural anti-inflammatory and can help protect us against diseases. The combination of creamy avocado, crunchy chickpeas, and savory potatoes and quinoa make this bowl far from boring!
20. Healthy Taco Salad In A Mason Jar
This healthy taco salad makes eating healthy food fun and the jars make it convenient! Create the salad by building delicious layers of ground beef, salsa, corn, beans, tomatoes, cheese. Before you head out the door add in fresh lettuce, avocado, and crushed corn chips. When you're ready to dig in shake well and enjoy!
21. Slow Cooker Kung Pao Chicken
Skip the takeout because this week you need to try this slow cooker kung pao chicken. It's healthy, exciting and will most definitely satisfy you. The great thing about making this dish at home is you can customize how spicy you want it. Begin by browning the meat on the stove top then pour all the delicious ingredients into the slow cooker. Lastly, set up your meals for the week in containers and pair the chicken with a scoop of rice!
22. Southwestern Chicken And Rice Foil Packets
Foil packets make dividing up your lunch portions easy and convenient! This delicious Southwestern chicken meal comes together quickly too! Each pack comes with rice, black beans, tender chicken and bell peppers! Pack each meal with a fresh lemon wedge and enjoy all week long!
23. Gnocchi And Veggies One Pan Dinner
Enjoy a meal that truly melts in your mouth. This gnocchi and veggies one-pan dinner is so easy and makes meal prep a breeze! To create this recipe, combine gnocchi with bell peppers, broccoli, red onion, cherry tomatoes and loads of seasonings. Bake the dish in the oven for 15 minutes and then divide into your lunch containers!
24. One Pan Honey Garlic Chicken And Vegetables
This recipe serves 4 which means you can think of that as 4 meals. If you're looking to get a full 5 days worth simply add an additional chicken breast and a few more veggies to your sheet pan. You'll want to lick your bowl clean because this honey and garlic chicken is divine!
25. Fall Harvest Protein And Veggies Sheet Pan Dinner
Fall harvest protein dinner is an excellent meal that will satisfy your craving for fall flavors. It's chock full of wholesome ingredients too! Change things up midweek and go from enjoying chicken to tofu. However, you can make this meal with only one type of protein if you prefer one over the other. Some of the other wholesome ingredients include sweet potato, brussels sprouts, red onion, dried cranberries, and pecans.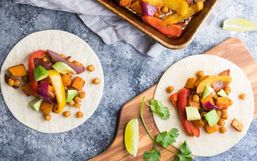 It's easy to get into the habit of throwing whatever pre-packaged items you have in your house into your bag before you run out...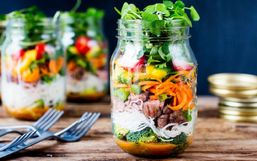 Summer is here and there is fresh produce finally to be found at every market!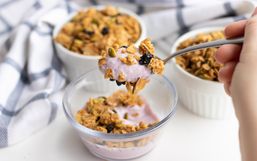 Granola is delicious breakfast food, whether it's with yogurt, milk (or non-dairy milk!), or on its own.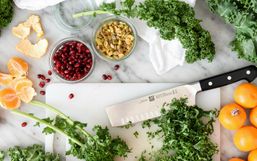 As we approach summer, there are so many more fun things to do on the weekend!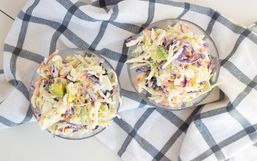 Coleslaw might be on the most beloved summer salads in North America. Why you ask? I have no idea.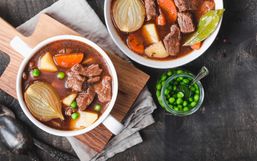 The weeknights can be one of the most hectic times during the week, especially for those who have families that are involved in a...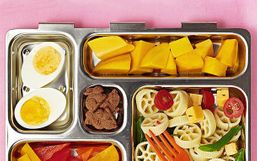 Whether you're the kind to make lunches the night before or wake up early to hustle them together in the morning, most of us...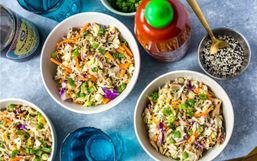 While experimenting with the Instant Pot I quickly discovered that it can not only cook a quick and easy weeknight meal but it can...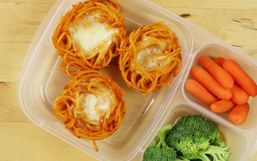 Dealing with picky eaters can be not only frustrating but tiring too. We're here to help you set yourself up for success.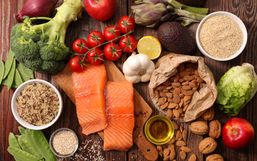 Being comfortable in your body is essential to living a happy life.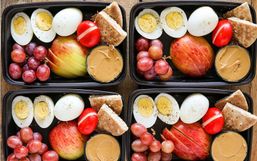 Most parents love back to school season because that means you can finally get the kids out of the house and give yourself a...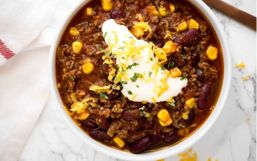 Ground beef is an inexpensive ingredient. It cooks quickly and it can be incorporated into many different recipes.