One of the main Ketogenic Diet essential foods is eggs. Rich in protein and the fats you need to keep fueled, it's no wonder you're looking to add them into your diet more. With a quiche, it's a perfect breakfast, lunch or dinner option and is surprisingly good as a cold leftover, too. However, the Keto diet demands very low-carbs, which means buh-bye to your beloved quiche crust. That said, we don't believe in sacrifices, we believe in substitutes…or, probably even an upgrade in this case.
Related Topics (Ads):
By baking cheese slices in your pie pan before adding your egg, meat & veggie mixture to it, you create a crispy crust that's incredibly complimentary to the quiche. All the while, it's helping add more fats to your diet without compromising your carb intake one bit.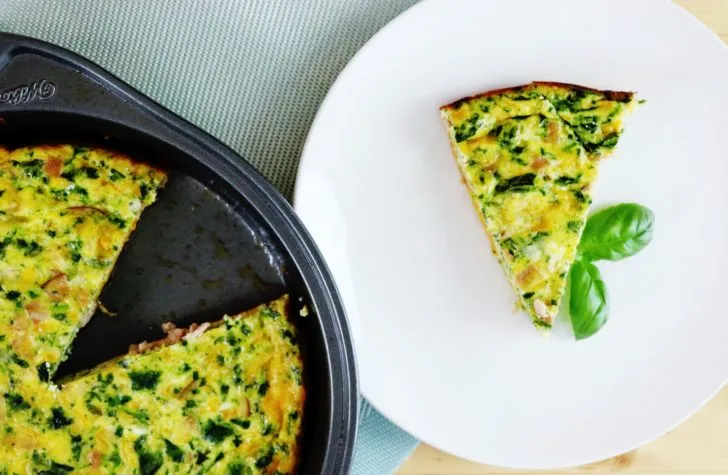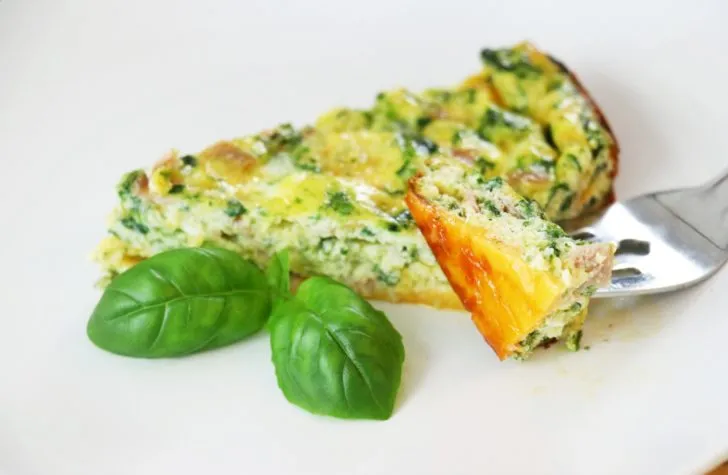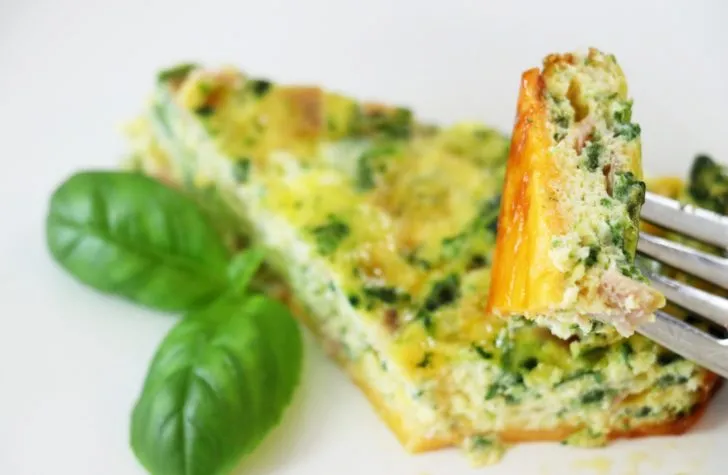 Yeah, we definitely think this is an upgrade from traditional quiche crust. Try it, and you'll agree!
Ingredients
4-6 slices real cheddar cheese (or substitute for 1 cup shredded cheese)
6 eggs
1/2 cup cream (we used 10%, you can use heavy cream or milk)
1 cup shredded cheese
1/4 cup frozen spinach, thawed (can sub for a handful of fresh)
3 slices of ham, chopped
Dash of cayenne pepper (optional)
Salt & Pepper, to taste
Method
Preheat oven to 400 degreesFahrenheit, and line the bottom of your pie pan with cheese slices (make sure it's real cheese). Place in the oven for 8-10 minutes until bubbly and golden brown. Set aside to cool slightly.
Reduce oven temperature to 325 degrees Fahrenheit.
In a mixing bowl, combine eggs, cream, shredded cheese, ham, spinach, cayenne (optional), salt and pepper and whisk until well blended.
Pour mixture over the cheese crust, and return to the oven (now 325 degrees) for 30-35 minutes, or until fully baked through.
Remove from oven and let cool slightly before slicing up to serve. Enjoy!
Related Topics (Ads):
Switching to any new diet can be difficult. Often, you're forced to give up the foods you love but I believe the key to success is...
Starting a new diet isn't the hard part but being consistent and dedicated is!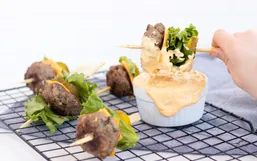 These Big Mac Bites are absolutely drool-worthy and the Copycat Big Mac Sauce is spot on - you wouldn't even know it didn't come...
Summer is in full swing and what better way to celebrate the warm weather than to dig into delicious food!
Diets can be so hard to follow especially when strong cravings hit.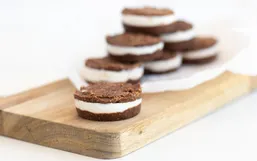 Fat bombs are an essential part of the Keto diet, allowing you to intake a large amount of healthy fats in just a couple of bites.
Starting a new diet can be daunting and difficult and staying committed to that diet can be even harder.
Following the keto diet means that you've committed to eating a diet that is high in fat, low in carbs and moderate in protein.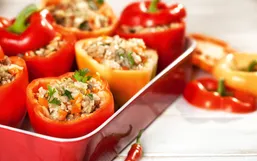 Committing to the keto diet requires hard work and dedication, especially if you want to remain in ketosis.
Following a diet is never easy -- it requires planning, motivation, and most of all, dedication.
Holidays are great because they generally mean you get to spend more quality time with friends and family and feast on delicious...
There is a lot to look forward to in fall. For starters, the crisp air brings on beautiful changing leaves, apples are ready to be...