After all the hours and hard work you put into Thanksgiving dinner, it's eaten within half an hour and you're left with a ton of leftovers. There are some classic ways of using leftovers- hot turkey sandwiches, turkey pot pie, and more. We want to mix things up by showing you how to turn your Thanksgiving leftovers into simple yet delicious casseroles. Casseroles are great because they're quick to make, they generally only use one pot, and they freeze brilliantly.
If you make a casserole to freeze, here are some tips for cooking it. Firstly, when you go to freeze it, make sure it has completely cooled. If you throw hot food in a dish, and then into the freezer, the dish could shatter. When storing in the freezer, keep a tight lid on the casserole. Some casserole dishes come with plastic lids for this purpose. If yours doesn't, tightly wrap the dish with plastic wrap. This will help keep out frost and keep your dish tasting wonderful. Thawing the dish properly is important. Take the casserole out of the freezer the day before you want to use it. Keep it in the fridge and let it defrost slowly. Once fully thawed, cook it as originally directed.
1. Grandma's Creamed Corn Casserole
If corn is a go-to at your Thanksgiving dinner and you end up with leftovers, this creamed corn casserole could be the perfect solution. It's super easy to make and is versatile in the sense that it can be served warm, hot or cold and still be completely delicious. It also pairs perfectly with turkey and ham, which are other Thanksgiving leftover classics.
To make this creamy corn casserole just like Grandma, you'll need six key ingredients: canned whole kernel corn, canned creamed corn, sugar, flour, eggs, and butter, plus a touch of salt and pepper. You can easily change the portion size of this recipe depending on how large of a casserole you're hoping to make, just ensure to also choose a larger pan when baking. This recipe does contain a high amount of sugar, so be careful to consume in moderation, or simply lower the sugar if you're looking to make this dish a little healthier.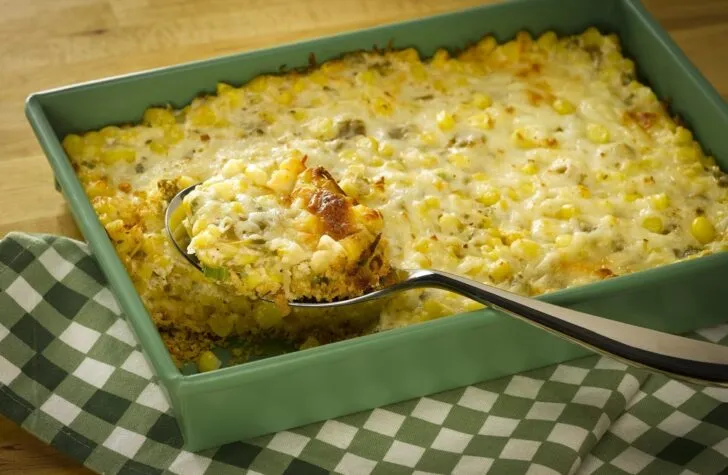 2. Bacon and Cheese Brussel Sprouts Casserole
Brussel Sprouts is one of those foods that many either love or hate, which means you could end up with quite a few leftovers following Thanksgiving. Don't worry though! With the help of bacon and cheese, this casserole will blow your family's minds and is the perfect solution to leftovers. Brussels sprouts are amazing for your health and are packed with vitamins A, C, and K. They're also loaded with antioxidants and an incredible source of iron and fiber. Even if someone in your family doesn't like brussel sprouts, this could certainly be the recipe that converts them.
For this recipe, you'll need brussel sprouts, bacon, half & half whipping cream, dijon mustard, parmesan cheese, garlic and nutmeg. You can also top this recipe with a pinch of salt, pepper and crushed red pepper flakes if you have them on hand. Cheesy, bacon brussel sprout goodness is just a few steps away with this delicious recipe!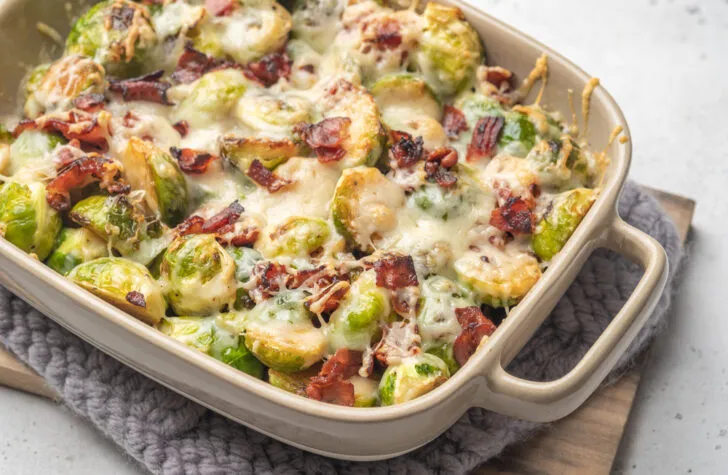 3. Cheesy Scalloped Potatoes
What's Thanksgiving without classic mashed potatoes? If you're hosting this year, you likely have leftover potatoes hanging around the house. If you're wanting to change things up, why not try these cheesy scalloped potatoes with the leftovers? They pair as the perfect side dish to any meal and are the ultimate comfort food. Scalloped Potatoes are always a favorite and these are simply to die for!
There are three key steps to making this dish. Boil the potatoes whole and unpeeled for about 20-25 minutes. Allow them to slightly cool and then peel and slice. While the potatoes are boiling, you can make the cheese sauce with butter, flour, milk and cheddar cheese. Lastly, layer the potatoes and cheese sauce in a large casserole dish and bake until the cheese is melted and bubbly and the casserole is hot throughout. You can also add fresh minced parsley as a finishing touch!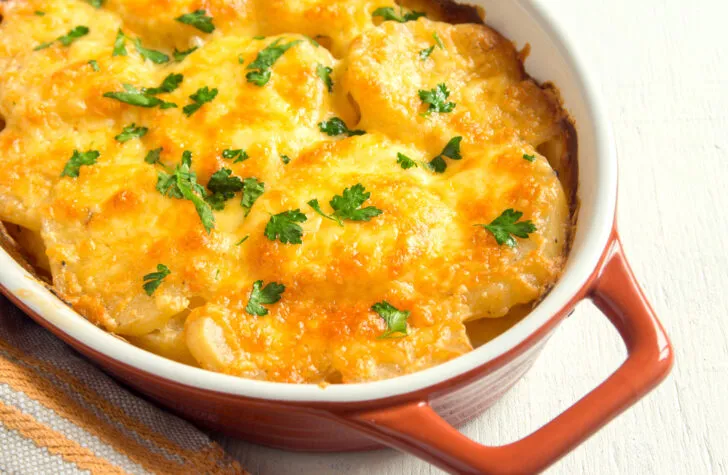 4. Healthy Sweet Potato Casserole
If you're wanting to stay a little more healthy after such a hearty Thanksgiving dinner, give this healthy sweet potato casserole dish a try. This recipe is only sweetened with applesauce and is paleo, vegan, gluten-free, dairy-free & sugar free! This dish is packed with fall flavours and is velvety smooth but also healthy, which is a huge bonus. Many sweet potato casseroles use butter or brown sugar or marshmallows, which is definitely delicious, but not necessary to make a mouth-watering dish!
To make this recipe, start by baking your sweet potatoes and then letting them cool slightly. Next, remove the skin off your potatoes and blend them in your blender with applesauce until smooth. Add melted coconut oil, cinnamon, salt and nutmeg and blend until combined. Transfer the mixture into a baking dish and sprinkle with pecans. Bake at 375 for 25-30 minutes until potatoes begin to slightly bubble. Allow to cool for 10 minutes before serving.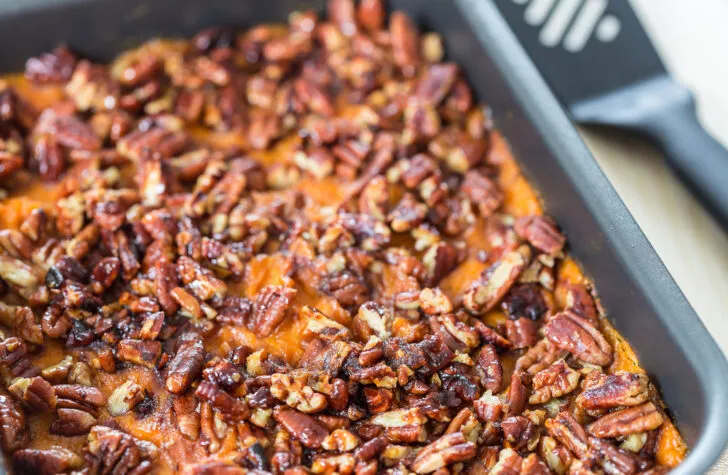 5. Creamy Green bean Casserole From Scratch
Do your little ones avoid eating their greens? With this green bean casserole, you can bet they will be begging for seconds! Green bean casserole is super simple to make the traditional way with condensed soup and canned gravy, but it's even more delicious when it's made from scratch! Adding fresh ingredients gives this dish even more rich flavour and texture.
To make a classic green bean casserole from scratch, start by coating sliced onions in some flour, then add beaten egg and milk, then breadcrumbs. Bake. Next, rinse the fresh green beans and be sure to trim them, halve them, and blanch them. Next you'll make the gravy sauce with some butter, mushrooms, salt, pepper, garlic, flour, chicken broth and half-and-half. Add in some of the onions and green beans and give it a stir. Then top the dish with the rest of the onions and bake in the oven at 400°F for 10-15 minutes or until bubbly.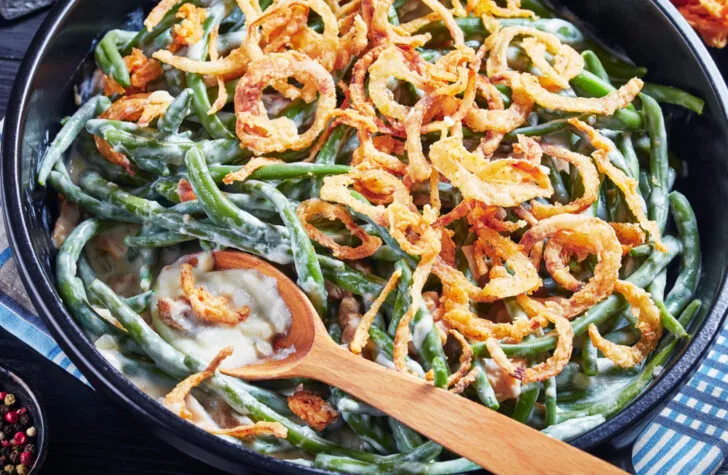 6. Thanksgiving Pizza
"Awww Mom, why can't we just eat pizza? I want pizza!" Does that sound familiar? This time, say "okay!" and shock your children with exactly what they want – and what you want. You may not have thought of the idea before, but using your Thanksgiving leftovers and turning them into a pizza is absolutely delicious and super easy.
Start with a thawed puff pastry sheet as the base. Trim the corners and use them to fill in any empty spaces. Next, add your Thanksgiving leftovers which can be anything from turkey to mashed potatoes to stuffing or gravy. Top the mixture with a layer of cheddar cheese. If you don't have any leftover turkey, you could also do this same recipe with a rotisserie chicken. Bake the pizza at 400 degrees for 18-20 minutes. Garnish with basil, parsley or thyme and freshly ground black pepper. Viola, pizza is served!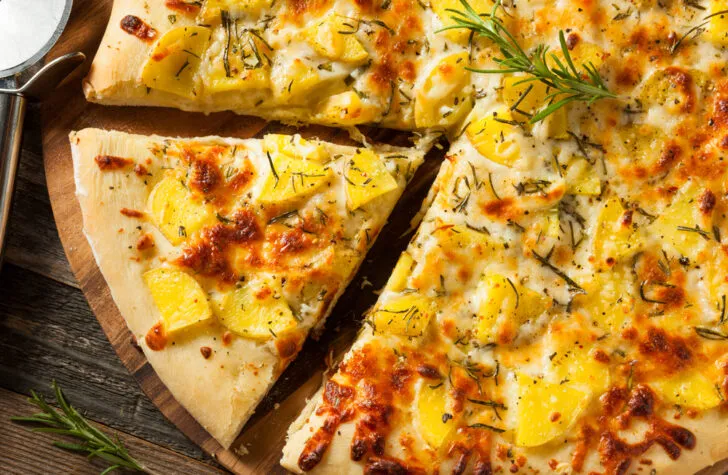 7. Loaded Mashed Potato Casserole
We all love a good mashed potato, but have you ever thought of turning this classic Thanksgiving dish into a loaded mashed potato casserole? Elevate your traditional mashed potato dish by cooking them in the oven after being mashed and topping with rich and creamy ingredients such as bacon, cheese, sour cream and chives. This dish has all the mouth-watering flavors of a fully loaded baked potato in the form of an easy to make casserole.
Begin by boiling your potatoes until they're tender. Next, mash up your potatoes with plenty of butter, cheese, sour cream and seasonings. Next, spread the potatoes into a casserole dish and top with bacon and cheese. Cover the pan with foil and bake in the oven for 20 minutes or until the cheese is bubbly. Sprinkle the final product with chives and parsley over the top and serve immediately! This one will definitely have your guests asking for the recipe.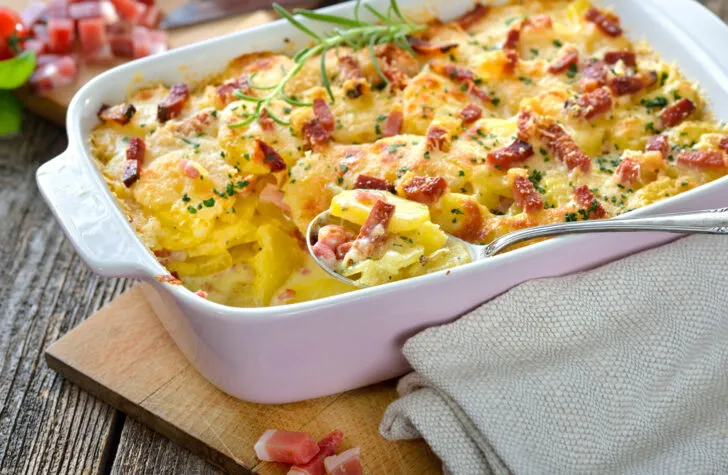 8. Pumpkin Sage Lasagna Roll Up Pull Aparts
This pumpkin sage casserole is no ordinary lasagna. With pre-portioned roll ups, it makes for easy serving. Not only that, but this lasagna is pumpkin flavored, which is so unique and delicious! The creaminess of the pumpkin paired with the crispy sage leaves are the perfect fall combination. If you're looking for something hearty, creamy and savory, this is the dish for you.
To begin, add kabocha, onion, garlic, and sage to a skillet with oil on medium heat. Season with salt and pepper and cook for about 8-10 minutes. Next, add stock and bring the mixture to a boil. Next, make the ricotta filling by combining all necessary ingredients and boil the lasagna noodles. Once cooked, spread 1-2 tablespoons of kabocha sauce and 1 tablespoon of the ricotta mixture onto each lasagne noodle and roll up tightly and place into an ovenproof dish. Bake at 375°F for 45 minutes and enjoy warm with crispy sage leaves.
9. Cottage Pie
Make a dish that will soothe your relatives' souls and help everyone relax. This cottage pie casserole will remind you of your mother's home cooking on a chilly day. Perfect for Thanksgiving or as a post-Thanksgiving meal with leftovers. This specific cottage pie is vegetarian and packed with lentils, mushrooms, veggies and herbs. It will be a hit for both vegetarians and meat-eaters with all the hearty fall flavours!
This specific recipe is a little labor intensive with lots of chopping, but definitely well worth the work for the delicious taste. You can also use a Dutch oven if you have one which will reduce the overall pans necessary to cook and clean for this recipe. If you and your guests are fans of traditional Shepherd's Pie, this recipe will definitely be a hit. It's heavily influenced by the original, crave-worthy meal that most remember from childhood and is perfect to serve around the holidays.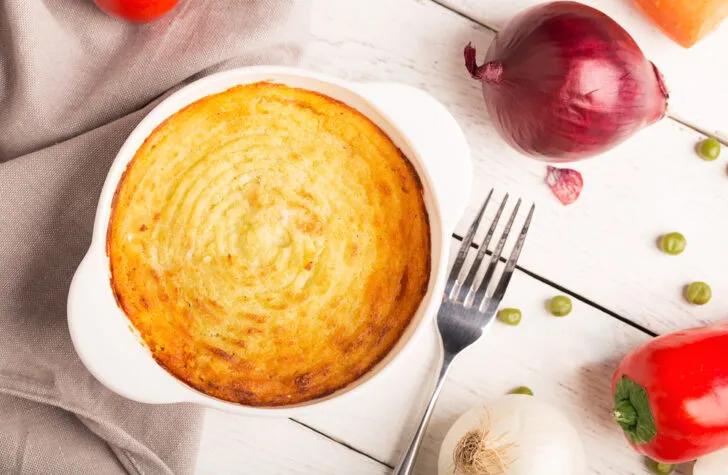 10. Stuffed Mushroom Casserole
Want to contribute a little gourmet dish for Thanksgiving this year? This mushroom casserole is so scrumptious and rich, your family will think you stole it from a high end restaurant! This stuffed mushroom casserole transforms a family favorite appetizer into a super easy casserole that anyone can make. This casserole holds all the flavor of delicious garlic stuffed mushrooms in any easy to make casserole formula.
This casserole recipe also doesn't require too many ingredients, which is a bonus. You'll need sliced mushrooms, butter, onion, garlic, mozzarella cheese, parmesan cheese and breadcrumbs. You can also add salt and pepper to taste and fresh parsley to garnish. This recipe is already quite simple to make, but if you have a cast iron skillet you can actually bake everything right in the skillet, making things even easier. Another great alternative to this recipe is adding a little sour cream swirled in before serving, especially if you have any stroganoff fans in your group.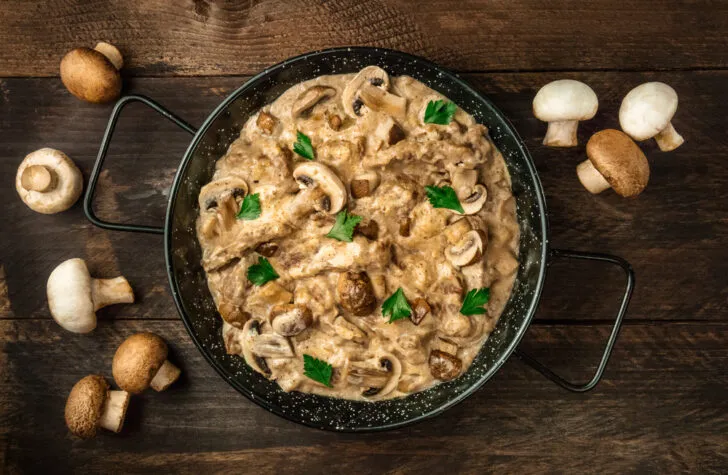 11. Leftover Thanksgiving Turkey Pot Pie
Leftover turkey? Why not turn it into a creamy turkey pot pie? Pot pie is an easy way to combine many different flavors into one comforting dish. Skip the turkey sandwiches and throw your leftover turkey in with frozen veggies, a creamy sauce and add a flaky top for a delicious turkey pot pie. This recipe will melt in your mouth and have you wanting to skip Thanksgiving dinner and head straight to the leftovers!
To make the delicious filling, you'll begin by melting butter in a large skillet over medium high heat. Next, add garlic, onion, corn, carrots and peas and cook, stirring occasionally. Whisk in flour until lightly browned and then gradually whisk in chicken broth, milk and thyme. Stir in your turkey and season with salt and pepper. Place the filling into individual ramekins, top with puff pastry and bake for 20 minutes until golden brown. Let cool for 5 minutes before serving.
12. Turkey Butternut Squash Casserole
Pasta is often a crowd favorite so why not try this turkey butternut squash casserole? In this dish, you'll be welcomed with tender noodles and turkey, soft butternut squash and loads of cheesy goodness. It is the ideal combination of flavors for the fall time and absolutely perfect to make for your family with all that left over turkey.
A few basic steps for this recipe are as follows. Start this recipe by peeling, removing the pulp and dicing a small to medium butternut squash. Add the squash to a baking sheet and top with olive oil. Cook the pasta while the squash is baking. Once the pasta is done, melt butter in a skillet and whisk in the flour. Next, make the sauce by whisking the milk, salt, sage, and thyme. Toss the cooked pasta, cooked squash, turkey, sauce, and 1 cup of mozzarella cheese until fully combined in the baking dish. Top with remaining cheese and bake for 10 minutes.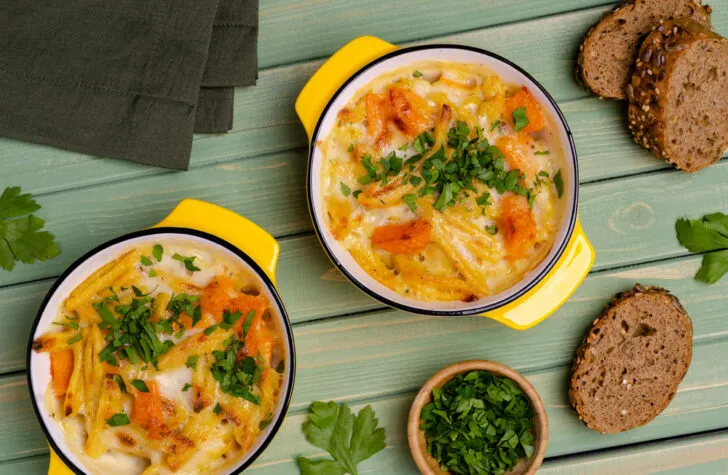 13. Chicken Or Turkey Tetrazzini Casserole
Following the pasta trend, you and your family need to try this turkey tetrazzini. It will work great with leftover chicken or turkey, whichever you have from your Thanksgiving dinner. It's creamy, cheesy and delicious! A few of the key ingredients you'll need for this recipe include linguine pasta, butter, flour, cayenne pepper, half and half, mushrooms, pimentos, Parmesan cheese, and Mozzarella cheese.
Begin by cooking the linguine. While it cooks, melt butter over medium heat in a large saucepan, then stir in the flour, salt, pepper, and cayenne pepper until mixture is smooth. Next, carefully pour in the broth, stirring as you pour it in. Once you've drained the pasta, add it into a large bowl and add the chicken, mushrooms, pimentos, and parsley. Pour sauce on top and mix until everything is covered in sauce. Pour the noodles and sauce mixture into the pan. Top with Parmesan cheese and mozzarella cheese. Cover with foil and bake for 30 minutes. Remove foil and bake for another 20 minutes.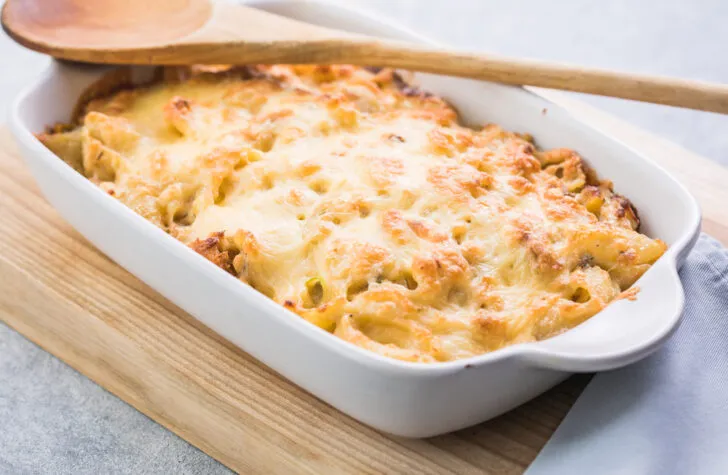 14. Turkey And Dressing Casserole
Do you have leftover turkey and stuffing? You need to throw this turkey and dressing casserole together, it's delicious! Tender bites of turkey mixed with herb-seasoned stuffing and a few other ingredients will make this meal unforgettable. You won't even realize you're eating leftovers! It packs all the incredible flavors of Thanksgiving into one hearty dinner dish.
To make this recipe you'll need package herb-seasoned stuffing mix, butter, chicken broth, chopped cooked turkey, onion, celery, mayonnaise, eggs, milk, shredded cheddar cheese and salt. Start by spraying a baking dish with non-stick cooking spray. Next, mix together stuffing, melted butter, and chicken broth and place half of the stuffing mixture in the bottom of the prepared baking dish. Next, mix together the chopped turkey, onion, celery, mayonnaise, and salt. Spread this mixture over stuffing mixture in the baking dish. Top with reserved stuffing mixture. Next, beat eggs and milk together and pour evenly into the baking dish. Cover the baking dish with foil and refrigerate overnight. The next day, remove foil and bake at 350℉ for 45 minutes.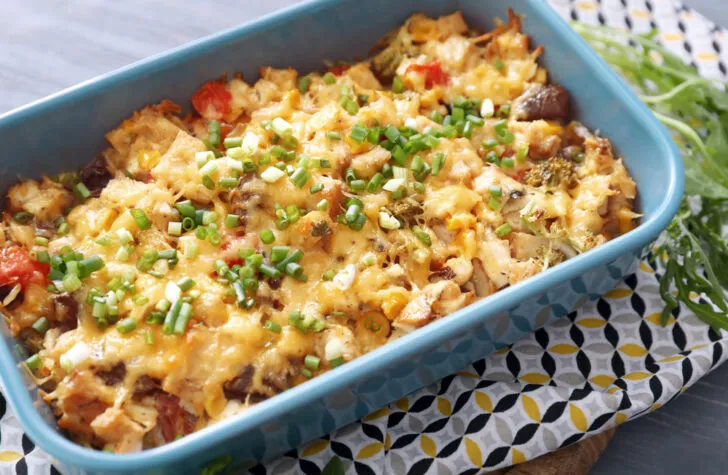 15. Creamy Turkey Noodle Casserole
Before you send your Thanksgiving leftovers home with your guests, make sure to save yourself some leftover turkey, you'll want to make this recipe! Cream turkey noodle casserole is incredibly easy to throw together and is bound to be a new family favorite. It's comfort food in the best way with all the creamy turkey and hearty noodles in combination with traditional pot pie ingredients.
To make this recipe, begin by cooking the pasta. While pasta is cooking, add butter and frozen veggies to a large pot and cook until thawed. Add flour and cook and stir for 1 – 2 minutes, then stir in milk and bring the mixture to a boil. Add turkey, soup, sour cream, salt and pepper and mix until well combined. Next, drain pasta and add to sauce. Stir until mixed and then spoon into a greased 9×13 pan. Top with cheese and cook for 25 – 30 minutes, then cook uncovered for an additional 10 – 15 minutes.
16. Wild Rice And Turkey Casserole
Wild rice might be boring on its own but turn it into a casserole with savory leftover turkey and you'll have yourself a delicious meal in no time. This wild rice and turkey casserole recipe is also extremely easy and will never have your family complaining about leftovers. All you need are 6 ingredients and 10 minutes to prep.
The key ingredients you'll need for this dish are cut-up turkey or chicken, milk, a small onion, a can of condensed cream of mushroom soup, and a package of seasoned long grain and wild rice. To begin, heat the oven to 350°F. Next, mix all ingredients in a casserole dish, including seasoning packet from rice mix. Lastly, cover and bake for 45 to 50 minutes or until rice is tender. Finally, uncover and bake 10 to 15 minutes longer or until liquid is absorbed. The recipe also suggests adding a small jar of sliced mushrooms if you have a mushroom lover in your family, or 1/2 cup frozen green peas for added flavor.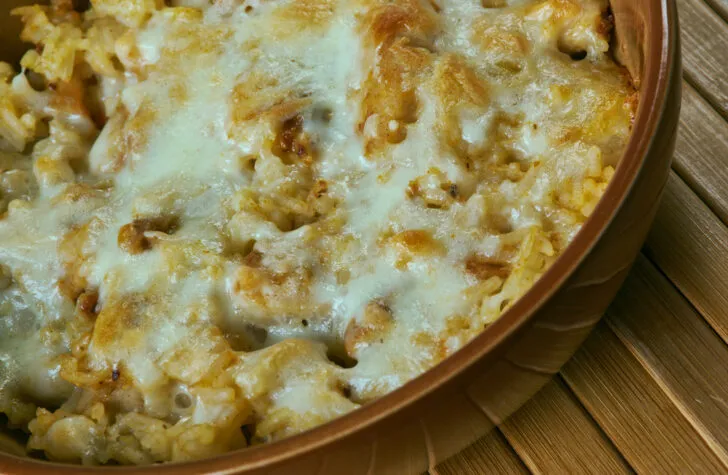 17. Thanksgiving Shepard's Pie With Stuffing Crust
If you like the idea of turkey pot pie but don't love the pie crust then you need to try this Thanksgiving shepherd's pie. You get the same creamy and delicious filling of traditional pot pie, but with a fluffy mashed potato top and a savory stuffing crust. Think tender leftover turkey mixed with warm vegetables and gravy and topped with mashed potatoes and melty cheese! This turkey casserole recipe makes for a delicious meal for the entire family that will have everyone asking for seconds.
To begin this recipe, melt butter in a large skillet. Add onion, carrots, celery, cooking onions and minced garlic. Next, add in turkey, corn and peas, or green beans, and cook until heated through. Take the mixture and smooth evenly into a baking dish. Next, heat the mashed potatoes and spread over the turkey filling, Sprinkle with the remaining cheese and bake for 30 minutes.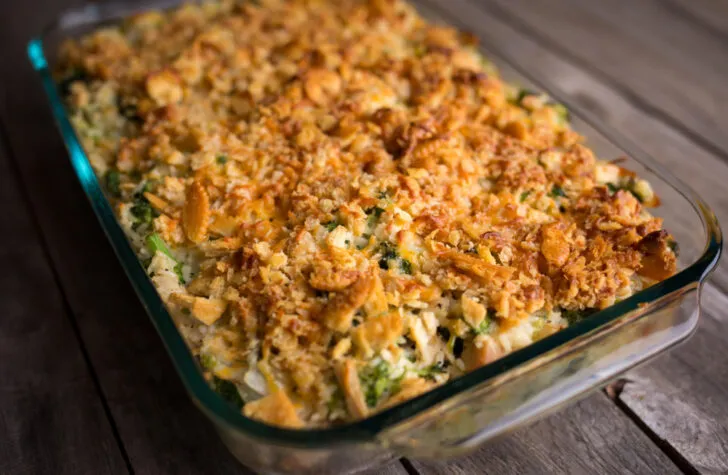 18. Left Over Turkey Enchilada Casserole
Transform your turkey leftovers into a brand new dish with new flavors. Don't be surprised if these turkey enchiladas are requested weekly! This is the perfect meal to transform basic turkey into a whole new flavor palette. It's gluten-free and works great around Thanksgiving time, but can also be made year round.
A few of the key ingredients you'll need for this recipe are shredded turkey, enchilada sauce (homemade or store-bought), can corn, can diced tomatoes, 26-30 small corn tortillas, shredded cheddar cheese and chopped cilantro or flat-leaf parsley for garnish. Begin by thoroughly mixing shredded turkey, enchilada sauce, corn, and diced tomatoes in a bowl. Next, fill tortillas your tortillas with generous tablespoons of filling, roll up, and place in pan. Sprinkle with the grated cheese and bake at 350 degrees F for about 20 minutes until edges are crispy.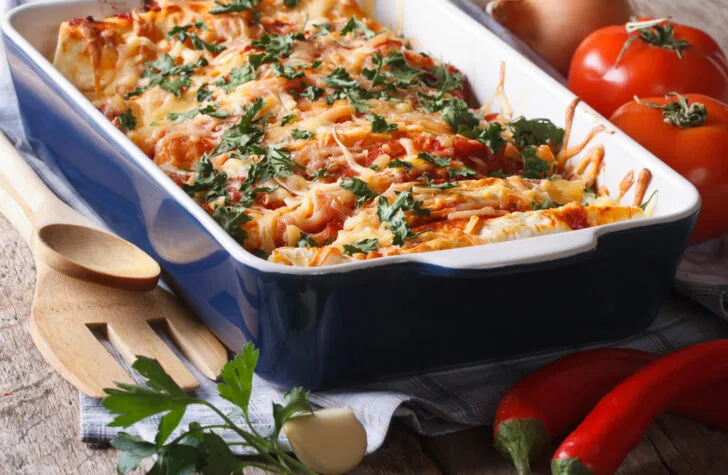 19. Cheesy Leftover Ham And Rice Casserole
Not everyone serves turkey at Thanksgiving and that is okay! If ham is your traditional Thanksgiving main course make sure to try this cheesy leftover ham and rice casserole. The recipe requires only 5 minutes to prepare and simple ingredients, most of which you'll probably have on hand. The recipe also suggests a few modifications such as using leftover turkey or shredded chicken instead of the ham. Or, if you're not a fan of broccoli, try sliced carrots, cauliflower, peas and/or corn.
Begin with a large bowl and whisk together cheese soup, water, Italian seasoning, garlic powder, salt and pepper. Next, stir in the rice, broccoli and ham then pour the mixture into a casserole dish. Bake for 55 to 60 minutes, or until the rice is tender. Stir the casserole to fluff the rice, then sprinkle shredded cheese on the top. Bake for an additional 5 to 7 minutes or until cheese is melted.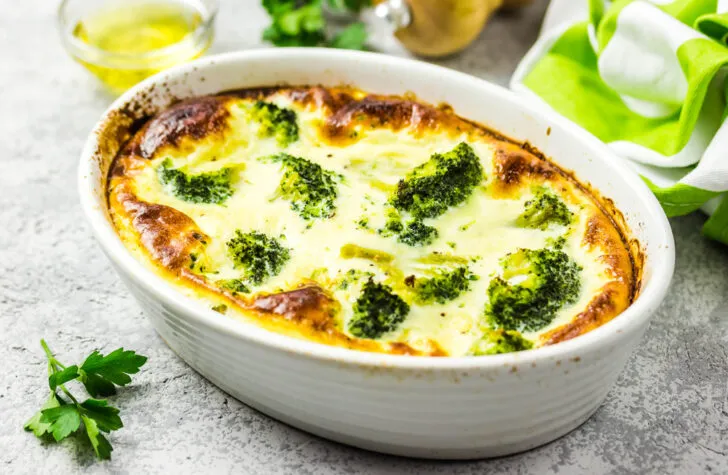 20. Leftover Turkey Lasagna Rolls
If you're accustomed to filling lasagna with ground beef, let me stop you right there! Leftover turkey can be a great base for lasagna too! This leftover turkey lasagna roll meal is delicious and might just be easier than your traditional lasagna recipe. Filled with sun-dried tomatoes, spinach, and cottage cheese, this recipe will have everyone in your family asking for seconds. You could also use this recipe with leftover chicken year-round, or even use a basic rotisserie chicken.
Begin by boiling your lasagna noodles until tender. Next, create your filling by heating olive oil in a frying pan and adding onions, garlic, and diced turkey. Transfer the mixture to a large bowl and stir in spinach and sundried tomatoes until combined. Stir in the cottage cheese, Parmesan cheese, dried chile flakes, nutmeg, salt and pepper into the turkey mixture. Spread 3 tablespoons of the turkey mixture along each noodle and tightly roll up the lasagna noodle and filling. Spread additional tomato sauce and cheese on top and bake for 20 minutes.