I love holidays because it gives everyone a chance to unwind and spend quality time with those you love. The Thanksgiving holiday is the perfect opportunity to enjoy a warm cooked meal with friends and family and give thanks for everything you have.
Once the main course has been devoured it's time for delicious dessert. It's funny how you can feel overly full when you finish a big meal yet, there is always room for dessert. Whether you're hosting Thanksgiving or have volunteered to bring a dessert, you need to check out these recipes! We've have found you some amazing Thanksgiving desserts that range from pumpkin flavor, to lemon and even some fun Fall-themed treats too!
1. Pumpkin Pie
When it comes to fall desserts, pumpkin pie might just be the most traditional recipe served at Thanksgiving. It's a recipe you can't go wrong with and a surefire crowd pleaser that appears on most Thanksgiving tables. I mean, come on, pumpkin pie just screams fall! The lovely flavors of pumpkin pie are also very fitting for the fall holiday.
If you want a pumpkin pie that tastes like it came straight from Grandma's kitchen, then you need to give this incredible recipe a try. It's a simple recipe with minimal ingredients, but a great one to have in your back pocket, especially around Thanksgiving. The pumpkin filling has warm flavors of cinnamon, ginger, nutmeg and ground cloves. You can even use store-bought pie crust if you wish to save yourself some time. When serving, top with a huge dollop of whip cream and a sprinkle of cinnamon for maximum flavour.
2. Dark Chocolate Coconut Rum Truffles
If you're looking to serve a boozy dessert that adults will go crazy for, look no further than these dark chocolate coconut rum truffles. These truffles are delicious and stunning and will earn their place on your dessert table. Even if you aren't a huge coconut rum fan, this recipe will likely still be a hit because of its chocolate flavoring.
This recipe uses coconut rum teamed with honey, cocoa powder, coconut, vanilla, and toasted pecans under a rich layer of pure dark chocolate. These truffles also have hints of vanilla and orange zest for an unforgettable treat. The flavors of the chocolate pair perfectly with the rum resulting in a truffle you've never tasted before and the coconut rum gives them a fun boozy makeover. A unique dessert packed with flavor and punch, these dark chocolate coconut rum truffles are sure to be a hit at your next holiday gathering.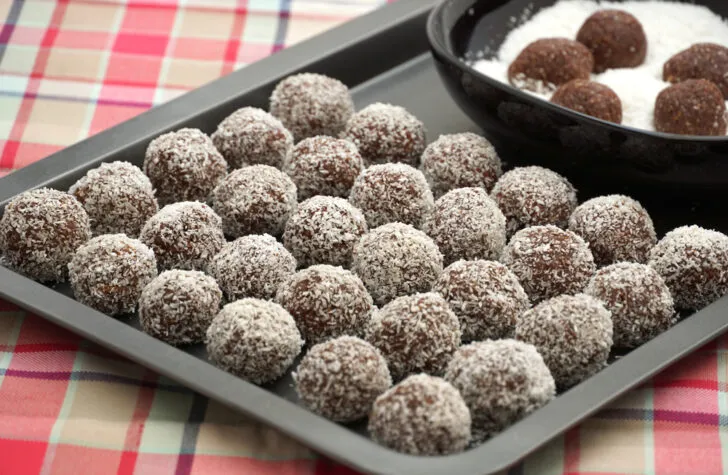 3. Rice Krispie Treat Pumpkins
Rice Krispie treats are an easy-to-make and classic dessert that almost everyone loves. Rice Krispie treats are also awesome because when they're warm you can mold them into almost anything. These pumpkin Rice Krispie treats are adorable and your friends and family will love them! If you have little ones attending your Thanksgiving, they'll be especially impressed with the shape and flavour of these pumpkin Rice Krispie treats.
If we haven't already convinced you, as a bonus, these Rice Krispie halloween treats are really easy to make too. However, keep in mind they can be quite messy but this blogger will fill you in a special secret on how to prevent messy hands. This recipe requires little ingredients and can be topped with mini Rolo chocolates and a green M&M to mimic the look of a pumpkin stem and leaf. This dessert is festive and perfectly fitting for a Thanksgiving bash.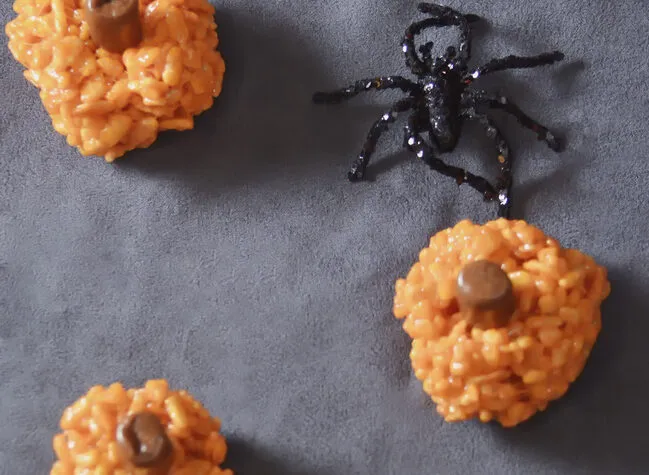 4. Profiterole
Profiteroles are fun little desserts, they're also commonly known as a cream puff. Profiteroles are the epitome of indulgent French cuisine and the perfect fall dessert. Make this treat for Thanksgiving and your guests will feel like they just stepped into a French bistro in Paris. The combination of the warm chocolate sauce combined with the creamy profiterole filling will have every guest swooning.
Creating a pastry for a dessert like profiteroles might appear complicated at first but you'll likely be surprised with how easy they actually are to make! With this profiterole recipe, you'll be guided on how to create the dessert very easily. You can also customize this recipe decide whether to use pastry cream, whipped cream, or ice cream as the filling. The pastry starts on the stove top and is then finished in the oven, but what truly makes this dessert so special is the creamy filling and chocolate ganache drizzle.
5. Pumpkin Cake With Cream Cheese Frosting
Pumpkin treats are a foolproof dessert for any Thanksgiving gathering and occasion. If you're looking to try something a little different than a traditional Pumpkin pie, look no further than this pumpkin cake recipe! Following the pumpkin trend, a great alternative to pumpkin pie is pumpkin cake topped with delicious cream cheese frosting. This cake might look simple but its aroma will have you salivating the moment it begins to bake in the oven.
Pumpkin puree is added to the cake batter to provide an authentic pumpkin flavor. This recipe creates a moist cake and the thick layer of frosting really brings an unexpected punch of flavour. Pair the pumpkin with hints of cinnamon to transform this treat into a delicious fall dessert. Feel free to serve this pumpkin treat in bite sized squares or thick slices of cake totally depending on your preference and the size of your crowd!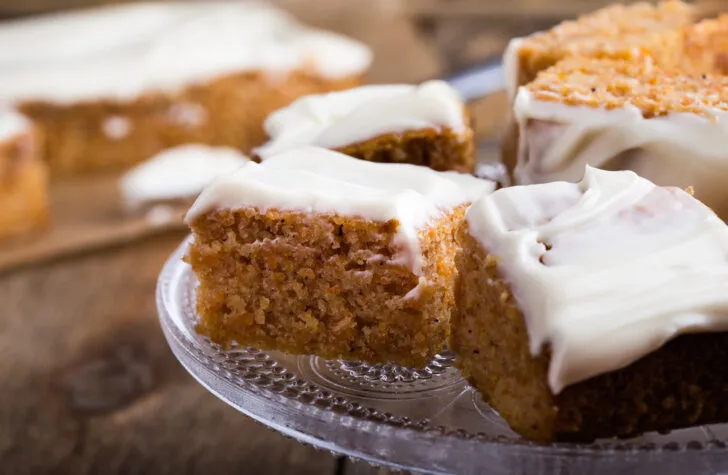 6. Lemon Cheesecake Slices
If your Thanksgiving dessert palate needs cleansing from all these warm and savory recipes then add a plate of vibrancy with these lemon cheesecake slices. While guests may not necessarily expect lemon at a Thanksgiving gathering, there's no doubt that these will be a hit. They'll be a light, refreshing treat that guests may not expect, but will gladly appreciate to break up all the pumpkin and cinnamon treats.
This particular recipe isn't like any ordinary lemon bar recipe and is quite unique because of the unexpected cheesecake-like filling. The recipe starts with a shortbread base and then is topped with the creamy cheesecake layer. It's important to pour gently to avoid any separating. Once those layers have been baked and set you'll add the lemon layer. Then, when the bars are ready you'll complete them with a generous sprinkle of powdered sugar on top and cut them to shape.
7. Edible Oreo Acorns
Were Oreo cookies one of your favorite classic treats as a child? If so, definitely be sure to add these edible Oreo acorns to your dessert menu this Thanskgiving. They'll be a foolproof hit with the children at your gathering and a nostalgic guilty pleasure for the adults. These edible Oreo acorns would be a fun and festive dessert idea to bring to your Thanksgiving dinner that guests would not expect.
While these acorn Oreo treats may look like adorable acorns, they are actually a delicious truffle made with chocolate, Oreos, cream cheese and pretzel sticks. The truffle center is made from crushed peanut butter Oreos and cream cheese. Once they're molded to the proper acorn shape, you can cover them in melted chocolate for an extra rich taste. To create the perfect acorn top you'll dip the truffle in chocolate sprinkles and add a pretzel stick. Viola, you're done!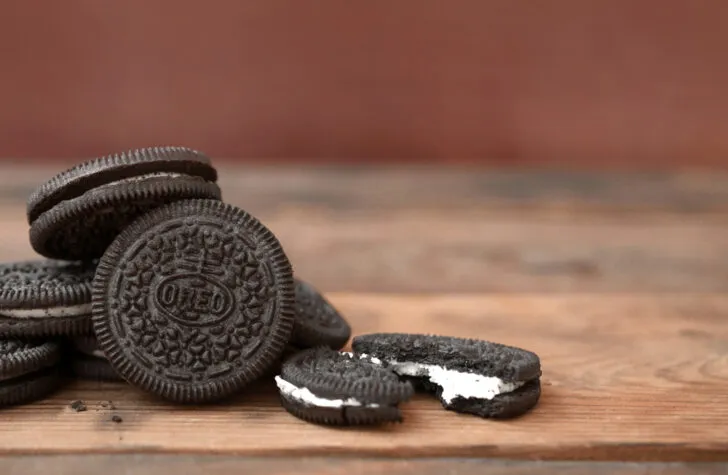 8. Apple Crisp
Like apple pie and pumpkin pie, apple crisp is another fall classic that never gets old. It's warm, crumbly, delicious and often a recipe that people look forward to all year for the fall season to roll around! Luckily, this recipe is actually quite simple to put together and only requires 15 minutes of preparation time. Get ready for your whole house to smell warm and crisp after this incredible recipe!
You'll only need a few ingredients to whip this old-fashioned apple crisp together. The key ingredient to this recipe is, of course, apples! You can use any variety of apples that you'd like, however, the golden delicious variety typically works best. A few other key ingredients you'll need are cinnamon, brown sugar, old-fashioned oats, lemon juice, butter and all-purpose flour. Serve it warm with a scoop of vanilla ice cream and salted caramel sauce for a heavenly Thanksgiving dessert that will be sure to please.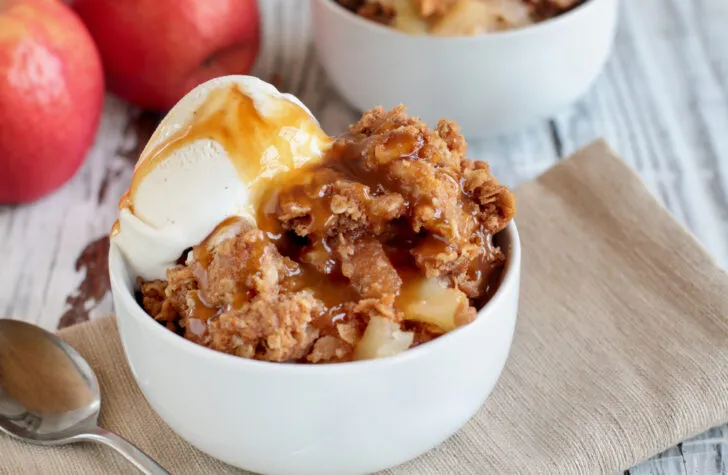 9. Pumpkin Mini Cakes
Is there anything more satisfying than a dessert that's shaped as its flavour? These little pumpkin cakes are so charming and if you make them for Thanksgiving, your guests will be amazed by your efforts. Mini bundt cake pans help create the perfect pumpkin shape and this dessert can even double as decor or a cute part of your autumn centrepiece mixed with leaves and real pumpkins.
This cake contains all your favorite fall spices mixed with a rich layer of cream cheese frosting for an added burst of flavor. The outer layer is made from a buttercream frosting which will help you sculpt the pumpkin into shape. You can top these pumpkins with a real pumpkin stem or custom make one out of fondant, modelling chocolate or even a thick buttercream. After covering your cake in buttercream, a helpful tip is to put the cake in the fridge for about 20 minutes so it's easier to sculpt.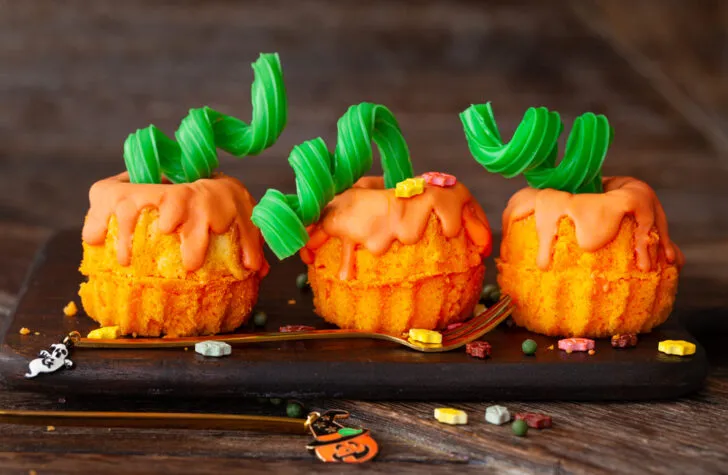 10. Spiced Cupcakes With Cinnamon Cream Cheese Frosting
If you don't love pumpkin desserts, no problem! There are plenty of other desserts that will still give you all the fall flavours without having to be pumpkin. Try making these spiced cupcakes, for example, to contribute to the Thanksgiving dessert table this year! Warm, cozy and filled with cinnamon, these spiced cupcakes are perfect for fall and will wow your guests with its soft cupcake crumb and extra smooth buttercream.
These spiced cupcakes contain the warm flavors of cinnamon, nutmeg and ginger that will be the perfect complement to any fall meal. These cupcakes are also topped with cinnamon cream cheese icing for the finishing touch that make these absolutely delicious and impossible to resist. Typically, spice cake is known for being quite dense, but this particular recipe is light, fluffy and moist since cupcakes typically are a more delicate crumb consistency. There's no doubt that these cupcakes will put you in the fall spirit and have you craving everything cozy!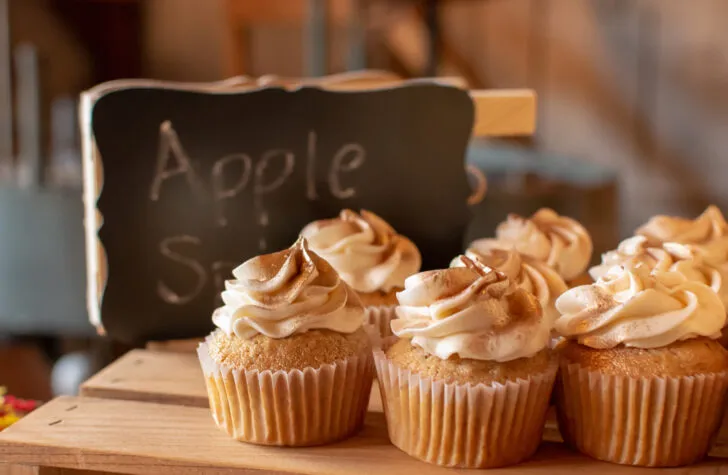 11. Cinnamon Maple Sugar Cookies
These cinnamon maple sugar cookies might be a delicious treat to serve during Thanksgiving but they would make an excellent snack to enjoy all year round too. They're tender, warmly spiced and contain flavors of cinnamon with a hint of maple in the dough and icing. Sugar cookies typically vary when it comes to consistency, but these particular cookies lean towards the crisp but not crumbly side.
The key ingredient with these cookies is the maple extract in the dough and glaze that allows the maple flavor to be present once they are baked. Many maple recipes use maple syrup which is often difficult to detect in a recipe and requires a heavy amount for the flavour to shine through. Once your cookies are finished baking in the oven you'll want to set them out to cool. Then while you wait you can whip up the wonderful glaze. It's made from cinnamon, confectioners sugar, vanilla and water and will pair perfectly with the cookies.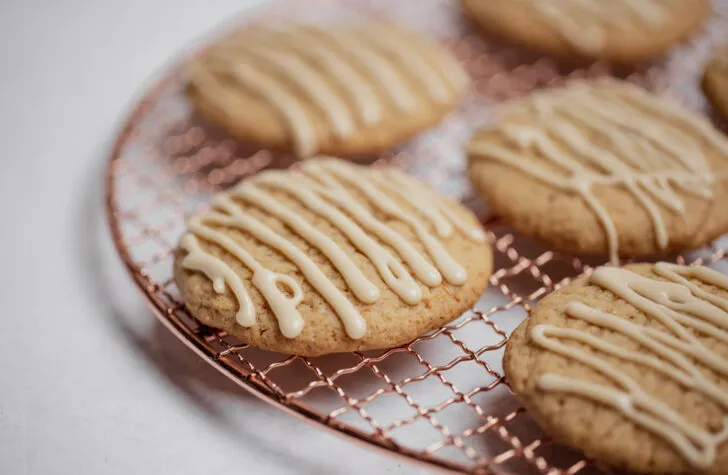 12. Iced Apple Pie Bars
If baking a traditional apple pie is too complicated for your liking then give this iced apple pie bar dessert a try this Thanksgiving. You won't need any complicated skills such as crimping pie edges or whipping up a complicated dough recipe because these are fairly easy! Simply tuck the edges tightly, and once baked, no one will be able to notice the difference! If you're a big fan of pie crust, you'll definitely love this recipe because the ratio of crust to filling is slightly in favor of the crust.
Another bonus is that Instead of using good ol' elbow grease to whip the dough together, you can let your food processor do all the hard work for you. While you set the dough to chill you can get started on the apple pie filling. Then, to finish this dessert you'll add a delicious drizzle of icing but make sure you don't slice or ice the dessert until it's fully cooled.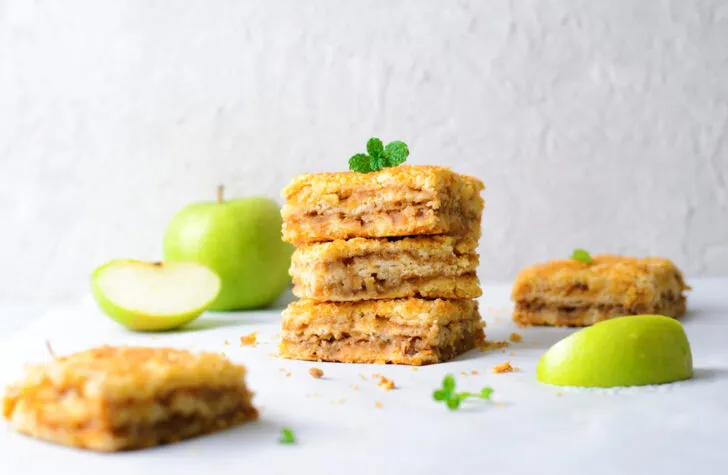 13. Apple Crisp Shortbread Bars
Apple pie is a classic dessert that often makes the dessert table at Thanksgiving and other traditional holidays. While it certainly deserves its place at the table, sometimes it's fun to step outside the box and try a twist on a classic recipe such as these apple crisp shortbread bars. This recipe has all the delicious flavours of traditional apple crisp and sweet shortbread in a bite-sized bar. Apples and shortbread, what could be better?
The base begins with a shortbread layer and is then later topped with a delicious apple filling, and a crumbly top filled with warm butter and brown sugar. It's almost as if apple crumble and apple pie morphed into one enticing dessert that your friends and family will no doubt go crazy for. You'll need three large apples for this recipe, so you could even take a trip to the apple orchard to pick them fresh!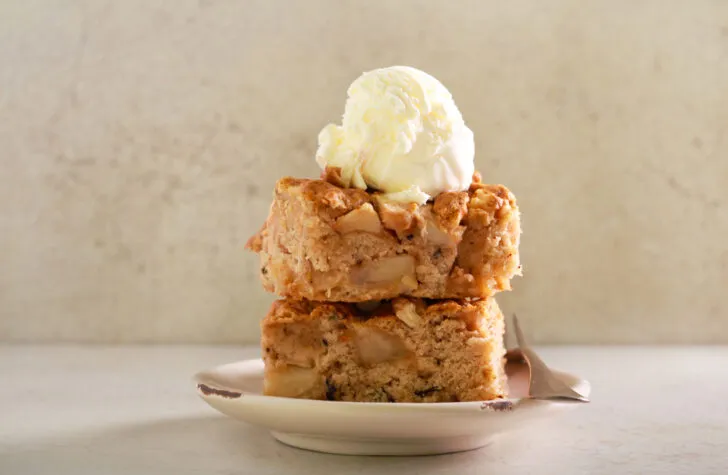 14. Pumpkin Cheesecake Bars
As we discussed earlier, much like apple pie, pumpkin pie is another classic Thanksgiving dessert that you can never go wrong with. After all, pumpkin appears to be one of the most perfect Autumn vegetables. This pumpkin pie cheese cake bar recipe takes flavors you love about pumpkin pie, combines them with a delicious cheesecake and transforms those flavors into these fun cheesecake bars. They're full of delicious fall spices and are sure to impress at any holiday gathering.
These pumpkin cheesecake bars have exciting layers and are flourishing in fall flavors. They start with a graham cracker crust and then are layered with cream cheese and pumpkin. Serve this at Thanksgiving and you'll see how quickly they'll disappear. While this recipe may take a little bit of time to make, it's definitely worth it based on the high praise they consistently receive. There are also multiple shortcuts you can take to make things easier, as outlined in the recipe instructions.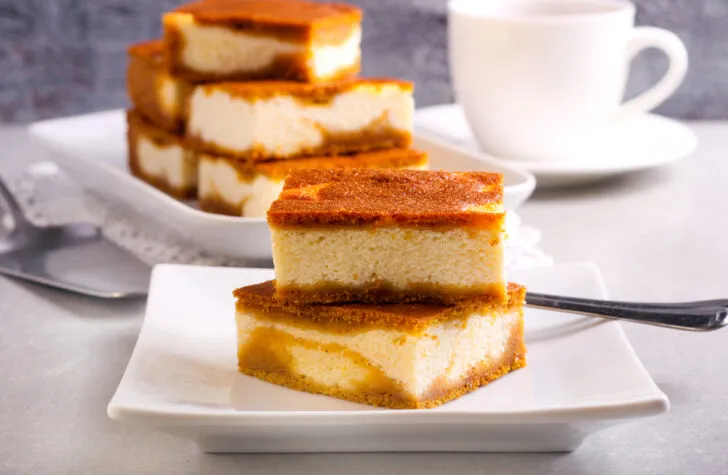 15. Rice Krispie Treat Turkey
Your guests will likely be expecting a traditional turkey on the table for Thanksgiving, but they surely won't be expecting this kind of turkey! Not only is this Rice Krispie turkey dessert delicious, but it also creates humor and might be the perfect conversation starter you've been searching for at your next gathering.
The turkey is made from a crowd favorite, Rice Krispies. This recipe will walk you through how to create the turkey shape as well as a few tips on how to be successful. One tip is to use non-stick foil and a can of cooking spray since Rice Krispies can be sticky and a little difficult to work with. Another tip is to use a plastic cup covered in foil to help with shaping the turkey. Once complete, fill your turkey with a fun filling like Reese's Pieces or even Smarties. This dessert will definitely be the talk of your Thanksgiving dinner!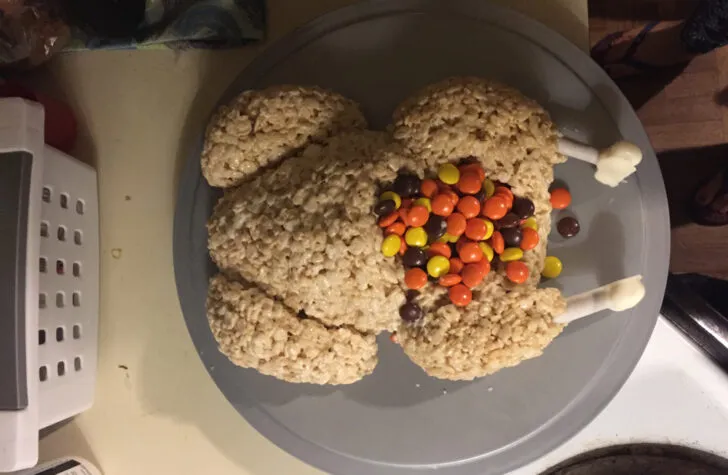 16. Easy Apple Pie Bites
Are you planning to bring apple pie to your upcoming Thanksgiving dinner but want to spice it up a little? Transform a classic dessert like apple pie into a delicious single sized serving for a fun and unique Thanksgiving dessert that guests won't expect. The fun thing about this recipe is they're so easy to create and call for minimal ingredients.
This apple pie bite recipe is delicious, but best of all, it is super quick to make in less than 30 minutes with Pillsbury crescent rolls.
This recipe doesn't require any intricate dough making which is a major bonus, especially if you're not a seasoned baker. By mixing a few fall-favorite seasonings such as brown sugar and apple pie spice, adding an apple slice and rolling the crescent dough, you'll have a quick and easy dessert in a hurry! This recipe is also delicious served warm with vanilla ice cream and/or caramel syrup.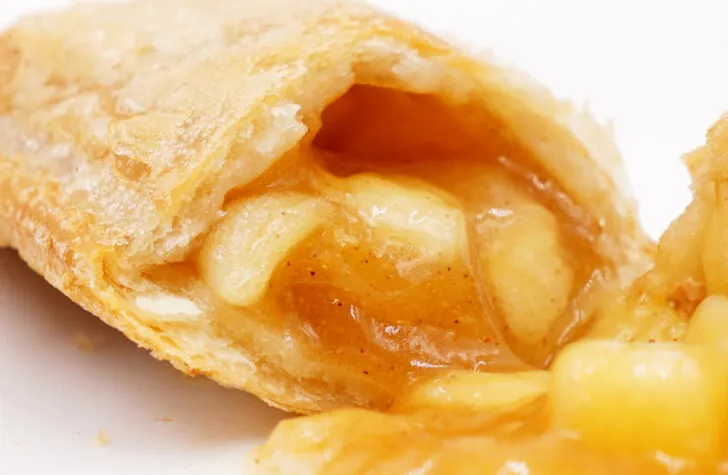 17. Pumpkin Whoopie Pies
Whoopie pies, also known as moon pies, are best described as two soft cookies sandwiched together with a creamy filling in between. Basically, they sound like a cookie dessert dream! You may remember whoopie pies from your childhood, and this pumpkin whoopie pie recipe will bring back all the nostalgia for adults and be a foolproof hit for kids. This recipe isn't any ordinary whoopie pie recipe though, it's pumpkin flavored and perfect for to bring to any holiday or Thanksgiving gathering.
The soft cloud-like cookies are made from flour, butter, sugar, and a few other ingredients. Next, packed pumpkin is added to give the whoopie pies an authentic fall flavor. Instead of a traditional whoopie pie filling, this one is filled with a savory and sweet cream cheese filling which sounds so irresistible! Tangy cream cheese paired with thick, soft pumpkin cookies? Sounds like the perfect fall treat in our books!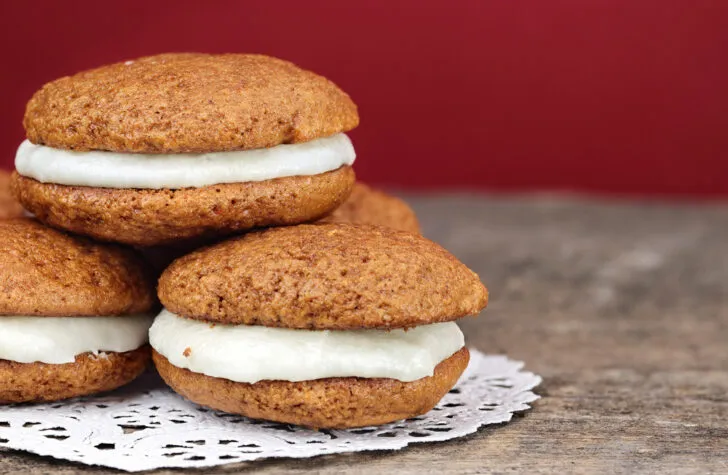 18. Chocolate Turtle Apple Slices
Candy apples are often a fall favorite for both kids and adults. Crunchy candy, smooth chocolate and crisp apple all in one bite? Sounds amazing! Traditional candy apples are sometimes a little difficult to eat, so next time you're looking to make this recipe, try out these chocolate turtle apple slices! If you enjoy untraditional desserts then you need to make these for your next Thanksgiving dinner. All you'll need is 5 ingredients and popsicle sticks. They're so easy to make you could even have your little ones help you during the preparation.
Simply slice your apples and add a popsicle stick. Next, dip your apples in the melted chocolate mixture, drizzle with melted caramels and sprinkle with chopped pecans. Any kind of apple will work for this recipe, but Fuji apples work especially well since they tend to be on the larger, thicker side. If caramels and pecans are not your thing, you could also top these apple slices with any sort of toppings!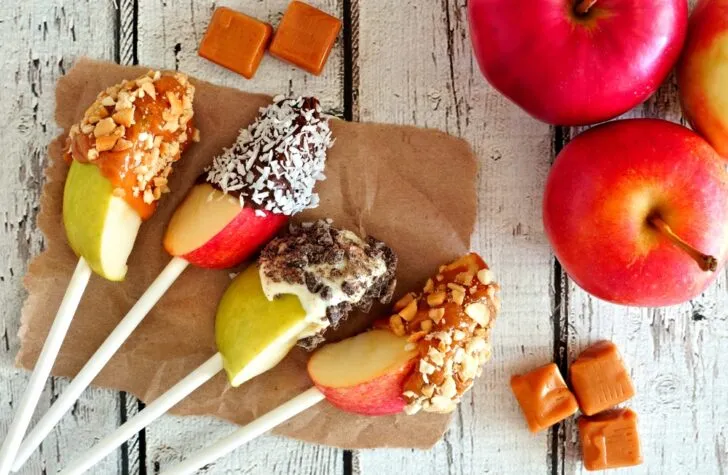 19. Pecan Pie Cheesecake
Along with the classics such as apple pie and pumpkin pie, pecan pie is another traditional dessert that is often served at the Thanksgiving dessert table. This pumpkin pie cheesecake recipe takes the flavors we love about pecan pie and reconstructs them into a delicious cheesecake. The combination of two seasonal classics — pecan pie and cheesecake — will undoubtedly wow your guests this Thanksgiving! If you have a cheesecake lover coming to your gathering, this dessert will be something that they will love but not expect, which definitely makes the dessert even more satisfying.
With vanilla wafer crust and pecan pie filling, this recipe offers the perfect balance of all the goodness of pecan pie mixed with the richness of cheesecake. ​The exciting layers are just a few of the things that make this dessert so fun. It begins with a simple crust then, is topped with a pecan filling, a cheesecake filling and last but surely not least, a melt-in-your-mouth topping.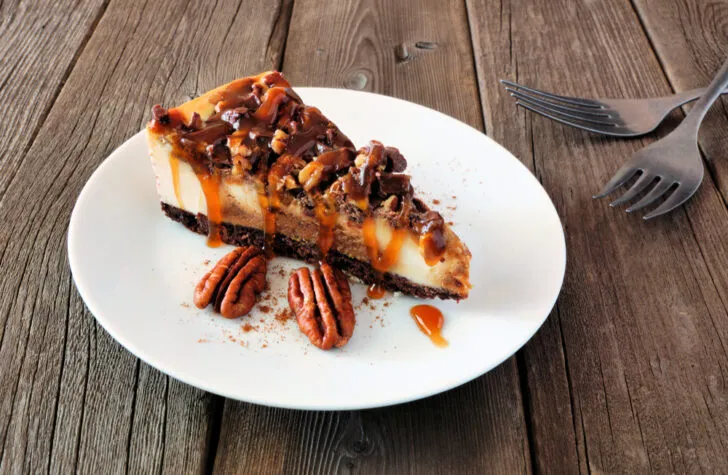 20. Thanksgiving Turkey Cupcakes
Cupcakes are always a good idea, for any occasion. These turkey cupcakes are perfectly fitting for a fun Thanksgiving dinner and will be a definite hit for all the kids at your event! They're also quite easy to make which means you can let the kids help in the creation of these adorable treats.
These turkey cupcakes begin with a delicious chocolate cupcake and they are decorated to look like little turkeys. You could also use vanilla cake or whatever preference works for your crowd. This recipe specifically, however, provides an easy tutorial on how to transform Oreo cookies, fudge stripe cookies, chocolate M&M's, and candy corn into the perfect turkey look-alike design. Homemade frosting acts as the "glue" to keep all the toppings together. The Oreos act as the eyes along with chocolate M&Ms and the candy corn can be arranged to perfectly mimic the look of a colourful turkey tail.
21. Mini Pecan Pies
Single-sized portion desserts are always a great option for a large gathering and make easy snacks that guests can grab and go. If you're looking for an idea like this for your upcoming Thanksgiving dinner, these mini pecan pies are perfectly portioned for a fun single-sized serving dessert. They require minimal effort and can also be made ahead of time. If you love planning and preparing your to-do list well ahead in advance of the gathering, then make these ahead and freeze them for later.
The great thing about this mini pecan pie recipe is that you can use any store-bought pie crust or homemade crust, it's your choice. The pecan filling only requires a few ingredients and can be whipped up effortlessly. This recipe will appear as if you spent hours working on them, but they are actually quite effortless. You'll simply require pie crust, corn syrup, brown sugar, unsalted butter, an egg, vanilla extract and pecans.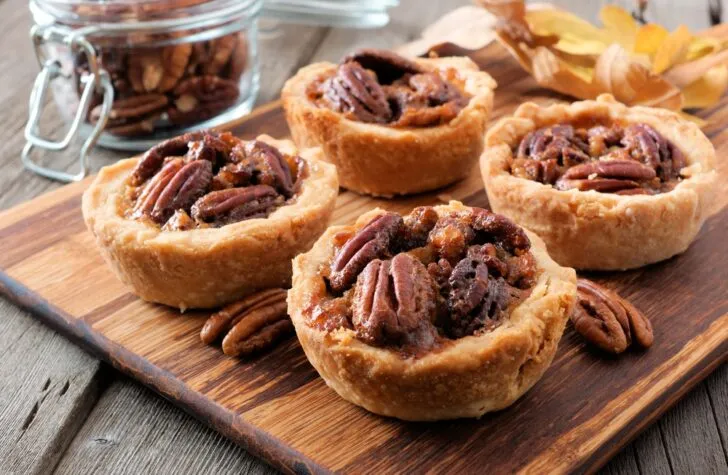 22. Pumpkin Spice Blondie Bites
If you're unfamiliar with blondies, they're much like a brownie but instead of chocolate, they're vanilla flavored. This pumpkin spice blondie bites recipe gets a fun fall makeover and is infused with warm flavors of pumpkin. These bite-sized desserts would be a fun and non-traditional addition to your Thanksgiving dessert table that will be sure to please.
A mini muffin tin will help you achieve the perfect bite-size portions. The recipe begins by combining brown sugar, melted butter, vanilla and an egg. Next, add in your pumpkin spice and flour. Use a wooden spoon to mix all ingredients until fully combined. Next, scoop the batter into your muffin tray and bake for 15 minutes. Then once you've baked the blondies, allow them to cool. The final step is to top them off with cream cheese frosting and sprinkle on some pumpkin spice for added flavor. Viola, you're done! Quick, easy and delicious.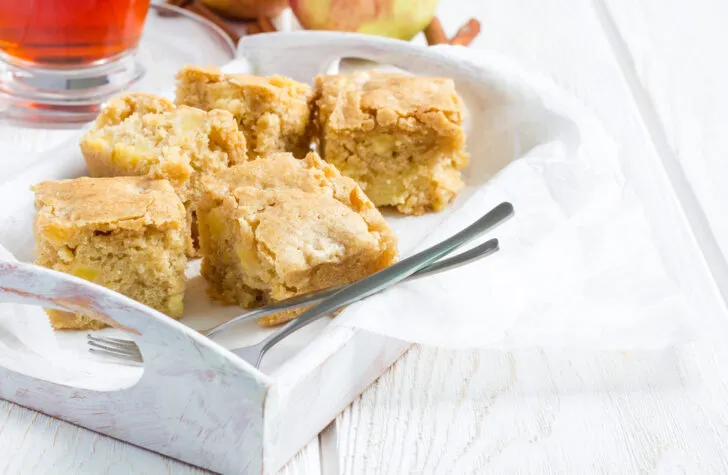 23. Cherry Cheesecake Dip
Something like a dip might sound like an untraditional dessert but this cherry cheesecake dessert dip is definitely worth noting. Cherry cheesecake may taste wonderful as a pie but this dip proves you can enjoy the same flavors in a unique way. It's an easy dessert that guests can grab and go and continue to eat casually throughout the event. This recipe brings all the delicious flavours of classic cherry cheesecake into a simple recipe that you can whip up in a few minutes before your guests arrive.
This dessert is extra easy because it's a no-bake recipe. The dip is made from Greek yogurt, Greek yogurt cream cheese, whipped topping, and condensed milk. Simply top it off with cherry pie filling and then dig into this dip with graham crackers or your favorite wafer cookies for a fun dessert. It's light and fluffy but still rich and creamy, which will definitely be a hit at the Thanksgiving table.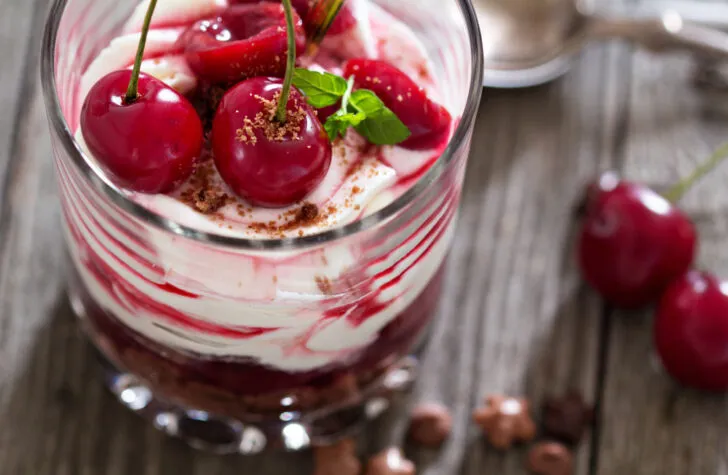 24. Chocolate Caramel Turkey Legs
Try adding fun themed food to your Thanksgiving dinner this year with this chocolate caramel turkey leg recipe that no one will expect! This cheeky recipe is sweet and delicious and your guests will definitely get a kick out of them. To recreate these chocolate caramel turkey legs you'll need braided pretzel twists, caramels, and chocolate.
They're so easy to create that you can even go ahead and encourage the whole family to participate in making them, they'll have fun with it too. You can use whatever toppings you deem fit and could even do a topping bar for all your guests to decide which topping they like best. Another option with this dessert is to turn the pretzels into full turkeys. Use candy corn to help form the shape of the turkey and use frosting or M&Ms as the eyes. Delicious, quirky and fun to make — what could be better?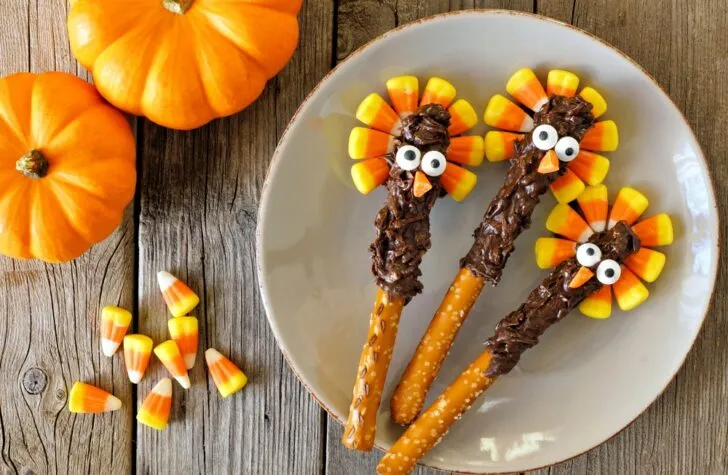 25. Keto Pumpkin Cheesecake Mousse
Diets are hard to follow especially when the holidays roll around. You want to enjoy time with loved ones, indulge in delicious food and the last thing on your mind is your diet. If you or one of your guest is following the ketogenic diet, then there is no need to worry. With this recipe, you and your guests can stay on track with your diet all the while indulging in delicious food.
This pumpkin cheesecake mousse is thriving in flavors of fall too. This whipped recipe is surprisingly low in carbs, yet still gives you all the rich flavours of pumpkin and whipped cream. To make this recipe, you'll need cream cheese, unsweetened pumpkin puree, confectioners erythritol, vanilla extract, pumpkin pie spice and heavy cream. It's also a big bonus if you have a pastry bag to make this mousse look smooth and professional. This dessert has a deliciously creamy texture that will be sure to satisfy all your keto guests.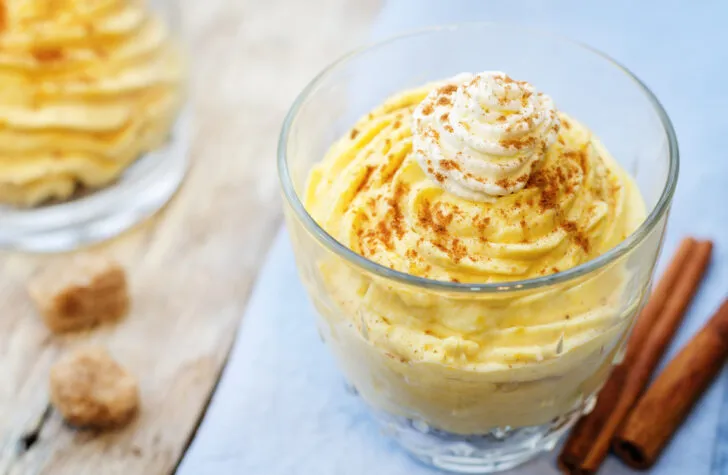 26. Pumpkin Cinnamon Rolls
Growing up, cinnamon rolls were the one dessert that we always saved for special occasions, particularly holidays. Don't serve just any cinnamon rolls at your Thanksgiving dinner, serve ones that are pumpkin flavored for a fun fall treat! This pumpkin cinnamon roll recipe is incredibly uncomplicated and isn't like your traditional cinnamon roll recipe.
To begin, you'll need store-bought crescent rolls for the dough. To enhance the rolls with pumpkin you'll want to spread pumpkin puree and pumpkin spice over the dough prior to rolling. Then, while they bake in the oven you can whip up the delicious frosting. To make this delicious frosting, you'll need to combine cream cheese, butter, vanilla extract, powdered sugar and milk in a bowl. Once cooked, remove cinnamon rolls from oven and apply a generous amount of frosting! You can serve them immediately for that fresh, gooey cinnamon flavour, but you can also serve them later and warm them up.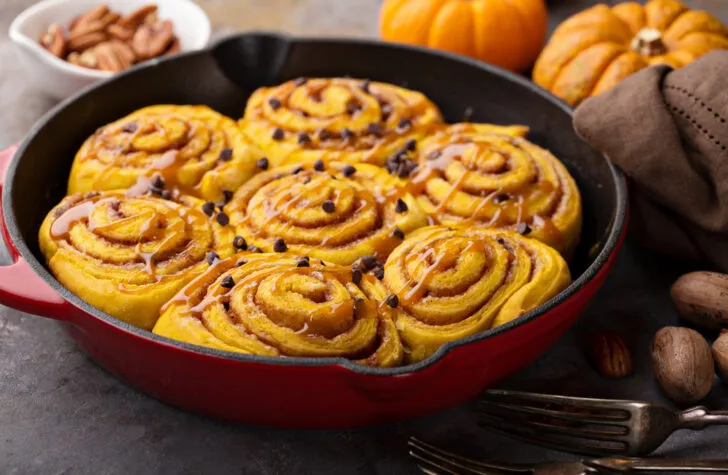 27. Pecan Pie Brownies
Imagine the ooey-gooey texture of a chocolatey brownie but combined with a sticky pecan pie, sounds intriguing! This pecan pie brownie recipe essentially takes the flavors of two classic desserts and combines them to create a new and exciting treat that your guests would never expect. This recipe is a perfect festive treat for Thanksgiving, but also can be served year round.
To begin your brownies, start with a box of your favorite brownie mix. Once mixed, pour the batter into a brownie pan, and bake for twenty minutes. During this time, mix together the pecan pie filling with ingredients such as pecans, corn syrup and butter.
ou can quickly transform a regular brownie into a decadent pecan pie brownie. After 20 minutes, remove the partially cooked brownies from the oven and pour the pecan pie filling over them. Next, put everything back into the oven and bake for another 30-40 minutes. This recipe will easily transform classic brownies into a decadent pecan and caramel surprise!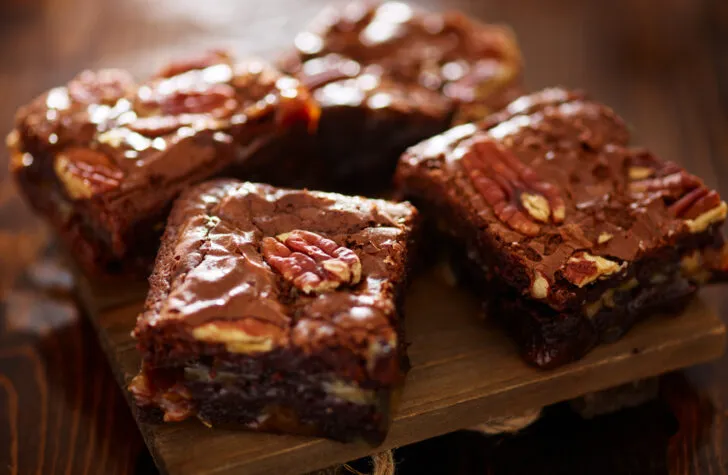 28. Caramel Apple Parfaits
Parfaits are awesome desserts because they contain delicious layers and have a surprise flavor packed in every bite. If you want a fall-inspired parfait then you need to try this caramel apple parfait recipe. It combines all the nostalgia and deliciousness of classic caramel apples in an elevated parfait form. You'll have your guests drooling at your Thanksgiving dinner if you serve this for dessert. This recipe is also nut free, gluten free, dairy free, and Autoimmune Paleo (AIP) -friendly to cater to a wide variety of guests.
For this recipe, you'll be provided with instructions to create apple filling, a homemade coconut salted caramel and a coconut crumble. They recipe even walk you through how to assemble this divine dessert. The recipe also suggests incorporating both pears and apples for added flavour if you want! It's a simple recipe that will deliver tons of fall flavour without being loaded with sugar, which is a major bonus!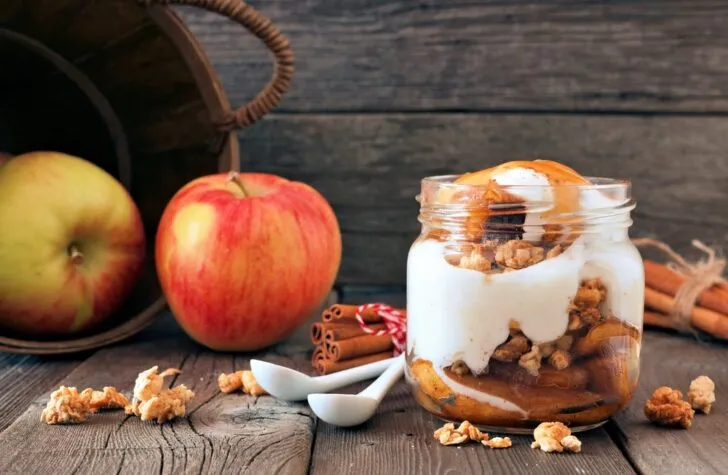 29. Fresh Cranberry Shortbread Bars
It's no surprise that cranberries are a staple ingredient when it comes to Thanksgiving. But while we typically think of cranberries to go with turkey at the dinner table, it is also makes an excellent ingredient in dessert recipes because of its tart flavor. Their tartness helps balance out the sweet flavors resulting in a delicious treat that's perfect for the season.
If you're looking for a simple cranberry dessert that is sure to pleasure at your Thanksgiving gathering, these cranberry shortbread bars are simple, delicious and hold a lot of flavor. The shortbread base involves 5 simple ingredients to make: butter, sugar, vanilla, salt and flour. To make this dessert even more intriguing, the dough contains pieces of white chocolate and macadamia nuts for added texture and flavour. This cranberry treat would be great for Thanksgiving, but would also be perfect for a holiday gathering in the months to follow.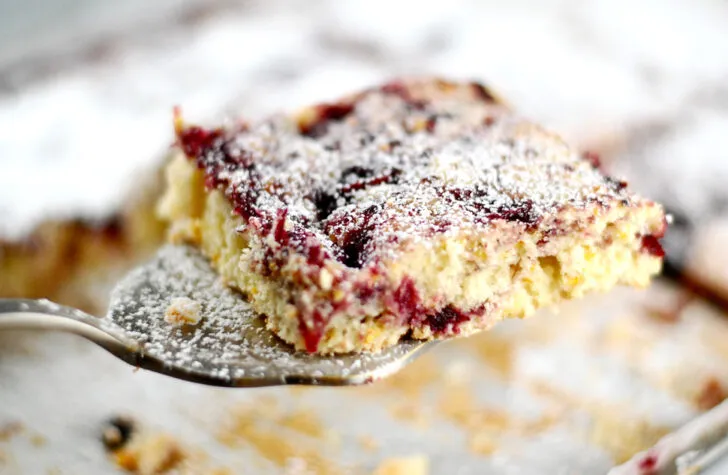 30. Easy Reese's Turkeys
If you and your family love peanut butter and chocolate, then you need to make these fun Reese's turkeys for Thanksgiving. Keep the kids busy and turn this dessert into a fun activity. This also works great if you have leftover Reese around the house from Halloween. You'll need a few different types of chocolate for this recipe including: Resse's Peanut Butter Cups, Reese's Peanut Butter Cup Miniatures, Reese's Pieces, Candy eyes and chocolate chips. This recipe will guide you to make the perfect turkey look-alike with these ingredients.
Another option if you're up for the challenge is to use Reese's to make turkey look-alikes with a cookie, as pictured below. Simple shortbread cookies or delicious pumpkin spiced cookies could be a good option for this alternative to mix with the warm peanut butter flavours. Simply use candy corn to create the tails and wings, and colored frosting for the details such as the eyes and feet.