The Thanksgiving holiday brings families near and far together to enjoy delicious food. While a baked turkey or ham may be the star of the meal the side dishes really pull the meal together. After all, what is Thanksgiving dinner without side dishes?
We searched the web to compile the most drool-worthy side dish recipes that will compliment your Thanksgiving dinner ever so well. We'll cover classic side dishes such as garlic mashed potatoes and stuffing to a few unique recipes too! Go all out this holiday dinner and share an array of delicious dishes that everyone will love.
1. "Stuffins": Stuffing Muffins
This unique take on a Thanksgiving Day classic is sure to be a winner among guests. These "stuffins" combine all the ingredients you know and love in stuffing, but bake it all into a perfect little muffin. In less than an hour, you will have 12 perfectly portioned stuffins that people can eat with their turkey.
This Forkly recipe is quick and super easy to follow. You start by sautéing vegetables and seasonings. Those ingredients are then mixed into a bread mixture, stirred until well combined, then divided equally into a muffin tin. You will want to take them out of the oven once they appear crispy and golden brown.
Kids will love dipping their stuffin into gravy. Alternatively, adults can enjoy drenching gravy over top and eating with a fork. However you decide to consume this savory treat, its classic flavors and ideal bread-to-veggie ratio will be all the rage at the dinner table.
2. Dinner Rolls
There is nothing quite like a soft and buttery dinner roll on your Thanksgiving dinner plate. Better yet, a dinner roll that is still freshly warm from baking in the oven. You can take dinner rolls to the next level this holiday season by opting to bake your own instead of picking them up ready-made from the supermarket.
As intimidating as bread making might be to some, this particular recipe from It's Always Autumn is easy with the help of a stand mixer. After combining the majority of ingredients together, you'll have to knead the dough and let it sit for less than a couple hours. Around 45 minutes before dinnertime, just pop them into the oven and take them out once they puffed up.
Make sure to have a butter plate at the dining table so guests can enjoy that melted, warm and savory flavor. And why not have some fun and turn your dinner rolls into mini sandwiches? Cut the roll in half, stack on some turkey, give it some extra flavor with a spoonful of gravy and enjoy.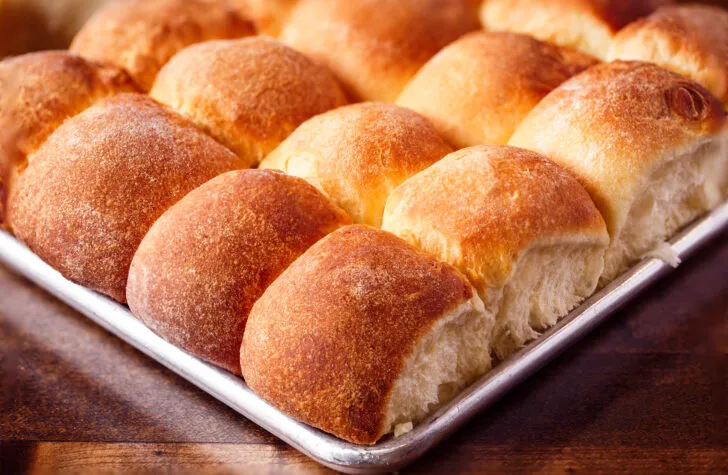 3. Easy Buttermilk Cornbread
While there are plenty of pre-mixed cornbread boxes to buy at the supermarket, there is good reason to opt for a homemade version instead. It goes well with just about any main course and can be especially satisfying alongside a turkey dinner.
Cornbread is a simple dish that can be prepped, baked and served in less than an hour. This buttermilk recipe from Dear Crissy requires a nine-by-nine-inch pan, allowing you to serve nine big slices or a higher number of smaller pieces. What's great about this recipe is how it uses ingredients you probably already have in the kitchen such as sugar, flour, cornmeal and buttermilk.
All you have to do is whisk together the sugar, oil and eggs in one bowl and sift the remaining ingredients in another. You slowly mix the dry ingredients and buttermilk into your wet mixture until it's well blended. Pour it into a greased baking pan and take it out of the oven once the top is lightly browned.
4. Garlic Crescent Rolls
Something that is sure to be a crowd pleaser once it's out of the oven are garlic crescent rolls. Gluten-free folks will appreciate this recipe from Petite Allergy Treats. The recipe is broken down into doubt and garlic topping, each with straightforward steps that are simple enough to follow.
The recipe delivers you with soft, chewy rolls that don't sacrifice flavor simply because it's gluten-free. Plus, it happens to be vegan. You could also choose to omit the garlic from this recipe if anyone you're eating with has an allergy. When mixing the dough, make sure not to make it too thin or else it will break while you roll it.
This recipe can make about two and a half dozen rolls. If you wanted to, you could also make larger crescent rolls. The creator of the recipe says to cut the dough into thirds rather than fourths. Doing so will result in larger rolls and cut down on prep time in the kitchen.
5. Easy Garlic Parmesan Knots
If you're looking for a Pinterest-worthy side dish, look no further than garlic parmesan knots. These little knots are equally tasty as they are beautiful. While they may look difficult, it's actually really easy to prepare this recipe in less than 20 minutes.
Just seven ingredients are needed to make garlic parmesan knots, one of which is a tube of refrigerated buttermilk biscuits. Simply whisk together the flavoring ingredients in a bowl. Then, you roll each of the biscuits into a rope and tie it into a knot. Put the knots onto a baking sheet, brush half of the butter mixture onto each one, and bake until it's golden brown.
This side is best served immediately. Once it's out of the oven, make sure to brush the remaining butter mixture onto each one for added flavor. This recipe is the perfect way to jazz up store-bought dough without having to go through the extra effort of making it from scratch.
6. No-Boil Slow Cooker Mashed Potatoes
Put your slow cooker to good use this holiday season by using it to make mashed potatoes. Rather than rushing to get this classic side dish done before dinner, prep ahead of time and have the slow cooker keep it warm until it's time for serving.
This recipe takes the hassle out of making mashed potatoes since it requires no boiling and only uses one dish — your crock pot! All you have to do is place the ingredients into your slow cooker. You can choose to either cook on high for three to four hours or low for six to seven hours.
What's great about this low maintenance recipe is how you can get it ready early on and have the slow cooker will keep the potatoes warm until dinnertime. Once the potatoes are cooked, grab your hand masher and mash until smooth. Top it off with some garnish and you're good to go.
7. Easy Make-Ahead Cranberry Sauce
It wouldn't be the holiday season without having cranberry sauce on the dinner table. This holiday staple is a must-have that is not only super easy to whip up homemade, but will take your culinary skills to the next level. This recipe gives you one less thing to worry about on Thanksgiving since it needs to be prepared the day before.
All you need are three ingredients to get started: orange juice, granulated sugar, and cranberries. You first have to grab a saucepan and dissolve the sugar into the orange juice until it boils. From there, add the cranberries and let it simmer until all the cranberries have burst. You can add an extra hint of flavor by topping the mixture with a pinch of cinnamon.
Once you remove the sauce from heat, mash it until you reach the desired consistency, and cool it at room temperature. Store it in an airtight container in the fridge overnight and it will be ready to eat in time for dinner the next day.
8. Crock Pot Stuffing
Upgrade your traditional stuffing by trying out this crockpot stuffing recipe from Well Plated. It's perfect for those who don't have enough space in their oven or want to get at least one of the side dishes over and done with the morning of Thanksgiving. Its unique taste and texture is sure to impress dinner guests.
This stuffing recipe replaces typical bread with rice, which gives it a cool flavor and makes it gluten-free. This recipe is also vegan if you choose to use vegetable broth instead of chicken broth. You can cook it on low for five to six hours or on high for two to three hours, depending on when you started prepping.
There are variations of this recipe to consider. For instance, you can add sausage to the mix. Simply sauté a pound of ground turkey or pork sausage in a skillet. You can then follow the recipe instructions from there and add the cooked meat to your slow cooker.
9. Loaded Mashed Potato Casserole
Looking for a way to have mashed potatoes steal the show at Thanksgiving? Look no further than this fully loaded mashed potato casserole recipe. It's a make-ahead concoction that includes bacon, sour cream, cheese, and chives.
The recipe can be customized to satisfy your tastebuds. You can add in some minced garlic, jalapeños, french fried onions, or anything else you're currently craving. All you have to do to prepare this dish is by making mashed potatoes, stirring in the extra ingredients, and cooking it in the oven.
To save time on Thanksgiving Day, consider preparing this dish the night before. You can leave it in the fridge for up to 24 hours and pop it in the oven about an hour before dinner. It can be prepared either in a nine-inch square pan or two quart casserole dish, allowing you to adjust the serving size to accommodate your dinner party.
10. Mashed Potatoes
Whether you're sitting at the kid's table or a grown adult helping to make dinner, there's nothing quite like mashed potatoes. Its light, fluffy, and buttery smoothness pairs well with turkey and just about every other Thanksgiving Day side dish.
Part of what makes mashed potatoes such a crowd pleaser is how it can be altered for people with dairy allergies or someone with a vegan diet. For instance, this recipe from Minimalist Baker uses vegan butter. It tastes the same as regular butter but can appeal to anyone who does not eat dairy products. Just make sure to have dairy-free butter or margarine on hand too.
Another great thing about this recipe is how you only need five ingredients and 40 minutes to cook it up. Have some fun with mashed potatoes by topping it off with some garnish. Adding a bit of fresh chives is also a sure way to elevate the presentation. Don't forget the gravy either!
11. Southwest Roasted Potato Salad
Switch up your typical side salad for one that's full of color, flavor, and taste. This southwest roasted potato salad recipe is full of ingredients that will instantly satisfy your tastebuds. It has potatoes, corn, peppers, and plenty of seasoning to top it off. It will also look really nice on the dinner table thanks to its vibrant and harvest-like presentation.
This recipe yields four servings, but you can easily double the number of ingredients to make more. It takes just 10 minutes of prep time and one hour of cooking in the oven. Once the potatoes are tender enough to be pierced with a fork, you'll know it's time to remove the pan from heat and stir in the garnish.
The recipe also says that if you have leftovers, you can warm it up the next day and turn it into a breakfast burrito. Just grab a tortilla, some eggs, cheese, and salsa to turn your tasty side salad into an instant main course.
12. Roasted Brussels Sprouts And Butternut Squash
What happens when you combine two classic sides into one dish? You get twice the deliciousness with every bite. Roasted brussel sprouts and butternut squash are dinner table staples. With this recipe published on Julia's Album, you can enjoy both flavors with spoonful.
There's a lot this side dish brings to the table (literally). It has roasted brussel sprouts, cinnamon flavored butternut squash, and a ton of colors that will look good on the dinner table. The contrast between the sweet squash and roasted brussel sprouts is another thing to look forward to. To save time in the kitchen, you can roast the sprouts and squash on two different baking sheets at the same time in the oven.
You can go a little crazy once the dish is cooked by topping it with maple syrup. Tossing this into the salad will provide you with some extra sweetness that's completely unexpected. You can also serve it with pecans to provide guests with an extra crunch.
13. Slow Cooker Fresh Green Bean Casserole
While you worry about the turkey on Thanksgiving Day, let your slow cooker worry about the sides! This green bean casserole recipe published on Slow Cooker Gourmet can cook throughout the day and requires less than half an hour to prep it.
Let it cook on high for three hours or on low for five to six, depending on when you need it. This recipe provides servings for up to 12 people, but you can double the ingredients to make more. In the last 15 minutes of cooking, add fried onions as a topper and let it toast with the lid on for the tastiest outcome.
This dish can easily be customized for vegans by opting for a veggie broth and leaving the bacon out of it. If you're dealing with a sauce that's just too thin, all you have to do is add some flour and water and let it simmer.
14. Insanely Delicious Instant Pot Green Bean Casserole
There's no better time to use the Instant Pot than during Thanksgiving. While your oven and stove are working overtime on the turkey and endless sides, your Instant Pot can put in the work quickly and separately from the madness. Check out this Forkly green bean casserole recipe that makes six to eight servings.
You can make this meal vegetarian by leaving out the bacon and using vegetable broth instead of chicken broth. What's great about using an Instant Pot is how it won't add a bunch more dirty dishes to the pile on Thanksgiving Day.
Did you end up with a dish that looks more like a soup than a casserole? No worries because there is an easy fix. Create a slurry using flour and a half a cup of liquid from the Instant Pot. Turn on the sauté setting, add the slurry, and stir to combine. Once the casserole has thickened, you can turn it off and serve.
15. Roasted Mushrooms
Make perfectly roasted mushrooms in just half an hour with this recipe from Closet Cooking. The recipe serves four, but you can easily double the recipe to make enough for your dinner party. Regardless of how much you need to make, it's a low maintenance dish that won't take too much time to prepare this holiday.
To get started, toss the mushrooms in oil, salt, and pepper. Place it on a baking sheet and cook them in the oven for about 20 minutes until they're caramelized. You'll have to prepare the browned butter on the stovetop and once that's ready, toss the roasted mushrooms into it.
The butter, garlic, and thyme sauce pairs incredibly well with roasted mushrooms. It will also look great sitting on the dinner table once it's seasoned with chopped thyme, salt, and pepper. This recipe is easy and delicious that can be enjoyed not only on Thanksgiving Day, but all year round.
16. Cheesy Broccoli Casserole
There's no such thing as too much cheese, which this broccoli casserole recipe is perfect proof of. This easy-to-make side dish allows you to make a homemade cheese sauce that pairs extremely well with broccoli florets.
Although it's recommended that you use sharp cheddar cheese, you can pretty much choose any cheese for your casserole. You can opt for milder options like mozzarella or Monterey jack, or go for something with a kick like blue cheese or fontina. Feel free to go overboard and sprinkle on some parmesan while you're at it.
For those who want to get ahead of their Thanksgiving Day cooking, you can actually make and bake the casserole a day early. All you have to do is cover the dish with tinfoil once it's been cooled and store it in the fridge. Heat it up for five to 10 minutes before mealtime at 350 degrees and it's ready to go!
17. Slow Cooker Scalloped Potatoes
It would be a crime to have Thanksgiving dinner without having scalloped potatoes on the side. This classic go-to method of cooking potatoes is an easy and delicious crowd pleaser, especially when you're using the crockpot to cook it. When prepared correctly, you're left with a cheesy and flavorful dish that's the ultimate comfort food.
This recipe from Well Plated serves eight people and takes just two and half hours to cook on high heat. Should there be any leftovers, they are good to eat for up to four days as long as they stay refrigerated in an airtight container.
To avoid having your potatoes be different shapes and sizes, consider using a mandoline slicer. This tool helps you chop potatoes quickly and ensures they will all cook evenly since they're the same size. Also make sure to cook this recipe on high heat to prevent the potatoes from getting soggy.
18. Spinach and Quinoa Salad With Apple
Want to prepare a salad that's healthy but not boring? Check out this spinach and quinoa salad with apple recipe. The way it looks in the bowl alone just screams "fall" and its flavor is the perfect mix of sweet and tangy that guests will swoon over.
One serving will be more filling than your typical salad since it includes quinoa. It's also easy to prepare for gluten-free guests. All you have to do is make sure the cranberries and dijon mustard are gluten-free before adding it to the salad. You have to cook the quinoa, toast the pecans, and whisk together the dressing before assembling the salad.
This salad can be made fresh or prepared a couple days in advance. Just make sure to toss the apple slices with a bit of lemon juice before adding it to the salad. That way, it stays fresh and tastes like it would if you made it that day.
19. Bang Bang Roasted Brussels Sprouts
Grab a casserole dish or roasting pan to get started on this hasselback butternut squash recipe. It's a melt-in-your-mouth type of dish that will pair nicely with turkey on Thanksgiving Day. This take on hasselback uses thin slices of butternut squash that's well seasoned and easy to cook even for less experienced cooks.
This Forkly recipe prepares four to six servings. Once the squash is prepped, you'll have to brush it with olive oil and some salt and pepper. After it's roasted, you can slice the squash and put it back in the pan. Top it with your seasoning and let it sit in the oven for about half an hour.
When it's in the oven, make sure to baste with the juices every 10 minutes. You will know the dish is ready once it's browned. It's also ready to serve right away. Don't forget to baste one more time and top it up with some fresh thyme.
20. Slow Cooker Creamed Corn
One of the most basic — yet important — sides to include on the Thanksgiving Day table is corn. Instead of just heating up a frozen bag of corn on the stove, why not elevate this dish by using your slow cooker? This recipe from Damn Delicious is an easy way to do just that.
This recipe uses just five ingredients: corn, cream cheese, milk, butter, and sugar. Better yet, everything is just thrown into the slow cooker which means less dirty dishes for you to clean. All you have to do is stir in the milk and sugar, then top it off with butter and cream cheese.
Cover the slow cooker and set it to high heat for about two to three hours. About 15 minutes before serving, uncover and stir the butter and cream cheese until it's well combined. Don't forget the salt and pepper! This recipe yields about six servings and your tastebuds will be thankful for the extra effort you put in.
21. Instant Pot Sweet Potatoes
Making sweet potatoes is a breeze when using the Instant Pot. It's a festive and tasty side dish that is perfect for those who want a bit of extra sweetness in their potato side. Before throwing the potatoes into the pot, be sure to clean and scrub each of them thoroughly. This Forkly recipe only has a few steps and can be done in just half an hour.
Once fully prepared, the potatoes are pillowy soft and bursting with flavor. You could even provide some marshmallow topping for guests looking to add even more sweetness to this side. This recipe makes between six and eight servings.
Choose medium sized potatoes for the best results. But if you end up using smaller sweet potatoes, reduce the cook time to 16 minutes. Larger potatoes should be cooked for 22 minutes. However big or small they are, try to use potatoes that are the same size to ensure they are cooked evenly.
22. Instant Pot Garlic Mashed Potatoes
Nothing screams comfort food more than mashed potatoes. This classic dish is the ultimate side for dinner all year round, but that is especially true on Thanksgiving. The mashed potatoes just might steal the show after following this Forkly recipe. To make this dish vegan, make sure to opt for nut milk and vegan butter.
Start by prepping your potatoes and chopping them into cubes. Throw them into the Instant Pot and top it off with garlic, salt, broth, and some milk. After cooking on high pressure, you can let the steam out and see whether they are cooked. If they are at the right consistency, strain the potatoes and start mashing.
Presentation is something to consider when serving mashed potatoes. Luckily, it's pretty easy to do. Just garnish with some chives and serve with butter. This recipe makes a generous sized amount, providing between six and eight servings.
23. Caprese Salad
Balance out your Thanksgiving Day dinner table with a lighter side option, like a caprese salad. While it's mostly known as a summertime side, there's no reason why it can't be enjoyed all year long. It's a classic dish that only uses a few ingredients and will only take about 10 minutes to make — no tossing necessary!
This recipe from The Kitchn provides up to four servings, but you can easily double the ingredients to make more. You can choose to make your own glaze ahead of time or pick up a pre-made one from the grocery store to save time.
As tasty as caprese salad is, it's also just nice to look at. Arrange the tomatoes and mozzarella onto a platter in an alternating pattern. Top it off with basil leaves, season it with salt and pepper, and drizzle on some olive oil and balsamic glaze as a finishing touch.
24. No-Boil Slow Cooker Mac And Cheese
Who wouldn't want some warm, cheesy, and creamy noodles on their Thanksgiving Day plate? It's a crowd pleaser all around that you should not expect to have any leftovers of. You can let the slow cooker do all the work using this recipe from Cookies and Cups which yields six servings.
This no-boil recipe takes just 10 minutes to prepare and two to three hours to cook on low heat. The last thing you want to do is overcook the pasta. The heat time may differ depending on the slow cooker and the type of pasta used, so make sure to monitor the pot after the hour and a half point. This recipe uses Barilla pasta but any type will do just fine.
The writer of this recipe recommends using velveeta cheese. Also try to avoid pre-grated cheese and take the time to grate it fresh. Doing this will ensure the mac and cheese has the creamiest results!
25. Cranberry Brie Bites
If you're serving up hor d'oeuvres this holiday season, why not include some cranberry brie bites? These tasty treats are the perfect appetizer that taste just as festive as they look. Plus, this recipe from The Country Cook only uses five ingredients.
You could use crescent dough or puff pastry for the base depending on your preference. Roll out the dough into 24 squares and place them into the muffin slots. Next, cut the brie into small pieces and place it onto the dough. Top it off with a spoonful of cranberry and rosemary, then bake in the oven until they appear golden brown in color.
Make sure to pop these in the oven about 15 to 20 minutes before serving so they're still warm. For anyone not into cranberry, you could make these with a different sauce such as orange marmalade or pepper jelly. Give it some extra decoration and flavor with toasted walnuts or pecans and they are ready to be served.
26. Cheesy Bacon Broccoli Stuffed Spaghetti Squash
It makes sense to cook a squash-related side dish on Thanksgiving Day. But if you're looking for a savory way to switch it up this year, then consider whipping up this cheesy bacon broccoli stuffed spaghetti squash recipe. Not only is the name of this dish a mouthful, but so is one serving.
This recipe published on Peas and Crayons stuffs everything that's good onto squash. It takes less than an hour to prepare and the perfect appetizer or side to munch on before turkey. Don't be afraid to go overboard on the cheese and use a combination of different types to achieve the cheesiest results!
Those who are worried about having enough time to cook this can actually do it ahead of time. The squash can be pre-roasted and stored in the fridge. You could also choose to microwave the squash instead of baking if you're running short on time.
27. Instant Pot Butternut Squash
You can't go wrong with cooking up the classics on Thanksgiving Day. Butternut squash is a colorful and traditional food to include on the table. This year, save room in the oven and cook your butternut squash in the Instant Pot instead! You can eat the squash as is with butter and salt, or get creative by turning it into a soup or sauce.
This Forkly recipe is perfect for those looking to cook up butternut squash in a hurry. No more cramming the pan into the oven at the last minute because the Instant Pot is ready for action. You will need one medium-sized butternut squash for this recipe, which yields four to six servings.
How else does this recipe save time? It prepares the squash in a way that makes it incredibly easy to separate the skin from the squash once it's been cooked. Just make sure to let it cool for five minutes to prevent accidental burns.
28. Vegan Deviled Potatoes
Something both vegans and non-vegans will love to munch on at Thanksgiving dinner is deviled potatoes. These bite-sized potatoes are filled with a creamy mix of ingredients that will pack a punch. You can also make them pretty quickly by following this Forkly recipe.
Before working on the filling, you will have to steam or microwave cook the potatoes. Carefully slide off the top, about one-third, of the potato and spoon out the center. Don't throw it away though! Keep them in a separate bowl until you're ready to mix them with the other ingredients for the filling.
After thoroughly mixing the filling, scoop it into a piping bag. This will make it way easier to refill the potato skin shells and also give you points for presentation. Don't forget to garnish them with extra paprika and chives. You can choose to serve the potatoes warm, or make them ahead of time and serve at room temperature.
29. Cranberry Almond Broccoli Salad
Looking for a salad recipe with a little bit of everything in it? Check out this cranberry almond broccoli salad recipe from The Chunky Chef. It's a popular side dish in the spring and summer, but there's no reason it can't also be enjoyed on Thanksgiving Day!
This version uses dried cranberries, sliced almonds, roasted sunflower seeds, and sharp cheddar cubes. The broccoli adds a nice crunch to the salad, while the poppyseed dressing you toss it in marries all the ingredients together. The writer of this recipe recommends blanching the broccoli to help soften it.
Don't be afraid to customize this recipe however you see fit. Add some extra toppings, switch up the dressing, or choose a different seed. You could also leave out the bacon to ensure your vegetarian dinner guests can have a bite. Feel free to make this salad up to 24 hours ahead of time to give yourself less work this holiday.
30. Autumn Vegetable Sheet Pan
One-bowl recipes are always good, but have you ever appreciated a sheet pan recipe? All it takes is throwing your ingredients onto a sheet pan and putting it in the oven to cook. No mixing, tossing, or major prep necessary! That's why this autumn vegetable sheet pan recipe from Forkly is a must this Thanksgiving.
There are a bunch of ingredients that make this side dish super flavorful. From peppers to sweet potato to squash and beyond, each bite will offer a mix of something different. Top it off with cinnamon, rosemary, basil, and your tastebuds will be watering for more!
After chopping the veggies up, put them onto the pan and drizzle it with olive oil and dressing. Let it roast in the oven for a maximum of 40 minutes. Don't forget to toss everything about mid-way through to cook it evenly. Once it's cooled down a bit, this vegetable sheet pan is ready to serve. Some of these are bacon pieces, shredded cheese, and chopped red onion.