Thanksgiving is all about spending time with family and friends. It's the perfect time to reflect on what you're grateful for while the leaves are changing colors and the aroma of hearty foods waft through the house. Typically, before you tuck into a big dinner, there are many appetizers to enjoy. We love nibbling on snacks while drinking good wine, but it can be easy to accidentally eat too many calories just with appetizers. Many are fried or covered in fatty foods. Moderation is key! You don't want to spoil your appetite by overeating with the snacks.
Luckily we rounded up few of the best healthy appetizers that your guests will love. Appetizers don't always have to be unhealthy, and these ones in particular are both delicious and nutritious. They're packed with veggies and healthy fats and you can eat multiple without feeling overly full before the main course. Check out our top 12 healthy appetizers to serve this Thanksgiving:
1. Blackened Shrimp Avocado Cucumber Bites
We all love shrimp as an appetizer, but why not serve it up on a veggie to get some extra nutrients? These blackened shrimp avocado cucumber bites are cool and creamy but packed with robust flavor. The combination of the crisp cucumber with the spicy shrimp is the perfect combination of textures.
The best part? These shrimp appetizers are super light and won't have you feeling extremely full after a few bites. Another great bonus to this shrimp appetizer is that they'll only take you a few minutes to make. Serve these as an app for your next upcoming holiday gathering and your guests won't be disappointed!
2. Cheese Spinach Artichoke Quinoa Bites
These quinoa bites are exactly what your guests will need to tide them over until Thanksgiving dinner is ready! Packed with protein and antioxidants, these bites will be gone faster than you can say Thanksgiving. This recipe is the perfect blend of cheesy goodness mixed with all the benefits and flavors of spinach and artichoke.
This recipe works perfectly as an appetizer for a big event, or even as a snack that you can quickly grab and go during busy weeks. If you or your guests are fans of traditional spinach dip, this is the perfect twist on that classic recipe.
3. Sweet Potato Bites with Avocado and Bacon
Sweet potatoes are so popular at Thanksgivings and make as an excellent substitute for crackers when you want some more natural carbs. Add a little avocado and bacon with a squeeze of lime on top, and you've got yourself a hit appetizer! This recipe includes a few simple ingredients and spices that are delicious seperately, but even tastier when paired together.
These sweet potato bites are perfect for a crowd and friendly to many different diets and lifestyles since they're allergy-friendly, gluten free, dairy free, egg free, and Paleo too. You could also skip the bacon on top for any vegan or vegetarian friends.
4. Spinach and Ricotta Stuffed Mushrooms
Mushrooms are wonderful to cook with because they absorb flavor and also are great for portion control. Fill up these little buttons of flavor with all your favorite fillings to create the perfect and easy gourmet app. These spinach and ricotta stuffed mushrooms are the perfect one-bite snack to serve as an appetizer at your next holiday gathering.
They're packed with creamy ricotta filling, fresh spinach and garlic, then topped with some parmesan. This recipe is super straightforward to make, but the results have major impact. Begin by removing the stems of your mushrooms, then stuff them with your filling. Bake and garnish, and they're ready to serve!
5. Quick 10 Minute Chicken and Avocado Roll-Ups
Needing to whip something up quickly for an appetizer? Swap out the chicken and replace with turkey as scrumptious appetizer before the grand meal. These chicken and avocado roll-ups will only take you 10 minutes to make and are the perfect light, yet still nutritious appetizer to serve before the main course.
They're hearty, packed with flavor and healthy fats. To make this recipe you'll need a perfectly ripe avocado, diced cooked chicken, sour-cream, cheese, tomato, cilantro, lime and salt and pepper. Take the mixture and spread onto a tortilla, roll and cut into wheels. Enjoy these roll-ups cold or warm them up by pan searing in a teaspoon of oil.
6. Mini Grilled Cheese Sandwich Appetizers
Everyone loves grilled cheese, and it tastes especially delicious on a chilly Autumn day after raking leaves before Thanksgiving dinner. Why not change things up and replace your regular cheddar with some smoked havarti or goat cheese? Add some arugula, mushrooms and sundried tomatoes for extra flavor and turn it into a unique appetizer that no one will forget.
You could even turn this into a fun activity by making having guests customized their own sandwich with a variety of options of cheese and veggies. Think swiss, brie, mozzarella or even blue cheese for something different, alongside veggie options like pesto, bacon, or caramelized onions!
7. Thai Chicken Sweet Potato Flatbread
Want to make an appetizer with all the great flavors of pizza but a healthier version? You need to try this thai chicken sweet potato flatbread. Load up a sweet potato slice with all the gourmet fixings of pizza such as chicken, thinly grated carrot, sliced red pepper and fresh cilantro leaves. Lastly, slice into bite size portions for an irresistible appetizer!
This Thai chicken sweet potato flatbread is simple to make, but the flavors are so unique and blend together to taste like a flatbread from a gourmet restaurant. The combination of the baked sweet potato base, creamy almond butter dressing, and fresh ingredients are truly incredible.
8. Spinach Feta Pinwheels
These spinach feta pinwheels will be a hit for everyone and are especially easy to make. The best part is, they aren't too filling so you will still have room for the epic Thanksgiving dinner! It's a twist of the classic spanakopita appetizer and will be a huge win for anyone who is a fan of greek food at your gathering.
You'll begin by making the egg wash, then making the filling. Next, you'll roll out the puff pastry and brush with the egg wash. Top the surface with the cheese mixture and then the spinach to follow. Roll the pastry, then bake after chilling for the best puff pastry rise.
9. Mini Chicken Pot Pies
Why not add a chicken pot pie to the mix this Thanksgiving/ These are not only wonderful as an appetizer, but also make a great side dish for Thanksgiving dinner. The best part is that they're ridiculously easy to make and only require four ingredients: chicken, mixed frozen vegetables, cream of chicken soup and refrigerated biscuit dough. They're also incredibly time efficient and will only take you 30 minutes to make from start to finish.
Start by combining your chicken, mixed vegetables and cream of chicken soup in a bowl. Separate your biscuits into the compartments of a greased muffin tin. Add the filling to each of the compartments. Bake until golden brown and bubbly.
10. Prosciutto Wrapped Asparagus
Asparagus is a common vegetable that makes its way to many Thanksgiving dinner tables, but why not try something new this year like this prosciutto wrapped asparagus? It's extremely simple to make, but looks impressive and makes major impact. Best of all, it tastes delicious! The combination of the salty prosciutto and savory asparagus is so satisfying.
To make this recipe, begin by cutting the ends of your asparagus and slicing the prosciutto into halves, lengthwise. Wrap the meat tightly around the asparagus and pan fry each asparagus for 1-2 minutes on each side until prosciutto is brown and crispy.
11. Quinoa Salad with Cranberries and Orange
Sweet cranberry paired with zesty orange is a classic flavor palette for Thanksgiving. So why not try this combo in a delicious quinoa salad? It's tasty, healthy and packed with vitamins, fiber and protein. It's also a great unexpected side dish that can replace a traditional salad and you can even make it 1-2 days in advance to avoid the last minute rush.
To make this recipe you'll need quinoa, kale, fresh cranberries, olive oil, honey, oranges, mixed nuts, pomegranate arils and fresh mint. Vegetarians and low-carb enthusiasts will be thrilled at how much flavor this dish has and will be begging for the recipe.
12. Stuffed Butternut Squash
Nothing screams fall more than classic butternut squash. There are so many ways to turn butternut squash into a delicious dish, but we love this stuffed butternut squash recipe. It's perfect as an appetizer, side dish or snack during your Thanksgiving feast. It combines savory ingredients like onion and various spices with sweet ingredients such as pomegranates and maple syrup.
This dish is healthy and packed with nutrients, but definitely still falls in the category of comfort food, which makes it perfect to serve at Thanksgiving. All the colours and textures also make this dish look so gorgeous and seasonal for the holidays.
While the Thanksgiving turkey is the star of the meal, the stuffing is always the tastiest dish.
Deep frying a turkey can be the most dangerous method of cooking people try.
Here is your detailed checklist for preparing for Thanksgiving. We will go through week by week to help you get ready.
Living with celiac disease means gluten is your enemy. There is a social stigma that gluten free individuals chose to live that...
Turkey is really the star of the Thanksgiving meal. All the side dishes and desserts are there to complement the bird.
Hosting Thanksgiving can be stressful, especially when you hear a vegetarian will be joining you.
Thanksgiving is right around the corner, but it can be a difficult time for those with Celiac disease or who eat gluten free.
After the holiday season is over, you might find yourself piled high with leftovers.
There's no time like taco time! If you like a frequent fiesta, clearly you're no stranger to the mighty taco.
Whether you roast, fry, or barbecue your turkey, it will surely be the centerpiece of your Thanksgiving table.
Thanksgiving is one of those holidays we love and look forward to so much.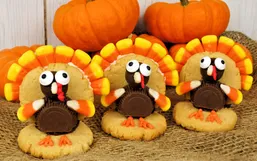 I love holidays because it gives everyone a chance to unwind and spend quality time with those you love.