After the holiday season is over, you might find yourself piled high with leftovers. This is a great idea for all that leftover mashed potato from after Thanksgiving and Christmas. Reheating mashed potatoes gives a sad meal, but thankfully there are some excellent ways to use them in recipes. Mashed potatoes can make an amazing dough for bread, baked goods, and fried treats. Mashed potatoes are freeze beautifully.
If you find yourself with more left over mashed potato than you can deal with, here's how to freeze it for later. Our #1 recipe gives this tip: Take a cookie sheet and lay out plastic wrap to cover the pan. Scoop out 1/4 cup amounts of the potato and flatten them like cookies on the sheet. Freeze and toss into a zip top bag when frozen solid. Then when you need some mashed potato for a recipe, you have the pre-measured amount already! Add the frozen pucks to soups and stews for an easy thickener.
Here are 9 amazing recipes for using up leftover mashed potato.
*Click on the image or bottom link to get the full recipe.
9. Mashed Potato Croquettes
These delicious potato pancakes are made with 4 cups of mashed potato! They make 6 servings of this delicious side dish. Sauteed onion is added for flavor. A good tip when using left over mashed potato is make sure it's properly seasoned, or else it will just be bland. Salt generously to taste!
[Source: Cooking Hussy]
8. Mashed Potato Gnocchi
These amazing Italian dumplings are a relative of pasta. They should be fluffy and light in texture. Serve them with your regular pasta sauce, or with this delicious combination: Saute onion and sage with butter. Cook until the butter is browned and nutty. Toss with the cooked gnocchi and enjoy.
[Source: Food Whine]
7. Mashed Potato Souffle
Impress your family with this beautiful dish. It will be denser than a normal souffle, but delicious all the same. The trick to this dish is whipping the mashed potato well. This would be great topped with sour cream, bacon, and green onion.
[Source: Bella Online]
6. Cheesy Roasted Garlic Potato Balls
These little croquettes have a creamy filling with a crispy outside. They are flavored with Gruyere cheese, but feel free to substitute old cheddar. Panko bread crumbs are used to ensure a crisp exterior.
[Source: Lives Ambrosia]
5. Mashed Potato Puffs
These adorable potato bites have a rich, creamy filling. They are flavored with Parmesan, chives, and ham. This is a great recipe for using up your left over ham too!
[Source: The Kitchn]
4. Spicy Shepherds Pie
This warming dinner is a great weeknight meal. It freezes beautifully and just needs to be popped in the oven and you're done! Ground beef is mixed with chili fixings, like beans and corn. It's topped with the mashed potato and coated in cheese.
[Source: My Family Meal Plan]
3. Irish Potato Cakes
This quick bread recipe takes half an hour from start to finish. They make perfect sandwich buns, or bread rolls for dinner. The key is self-rising flour, which cuts down on the steps. The author recommends flavorful mashed potatoes for this recipe, so butter and cream are your friend here.
[Source: Do What I Know]
2. Mashed Potato Frittata
This delicious egg dish is perfect any time of the day. It makes a great breakfast when it's hot out of the oven. Serve it cold for lunch or dinner and you'll be surprised at how tasty it is. The potato and egg make a great custard texture filling.
[Source: Weelicious]
1. Mashed Potato Buns
These fluffy and rich buns are flavored with mashed potatoes. They're quick to make and come out perfect every time. An electric mixer makes this recipe even easier!
[Source: Cookistry]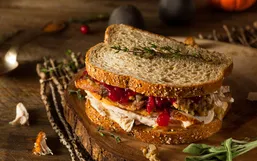 In addition to family time, one of the best things about a holiday like Thanksgiving is the food.
While the Thanksgiving turkey is the star of the meal, the stuffing is always the tastiest dish.
Deep frying a turkey can be the most dangerous method of cooking people try.
Roasting a turkey is the classic American Thanksgiving tradition. Unfortunately, most turn into dry, desiccated pieces of meat.
Living with celiac disease means gluten is your enemy. There is a social stigma that gluten free individuals chose to live that...
Turkey is really the star of the Thanksgiving meal. All the side dishes and desserts are there to complement the bird.
After stuffing yourself with the great Thanksgiving feast, it can be hard to think about eating dessert.
Thanksgiving is right around the corner, but it can be a difficult time for those with Celiac disease or who eat gluten free.
There's no time like taco time! If you like a frequent fiesta, clearly you're no stranger to the mighty taco.
Thanksgiving is one of those holidays we love and look forward to so much.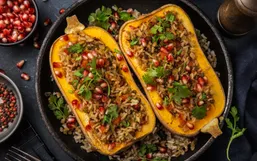 Thanksgiving is all about spending time with family and friends.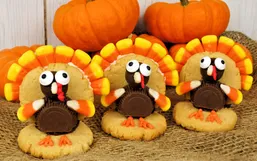 I love holidays because it gives everyone a chance to unwind and spend quality time with those you love.