Thanksgiving is a time for family and friends to come together and share the bounty of the season, and of course to give thanks for what we have. It usually involves a big meal complete with all the seasonal favorites like turkey, stuffing, and mashed potatoes. This year, spice up your meal with a few extra dishes that will knock the socks off your dinner guests and have them asking for seconds and thirds!
1. Carrot and Ginger Soup
Upgrade your typical carrot soup by adding some extra flavor! This carrot ginger soup concoction from Simply Recipes is a fall time comfort food that will be the perfect addition to Thanksgiving dinner. Plus, the hint of ginger will be a pleasant surprise for guests that will have them looking for seconds.
Not only is the soup tasty, but it's also healthy and easy to make. This recipe yields up to five servings and takes just 45 minutes to prepare. The writer recommends pureeing the soup until it's perfectly smooth and add salt to taste. Garnish with some chives, parsley, or fennel and serve!
2. The Best Turkey
It's no secret that turkey is often the main event on Thanksgiving Day. As good as it tastes, preparing a turkey can also be really overwhelming! It's a day long affair that can be stressful and confusing if you don't know what you're doing. Luckily, this easy to follow recipe takes the complication out of turkey cooking.
This recipe requires no brining or basting. It also provides a helpful graphic telling you how long to cook (and how many servings) the turkey depending on its weight. For instance, you can serve a 12 pound turkey in less than four hours with just 20 minutes of prep time.
3. Dijon Maple Green Beans with Caramelized Pecans, Bacon and Feta
Green beans can have a reputation for being the least favorite food on the dinner table — but there's no reason why that should be the case! You can customize green beans to taste delectable and addicting simply by following this 15 minute recipe.
This three part recipe quickly guides you through cooking the beans, dijon maple sauce, and garnish from scratch. If you're a big fan of the Dijon flavor, feel free to double the amount used in the recipe for extra taste. The red pepper flakes, caramelized pecans, and bacon will add a variety of crunch as well.
4. Slow Cooker Creamy Scalloped Potatoes
Not all dishes on Thanksgiving Day have to be high maintenance and time consuming. Instead, you can opt for some recipes that let your slow cooker do the work! This scalloped potatoes recipe is an excellent one to consider since it uses both Yukon gold potatoes and sweet potatoes — guaranteeing a fusion of flavor with each bite.
After just 20 minutes of hands-on preparation, set the slow cooker to HIGH for two and a half hours or. You'll know the dish is ready once the potatoes are tender. Allow some Parmesan cheese to melt on the top before serving and you're good to go.
5. Baked Acorn Squash with Brown Sugar and Pecans
Strike a balance between toasted and sweet by serving up these baked acorn squash slices. The caramelized brown sugar and toasted pecans pair perfectly together. And with a splash of cayenne, its taste will also offer a bit of a kick.
If you're short on time on Thanksgiving Day, then no worries. This recipe can be prepped in advance so all you will have to do on the big day is serve. It takes 10 minutes to prep, 25 minutes to cook and yields six servings. You can simply multiple the ingredients if you're in need of more slices. Enjoy!
6. Pumpkin Swirl Cheesecake
You can't forget the dessert on Thanksgiving Day. It's the finale to your main course and ends the night on a sweet note, which is why you have to include some fan favorites. One ingredient to include on the dessert table is pumpkin, specifically through this pumpkin swirl cheesecake recipe.
This combination of pumpkin pie and cheesecake is creamy and even a bit spicy thanks to the gingersnap. Plus, it only takes about 15 minutes to prep and half an hour to bake in the oven. Just let it sit for at least an hour before serving. The marble swirl is also aesthetically pleasing and is a definite way to score some presentation points.
7. Garlic Parmesan Browned Butter Mashed Potatoes
One of the quintessential sides to serve on Thanksgiving Day is mashed potatoes. Its creamy texture and melt-in-your-mouth buttery flavor pairs well with just about everything else at the dinner table. But if you're looking for a way to elevate this classic dish, then check out this recipe from Cafe Delites.
The recipe includes browned butter and garlic parmesan. The browned butter adds a fried nutty taste, while the garlic parmesan provides an extra hint of flavor. Taking the time to prepare the browned butter will take this dish to the next level and your guests will definitely appreciate you for it!
8. Homemade Cranberry Sauce
Would it be a proper Thanksgiving Day meal without serving up cranberry sauce? This sweet side adds extra flavor to the turkey, potatoes, stuffing, and everything else you serve. Instead of cracking open a can of ready-made cranberry sauce, take the extra time to make your own homemade version.
This recipe uses just five ingredients and takes just five minutes to prepare. Consider adding in some cinnamon sticks, vanilla extract, or black peppercorns to further customize your cranberry sauce. All you have to do is throw everything into your slow cooker and let it cook either on high heat for up to four hours or low heat for up to eight hours.
9. Browned Butter Sweet Potato Casserole
There is nothing quite like a sweet potato casserole. The sweetness of the potato and marshmallow topping is heaven for anyone in need of a sugar fix, while the pecan and corn flake provides a hearty crunch that will leave you craving more.
This recipe, which includes brown butter as an ingredient, can be whipped up in just over two hours. You also have the option to make it in advance and bake it on Thanksgiving Day. Simply refrigerate the casserole and make sure not to add the corn flake topping until you're ready to put it in the oven.
10. Apple Cranberry Bacon Candied Walnut Salad with Apple Poppyseed Vinaigrette
Looking for make a salad that looks as good as it tastes? Then look no further than this recipe from Carlsbad Cravings. This apple salad aims to please with a balanced mix of sweet and savory ingredients. From cranberries to walnuts to bacon to feta, this salad is the perfect choice for Thanksgiving.
Another factor as to why this salad is so mouthwatering is because of the homemade apple poppy seed dressing. Its made of apple cider vinegar, honey, sugar, and other ingredients that come to together for a burst of flavor. The best part is the entire dish takes just 10 minutes to prep and serves up to eight people.
11. "Stuffins" Stuffing Muffins
Stuffing is a must-have on Thanksgiving Day, but what if there was a more interesting way to serve it this year? That's easy to do with these stuffing muffin or "stuffins" Forkly recipe! It tells you step by step how to cook up stuffins into perfectly bite sized muffins.
Stuffins have the same flavor you know and love, but you don't need a fork to eat them. This recipe takes 20 minutes to prep, about half an hour to cook, and yields 12 servings. Make all the stuffins even sized is easy since you'll be using a muffin tin to make them.
12. Autumn Vegetable Sheet Pan
What's easier than throwing all your ingredients onto a baking sheet and tossing it in the oven? Nothing, really. That's why this Forkly autumn vegetable sheet pan recipe is a must-do this year for Thanksgiving. From sweet potato to acorn squash to cinnamon seasoning, there is a ton of flavor packed into this recipe.
All you have to do is chop up your veggies, place them on the pan, and drizzle with olive oil. Make sure to toss the ingredients around about half way through to ensure it's evenly cooked. Let it cool for a bit before serving and bon appetit!
While the Thanksgiving turkey is the star of the meal, the stuffing is always the tastiest dish.
Deep frying a turkey can be the most dangerous method of cooking people try.
Here is your detailed checklist for preparing for Thanksgiving. We will go through week by week to help you get ready.
Turkey is really the star of the Thanksgiving meal. All the side dishes and desserts are there to complement the bird.
After stuffing yourself with the great Thanksgiving feast, it can be hard to think about eating dessert.
Thanksgiving is right around the corner, but it can be a difficult time for those with Celiac disease or who eat gluten free.
Whether you roast, fry, or barbecue your turkey, it will surely be the centerpiece of your Thanksgiving table.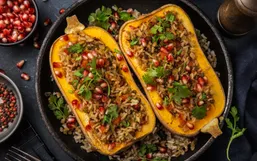 Thanksgiving is all about spending time with family and friends.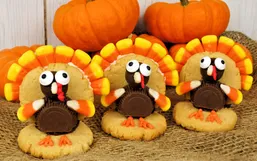 I love holidays because it gives everyone a chance to unwind and spend quality time with those you love.
Holidays are the hardest times of the year to stay on track with your diet.
When I made the decision to adopt a plant-based diet I had many comments from friends saying things such as "I wish I could but...
Not everyone hosts or attends a big Thanksgiving feast and that is okay!