Thanksgiving is a time for family and friends to come together and share the bounty of the season, and of course to give thanks for what we have. It usually involves a big meal complete with all the seasonal favorites like turkey, stuffing, and mashed potatoes. This year, spice up your meal with a few extra dishes that will knock the socks off your dinner guests and have them asking for seconds and thirds!
1. Carrot and Ginger Soup
Start your meal off with something different and impress your guests while you're at it! Serve this warm carrot and ginger soup as the starter to your Thanksgiving meal for ultimate elegance and class. Your guests will think you slaved away in the kitchen all day, but this easy recipe can actually be done ahead of time (even the day before) and reheated just before serving. Top with a dollop of sour cream and a sprinkle of fresh chopped dill for a presentation that's sure to wow your holiday guests.
2
2. The Best Turkey
The turkey is the star of the show and we want it to taste perfect! Use this recipe to guide you to golden perfection at Thanksgiving this year.
3
3. Dijon Maple Green Beans with Caramelized Pecans, Bacon and Feta
This easy recipe combines the two favorites of green beans and caramelized pecans into one delicious dish. While it might look fancy, there are some serious time saving shortcuts in this recipe like using frozen french cut green beans and prepared pecans. Believe us, after just one bite you're guests won't even know the difference! Bake as directed and prepare to let the compliments roll in!
4
4. Slow Cooker Creamy Scalloped Potatoes
The beauty of this dish is that all the prep is done ahead of time and the slow cooker does the rest! Combine sliced potatoes with onion, garlic, cream cheese, shredded cheddar and milk. After about 3-4 hours you'll have the perfect creamy, cheesy scalloped potato dish without even touching the stove.
5
5. Baked Acorn Squash with Brown Sugar and Pecans
You can't get much easier than this beautiful dish of baked acorn squash with brown sugar. Squash of all varieties are in abundance around the Thanksgiving holiday so pay a special tribute to Fall by including them in your menu this year. With a simple preparation, these little acorn squash bake up sweet, tender and also look beautiful on your holiday table.
6
6. Pumpkin Swirl Cheesecake
What Thanksgiving meal is complete without a little pumpkin? Break from the tradition of the standard pumpkin pie and offer your guests a slice of this creamy, dreamy pumpkin cheesecake.  Top with a spoonful of maple whipped cream and you have the perfect finish to a perfectly easy (and impressive) Thanksgiving meal.
7
7. Garlic Parmesan Browned Butter Mashed Potatoes
No Thanksgiving is complete without some seriously delicious and creamy mashed potatoes. The best party about these potatoes is the browned butter and all the GARLIC!
8
8. Homemade Cranberry Sauce
Pick your own cranberries if you can and make this recipe from scratch. It's the perfect addition to a turkey dinner.
9
9. Browned Butter Sweet Potato Casserole
It's like dinner and dessert had a baby called Browned Butter Sweet Potato Casserole! This pretty and sweet dish is made for special occasions only and is so worth the hard work!
10
10. Apple Cranberry Bacon Candied Walnut Salad with Apple Poppyseed Vinaigrette
Complete your very full Thanksgiving plate with a healthy salad that screams fall and thanksgiving with nuts, cranberries and fresh apples.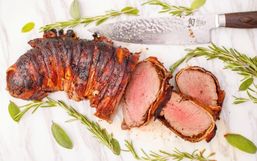 Committing to the keto diet requires hard work and dedication, especially if you want to remain in ketosis.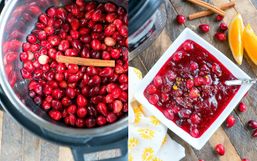 The holidays are a busy time of year, between hosting guests, planning a dinner, and catering to everyone's needs it can get...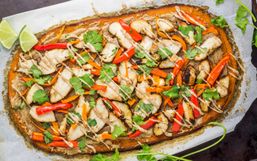 Thanksgiving is all about spending time with family and friends. Before you tuck into a big dinner, there are many appetizers to...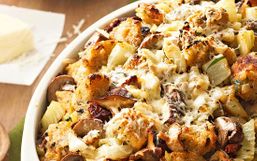 Thanksgiving in its entirety no longer has to rest on the shoulders of the family matriarch.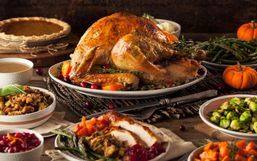 Whether you roast, fry, or barbecue your turkey, it will surely be the centerpiece of your Thanksgiving table.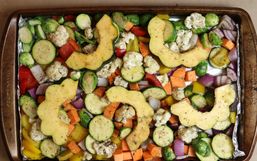 The days are getting shorter, and the leaves are changing color and we are slowly settling into fall weather.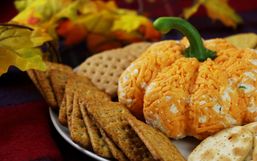 I grew up with an amazing Mother who would do everything with themes. From birthday gifts, to seasonal decor, and even meals.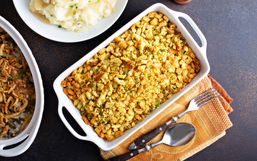 So either you or a someone at your holiday dinner is gluten-intolerant or celiac, and/or perhaps vegan or working towards a...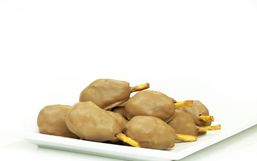 Easy bite sized dessert that can A) feed a crowd B) be made in advance C) look as cute as all get out on your Thanksgiving...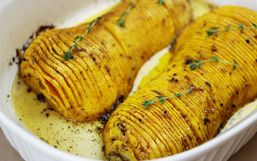 We've seen hasselback potatoes and chicken, breads and more. It's no wonder that this favorite fall squash side would cook up...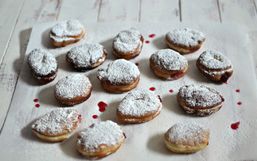 Aside from opening up a can each year when Thanksgiving rolls around, how often do you cook with cranberries?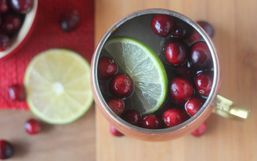 Looking for a fun and festive cocktail to serve your guests this holiday season?