There's no time like taco time! If you like a frequent fiesta, clearly you're no stranger to the mighty taco. Like myself, I'm sure you can appreciate the subtle complexities of flavor and texture in this much loved Mexican staple. The options for filling and topping your tacos are literally infinite. Sure salsa, guacamole and hot peppers are all great choices, but today let's take a look at some of the more unconventional toppings and see where your imagination takes you…
1. Mac and Cheese Steak
In today's world of extreme foods, it wasn't enough to just put mac and cheese in a taco, there had to be some steak in there with it.
http://passthesushi.com/using-up-the-leftovers-taco-mac-and-cheese-steaks/ Photo by: Pass The Sushi
2. Chili Dog
These chili dog tacos give new meaning to the phrase "think outside the bun." Truth be told, I think they actually look pretty good!
http://www.bettycrocker.com/recipes/chili-dog-tacos/162bfd5e-99f8-4af4-9847-a1e9b31d21e3 Photo by: Betty Crocker
3. Sashimi
By now you've probably heard of the sushi burrito, but have you met the sushi taco? Yes, raw fish is now a whole new category of taco toppings.
https://www.yelp.ca/biz_photos/sushi-shop-brossard Photo by: Yelp
4. Fried Chicken
Finally, I no longer have to choose between my two greatest loves; tacos and fried chicken. If you need me, I'll be at weight watchers.
http://foundationrestoration.org/2012/04/flavors-of-marriage/ Photo by: Flavors of Marriage
5. Spaghetti and Meatballs
Craving tacos but too lazy to make taco filling and all the toppings? Just warm up last night's spaghetti and meatballs and fill your shells for a 'creative' taco hack.
http://www.kitchensimmer.com/2014/08/spaghetti-and-meatball-tacos.html Photo by: Curry and Comfort
6. Sausage and Eggs
Tacos don't have to be pigeonholed as just a lunch or dinner food, these sausage and egg tacos are a guaranteed winner to start your morning in the tastiest way possible.
http://video.bonappetit.com/watch/how-to-make-sausage-and-egg-breakfast-tacos Photo by: Bon Appetit
7. Cheese and Pepperoni
That's right, pizza tacos are a thing and they're magnificent. Try it yourself and you'll see what all the fuss is about, I assure you.
http://www.foodnetwork.com/recipes/food-network-kitchens/pizza-tacos-recipe.html#lightbox-recipe-image Photo by: Food Network
8. Grilled Avocado
If you're tired of the same old guac in your shells, switch things up and try topping your tacos with some char-grilled avocado instead.
http://honestfare.com/grilled-avocado-tacos-with-cilantro-yogurt-sauce/ Photo by: Honest Fare
9. Fruit
Fruit tacos… the verdict is still out on this one, try them for yourself and let us know what you think, but either way the kids will probably enjoy this one.
http://www.superhealthykids.com/fruit-tacos-when-they-don-rsquo-t-like-salad/ Photo by: Super Healthy Kids
10. Tuna Poke
Sushi tacos aren't the only way to get your raw fish fix in taco form. As the Hawaiian poke craze sweeps the nation, it shouldn't surprise you to see these tuna poke tacos.
http://www.travelandleisure.com/slideshows/best-unusual-tacos-america/4 Photo by: Beauty & Essex
11. Bugs
Yes you heard right, bugs are one of the next hot taco toppings just picking up steam. Sure they're a supposed good source of protein, but I'm not sure I could get past the exoskeleton.
http://pyramidisland.com/2016/02/21/the-future-of-food-2016/ Photo by: Pyramid Island
12. Peanut Butter
Well we've done just about everything under the sun with peanut butter, so I guess it's not that big of a stretch to see it used as a taco topping.
http://www.huffingtonpost.com/zagat/crazy-tacos_b_1397367.html?slideshow=true#gallery/218749/9 Photo by: Flickr: kayone74
13. Fried Avocado
I know that most of these crazy toppings are geared towards the meat-eaters, but here's one for the veg-heads to try; fried avocado tacos. You're welcome.
https://food52.com/recipes/17974-fried-avocado-tacos-with-sesame-and-lime Photo by: Food52
14. Pork Rinds
Pork rinds are really just the beginning of a new junk food taco trend. In L.A., chef Roy Choi loves to make tacos out of trashy ingredients you'd find in a gas station convenience store.
https://www.yelp.com/biz_photos/taqueria-rancho-grande-memphis Photo by: Yelp
15. Duck Confit
On the other end of the spectrum from the gas station tacos, there's a whole world of luxury taco toppings, like these duck confit tacos from Malcolm Bedell at From Away.
http://www.fromaway.com/cooking/crispy-duck-confit-tacos-with-grapefruit-plum-salsa Photo by: From Away
While the Thanksgiving turkey is the star of the meal, the stuffing is always the tastiest dish.
Deep frying a turkey can be the most dangerous method of cooking people try.
Here is your detailed checklist for preparing for Thanksgiving. We will go through week by week to help you get ready.
Living with celiac disease means gluten is your enemy. There is a social stigma that gluten free individuals chose to live that...
Turkey is really the star of the Thanksgiving meal. All the side dishes and desserts are there to complement the bird.
Hosting Thanksgiving can be stressful, especially when you hear a vegetarian will be joining you.
Thanksgiving is right around the corner, but it can be a difficult time for those with Celiac disease or who eat gluten free.
After the holiday season is over, you might find yourself piled high with leftovers.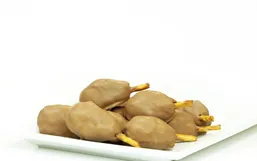 Easy bite sized dessert that can A) feed a crowd B) be made in advance C) look as cute as all get out on your Thanksgiving...
Thanksgiving is one of those holidays we love and look forward to so much.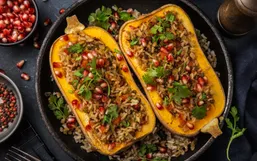 Thanksgiving is all about spending time with family and friends.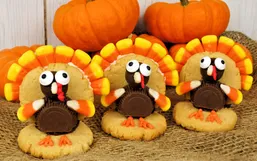 I love holidays because it gives everyone a chance to unwind and spend quality time with those you love.