A delicious combination of tacos and enchiladas, for the most simplified of Mexican dinners without all the fuss. Using a store-bought rotisserie chicken, simply shred apart (no raw meat to cook!) combined with canned enchilada sauce, in a casserole dish lined with taco shells. Topped off with shredded cheese, and baked in the oven to completion! Top with garnishes like green onions and sour cream if you please, and serve right out of the pan. These can get messy, so have fun with them!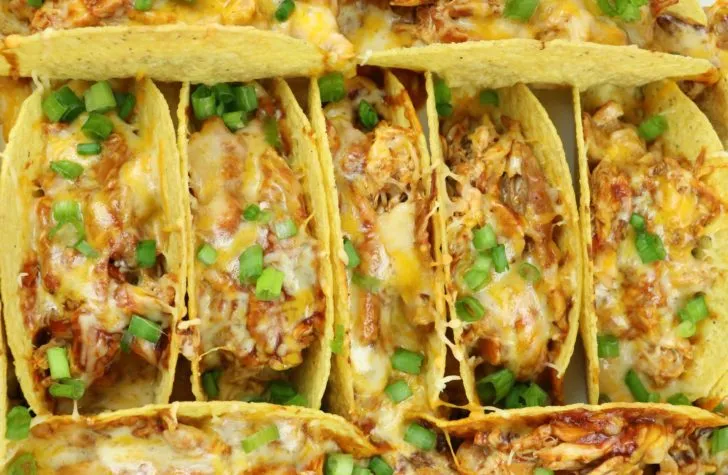 Ingredients
Hard Taco Shells
Whole Pre-Cooked Rotisserie Chicken
2 cups Shredded Cheese (Tex Mex Blend)
1 1/2 cans Enchilada Sauce (approx 2 cups)
1/4 cup Green Onions
Equipment
Casserole Dish
Mixing Bowl
Method
Preheat oven to 375 degrees Fahrenheit.
Take your pre-cooked rotisserie chicken, remove the skin, and de-bone the chicken. Place all the meat into a mixing bowl.
Pour 1/2 can of enchilada sauce (about 3/4 cup) into the chicken, and begin shredding the chicken with two forks while combining it with the sauce.
Line your casserole dish with as many hard taco shells as it will fit. We used a large casserole dish that fit 13 shells.
Spoon the chicken mixture evenly amongst the tacos.
Pour the rest of the enchilada sauce over the chicken on the tacos, and top with shredded cheese.
Bake for 10-15 minutes, or until the cheese is melted, and the chicken is heated through (it's already cooked, so don't worry about it being under-cooked!)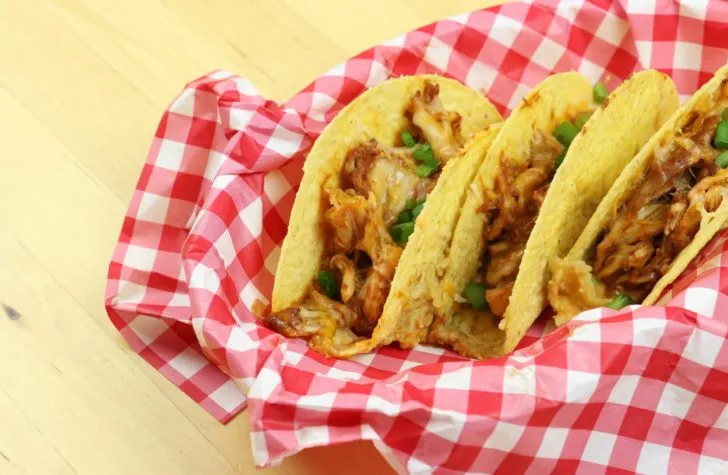 Super Bowl Sunday is just a few weeks away: Are you ready for the big game?
Are you ready for Super Bowl Sunday? If you're looking for food ideas to impress your guests this year, we have some truly unique...
Football and chicken wings....ahhh sweet, sweet (and spicy) traditions.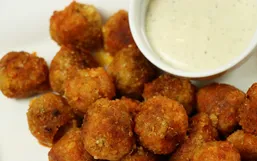 That delicious familiar buffalo sauce is often accompanied by something breaded and fried,  like chicken wings, or a...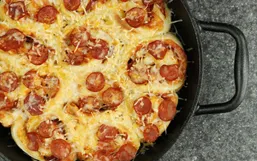 Years back my Mom taught me the life hack of using store bought pre-made pizza dough for cinnamon rolls.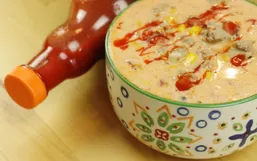 A different spin on a traditional chili, with a creamy buffalo ranch chicken version that will kick up your crock pot dinner a few...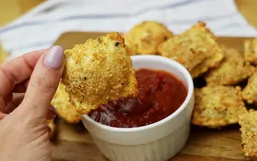 These baked crispy raviolis are like bite sized pasta casseroles you can serve at a party, or enjoy for dinner.
Super Bowl is one of the biggest food events of the year. A Super Bowl party just wouldn't be a Super Bowl party without some kind...
For many, Starbucks is the place they start their day, for others, it's the perfect pick-me-up or a place to meet friends and...
The best part of every party is undoubtedly the food. If you're not eating good food are you really having a good time?
The Super Bowl is that time of year when people gather together to cheer, laugh, cry and dance to the halftime show.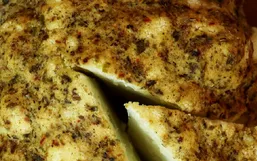 Cauliflower is definitely living in its 15 minutes of fame. Becoming more and more popular in restaurants and in home recipes,...