Eating a plant-based diet isn't for everyone, but for me – I love it! So in our home, I'm vegan and everyone else…is not. So when putting together a healthy dinner, if I dare hope to serve up a vegan dish – it better be good enough to get away with the lack of meat and dairy.
Somewhere along the way, while opting for a more high-fat, low-carb way of living while still being vegan, this recipe came to be. Since then, it's been my go-to. There's no prep time needed to chop anything, it's so simple you just toss everything into the pot and let it cook on the stovetop in no time.
It's chunky like a stew, with a creamy coconut milk base, and just a hint of spice that will keep that warmth going through your whole body as you enjoy it. While we used a Vindaloo curry paste in this (slightly spicy), you can easily swap that out for a mild Indian curry paste as well to suit your own tastes.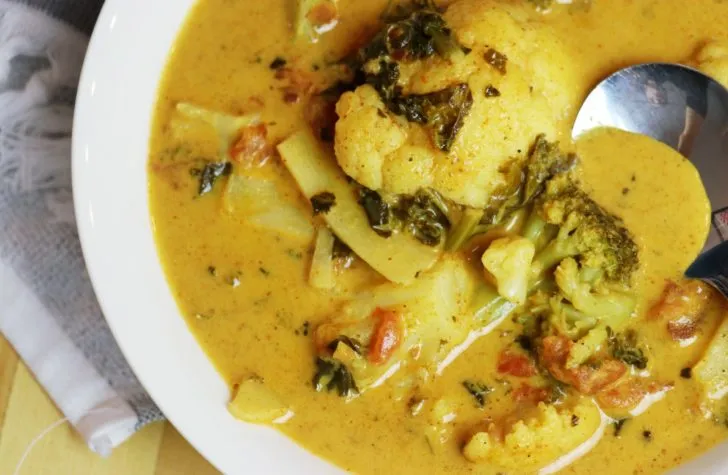 In our home, this is our comfort food. To be completely honest, I make it about once a week and we've not gotten sick of it yet! That's rare.
If you're a low-carb dieter (or full-blown ketogenic dieter) this recipe is one that will keep you satisfied while keeping the carbs low, sugar out of it, and complete with healthy fats to keep you sustained.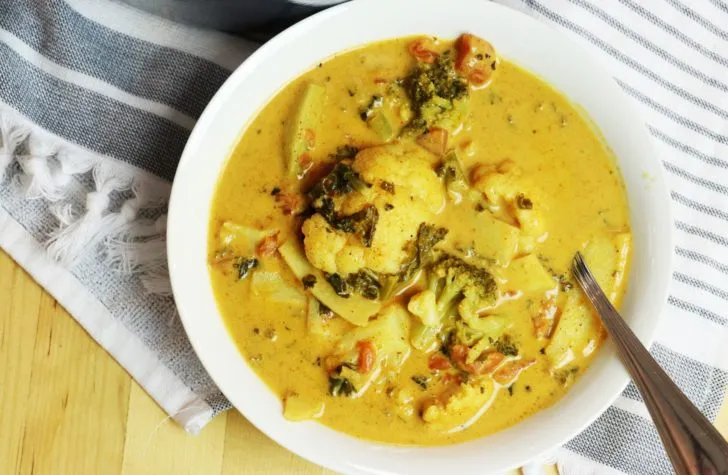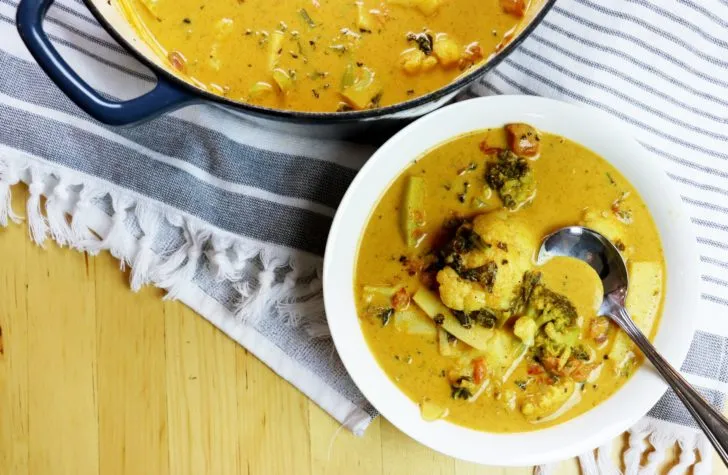 Ingredients
2 cans full-fat coconut milk
2 cups canned diced tomatoes, not drained
1 can bamboo shoots, strained
4 cups assorted frozen veggies (we used low-carb options: broccoli, cauliflower & kale)
1 tbsp salt, plus more to taste
1/2 cup Indian curry paste (we used Patak brand)
Equipment
Large Stovetop Pot W/ Lid
Method
Dump all of your ingredients into your pot, mix quickly and then set your stovetop to HIGH, bringing your curry to a boil, uncovered (about 10 minutes).
Once boiling, place the lid on the pot, set to LOW to simmer for another 20 minutes, stirring occasionally.
That's it! Enjoy!
When it comes to preparing for a big date or event, we have so much to think about.
We get it, you invest in kitchen tools and want to make them last forever.
For those who have to deal with an anxiety disorder, they often have the constant feeling of uneasiness, worry and fear.
Meghan Markle has captured everyone's attention but not just because of her acting career, because of her new relationship and now...
When I first decided that I was up for the challenge of giving up coffee for a week, I had visions of myself by the end of it,...
By now we're all well aware that plastic pollution is a real problem, and it's not only impacting our oceans, but also the...
Containers are crucial for transporting food and liquids while we live our busy lives.
So disclaimer: I'll pretty much try anything that's new and plant-based at Starbucks.
This week was a taste of my own medicine, so to speak. Among my group of friends, it has become a running a joke that at a...
Do you remember the Canada's Food Guide rainbow that you would learn about in health class as a student? Who could forget it?
Summer is one of the most sought-after seasons of the year. If you experience cold winter months then you surely appreciate those...
Bloating happens when the stomach becomes swollen after eating and that feeling is never a fun experience.