In addition to family time, one of the best things about a holiday like Thanksgiving is the food. Thanksgiving usually includes a dinner that is overflowing in flavors, textures and good conversion. Honestly, when the holiday comes to an end what I look forward to the most are those delicious leftovers.
Leftovers can only last in your fridge for up to 3-5 days so you need to make the best of it! We've accumulated some of the best recipes so you can transform your leftovers into something extraordinary. We've found a few recipes that you've probably tried before and some that you most definitely haven't! Be prepared to start meal planning because you'll be making these all week long, or for however long your leftovers last.
1. Thanksgiving Leftover Sandwich
We're going to start with the classic and the one everyone thinks of — a sandwich. The idea is so simple that you won't even need a recipe. You can customize the sandwich based on your taste preferences and whatever foods are leftover, giving you delicious Thanksgiving themed lunches for days to come.
To create an excellent Thanksgiving leftover sandwich, start with two pieces of your choice of bread and add a spread of either mayo or butter. Then, fill it with whatever leftovers are enticing to you. We recommend fresh greens such as spinach, mashed potatoes or stuffing, cranberry sauce, and of course, turkey!
2. Leftover Thanksgiving Stuffing Waffles
Let Thanksgiving dinner carry over to breakfast the next morning with these leftover stuffing waffles! It only uses three ingredients: chicken broth, eggs, and leftover stuffing. It's perfect for those craving a savory, filling breakfast that can be whipped up in 10 minutes.
All you have to do is combine the eggs, stuffing and a quarter of the chicken broth until the mix is moist. Scoop some of the mixture into your waffle iron and let it bake until it's a crispy golden brown color. Make sure the egg is fully cooked as well. Pour warm gravy on top and enjoy!
3. Turkey And Wild Rice Soup
What better way to extend your leftover turkey than to turn it into a warm and savory soup! This soup recipe is simple and you'll most likely have all the ingredients on hand, especially if you were in charge of hosting Thanksgiving dinner. Some of these ingredients include carrots, celery, and fresh herbs.
Combine the delicious flavors with wild rice for an exciting texture. Following the steps in this recipe will take about a little over an hour to prepare and yield up to eight servings. You can either create your own soup stock out of the turkey bones from Thanksgiving dinner or use chicken broth, either way, it'll turn out great!
4. Cheesy Leftover Turkey And Mashed Potato Bites
With just 25 minutes of preparation and five minutes of cook time, you can turn leftover turkey and mashed potatoes into bite-sized poppers. You start by gathering all ingredients together in a mixing bowl. Once it reaches the right consistency, roll the mixture into a ball. Then, drop it into the breadcrumb bowl and coat it completely.
Once they are covered, line them up onto a baking sheet. You'll have to carefully add them to your deep fryer and turn them occasionally. Once they appear golden brown, remove them from heat and season with salt. Dip them into your leftover gravy or cranberry sauce for extra flavor!
5. Leftover Thanksgiving Turkey Shepard's Pie
Put your leftover turkey to good use by following this shepherd's pie recipe. It's a Thanksgiving twist on a classic dinner dish. Not only is it tasty, but it only takes about 15 minutes to prepare and 30 minutes to cook in the oven. A lot of the ingredients included in the recipe, like mashed potatoes or leftover veggies, could also be added to the dish.
This recipe yields about four servings. If you're working with leftover mashed potatoes, just make sure you have enough since you'll need about two cups of it. Simply grab three to four pounds of potatoes to whip up some more if you're low on this particular leftover.
6. Bacon-Wrapped Stuffing Bites
For anyone dealing with stuffing leftovers, you'll want to try out this 35 minute recipe. It takes your stuffing to the next level by wrapping it in crispy bacon — the perfect pairing! After slicing the bacon, mould your leftover stuffing into a ball. Each one should be about the size of a golf ball.
You can then place each ball onto the center of a piece of bacon. Wrap the ends around it and secure with a toothpick. After no more than 25 minutes in the oven, you can remove the tray from heat. Just make sure the bacon is fully cooked before serving. Enjoy!
7. Turkey Cranberry Puff Pastry Bites
Craving something a little sweeter post-Thanksgiving Day? Then check out this recipe that combines your leftover turkey and cranberries. These ingredients are baked on a pre-made puff pastry sheet and takes less than 20 minutes to prepare. The balance between sweet and savory is a sure way to satisfy your tastebuds!
You start by mixing all the ingredients in a large bowl. Then, roll out the pastry sheet and cut out up to 20 circles. Scoop about two tablespoons onto each of the rounds. To ensure even servings, consider using something like an ice cream scoop. You'll know the pastry bites are ready once they appear golden brown.
8. Creamy Turkey Noodles
Soup is the ultimate comfort food, so why wouldn't you want to make some with your Thanksgiving leftovers? Especially when it's turkey soup made with creamy, flavorful noodles. This recipe walks you through simple steps to achieve a delicious soup in just an hour and 10 minutes.
The recipe uses bowtie pasta. While that's cooking, you can use another pot to cook up the veggies and the broth. The soup is topped with cheese to add extra creaminess, so feel free to add as much as you like! Serve the soup while it's still warm and your Thanksgiving leftovers will be no more.
9. Leftover Turkey Salad
After a big meal like Thanksgiving dinner, it's nice to enjoy something light and refreshing. Que this leftover turkey salad. This recipe will utilize your leftover turkey perfectly and invite new ingredients to turn your leftovers into a new meal. Apples and celery provide this salad with the perfect crunch, while Greek yogurt and mayo provide the creamy texture.
The best part is this recipe only takes 15 minutes to make and yields up to four servings. You simply combine all the ingredients, add the yogurt or mayonnaise, mix well, and serve! Don't forget to season with salt and pepper!
10. Beer Battered Deep Fried Turkey
Skip the takeout and turn your Thanksgiving leftovers into a deep-fried dream. Follow this recipe to create delicious beer-battered deep-fried turkey in the comfort of your own kitchen. It's a restaurant-worthy dish that takes 10 minutes to prepare and 10 minutes of cooking in the deep fryer.
After mixing together the batter, you can dip the turkey slices into it. Transfer it to the deep fryer and let it fry until it appears golden brown, which should only take a few minutes. You can serve the turkey over a bed of leftover stuffing and with a side of cranberry sauce. Complete the meal with a heaping of thick-cut fries.
11. Thanksgiving Leftovers Panini
Did the Thanksgiving sandwich sound like a bore to you? Why not try making a leftover panini? This recipe takes on a similar approach, but what sets it apart is the toasty grilled bread. It takes less than 20 minutes to prepare and yields about two sandwiches. Heat up some leftover gravy so you can dip the paninis for added flavor.
Panini's are essentially gourmet sandwiches that make you feel like you're enjoying a delicious meal straight from the restaurant but at home! If you don't have a panini press there is no need to worry, this recipe explains you can achieve the same outcome using a skillet.
12. Turkey Club Stromboli
If hot pockets are regularly requested in your household, then you and your family will love these turkey club strombolis. These pockets are filled with tender leftover turkey combined with cooked bacon, sun dried tomatoes and freshly grated parmesan. Between prepping, cooking and letting the strombolis rest, it will take about 50 minutes.
This recipe yields between six to eight servings. Go all out and try making the homemade dough recipe. If you're pinched for time, this blogger reassures you can achieve the same outcome with store-bought pizza dough too. Bake until the top is evenly golden brown and make sure you let it sit for up to 20 minutes before cutting.
While the Thanksgiving turkey is the star of the meal, the stuffing is always the tastiest dish.
Deep frying a turkey can be the most dangerous method of cooking people try.
Here is your detailed checklist for preparing for Thanksgiving. We will go through week by week to help you get ready.
Turkey is really the star of the Thanksgiving meal. All the side dishes and desserts are there to complement the bird.
After stuffing yourself with the great Thanksgiving feast, it can be hard to think about eating dessert.
Thanksgiving is right around the corner, but it can be a difficult time for those with Celiac disease or who eat gluten free.
Whether you roast, fry, or barbecue your turkey, it will surely be the centerpiece of your Thanksgiving table.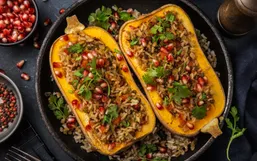 Thanksgiving is all about spending time with family and friends.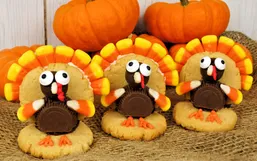 I love holidays because it gives everyone a chance to unwind and spend quality time with those you love.
Holidays are the hardest times of the year to stay on track with your diet.
When I made the decision to adopt a plant-based diet I had many comments from friends saying things such as "I wish I could but...
Not everyone hosts or attends a big Thanksgiving feast and that is okay!