We've seen hasselback potatoes and chicken, breads and more. It's no wonder that this favorite fall squash side would cook up beautifully with thinly sliced layers so that each and every bite is wonderfully flavored and seasoned.
It pretty much melts in your mouth.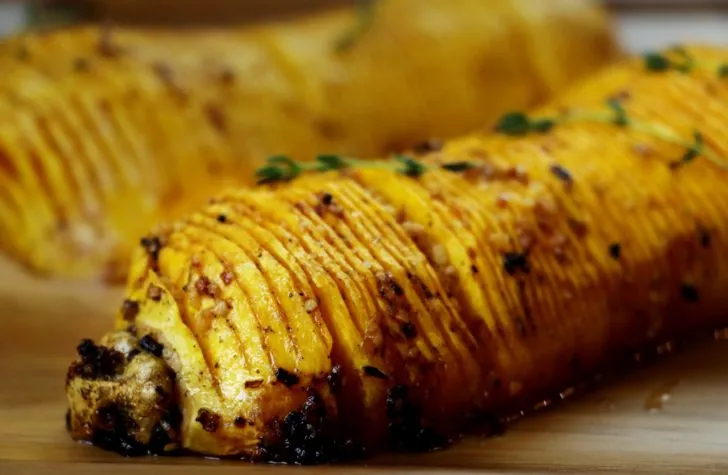 This isn't a "oh that's cool" recipe…this is a "you will absolutely be making this and I won't take no for an answer" recipe. It's amazing.
Serve this as a side to your holiday feasts, or alongside a protein of choice for a truly well-rounded meal.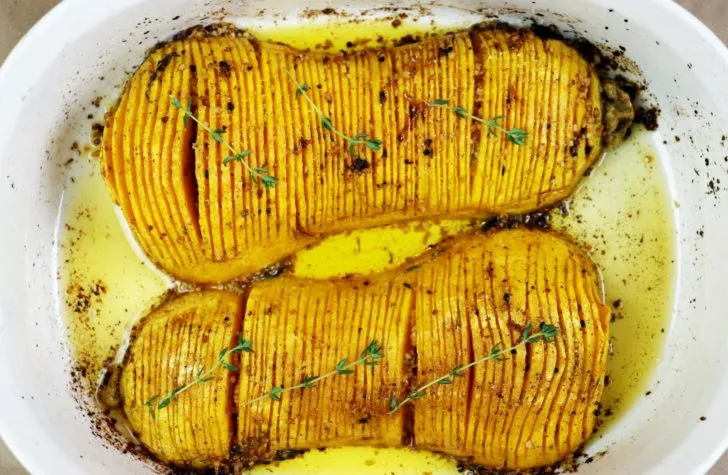 Ingredients
1 medium to large butternut squash, halved, pelled and seeded
2 tbsp butter, melted (we used a vegan variety)
2 tbsp olive oil
4 tbsp garlic, minced
Salt & pepper, to taste
1 tsp cajun seasoning
Fresh Thyme (about 2 long sprigs cut up)
Equipment
Casserole Dish or Roasting Pan
Sharp Knife
Spoon
Peeler
Method
Preheat oven to 425 degrees Fahrenheit.
Cut your butternut squash in half lengthwise, remove the seeds with a spoon, and use a peeler to remove all the skin.
Brush with olive oil and sprinkle with salt and pepper, and roast with the cut sides facing down for 20 minutes or until softened.
Remove from oven, and carefully remove from your roasting dish onto a cutting board. With a sharp knife beging to cut slits down the back of the squash about 3/4 of the way through in thin slices. Go slow if needed to be sure you're not cutting through the squash.
Return to the roasting dish, and mix your melted butter, cajun seasoning and garlic and begin brushing it over the now sliced backs of the squash. Sprinkle salt & pepper on top, and place some sprigs of fresh thyme as well.
Return to the oven and roast for an additional 30 or more minutes, basting with the juices every 10 minutes.
Once browned and fully cooked to your liking (this will greatly depend on the size of your squash) then remove from the oven, baste and top with more fresh thyme. You can serve right out of the dish immediately or place onto a serving platter. Add more salt & pepper if desired.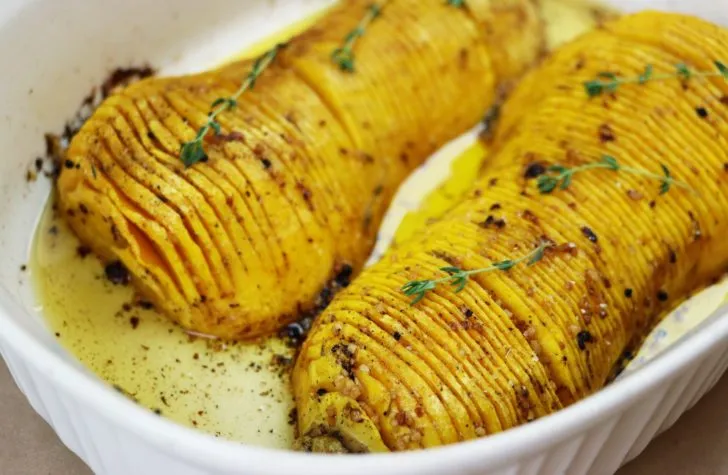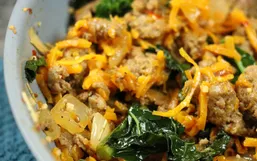 First things first, do you own a spiralizer? If you don't, now's the time to scoop one up. Go ahead, "add to cart"...
Now that it's Autumn, new produce is turning up at the market and grocery stores. A favorite this time of year is squash.
Many of us most likely have a springform pan lying around somewhere in the kitchen.
Spaghetti squash has been growing increased popularity as a pasta alternative lately, and for good reason.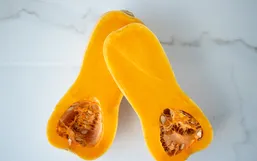 How many times have you pulled out your butternut squash just before supper and realized you don't have enough time to cook it...
IKEA is renowned for its modern, affordable furniture but they also offer delicious food.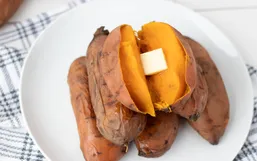 The thing about root vegetables is that they often take a lot of time to cook, especially in the oven.
The holidays are the busiest time of year! There are countless Christmas parties, dinners, family gatherings, and potlucks.
For those who follow a vegan diet understand the struggle of attending a holiday dinner with non-vegans.
Shrove Tuesday is when pancakes are traditionally eaten, also known as Pancake Tuesday!
When you follow a restrictive diet, the hardest part about any holiday can be the food options.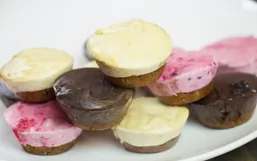 For many, cheese is one of the hardest foods to give up when you adopt a vegan diet, no matter the reason you've decided to cut...