If you haven't heard of dessert hummus yet, it's essentially a sweet spin on a traditionally savory chickpea-based dip. The best part is that you get all the same benefits from protein-rich chickpeas but now you can quench a sweet tooth craving, guilt-free! Sabra is the next brand to jump on the chocolate hummus trend and reported exclusively to People.com that they're adding the decadent chocolate variety to their lineup and it's coming just in time for Valentine's Day.
The brand revealed that the Dark Chocolate Dessert Dip & Spread features decadent chocolate flavors and is made with cooked chickpeas, soybean oil, cocoa, sea salt, vanilla extract, and a few other ingredients. What sets this dip apart from other Sabra hummus flavors, is the dessert hummus doesn't contain tahini (ground sesame seeds).
Source: Sabra
The new plant-based chocolate dip was first spotted in the brand's Super Bowl ad that featured 19 celebrities from the Spice Girls' Mel B, to rising Tik Tok Stars. Even though the commercial didn't star the new hummus flavor, Sabra fans quickly spotted the dip and reported to Twitter soon after to express their thoughts. One Twitter user tweeted during the Super Bowl "Wait so there's a chocolate hummus now?" another asked, "When is the chocolate hummus rolling out to Los Angeles?". The new product holds many mixed reviews on Twitter as some seem to love and others seem to be disgusted by it but you really are just going to have to try it for yourself! Keep your eyes peeled in retailers near you as the product rolls out this week and will be available nationwide soon after. You'll also have the opportunity to purchase it on Amazon starting the beginning of March.
Source: Sabra
While you wait to get your hands on this new delicious product you can try our Chocolate Dessert Hummus Recipe that is so easy to make at home! Be sure to serve with wafer cookies and dig in! You can also give our Cake Batter Dessert Hummus Recipe a try for another fun spin on this guilt-free dessert dip.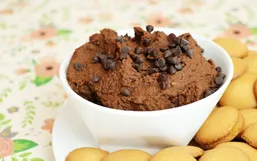 Hummus has forever been a protein-rich dip for your veggies and chips, a spread on your greek wraps and much more.
Summer is officially here and what better way to treat yourself and stay cool than with a refreshing beverage in hand!
The microwave is an amazing kitchen appliance. It can heat up leftovers quickly, help make delicious snacks like popcorn, and so...
Disney theme parks and Disney Cruise Lines may be temporarily closed and suspended but that isn't stopping Disney from finding...
Hard seltzers have become the trendiest drink as of late and for good reason!
It's time to check your freezers because over 59-thousand pounds of fully cooked frozen chicken nuggets are being recalled due to...
Disney's theme parks are renowned for many things from the exciting rides to friendly characters, and of course its delicious...
Dunkin' is renowned for its coffee, tea, and delicious donuts but now the chain is entering a new drink category by offering new...
Over the last few months, Disney has shared some of their most coveted recipes with their fans so you can at least feel like...
Summer is officially in full swing and now you can make the most of it with Shake Shack's new beverages!
Taco Bell is no stranger to innovative and exciting menu items.
National Lasagna Day is quickly approaching (July 29, 2020), and North Italia wants to help you celebrate!