Do you love drool-worthy casseroles? Then get ready for a true treat! We have transformed an American favorite, green bean casserole into an Instant Pot recipe! Traditionally this casserole is served during Thanksgiving but it is seriously so delicious that if you share it for any occasion or potluck everyone will surely thank you!
The Instant Pot turns this into an almost entirely dump-and-go recipe! The cook time is quick and hands off which makes it even more convenient. In this casserole, you'll experience the flavors of salty bacon, creamy mushroom soup, and oh-so-addictive fried onions (seriously we couldn't stop snacking on these)! Get your stretchy pants on because you are going to want to overindulge in this delicious casserole!
Want New Instant Pot Recipes and Content Delivered Straight To Your Inbox? Sign up for our Instant Pot Email Newsletter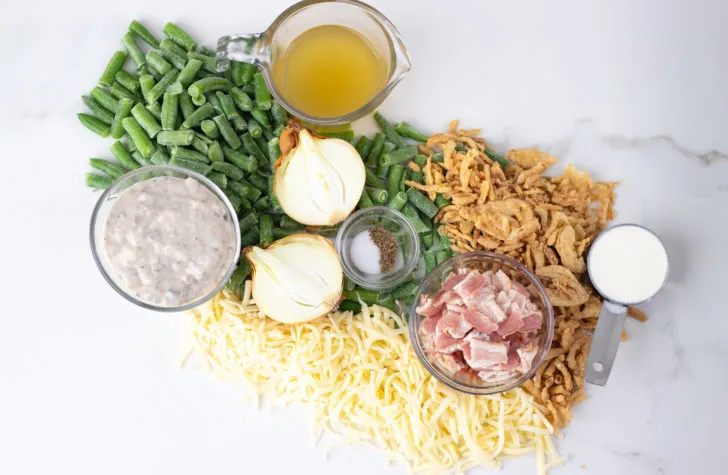 Before you can dump all the ingredients into the pot you'll need to cook the bacon a little bit using the Saute function. Add a drizzle of olive oil and cook the bacon until it has lightly browned. We found that this took about 5-7 minutes. Once cooked, ensure you drain the excess fat from the pot. If you're really pinched for time you could skip this step and opt for pre-cooked bacon pieces, however, we highly recommend this step for added flavor!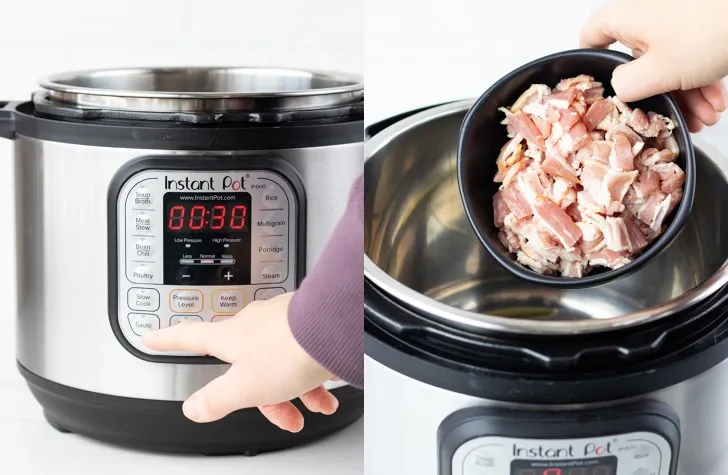 Next, you'll need to add 1/2 a cup of broth to the pot. Using a wooden spoon or spatula scrape the bottom to lift any stuck on food bits from the pot. This step is absolutely crucial to help you avoid the dreaded BURN notice! Once the bottom has been scraped clean add remaining broth.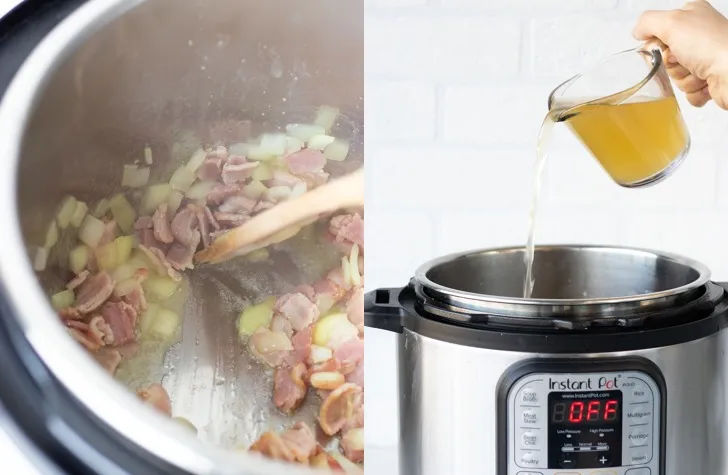 Then add the cream of mushroom soup to the pot along with a dash of salt and pepper. Lastly, add in the frozen green beans – we used a full package. Gently spread them over the cream of mushroom soup, but DO NOT stir! Mixing the contents before cooking could result in the BURN notice if the beans get stuck to the bottom of the pot. Keeping a layer of liquid (the broth and soup mixture) closer to the bottom of the pot than the beans helps reduce your chances of getting that dreaded error.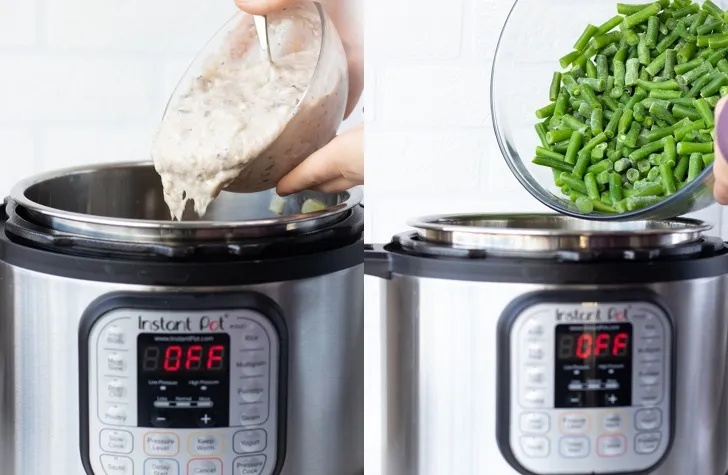 Finally, lid the pot and set the valve to sealing. You'll want to cook the casserole on HIGH pressure for 10 minutes. Once the cook time has elapsed, quick release the pressure to avoid soggy beans.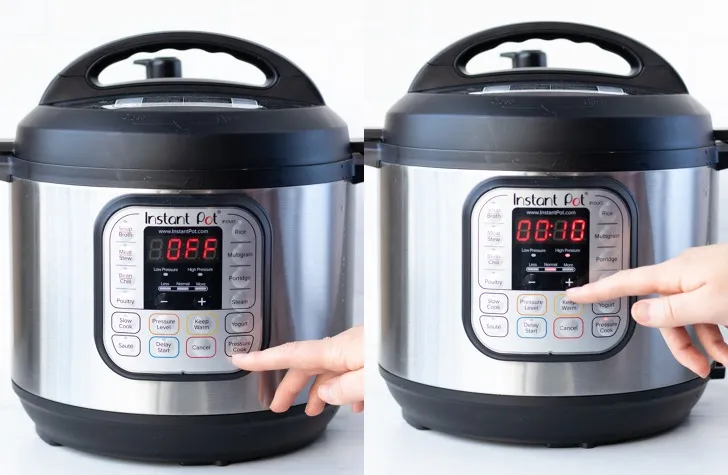 Finally, add in the milk (or cream) and the cheese and stir to combine. You can transfer the casserole into a casserole dish or serve the casserole in individual bowls or just serve it out of the inner pot – we won't judge! Don't forget to sprinkle the oh-so-addictive fried onions on top of the casserole before serving – we browned ours first a little bit in the oven to really make them crispy, but that step is completely optional. Serve hot and enjoy!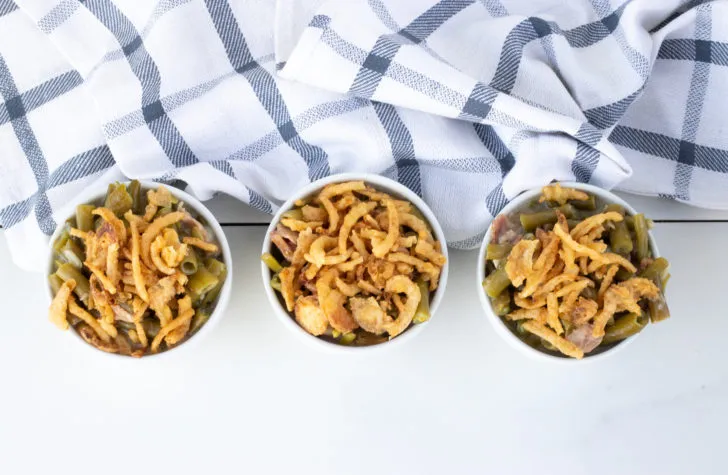 Ingredients
1 tbsp olive oil
12 slices bacon, chopped
1 small yellow onion, diced
34 oz frozen green beans (1 large bag, 750 grams)
1 1/2 cups chicken or vegetable broth
2 cans cream of mushroom soup
1/2 tsp black pepper
1/4 cup milk or light cream
1 cup white cheddar cheese
1 ½ cups French's fried onions
Method
Turn Instant Pot to Saute mode. Once hot, add olive oil, then bacon and onions and cook until bacon is lightly browned, about 5-7 minutes. Drain excess fat from the pot.
Add ½ cup broth to the pot and scrape the bottom, using a wooden spatula and the liquid to release any stuck on food bits. This will help ensure you don't get the BURN notice when pressure cooking. Turn Saute mode off.
Add remaining broth, cream of mushroom soup, salt, and black pepper to the Instant Pot. Add green beans, then gently spread them evenly on top of the mushroom soup. Do not stir!
Lid the Instant Pot and set the valve to sealing. Cook on Manual or Pressure Cook (depending on what model you have) HIGH for 10 minutes.
Once cook time has elapsed, quick release the pressure. Stir in the milk/cream and the cheese. Sprinkle the 1 ½ cups of fried onions on top of the mixture before serving. Enjoy!
Notes
Our 6-Quart Instant Pot Duo took 15 minutes to come to pressure, but yours will vary depending on what size and model you're using.
If the casserole comes out a bit too soupy, omit the milk/cream and create a slurry with 2 tablespoons of flour with 1/2 cup of liquid from your pot. Turn pot onto Saute, add the slurry, and stir to combine. Once casserole has thickened, turn off Saute and serve!
While experimenting with the Instant Pot I quickly discovered that it can not only cook a quick and easy weeknight meal but it can...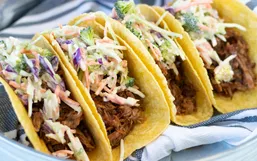 Taco Tuesday is one of my favorite nights of the week! It turns dinner time into a fiesta and it's something exciting for...
If you're like me, odds are you've jumped onto the Instant Pot bandwagon!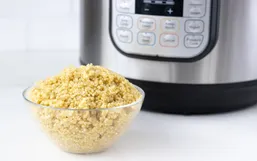 Some would consider quinoa a superfood, and for good reason! It's chock full of vitamins and minerals and is an excellent source...
The Instant Pot has many amazing capabilities. For example, it can cook a meal without heating up the kitchen (perfect for...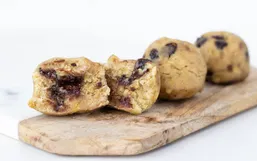 Is there anything better than biting into a warm gooey piece of banana bread? I don't think so.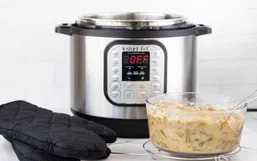 Freezing leftovers is a great way to ensure food doesn't go to waste. It's also a great way to be prepared for busy weeknights!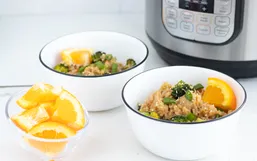 Get ready friends, it's time to enjoy some delicious takeout made at home!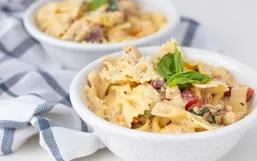 You've spoken and we heard you! Quick and easy Instant Pot weeknight meals that can feed the whole family are top of mind.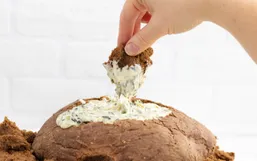 You know it's going to be a good time when there's good food, right? Appetizers are the best way to start off any party.
We've been told time and time again that breakfast is one of the most important meals of the day.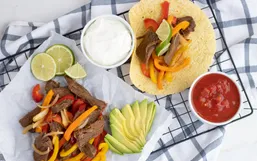 Mexican food is my absolute favorite type of cuisine. It's flavorful, quick to make, and a crowd-pleaser at my house!