The thing about root vegetables is that they often take a lot of time to cook, especially in the oven. We tried cooking spaghetti squash in the Instant Pot and had such great success with it that we had to try cooking other veggies too! To find out how to cook spaghetti squash in your Instant Pot, read HERE.
Today we're sharing how to cook sweet potatoes in the Instant Pot and let us tell you, the results were amazing! Pillowy sweet potatoes cook effortlessly in the IP and once again, the skin literally falls right off! When you account for the time the pot needs to come to pressure, plus the cooking time it doesn't appear that you're saving much time in comparison to cooking with an oven. However, like the squash, it's the results that really shine through when cooking this way! More than anything it offers convenience, because you simply throw the potatoes whole into the IP (no cutting or poking required), set the pot and walk away. When you come back you'll have the softest sweet potatoes you've ever seen! Then you can serve them mashed with savory butter, add to a soup, or enjoy whole just like a baked potato. This is also a great option when cooking during hot weather! You'll get the same (if not better) results as cooking in the oven without heating up your kitchen! Without further ado, let's get cookin'!
Want New Instant Pot Recipes and Content Delivered Straight To Your Inbox? Sign up for our Instant Pot Email Newsletter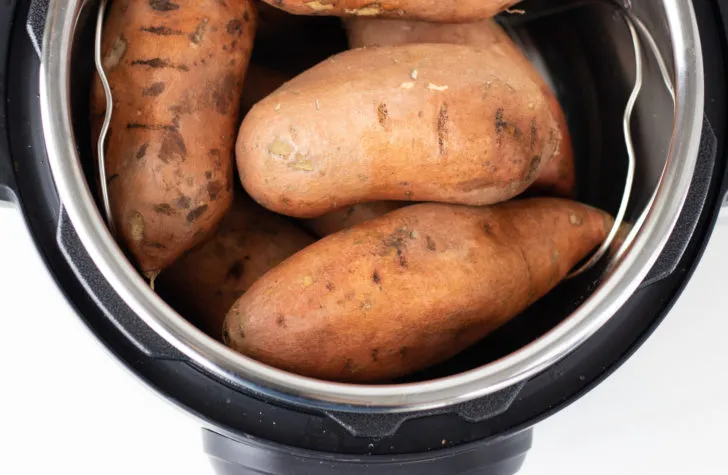 1. Clean Potatoes
Like all vegetables, you'll want to clean your potatoes first. Potatoes are quite earthy so giving them a good scrub will not only ensure there isn't any dirt residue left on them but it will also make sure there isn't any lingering earthy flavor. We recommend using a bristled brush, water, and good ole' elbow grease!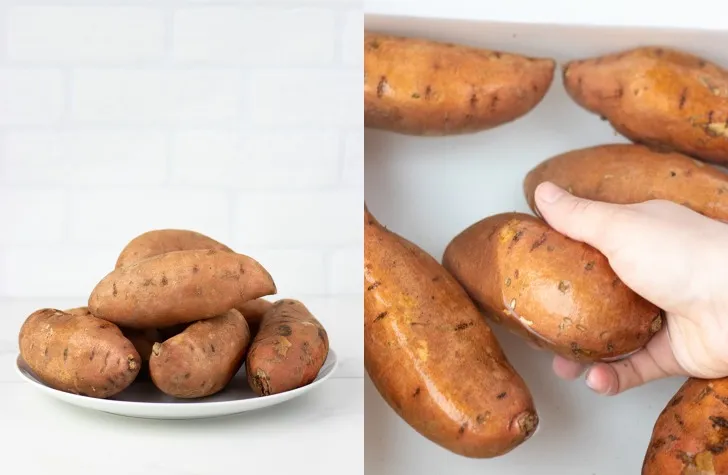 2. Add Water, Trivet & Potatoes to Instant Pot
Once the potatoes are cleaned you will want to add water, the trivet, and the potatoes to the Instant Pot. You can cook any sized potatoes and as many potatoes as you wish but always ensure you have 1 cup of water in your pot. Using the trivet keeps the sweet potatoes out of the water and prevents them from getting soggy, so it's best not to leave that accessory out! Lastly, place the potatoes in the pot, stacking if needed.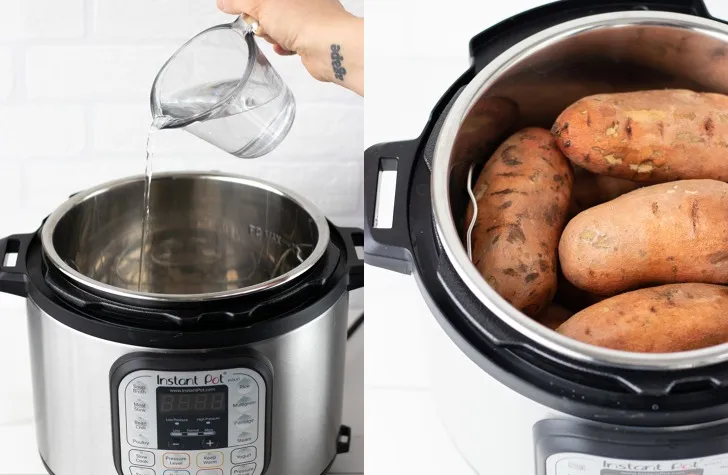 3. Pressure Cook
Put the lid on and set the valve to sealing. Cook the sweet potatoes on Manual or Pressure Cook (depending on the model of your pot) HIGH for 20 minutes. The cook time will vary depending on the size of your potatoes – we chose medium-sized ones for our recipes, but we filled the pot with 8 of them. They came out very soft, but it you want them a little bit firmer, try cooking them for 18 minutes instead. Check out the notes section at the end of this article for further details. Additionally, keep in mind the cooking time does not account for the time it takes the pot to come to pressure. We found our 6-Quart Duo Instant Pot took 20 minutes to come to pressure, but times may vary depending on the model and size you're using.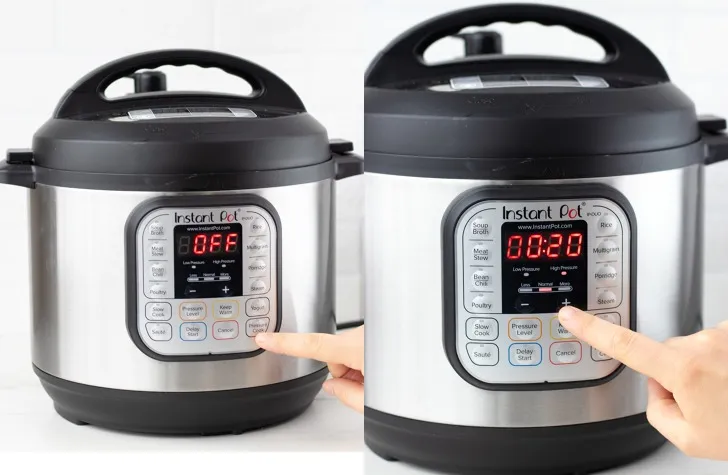 4. Natural Release & Serve
Lastly, you'll want to allow a natural release once the cooking time has elapsed. To do this you, quite simply, do nothing once the timer goes off. Your Instant Pot will switch to "Warm" and the pressure will begin to slowly release naturally. Allow a natural release of 10 minutes and then quick release any remaining pressure. You'll know the pressure has been fully released once the pin (located next to the sealing valve) has dropped. Remove the lid, remove the delicious sweet 'taters, and serve them hot or incorporate them into a recipe of your choice! Enjoy!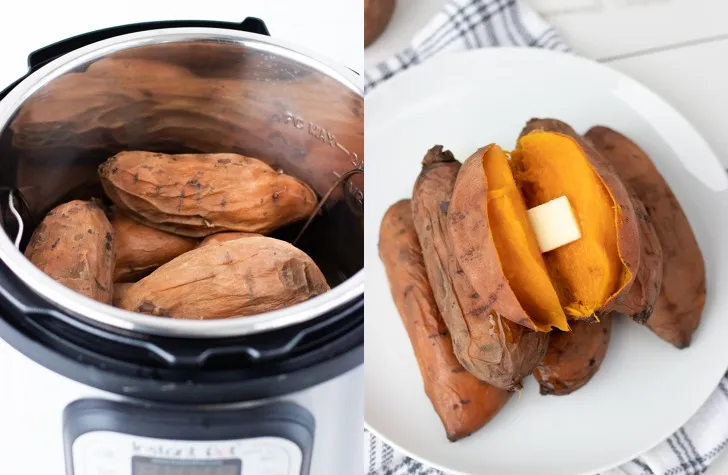 Ingredients
6-8 medium sized sweet potatoes
1 cup water
Method
Scrub the sweet potatoes with a hard-bristled brush, if desired and if they're dirty.
Add 1 cup of water to your Instant Pot, then place the trivet inside.
Add the sweet potatoes, stacking them if needed. Cook on Manual/Pressure Cook HIGH for 20 minutes.
Once the cook time has elapsed, allow for a natural release of 10 minutes and then quick release any remaining pressure.
Serve hot or incorporate into a recipe of your choice!
Notes:
This cook time is perfect for medium-sized sweet potatoes. If you're using small sweet potatoes, you can reduce the cook time to 16 minutes. If your potatoes are larger, increase to 22 minutes. Regardless of what size you choose, ensure that you're using sweet potatoes that are close to the same size.
Regardless of how many and how big the sweet potatoes are, you'll want to ensure you have 1 cup of water in the pot, as this is the minimum required for the Instant Pot to work.
Our 6-Quart Duo took 20 minutes to come to pressure.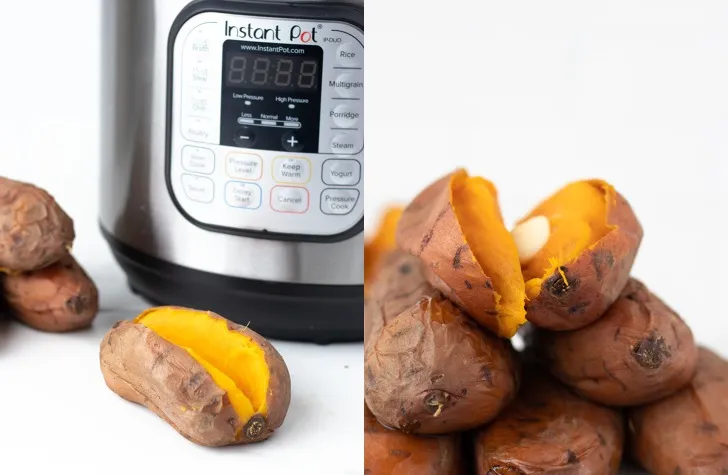 While experimenting with the Instant Pot I quickly discovered that it can not only cook a quick and easy weeknight meal but it can...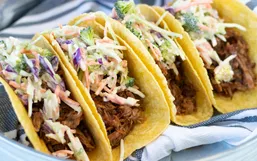 Taco Tuesday is one of my favorite nights of the week! It turns dinner time into a fiesta and it's something exciting for...
If you're like me, odds are you've jumped onto the Instant Pot bandwagon!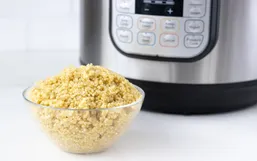 Some would consider quinoa a superfood, and for good reason! It's chock full of vitamins and minerals and is an excellent source...
The Instant Pot has many amazing capabilities. For example, it can cook a meal without heating up the kitchen (perfect for...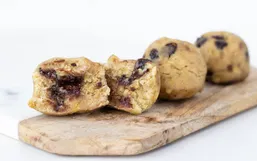 Is there anything better than biting into a warm gooey piece of banana bread? I don't think so.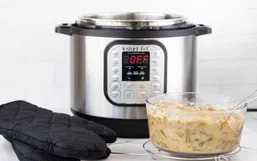 Freezing leftovers is a great way to ensure food doesn't go to waste. It's also a great way to be prepared for busy weeknights!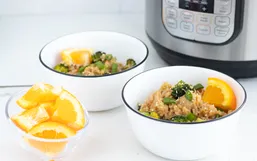 Get ready friends, it's time to enjoy some delicious takeout made at home!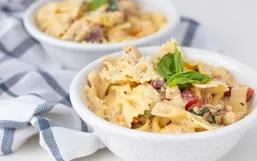 You've spoken and we heard you! Quick and easy Instant Pot weeknight meals that can feed the whole family are top of mind.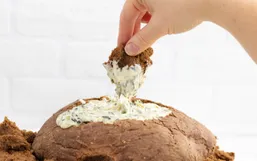 You know it's going to be a good time when there's good food, right? Appetizers are the best way to start off any party.
We've been told time and time again that breakfast is one of the most important meals of the day.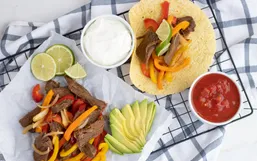 Mexican food is my absolute favorite type of cuisine. It's flavorful, quick to make, and a crowd-pleaser at my house!