After the Easter season is finished, you can find ham roasts for very reasonable prices in the grocery stores. If you bake a ham over Easter or just as a great Sunday night dinner, you can be left with a ton of leftover pork. Leftover ham is great fried with some eggs for breakfast, but there are many other options for using it. We collected 13 amazing recipes for using leftover ham. Some are delicious comfort foods, some are fantastic make-ahead breakfasts or lunches, and some are unique and would make for a gorgeous party dinner!
1. Cheesy Ham and Broccoli Casserole
Have some leftover ham you don't know what to do with? Chances are, for this recipe, you already have all of the ingredients.
This dish is total comfort food, and with a healthy twist of quinoa and it is sure to be a hit with the children.
https://www.thechunkychef.com/cheesy-quinoa-sausage-broccoli-casserole/ PHOTOS AND RECIPE HERE: THE CHUNKY CHEF
2. Ham and Cheese Pockets
This play on a British pasty is filled with leftover ham and cheese. The bread is made from a simple dough, but for an extra fast meal, you can use store-bought puff pastry.
Customize your pocket with different vegetables, spices, and cheeses. Potato would be an excellent addition.
https://sallysbakingaddiction.com/2016/03/25/homemade-ham-cheese-pockets/ PHOTOS AND RECIPE HERE: SALLYS BAKING ADDICTION
3. Creamy Ham and Potato Casserole
This dinner would make an excelled frozen meal. Pull it out in the morning to thaw, and toss it in the oven at night to bake.
This recipe is a meal that will warm your soul and definitely works for all three meals of the day – breakfast, lunch, and dinner!
http://www.plainchicken.com/2016/03/ham-and-cheese-hash-brown-casserole.html PHOTOS AND RECIPE HERE: PLAIN CHICKEN
4. Ham, Leek, and Potato Pie
This impressive looking pie is made with leftover ham, leeks, and potatoes. You can replace the ham with any meat.
Salmon would be an excellent choice! This is a really beautiful dinner that will be sure to impress your guests. Always garnish with some parsley at the end of a touch of green.
http://www.deliciousmagazine.co.uk/recipes/ham-leek-and-potato-pie/ PHOTOS AND RECIPE HERE: DELICIOUS MAGAZINE
5. Ham and Cheese Bake
This classic baked macaroni and cheese dish has leftover ham added in. The salty yet sweet ham is a perfect addition to the pasta.
This creamy dish will be a hit with children and adults alike while still being deliciously gourmet and looking good on the dinner table with a fresh salad.
https://www.simplyrecipes.com/recipes/ham_and_cheese_pasta_bake/ PHOTOS AND RECIPE HERE: SIMPLY RECIPES
6. Ham and Cheese Quiche
This amazing meal is both light and luxurious. A quiche is always packed with protein and is the perfect vessel to hold some of your best leftovers.
Add in your ham from Easter and your family will fall in love with the idea of leftover ham and cheese quiche!
https://spicysouthernkitchen.com/easy-ham-and-cheese-quiche/ PHOTOS AND RECIPE HERE: SPICY SOUTHERN KITCHEN
7. Ham Loaf
Who says meatloaf can only be made with beef or poultry? Ham makes a great alternative! Finely chop up your leftover ham to make it the same texture as ground pork.
This recipe makes great leftovers for breakfast with some bacon and eggs, or as the base for a scrumptious sandwich with some veggies, cheese, and mustard.
https://bakeatmidnite.com/annie-glenns-ham-loaf/#more PHOTOS AND RECIPE HERE: THE MIDNIGHT BAKER
8. Ham and Potatoes Sarladaise
This classic French dish is full of fat and flavor. It is not for the health conscious! It is traditionally made with duck fat, which is golden and precious and should be on everyone's menu.
This variation uses the fat from ham or lard, which gives a different but still delicious flavor.
https://leitesculinaria.com/35744/recipes-ham-potatoes-sarladaise.html PHOTOS AND RECIPE HERE: LEITE'S CULINARIA
9. Ham Salad Sandwiches
An oldie but a goodie, ham salad sandwiches are a classic for a reason. The smoky, salty ham makes a perfect filling to this soft sandwich.
Blitz it in a food processor for the best texture for children. Add in pickles, onion, or peppers for texture.
https://noshingwiththenolands.com/ham-salad-sandwich/ PHOTOS AND RECIPE HERE: NOSHING WITH THE NOLANDS
10. Split Pea Soup
We couldn't forget this classic use for leftover ham! Split pea soup is delicious, healthy, and full of flavor. The key to a great ham soup is using the ham bone.
Boil the soup with the bone to pull out a ton of extra flavor. The meat stuck to the bone will fall off and into the soup, giving extra meaty goodness.
http://www.closetcooking.com/2008/01/split-pea-soup.html PHOTOS AND RECIPE HERE: CLOSET COOKING
11. Ham & Cheese Lasagna
If there was one food Garfield would love more than lasagna, it would quite possibly be ham and cheese lasagna. It's rich and creamy and looks awfully impressive given that the ham is leftover.
You can add all different types of cheeses and spices to make this a unique dish all on its own, so don't hesitate to be creative!
http://www.thekitchenismyplayground.com/2013/04/ham-cheese-lasagna.html PHOTOS AND RECIPE HERE: THE KITCHEN IS MY PLAYGROUND
12. Crock Pot Ham and Bean Soup
If you're in a hurry and have tons of ham for supper tonight, get a little crazy and toss some ingredients into the crockpot to make a delicious chili that will be waiting for you at the end of your busy day.
The best way to enjoy this is to make some cornbread on the side to clean your bowl with at the end.
https://www.spendwithpennies.com/slow-cooker-ham-and-bean-soup/ PHOTOS AND RECIPE HERE: SPEND WITH PENNIES
13. Instant Pot Customizable Egg Bites
Perhaps the best part of these creamy, dreamy egg bites is the fact that you can use any mix-ins you want in them! One of our favorite kinds to make though is a leftover ham, mozzarella cheese, and green onions. It's a great way to use up any deli meat to add flavor and extra protein to this tasty, on-the-go breakfast recipe.
http://www.forkly.com/recipes/instant-pot-customizable-egg-bites/ PHOTOS AND RECIPE HERE: Forkly
Encouraging your kids to eat healthy can be exhausting. With so many interesting and cool packaged products on the shelves, it's...
A time and cost saving way of cooking is to reuse your leftovers from previous days.
Who loves an home made roast chicken dinner? I do! When it's served with delicious side dishes like sweet potato, broccoli and a...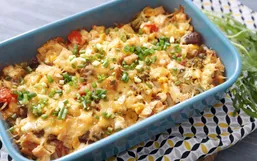 After all the hours and hard work you put into Thanksgiving dinner, it's eaten within half an hour and you're left with a ton of...
I don't know about you, but chili is a common Sunday dinner in my family.
Come the season of holiday feasts stuffing is a turkey's sidekick.
There are several different types of broth such as vegetable broth, chicken, fish, and beef.
Tomato sauce is used in so many different glorious recipes! It's can be a delicious sauce for pasta, pizza, and can be secretly...
Easter often calls a common centerpiece at your family dinner, and that's ham. So, pressure's on!
Worried you're spending too much money on takeout? You're not alone!
Are you tired of making the same meals over and over again? Perhaps you're feeling uninspired in the kitchen.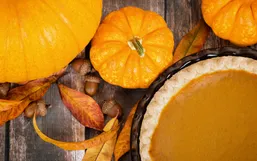 When I think about pumpkins I often find myself reminiscing or wishing it was the season of Fall.