Most people typically use Thanksgiving as an excuse to indulge in their favorite pumpkin pie recipe, but pie can be a dessert option for nearly any occasion. With buttery crusts and flavorful fillings, pies can take the place of cakes at birthday parties and other celebrations or can pair with your afternoon tea.
Pies come in many different shapes, sizes and fillings. Some are single-shell, exposing their decadent fillings with no top crust, while double-crust pies come with the opportunity to create beautiful designs. You can fill your pie with a range of flavors and textures to match your pie craving, from sweet fillings, including fruit, custard or mousse, to savory options, such as meat or potatoes. Below, is a compilation of pie recipes to satisfy any craving.
Apple Pie
Apple pie is one of the most classic pie recipes out there, evoking images of home cooks and bakers setting a piping hot pie on the windowsill to cool. Rather than sneaking a pie off somebody's sill, try this apple pie recipe on Food52 yourself. It uses several apple varieties to create complex layers of flavors and textures, creating a truly scrumptious result. We suggest serving it with vanilla ice cream while the pie is still just a little bit warm. The ice cream will melt slightly and create a delicious fruity bite.
For a savory twist on this classic pie, try this apple-cheddar pie from Bon Appétit. The spices, sharp cheddar cheese crust and apples marry to create an incredible sweet-savory combo. It may seem strange, but don't knock it until you try it!
Blueberry Pie
This berry option is perfect for a light and summery treat. This classic blueberry pie from Sally's Baking Addiction has a gentle sweetness and freshness balanced by lemon, sugar and a golden brown crust. It's common for fruit and berry pies to use a top shell, but you can see see the blueberries in all their juicy glory peaking through.
Blueberry pies are always best when you use fresh, not frozen berries. Frozen berries often result in a soupy filling, making it hard to cut and serve. If you must though, do not defrost the berries ahead of time and be sure to bake the pie slightly longer to give the excess liquid time to thicken up.
Banana Cream Pie
Creamy and silky, this banana cream pie recipe by Food52 has the potential to win over any banana skeptic. The banana filling is made from a custardy pastry cream, loaded with vanilla and balanced with brown sugar to create a malty and caramelized flavor. This recipe also uses a cookie crumb crust instead of a typical flaky pie crust, which means it doesn't become soggy if the pie spends a few days lingering in your fridge. To balance the sweet filling, the whipped cream topping is unsweetened but also uses cour cream for a tangy element.
Coconut Cream Pie
This coconut cream pie recipe from Food & Wine is fluffy and delicious, with coconut used in the crust, filling and topping so that you definitely won't forget the star of this pie. Coconut is a flavor that most people either love or detest, but if you fall into the former category, you'll be going back for seconds of this recipe.
Using heavy cream, coconut milk and gelatin, this pie's filling creates a jiggly, but creamy dessert. Plus, unlike most pies, this one can be made up to a day ahead of time and stored in the fridge – perfect if you're serving it to company and don't wan't to be rushed the day of.
Chocolate Pie
Possibly one of the most decadent pies on this list, this mile-high chocolate pie from Epicurious is surprisingly light. The filling is made from delicate chocolate mousse and layered with crushed chocolate wafers to create a mix of smooth and crunchy textures. It's then topped with a tangy crème fraîche whipped cream to balance the chocolatey-sweetness of the filling.
The recipe allows for either a store-bought or homemade crust, so if you don't have the time to make one from scratch, don't sweat it. The star really is the filling and topping, so your dessert with my incredible even if you don't go full-on Martha Stewart.
Cherry Pie
One of the internet's favorite pastry chefs, Claire Saffitz is on this list with her cherry pie recipe. Inspired by the pies made by her parents for evening desserts, this cherry pie features a golden-flaky crust and a juicy filling. The cherries maintain their tartness in this recipe rather than being overly sweet, resulting in a fresh and balanced pie that's perfect for a warm summer night indulgence.
She offers this recipe in a follow-along video format as well, which makes it perfect if you're not very confident baking a pie from scratch!
Key Lime Pie
For a perfect homemade Key lime pie, look no further than this recipe by Joshua Weissman. Using proper Key limes, this recipe promises to take you on a spiritual food journey to the Florida Keys. It asks you to make your own graham crackers to use later in the crust, but you can just as easily buy your own if you're short on time or ambition. From there, this pie is simple to put together and perfect for a hot summer day.
Lemon Meringue Pie
Lemon meringue pie is a tangy, sweet and timeless dessert. The lemon curd filling is full of citrusy zing and is topped by beautiful Swiss meringue. This recipe by Food52comes together easily, but it's important to let the curd set properly and to pay attention to the stiffness of your meringue.
Alternatively, you can try this lemon meringue cheesecake pie recipe from Vice, which combines two favorite desserts. You create both a mascarpone cheesecake and lemon curd filling, then layer them in a flaky pie crust. Top with meringue, blowtorching it for a golden finish.
Meat Pie
Not every pie needs to be a dessert, and that's especially true of this meat pie recipe by Binging with Babish. Using simple but flavorful ingredients, such as beef chuck and aromatic thyme leaves, this pie filling is satisfying. The hot crust is also made with lamb fat, meaning this whole pie has a strong, meaty flavor.
A rich dish like this is perfect for a family dinner when it's cold out and you're craving comfort foods. It takes some time to make, but is well worth it!
Pecan Pie
Pecan pie is a rich, decadent and nutty treat for almost any occasion. Buttery and sugary, pecan pie becomes caramelly and sticky when it's finished baking. This pecan pie recipe by Joshua Weissman shows you how to easily make a classic pecan pie recipe, but it doesn't stop there. If you're finished with your pecan pie leftovers, use the follow-up recipe at the bottom of the page to create a sweet, pie-crusted ice cream treat.
Pumpkin Pie
A timeless staple of any Thanksgiving dinner, pumpkin pie brings all the best fall elements of spice and winter squash to the table. In this pumpkin pie recipe from Claire Saffitz, you add brown butter and honey to balance the otherwise sweet and silky filling. This recipe also comes with a video guide, walking you through each step of making the best ever pumpkin pie. Make this for your next fall get-together to impress your friends and family.
Whoopie Pie
Okay, so it's not technically a pie, but apparently whoopie pies used to made from the leftovers of cake batter and filling. You create multiple portions in this recipe from Epicurious, each with two small chocolate cakes sandwiching vanilla-sweetened marshmallow filling.
Unlike traditional pie, these treats will keep just fine for several days, and are perfect for an after-dinner treat or a snack with your lunchtime tea or coffee. Or a midnight snack … we won't judge.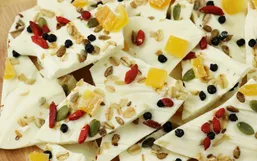 Looking for a healthier version of a chocolate bark? With bulk stores now selling greek yogurt chips, we decided to try our hands...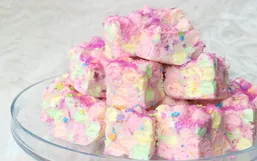 If you've spent any time on the internet at all lately, you may have noticed the growing obsession with rainbows, and pastels and...
We all have those cravings we wish we didn't have. When you're sitting at your desk and all you can think about eating for lunch...
Dessert is just about everyone's favorite part of a meal. All those brownies and cakes can make even the most nutritious person's...
It's wedding season! The dresses are gorgeous, the people are ecstatic and the cupcakes are show stopping.
When the weather gets warm, the kids come outside to play, the birds start singing, and we are suddenly hot again!
Each summer, parties are happing in the street, at the park or on the water.
Summer desserts are always a good idea, especially when they are pre-portioned so you don't overeat all that delicious sugar!
Happy National Sugar Cookie Day! If you were looking for an excuse to make a batch of these chewy, heavenly wonders, this is a...
Rainbow foods are all the rage right now and we aren't mad at it! Rainbows make everyone feel good and can often fill your plate...
Happy National Pecan Pie day! Pecan Pie is one of those desserts you either love or hate.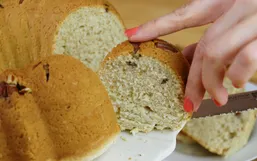 Ever come home from the store and unloaded your bags and had the devastating realization that your tub of ice cream was left too...