The more time we can steal for ourselves over the holidays, the better! Sure, you can spend hours making your Nana's famous shortbread—or you can make an assortment of our holiday-ready, no-fuss no-bake cookies in a virtual flash (dashier than Santa's reindeer), and still enjoy the holidays. Make these no-bake cookie recipes a new, foolproof holiday tradition.
Related Topics (Ads):
2
1. Chocolate Covered Oreos
Oreos are delicious enough on their own, but you can easily take them to the next level by dipping them in chocolate! This simple recipe will look great on the dessert table and takes only 20 minutes to prepare. Take you pick between white or milk chocolate, add some sprinkles or peppermint candies, and the Oreos will look fancier than ever.
Melting chocolate is a simple process. You simply place candy melts in the microwave in 30 second increments until fully melted. Don't forget to stir occasionally! You can then use a fork to coat the Oreos completely in chocolate. Customize the appearance with some sprinkles and candies, let them dry completely, and you're done!
3
2. White Chocolate Raspberry No-Bake Cookies
Anyone wanting to serve up healthier cookies this Christmas season can try out these white chocolate raspberry cookies. They are keto, vegan, and paleo diet-friendly! This recipe is super easy since it uses only five ingredients and 10 minutes of your time. Plus, they contain some nutritional value since they're packed with protein.
These chewy cookies combine delicious white chocolate, dried raspberries, and maple syrup into one delicious cookie. Once the batter is prepared at a thick consistency, you can form them into balls and let it sit in the fridge. You'll know the cookies are ready once they are firm to the touch.
4
3. No-Bake Cookie Dough Bites
We've all done it. When you're baking a batch of chocolate chip cookies and take a bite of the cookie dough despite potential health risks. Who can help it? Raw cookie dough is too delicious to resist. Luckily, this recipe teaches you how to make edible cookie dough bites without risking salmonella infection.
This recipe uses an eight-by-eight inch pan to make the bites in a bar form. After letting the cookie dough chill in the fridge for an hour, you can add a decadent topping. It's made up of white chocolate chips and heavy cream. Color it with food coloring, pour it onto the cold dough, and refrigerate for one more hour. Enjoy!
5
4. Fudgy Mint Chocolate No-Bake Cookies
Who doesn't love a good mint and chocolate combo? This flavor pairing is perfect for cookies, especially when following this fudgy mint chocolate no-bake cookie recipe. The finishing touch atop the chocolate cookies is a mint frosting and chocolate ganache that will leave you aching for seconds!
It yields two dozen servings and takes less than half an hour to make. The recipe breaks it down into easy steps for the cookie, mint frosting, and chocolate ganache. Two ingredients to look forward to in the cookies, and also add some texture, are oats and shredded coconut. These cookies are definitely great for gifting or preparing for a Christmas cookie exchange.
6
5. No-Bake Turtle Cookies
One of the most fitting chocolates to gift loved ones and friends during Christmas is Turles — and for good reason! These cookies are packed with irresistible caramel, chocolate, and pecans that are too good to pass up. Consider making your own Turtles concoction by following this homemade no-bake turtle cookie recipe.
One part of the recipe teaches you how to make a delectable dulce de leche that's spooned onto each cookie. Along with chopped chocolate, shredded coconut, pecan halves, and vanilla, these hearty cookies are something you'll want to be making all year round. Just make sure to allow the cookies to set at room temperature or in the fridge before serving.
7
6. Hot Cocoa No-Bake Cookies
Hot cocoa and Christmastime go hand in hand. So why not combine both elements into one delicious cookie for the holiday? This no-bake hot cocoa cookie recipe is a good one to follow. Its flavor and marshmallow topped appearance are the perfect cookie to bake in December.
To achieve that distinct hot cocoa flavor, the recipe actually uses two tablespoons of hot cocoa mix and cocoa powder. It even calls for half a cup of Nutella to guarantee max chocolaty-ness. What's great is the cookies can be stored at room temperature or in the refrigerator for up to two weeks.
8
7. No-Bake Peanut Butter Jam Thumbprints
Looking for a Christmas cookie that's cute as a button? Then look no further than these no-bake peanut butter jam thumbprints. These bite-sized treats are a tasty combination of powdered sugar, peanut butter, pretzels, and rice krispies. The strawberry jam spooned into the cookie gives it some color and presentation points.
This recipe recommends using a standup mixer with a paddle attachment, but you can also beat the ingredients using a wooden spoon or something similar. It yield about 30 cookies and takes just 15 minutes to prepare. You'll need to let the cookies chill in the fridge for about two hours before serving. It's also a great cookie to make ahead fo time since they can be stored in the fridge for up to seven days!
9
8. Chocolate Raspberry Bites
With just 25 minutes of your time and four ingredients, you can enjoy chocolate-raspberry bite cookies! This recipe expertly combines chocolate wafer cookies, jam, and chocolate chip frosting into a decadently sweet cookie. And they really can't be any easier to make.
All you have to do is grab your store-bought wafters and spread some jam onto half of them. Set them on a wired rack while you work on the icing. Simply melt the chocolate chips and shortening in the microwave and stir every 30 seconds. Spread the icing onto your wafer sandwiches and the cookies are ready to serve!
10
9. No-Bake Pumpkin Cookies
There's no reason why enjoying pumpkin-spiced anything should end after the fall season. Enjoy pumpkin flavored cookies this Christmas by making these no-bake pumpkin cookies. It uses oatmeal, pumpkin spice pudding mix, sugar, butter, and a few other ingredients. The result? Soft and chewy cookies that you won't be able to get enough of.
This small batch recipe yielded about a dozen cookies. If you're looking to make more, simply double the ingredient amounts. There are only two steps of instructions to make the cookies. While it only takes about 10 minutes to prepare, keep in mind the cookies need to set on a wax paper lined tray for about an hour.
11
10. Candy Cane Oreo Balls
It wouldn't be the Christmas season without indulging in at least one candy cane. Enjoy candy canes with a twist by whipping up these candy cane Oreo balls. These are Oreo truffles in the shape of a candy cane! They're delicious, colorful, and can be made in about two hours.
You can make these cookies ahead of time by storing them in an airtight container for up to one week. Just make sure they are kept in the fridge until serving. Alternatively, you could also freeze the Oreo balls for up to three months. The recipe yields about 20 to 30 servings, depending on how large you form them
12
11. Chocolate Dipped Fluffernutter Ritz Cookies
I'm not sure what's more fun — making chocolate dipped fluffernutter Ritz cookies from scratch or simply saying the name of these cookies out loud! The cookies combine Ritz crackers, peanut butter, marshmallow creme, and chocolate into one delicious dessert.
These no-bake cookies are simple enough to have kids help out in the kitchen. To add a little extra color to the cookies, feel free to add some sprinkles after dipping them in chocolate. It takes just half an hour to prepare and yields about two dozen servings. Just be sure to let the cookies dry fully before serving them.
13
12. Milk & Cookies Bark
Get ready for Santa Claus to visit the house on Christmas Eve by making these milk and cookies bark recipe. This twist on an old classic leaves you with thin, crunchy cookies with a strong chocolatey taste. The best part is that you only need three ingredients: vanilla almond bark, mini chocolate chip cookies, and sprinkles.
You'll start this recipe by melting the almond park and pouring it onto a pan with parchment paper or tinfoil. Then, place the mini chocolate chip cookies all over the pan. Add Christmas colored sprinkles and the bark preparation is complete! Give it some time to harden or speed up the process by putting it in the fridge. Cut pieces with a knife and enjoy!
One of the best things about Christmas (aside from spending time with those you love of course) is being able to dig into...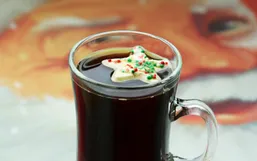 During the holidays, depending on where you live of course, it often involves gathering around with warm beverages in hand.
There's something...well...magical...yes, Christmas magical about a Reese's Peanut Butter Cup.
Candy canes are basically a Christmas holidays mascot. The peppermint candy sticks with a hook on the top, so you can hang them on...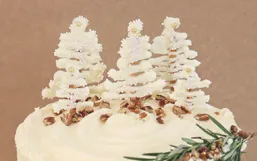 Last year, we created these adorable festive Christmas Tree Brownies, and well...the video recipe for them went viral overnight!
The holidays are known to be the hardest season of the year in terms of the age-old battle of the bulge.
The best part about Christmas for any kid (or adult for that matter) is the delicious treats that pop up everywhere.
The centerpiece for your Christmas dinner is a great turkey or ham, but the side dishes are just as important.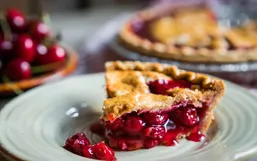 Christmas pies are a delicious addition to the holiday season. While we love the classic pumpkin pie, there are a ton of other...
Christmas has this tendency to sneak up on us each year. It approaches at a fast rate and before we know it the big day has...
Decorating the tree always gets me into the mood for the holidays. As soon as the tree is up I'm in full force Christmas mode.
So you've volunteered to host Christmas dinner this year. The initial voluntary statement may have sounded exciting but if you...