Shrove Tuesday is when pancakes are traditionally eaten, also known as Pancake Tuesday! Traditionally, Shrove Tuesday is marked as a day of feasting and celebrating the day before Ash Wednesday. Growing up my family turned Pancake Tuesday into every Tuesday and it was something I always looked forward to. Often, pancakes are eaten for breakfast but on Pancake Tuesday you can enjoy them for dinner without any judgment!
Boxed pancake mix is easy but I believe nothing quite compares to delicious homemade pancakes! Unfortunately, many recipes, including the boxed variety, require eggs, milk or other ingredients that are not vegan-friendly. We have searched for some of the best pancake recipes that are all vegan-approved! We'll also include a few vegan waffle and crepe's recipes for variety. Lastly, we've also included some excellent vegan-friendly topping ideas that will really enhance your Pancake Tuesday experience!
1. Light and Fluffy Vegan Pancakes
Mastering a homemade vegan pancake might seem like a tricky thing to do. You want to ensure that you achieve the perfect fluffy texture and the right flavor and that can seem impossible without ingredients like eggs. Rest assured it can be done!
I've been making vegan pancakes for a couple years now and let me tell you, they are unreal! This recipe requires simple ingredients, with items you'll most likely have on hand. I should mention, I made this recipe with all purpose flour instead of white spelt flour and used brown sugar instead of cane sugar and these still turned out great!
2. Gluten-Free Pancakes
Perhaps you follow a vegan diet but also require foods that are gluten-free. If that sounds like you then you need to try this recipe!
It's just as easy as the previous recipe but instead, are gluten-free! To do this all you have to do is substitute a few ingredients such as regular all-purpose flour for almond flour.
3. Four Ingredient Vegan Chocolate Pancakes
Looking for more excitement in your life? Try making these vegan chocolate pancakes for a decadent breakfast, lunch or dinner!
This delicious recipe only requires 4 simple ingredients and is not only vegan but gluten-free too! All you'll need is a banana, cocoa powder, oats, and plant milk of your choice. Once cooked, serve with your favorite toppings!
4. Oatmeal Peanut Butter Jelly Pancakes
PB&J sandwiches are a classic and are adored by so many (unless you have an allergy, of course)! These oatmeal peanut butter and jelly pancakes will surely quench any PB&J craving you may have.
Once the pancakes are prepared, heat peanut butter and vegan jelly in the microwave. Garnish the pancakes with a drizzle of warm peanut butter and jelly and top with a dollop of coconut whipped cream!
5. Vegan Pumpkin Pancakes
These pumpkin pancakes will have you dreaming of autumn when you eat them! These delicious pancakes have fragrant flavors of cinnamon, nutmeg, and cloves.
Pumpkin puree adds an authentic pumpkin flavor but also provides the pancakes with a lovely texture. They can be ready in 20 minutes and would be an excellent addition to your Pancake Tuesday!
6. Vegan Crepes
Perhaps you prefer thin luscious crepes over pancakes! We believe crepes should be accepted on Pancake Tuesday too! If you aren't a seasoned crepe-maker then it's easy to get intimidated. However, this recipe explains how it's actually quite easy and they will require even less time than a traditional pancake recipe.
This recipe requires simple ingredients. Keep in mind once all the ingredients are mixed, the batter needs to chill in the fridge for about an hour. Then once prepared, serve with your favorite sweet or savory toppings.
7. Vegan & Gluten-Free Apple Cinnamon Crepes
Spice up an ordinary crepe recipe by adding a few fragrant seasonings such as cinnamon to make a delicious treat this Pancake Tuesday. Apples pair perfectly with cinnamon and together they can make a great meal.
You'll need to prepare the crepes and the apple filling separately. However, once they're both prepared, serve together and add a drizzle of a homemade vegan caramel sauce.
8. Vegan Chocolate Crepes
These chocolate crepes are truly decadent and are a great way to indulge on Pancake Tuesday. A 1/4 cup of cocoa powder is added to the crepe batter to provide a delicious chocolate flavor.
Aside from the cocoa powder, you'll need just 5 ingredients. These can be prepared in less than 30 minutes and pair wonderfully with fresh fruit, vegan chocolate spread, and vegan jam!
9. Vegan Banana Bread Waffles
Waffles and pancakes may technically be different but they do share a lovely airy, fluffy texture. For this reason, we believe it's acceptable to indulge in delicious waffles on Pancake Tuesday too!
Instead of making plain waffles, try making these delicious banana bread waffles! To ensure they have an authentic banana bread flavor, pureed bananas are added the waffle batter. Serve with bananas, chopped walnuts, and maple syrup.
10. Pink Dragon Fruit Chocolate Chip Waffles
If you're looking for an Instagram-worthy meal this Pancake Tuesday, this is it! These stunning waffles are naturally pink and delicious too! They're full of wholesome ingredients that you can feel good about feeding to your family.
Additionally, these waffles are gluten-free and get their pink color from dragon fruit powder. Once prepared, serve the waffles with fresh fruit, chocolate chips, maple syrup and a sprinkle of icing sugar.
11. 2-Ingredient Coconut Whipped Cream
Pancakes, crepes, waffles and the like are great but what makes them amazing is the delicious toppings that are smothered on top! A classic topping is whipped cream, however, ordinary whipped cream is not vegan-friendly!
Thanks to dairy-alternatives like coconut milk you can effortlessly make coconut whipped cream at home! This recipe requires 2 simple ingredients and only a few minutes to make!
12. Vegan Homemade Nutella
Almost everyone has obsessed over Nutella at some point in their life! Unfortunately, it isn't vegan-friendly so we set out to make a homemade version that is vegan-friendly!
All you'll need is 6 simple ingredients and a food processor. This vegan Nutella is made from hazelnuts, coconut sugar, cocoa powder, and just a few other ingredients. Smother this delicious sauce all over your pancakes and if you're lucky enough to have any leftovers you can store in the fridge for up to a week.
13. Vegan Chocolate Spread
If you're pinched for time but still want to indulge in a delicious chocolate topping, consider this vegan chocolate spread! Your whole family will love it and will want to use it for more than pancakes!
You can feel good about feeding this chocolate spread to your family because not only is it vegan but this product is organic and non-GMO.
? Buy it: https://amzn.to/2GBgZWz
14. Maple Syrup
Syrup is one of the most important toppings for pancakes, crepes, and waffles (in my opinion)! While there are a ton of different store-bought syrups floating around, nothing quite compares to pure maple syrup.
We're sharing a 100% pure maple syrup that would taste wonderful drizzled over your pancakes, crepes, and/or waffles! This 1-quart jug is made of natural ingredients and has a lovely flavor.
? Buy it: https://amzn.to/2tjzxTn
15. Vegan Chocolate Chips
When I was a kid, pancakes were always better with decadent chocolate chips cooked into them. Not much has changed as an adult and if your family is anything like me then you'll appreciate vegan-friendly chocolate chips!
These chocolate chips are dairy, nut, and soy free and come as a package of two. So use them for Pancake Tuesday and have enough leftover for other baking needs!
? Buy it: https://amzn.to/2Gvp66I
Forkly.com is a participant in the Amazon Services LLC Associates Program, an affiliate advertising program designed to provide a means for sites to earn advertising fees by advertising and linking to Forkly.com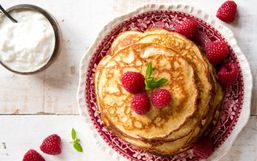 If you're following the Keto diet, there's one sort-of holiday that can be extra depressing and is none other than Pancake...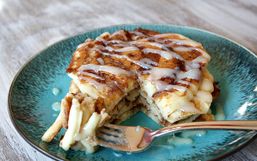 Pancake Tuesday has finally arrived and what better way to celebrate than to treat your family to a delicious pancake dessert...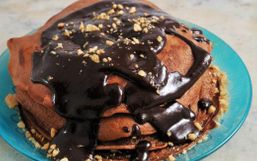 Pancake Tuesday 2013 is just a day away and we have some amazing pancake recipes you might want to try this year!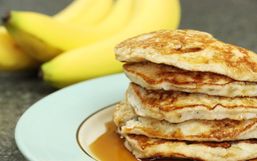 I know what you're thinking....Pancakes, healthy? Two ingredients? How? What? Where? When? Why?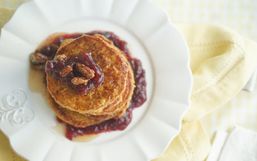 No longer does breakfast have to be all sugar and empty carbs. While pancakes can be a bit of a breakfast classic, it really...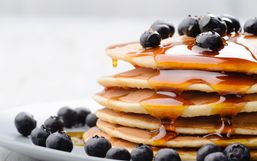 Do you load your short stack up with butter and syrup? Or do you prefer your flapjacks with jam and whipped cream?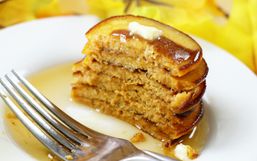 A while back we discovered that pancakes didn't require what we once thought was a pancake's main ingredient - flour.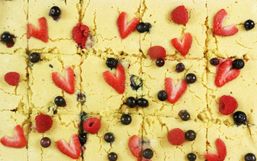 When it comes to a perfect family breakfast or brunch, pancakes rank pretty high on the popularity scale.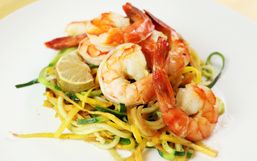 One-pan dinners are the weeknight's bread and butter of success. They are easy, time saving, dish saving, sanity saving.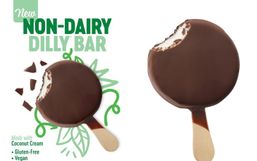 With lactose allergies and vegan diets on the rise, more restaurants are adding innovative products to cater to their customer's...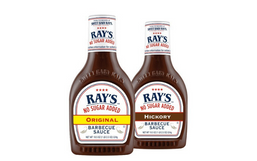 Summer is just around the corner and we all know what that means grilling season is coming too!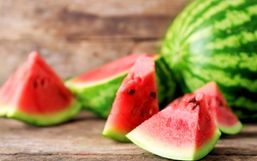 Nothing quite beats biting into a big juicy slice of watermelon -- especially on a hot summer day!