Pancake Tuesday 2013 is just a day away and we have some amazing pancake recipes you might want to try this year! Wake up tomorrow morning and celebrate the special day with a delicious mix of unique pancake recipes you and your family will love!
From scrumptious blueberry pancakes to cinnamon buttermilk pancakes with peach butter, there's a recipe for every person in your family.
Take a look at our pancake recipes and plan your menu for Pancake Tuesday now!
Here are our 15 best pancake recipes for Pancake Tuesday 2013:
1. Stardust Chocolate Pancakes
Heavenly, not only because the angels would decend to earth for them but also because they fall into the "sin free" variety of chocolate pleasures. Maybe your honey will make them for you as a special breakfast in bed?
2. Savoury Pancakes
These pancakes are nutritious and you can have them for breakfast, lunch or dinner. You can make as much batter as you want, and keep it all in the fridge for up to a week. Once again don't go for these if you're on a diet, as they're made of flour… and they're addictive.
3. Oatmeal Cookie Pancakes
Breakfast for dinner. And dessert. These oatmeal pancakes are the perfect indulgence – except they're fairly healthy as far as pancakes go. So you can eat them and indulge without feeling guilty. Great, right!?
4. Cinnamon Buttermilk Pancakes with Peach Butter
In this recipe, fluffy buttermilk pancakes are flavored with cinnamon and topped with a sweet, decadent compound butter made with peaches and brown sugar. Drizzle them with maple syrup, and you're in for a real treat!
5. Oatmeal Griddlecakes
From Northwest Bounty, a cookbook I wrote with Sharon Kramis. These are pancakes with a little texture, and without that wheat pancake leaden aftereffect. The oatmeal highlights the natural sourness of buttermilk, and sets up your palate for the collision with melted butter and maple syrup. A most definite yum…
6. Eggnog Pancakes
These pancakes are light and fluffy on the inside and just shy of crispy on the outside. They're loaded with the sweet, custardy flavor of eggnog. Try them with cranberry syrup!
7. Pancakes Sauteed Apple Breakfast
Delicious, light and fluffy, these classic pancakes are easy to make and 100 percent satisfying. The recipe is broken down by easy pancakes and then shows how to saute the apples to make it a truly decadent breakfast delight.
8. Apple Ring Pancakes
Pancakes made with the healthy goodness of apples! Use whole wheat flour to make it extra healthy. Don't they look delicious?
9. Sunday Morning Lemon Poppy Seed Pancakes
These pancakes with poppy seed and lemon zest are a fresh version of the classic morning dish. If you like poppy seed cake, you're going to love this amazing recipe!
10. Pancakes with Caramelized Peaches
Breakfasts like this are a little bit heavy with a lot of sugar and butter but trust me, it's worth it. I'll eat less for dinner. Besides everyone should be allowed to indulge at least once a week, right?
11. Carrot Cake Pancakes
Who doesn't love carrot cake? In this reimagining of the classic spring dessert, the flavors of carrot cake are added to a breakfast staple: pancakes. The result is hybrid heaven. Try just one of the toppings or both of them together; you'll love them either way!
12. Simple, Easy Pancakes
These are really good 🙂 I just got tired of having pancakes made out of mix from a bag and this isn't a lot more difficult to do then scooping mix out of the bag!
13. Scotch Pancakes with Bacon & Caramelized Apple
This tweaked version of Gordon Ramsay's scotch pancakes, these truly unique pancakes are definitely worth a shot this Pancake Tuesday. They're a little sweeter than most pancake recipes but if you have a sweet tooth, these will be perfect.
14. Cottage Cheese Pancakes
These mini pancakes are great for bigger families since you can make so many in one batch. They're delicious, quick and easy – everything you look for in a great pancake recipe!
15. Blueberry Pancakes
Delicious pancakes that are very simple to make. I like to brush them with butter and give them a generous douse in real maple syrup (not the sugar water junk that they try to pass off as syrup).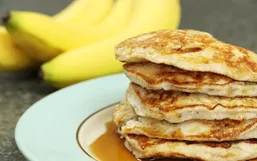 I know what you're thinking....Pancakes, healthy? Two ingredients? How? What? Where? When? Why?
No longer does breakfast have to be all sugar and empty carbs. While pancakes can be a bit of a breakfast classic, it really...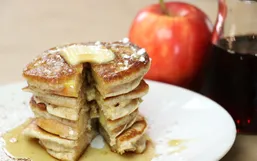 Pancake breakfasts are a weekly event in my house. It's the perfect way to bring us all together on a Sunday morning, while I flip...
Do you load your short stack up with butter and syrup? Or do you prefer your flapjacks with jam and whipped cream?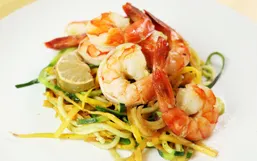 One-pan dinners are the weeknight's bread and butter of success. They are easy, time saving, dish saving, sanity saving.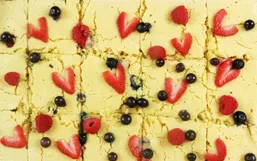 When it comes to a perfect family breakfast or brunch, pancakes rank pretty high on the popularity scale.
Shrove Tuesday is when pancakes are traditionally eaten, also known as Pancake Tuesday!
Pancakes have always been a popular choice for breakfasts. They're easy to make and they taste delicious, making them the perfect...
Pancakes are such a popular breakfast option for families because it's SO fun to make creative shapes and designs with...
Getting your little ones to eat breakfast in the morning can be a real challenge!
Breakfast time is about to get so much better because Cap'n Crunch Berrytastic Pancake Mix is coming soon.
Many of us are looking for ways to stay busy and entertained while being stuck at home.