Pancakes have always been a popular choice for breakfasts. They're easy to make and they taste delicious, making them the perfect go-to dish for busy parents. One of the greatest things about pancakes is the endless varieties in which they can be made. This breakfast item can be prepared with fresh fruit, chocolate chips and all types of syrups. It doesn't matter how you prepare them, pancakes will be mouth-watering and delicious no matter what.
Here are 15 unique and tasty pancake recipes:
1. Stardust Chocolate Pancakes
Heavenly, not only because the angels would descend to earth for them but also because they fall into the "sin free" variety of chocolate pleasures. Maybe your honey will make them for you as a special breakfast in bed?
2. Savory Pancakes
These pancakes are nutritious and you can have them for breakfast, lunch or dinner. You can make as much batter as you want, and keep it all in the fridge for up to a week. Once again don't go for these if you're on a diet, as they're made of flour… and they're addictive.
3. Oatmeal Cookie Pancakes
Breakfast for dinner. And dessert. These oatmeal pancakes are the perfect indulgence – except they're fairly healthy as far as pancakes go. So you can eat them and indulge without feeling guilty. Great, right!?
4. Cinnamon Buttermilk Pancakes with Peach Butter
In this recipe, fluffy buttermilk pancakes are flavored with cinnamon and topped with a sweet, decadent compound butter made with peaches and brown sugar. Drizzle them with maple syrup, and you're in for a real treat!
5. Oatmeal Griddlecakes
From Northwest Bounty, a cookbook I wrote with Sharon Kramis. These are pancakes with a little texture, and without that wheat pancake leaden aftereffect. The oatmeal highlights the natural sourness of buttermilk, and sets up your palate for the collision with melted butter and maple syrup. A most definite yum…
6. Eggnog Pancakes
These pancakes are light and fluffy on the inside and just shy of crispy on the outside. They're loaded with the sweet, custardy flavor of eggnog. Try them with cranberry syrup!
7. Pancakes Sauteed Apple Breakfast
Delicious, light and fluffy, these classic pancakes are easy to make and 100 percent satisfying. The recipe is broken down by easy pancakes and then shows how to saute the apples to make it a truly decadent breakfast delight.
8. Apple Ring Pancakes
Pancakes made with the healthy goodness of apples! Use whole wheat flour to make it extra healthy. Don't they look delicious?
9. Sunday Morning Lemon Poppy Seed Pancakes
These pancakes with poppy seed and lemon zest are a fresh version of the classic morning dish. If you like poppy seed cake, you're going to love this amazing recipe!
10. Pancakes with Caramelized Peaches
Breakfasts like this are a little bit heavy with a lot of sugar and butter but trust me, it's worth it. I'll eat less for dinner. Besides everyone should be allowed to indulge at least once a week, right?
11. Carrot Cake Pancakes
Who doesn't love carrot cake? In this reimagining of the classic spring dessert, the flavors of carrot cake are added to a breakfast staple: pancakes. The result is hybrid heaven. Try just one of the toppings or both of them together; you'll love them either way!
12. Simple, Easy Pancakes
These are really good 🙂 I just got tired of having pancakes made out of mix from a bag and this isn't a lot more difficult to do then scooping mix out of the bag!
13. Scotch Pancakes with Bacon & Caramelized Apple
This tweaked version of Gordon Ramsay's scotch pancakes, these truly unique pancakes are definitely worth a shot this Pancake Tuesday. They're a little sweeter than most pancake recipes but if you have a sweet tooth, these will be perfect.
14. Cottage Cheese Pancakes
These mini pancakes are great for bigger families since you can make so many in one batch. They're delicious, quick and easy – everything you look for in a great pancake recipe!
15. Blueberry Pancakes
Delicious pancakes that are very simple to make. I like to brush them with butter and give them a generous douse in real maple syrup (not the sugar water junk that they try to pass off as syrup).
Planning the perfect party doesn't have to be exhausting! Choosing a theme is half the battle but once you find inspiration for...
What we know as high tea the British refer to as afternoon tea. This classy and formal way of elegant dining that we know isn't...
July 4th has been a day of patriotism for American's ever since the Declaration of Independence was adopted back in 1776.
Some women (and men) dream of the big day their entire life, the wedding.
Planning a wedding takes a lot of time and effort in making it a day you'll never forget.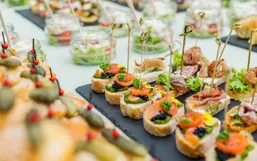 Weddings are often one of the biggest events of one's life. It's a day that you'll never forget and a big part of the planning is...
Oh hi there, so PLAID you came. The Lumberjack theme is both hilarious and practical, somewhere between the beards and lumber.
Cactus themed everything has spread like wildfire as of late. Cactus shirts and sweaters, cactus lights, candles, salt and pepper...
Mickey Mouse is about to hit a milestone. The famous brain-child (err, brain-mouse?
We live in a time that revolves around "social moments". This means hot fast trends that are so captivating that they're worth...
So your best friend, sister or daughter get's engaged and it now comes the time you need to plan her an epic bridal shower.
Hosting a great party should never really feel like work. Sure, you might be the one making the food, refilling the wine...