Throwing a party or get-together but have no idea what to serve your guests? Don't worry, Forkly has you covered.
Making snacks and dishes to serve at a party doesn't have to be difficult or time consuming. There are countless appetizer ideas that are sure to satisfy the preferences of your guests and we have them all here – with links to the full recipes of each, for your convenience. Most of the apps below can either be cooked in the oven together or don't require any cooking at all. Easy, quick and efficient – perfect for busy party planners who have other, more important things to worry about, right?
Next time you throw a party, consider serving these appetizers:
1. Meatballs
[Source: GirlsGuidetoButter.com]

2. Bacon-Wrapped Scallops
[Source: IFood.tv]
3. Jalapeno Poppers
[Source: VeganYumYum.com]
4. Dip Platters (consider guacamole, mango salsa, spinach, asiago or hummus dip)
[Source: AnInsatiableAppetite.blogspot.ca]
5. Mozzarella Sticks
[Source: FoodPeopleWant.com]
6. Spring Rolls
[Source: MyRecipes.com]
7. Spanakopitas
[Source: Greek.Food.com]
8. Tortilla Pinwheels
[Source: CBC.ca]
July 4th has been a day of patriotism for American's ever since the Declaration of Independence was adopted back in 1776.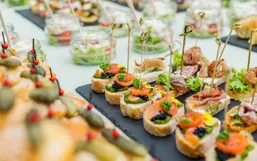 Weddings are often one of the biggest events of one's life. It's a day that you'll never forget and a big part of the planning is...
Spooky season is here and it's time go all out for this fun holiday.
Christmas is right around the corner and we're all getting ready for our Christmas parties!
Pancakes have always been a popular choice for breakfasts. They're easy to make and they taste delicious, making them the perfect...
Pokémon has been around since the the mid-90's and two decades later we are Pokémon trending again with the new app, Pokémon...
While party planning can be a pain, it doesn't have to be as painful as stepping on a Lego, YEEOUCH!
As much as we've tried to "Let it go… let it goooooooo!" the popularity of this 2013 Disney flick just hasn't seemed to...
Disney has brought back our beloved movie The Lion King in a new television animated series, The Lion Guard.
A heck of a lot more than sugar and spice and everything nice goes into catering a summer baby shower!
Looking to have an amazing pool party this summer? Why not make it a fun Mermaid theme?!
June 30, Despicable Me 3 hits theatres and we are sure that there will be some seriously awesome minion parties to follow!