Christmas is right around the corner and we're all getting ready for our Christmas parties! It's a great time of year to get together and celebrate with family and friends. Planning a Christmas party can take a lot of work, with decorations and food to consider. We've made things easier by finding 7 amazing holiday themed recipes that you can whip up for an unexpected Christmas party.
We have your savory options like a snowman cheese ball and Christmas pizza, and a touch of sweet  with mint chip dip for cookies. Are you planning to host a Christmas party this year?
*Click on the image or bottom link to view the recipe.
7. Snowman Cheese Ball
This cute snowman is made from spiced cream cheese and will make a beautiful edible decoration for your Christmas party. This recipe makes one giant snowman, and while it says it serves 7, it could really feed 30 as an appetizer. Halve the recipe for a more reasonable size.
[Source: Betty Crocker]
6. Cranberry Feta Pinwheels
Pinwheels make a great party snack. Somehow they taste better at a party than if you make them at home for yourself. This recipe uses dried cranberries and green onion for a great red and green theme. Make this even more seasonal with green or red tortillas.
[Source: Food]
5. Chicken Stuffed Buns
These adorable buns  have a surprise: they're filled with delicious chicken stuffing! They look like Christmas tree ornaments and will be a perfect addition to a party platter. They're great because you can keep your fingers clean when you eat them.
[Source: My Kitchen Antics] 
4. Christmas Pizza
If using raw dough, you can make your pizza in almost any shape. This recipe shows a Christmas tree and candy cane shape, but we also love snowmen pizzas. Simply use three descending sizes of round pizzas and slightly layer them to make a snowman shape.
[Source: Delia Creates]
3. Pita Tree Appetizers
These cute and easy to make party snacks are perfect for health conscious guests. Use guacamole as the green color of the tree, and use diced vegetables for tree decorations. Younger guests will love decorating their own pita tree to eat.
[Source: Party Bluprints Blog]
2. Sausage Wreath
Have fun with shapes and make your part foods into wreaths. This mini sausage wreath comes out beautifully. Use crescent roll dough to wrap miniature sausages. Bake and then arrange when cool enough to touch. The bow in this recipe is made from red pepper to make it totally edible.
[Source: Bliss Images And Beyond]
1. Peppermint Cheese Ball
We can't forget about the sweet dessert treat at the end of parties. This play on a classic savory cheese ball is a real surprise for guests. Use cookies to scoop up this delicious cream cheese mint dip.
[Source: Eating Well Living Thin]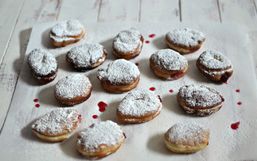 Aside from opening up a can each year when Thanksgiving rolls around, how often do you cook with cranberries?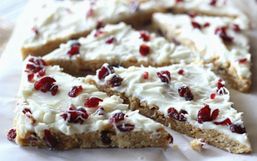 Call me eager but as soon as Halloween is over I'm ready for Christmas!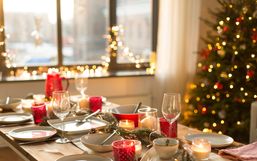 So you've volunteered to host Christmas dinner this year. The initial voluntary statement may have sounded exciting but if you...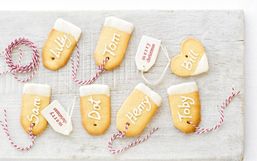 When the holidays roll around the first order of business is setting up the Christmas tree and decorations.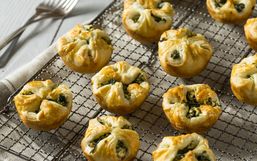 The holidays are the busiest time of year! There are countless Christmas parties, dinners, family gatherings, and potlucks.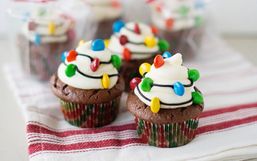 Cupcakes are relished all year round. You can enjoy them for birthdays, holidays, any celebration really, or to treat yourself!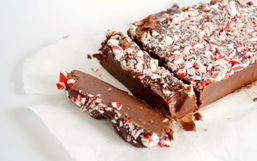 My favorite thing about the holidays is time spent with family, however, my second favorite thing has to be the delicious food!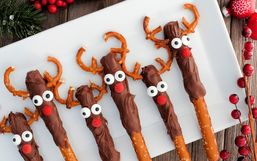 With Christmas coming, your children may be invited to bring food for their class Holiday party.
The holiday season seems to creep up on us each year.  After all, we're busy gift shopping, grocery shopping and preparing menus...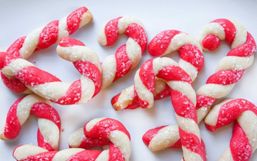 Looking for Christmas-themed food ideas for the annual office potluck party?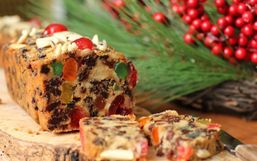 Rise and shine like a holiday star this Christmas morning when you get a whiff of these delicious and traditional holiday sweet...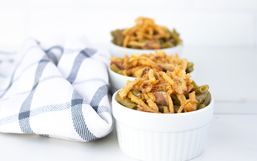 Do you love drool-worthy casseroles? Then get ready for a true treat!