One-pan dinners are the weeknight's bread and butter of success. They are easy, time saving, dish saving, sanity saving. They are the gosh-darned heroes of the weekly menu.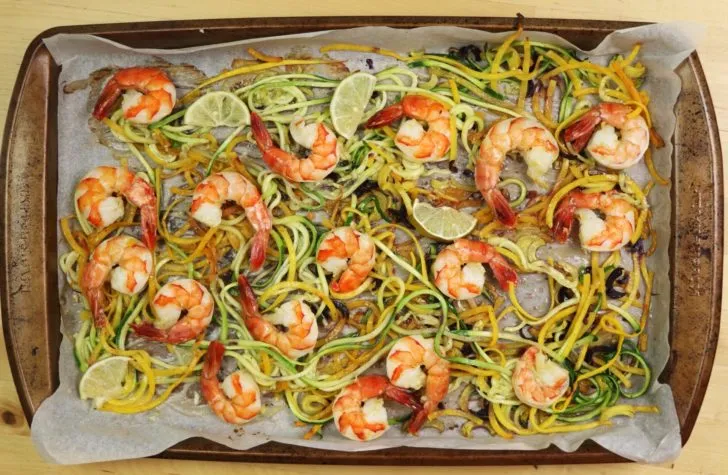 I'm no stranger to spiralized vegetables. When it comes to eating veggies, I do quite prefer when they mimic a favourite carb-like pasta. So this recipe is definitely up my alley when it comes to a healthy option that offers maximum flavor.
We spiralized a few different veggies here, with yellow and green zucchini, alongside sweet potato and rainbow carrots. You can choose a veg of choice here, but we loved how colorful this dish came out!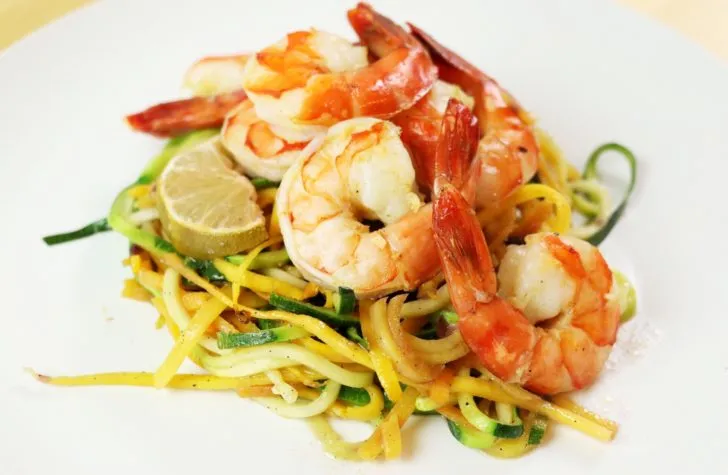 With coconut, green curry and lime flavors infused throughout the shrimp, and roasted vegetable spiral "noodles", this is a meal that will be repeated, most definitely.
Plus, did we mention the fact that it's baked on ONE PAN? *cue choir of angels, please*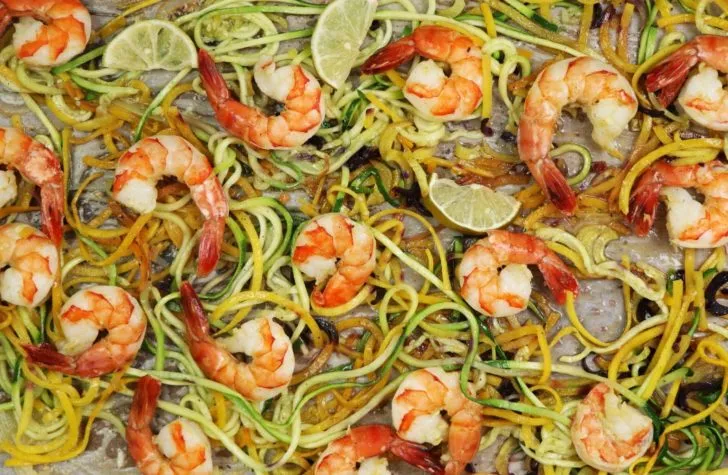 Ingredients
1 yellow zucchini, spiralized
1 green zucchini, spiralized
1 cup sweet potato or butternut squash, spiralized
2 carrots, spiralized
1lb large shrimp, peeled & deveined (tails on)
1/4 cup coconut milk
1 tsp Thai green curry paste
1 tsp minced garlic
pinch of salt
1/2 lime, juiced
2 tsp olive oil
salt & pepper to taste
Lime slices
Equipment
Mixing bowl
Baking Sheet
Parchment Paper
Method
Preheat your oven to 375 degrees Fahrenheit.
In a small mixing bowl, combine coconut milk, green curry paste, garlic, salt & lime juice. Toss in your shrimp (if previously frozen, make sure it is completely thawed before doing so). Remove one at a time and place onto one half of a parchment lined baking sheet.
Take all your spiralized veggies, and place on the other half of the baking sheet, and drizzle with olive oil, salt & pepper. Toss.
Place lime slices on top of the shrimp, and bake in the oven for 10-15 minutes or until the shrimp is no longer translucent and a bright pink.
Remove from oven, and serve the shrimp over the vegetable noodles, finished with a squeeze of lime if you choose. Enjoy!
Pancake Tuesday 2013 is just a day away and we have some amazing pancake recipes you might want to try this year!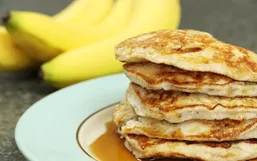 I know what you're thinking....Pancakes, healthy? Two ingredients? How? What? Where? When? Why?
No longer does breakfast have to be all sugar and empty carbs. While pancakes can be a bit of a breakfast classic, it really...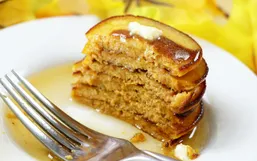 A while back we discovered that pancakes didn't require what we once thought was a pancake's main ingredient - flour.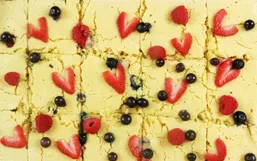 When it comes to a perfect family breakfast or brunch, pancakes rank pretty high on the popularity scale.
Do you load your short stack up with butter and syrup? Or do you prefer your flapjacks with jam and whipped cream?
Shrove Tuesday is when pancakes are traditionally eaten, also known as Pancake Tuesday!
A ketogenic diet is all about ensuring your meals are low carb, high fat and contain moderate protein.
Switching to any new diet can be difficult. Often, you're forced to give up the foods you love but I believe the key to success is...
Staying on track with your diet during any holiday can be extremely difficult.
Who doesn't love a good potluck? They're the best because it often means that there will be loads of food and a wonderful variety...
Starting a new diet isn't the hard part but being consistent and dedicated is!