Halloween is an exciting holiday because it's a chance to go all out without judgment. Create an extravagant costume or host a spooktacular party! There are so many great ways to create an unforgettable Halloween.
This year, try extending your creativity into your food. We have discovered some fantastic Halloween-themed recipes that you can bring to your next Halloween party or even just a fun treat to enjoy at home with the family. Not only are these recipes perfectly themed for Halloween, they're entirely vegan too! They are so delicious, your non-vegan friends won't even notice they're eating vegan!
1. Mummy Pizzas
Pizza is always a crowd pleaser which is why you need to make these mummy pizzas for Halloween. They require next to no effort to put together and they're budget-friendly too!
To create these all you'll need are English muffins, pizza sauce, olives, and vegan cheese slices. Tap into your inner creativity and in no time you'll have these put together.
2. Vampire Bite Cupcakes
Whether you're attending a party, hosting one yourself, or having a small dinner with friends, cupcakes are always a good idea. But on Halloween, don't just serve ordinary cupcakes! Treat your guests to these spooky vampire bite cupcakes.
The cupcake recipe is easy to follow and you'll only need a few ingredients. Ice them with any vegan-friendly vanilla icing then add strawberry jam for the perfect edible blood!
3. Fruit Halloween Snacks
This idea is so easy it doesn't require a recipe. Turn a healthy snack into a fun Halloween themed one by getting creative.
To turn your clementines into pumpkins, use a piece of celery for the stem. You can even go as far as garnishing the plate with celery leaves. These will look like authentic pumpkin vines. Further, turn bananas into a spooky ghost by adding dabs of melted dairy-free chocolate! It's so easy you have to try it.
4. Candy Skull Crushers
This recipe takes a childhood classic, Skullcrushers, and gives them a healthy makeover. Not only is this treat healthy but it's dairy-free and vegan-friendly!
The "white chocolate" skulls are actually made from cashews, vanilla extract and a few other ingredients that make them deliciously sweet. The berry filling creates the perfect surprise in the middle too.
5. Frankenstein Brown Rice Krispie Treats
The great thing about Rice Krispie treats is that you can easily and effortlessly mold them into many shapes! With that being said, try creating a fun Halloween-themed Rice Krispie treat that everyone will get excited about.
Make sure to use vegan-friendly marshmallows and butter! With a bit of food coloring, non-dairy chocolate and sprinkles you'll have these adorable Frankenstein treats created in no time!
6. Naked Graveyard Chocolate Mousse Pots
Who knew it was possible to create a creamy chocolatey mousse without any dairy or animal by-products! This recipe proves that it can be done, and it can be done well. Avocados create a creamy texture while cocoa powder and maple syrup provide an irresistibly rich and chocolatey flavor.
The chocolate mousse pots get a Halloween transformation with the tombstone cookies. This recipe will walk you through easy to follow instructions so you can create them effortlessly.
7. Witches' Finger Cookies
Not only are these cookies spooky but they're raw and healthy! No bake recipes are awesome because they require minimal effort!
These cookies are full of nutrition, yet are remain delicious and sweet. The fingers are made from dates, cashews and, sesame seeds. A food processor will help you blend all the ingredients finely and turn them into a sticky raw "dough". A homemade chia seed jam looks like blood and an almond sliver is used for the nails.
8. Vegan Candy Corn
When I think about traditional Halloween candy, candy corn always comes to mind. Unfortunately, store-bought candy corn is most definitely not vegan-friendly.
You won't need any animal by-products to create this delicious treat. This homemade candy corn recipe only requires a few ingredients. When finished make sure to store them in the freezer or fridge until you're ready to enjoy them!
9. Halloween Cupcake Monsters
In addition to the vampire bite cupcakes, you need to try creating these cupcake monsters. They're so easy to make and they'll look adorable on a platter.
The cupcake itself is made of rich dark chocolate and the frosting is naturally purple thanks to purple sweet potato. Grapes and mini chocolate chips will transform this cupcake from an ordinary one into a spooky monster.
10. Chocolate Pumpkin Cups
These chocolate pumpkin cups are perfectly themed for Halloween because of their color. The bold orange will stand out on the table but its amazing flavor will make a lasting impression on everyone who tries them.
This Halloween treat is similar to a peanut butter cup but instead of a peanut butter layer, this treat has a layer of delectable pumpkin. It's made of wholesome ingredients such as pumpkin puree, almond butter, maple syrup and cacao powder.
11. Stuffed Mushroom Eyeballs
Create spooky eyeballs this Halloween with this easy recipe! Button mushrooms are the perfect size for an edible eyeball and are later filled with a homemade garlicky tofu ricotta.
For the vegan ricotta cheese, you'll want to use a food processor. This will help to create the perfect consistency. Then, using a piping bag you can fill the mushrooms caps. While they bake in the oven you can prepare the olive pupils and sundried tomato veins.
12. Halloween Vegan Deviled Purple Potatoes
Devilled eggs are often a party favorite, however, they're obviously not vegan-friendly. For a vegan-friendly option, you need to try these deviled purple potatoes.
Purple potatoes provide the natural color and a creamy tofu crumble fills the center. They're spooky enough for Halloween and delicious enough to be a part of the party table.
13. Double Chocolate Halloween "Cheesecake"
Why not try creating a spooky vegan cheesecake for Halloween? A few extra steps are required to create the stunning layers, but the payoff is well worth it.
Cashews are the perfect "cheese" replacement and help create the creamy texture we enjoy about cheesecake. A few ingredients such as Medjool dates, cacao powder, and vanilla extract create a lovely sweet flavor.
14. Mummy Cookies
If being crafty isn't your forte, don't fret! These cookies are so easy to create and they'll taste lovely too.
For this recipe, you'll use many store-bought ingredients which means you won't have to bake your own cookies! Get creative with the decorating and bring these mummy cookies to life with a few icing techniques and decorations.
15. Halloween Roasted Veggies
Another simple Halloween recipe would be these roasted veggies. Instead of getting creative with a sweet dessert create a platter of Halloween-themed cooked veggies for a fun snack or side dish.
To create this veggie platter you'll want to use sweet potatoes, white potatoes, carrots, and beets. If you're crafty use a paring knife to cut your veggies into fun Halloween shapes. If not, you can use a cookie cutter too!
16. Bloody Cups
What makes this recipe great is that it only requires 3 simple ingredients. It's also not only vegan-friendly but they are gluten-free too!
These chocolatey cups are filled with oozing blood, but really it's just raspberries. A muffin tin and muffin liners will help create the perfect shape and single-sized portions. You'll want to ensure you store these in the fridge until they've hardened and are ready to eat!
17. Monster Halloween Candy Bark
Candy bark is so easy to put together and it is next to impossible to mess up! You essentially throw a bunch of ingredients together with melted chocolate, let harden and enjoy!
This candy bark is thriving with fun sweet treats and is completely dairy-free! Follow the instructions and the simple ingredient lists to make this Monster Halloween candy bark in no time!
18. Poached Pear Ghosts
Pears are sweet on their own but when poached in the oven, they can release an even sweeter flavor you might have not known was there. This Halloween treat is simple, delicious and really fun for the holiday.
Poaching pairs are much easier than you may think. Tin foil, a few seasonings, maple syrup and an oven can bake these to a delightful tenderness like no other. Make these for Halloween and you'll find yourself baking pears all the time too.
19. Pumpkin Spice Hot Chocolate
This recipe may not be Halloween themed per say but it is definitely worth noting. Every party or holiday celebration needs a tasty beverage and what better way to warm up on Halloween than with a perfect fall drink such as pumpkin spice hot chocolate.
Artificial flavors and dairy products aren't invited to this drink because this drink is authentic and naturally flavored, as well as dairy-free. Instead of a hot chocolate mix, you'll use cocoa powder. Instead of pumpkins seasoning, you'll use canned pumpkin. Along with those ingredients, you'll need just a few more to create this tasty beverage.
20. Vegan Pastry Voodoo Dolls
The initial assembly of these voodoo dolls might look like gingerbread men, but the finishing touches are what make these spooky enough for Halloween. You also won't find any artificial flavorings or colors in this recipe!
Firstly, they have a spooky deep red filling that is creepy, but also delicious. Second, you can make their faces as creepy or as adorable as you want! Get creative and have fun with this recipe.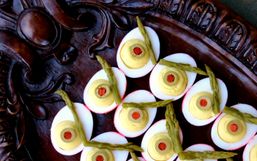 In its essence, Halloween is about all things creepy, eerie and evil.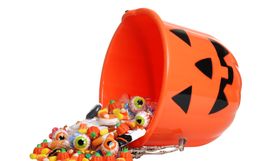 When Halloween comes, people are divided into two groups- those that love candy, and those that want to spoil it for the rest of...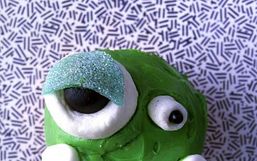 It's a spooky time of year but with some sweet treats. Halloween parties are a great way for parents and adults to get in the...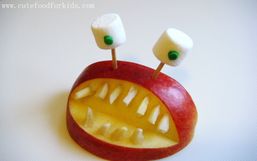 Halloween is a great time for children. They get to dress up as superheros, fairy princess, or what ever they like.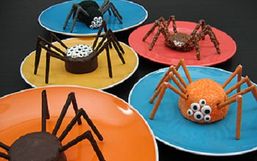 Halloween is a great time to go all out with decorations, costumes, and of course food!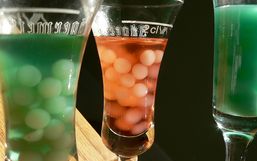 Halloween is almost here! People are putting the final touches on their kids costumes and prepping food for their Halloween...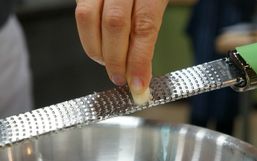 One of my least favorite kitchen tasks is probably mincing garlic, so up until now I've often used the old garlic press when...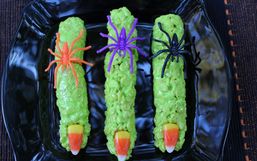 Halloween is all about the treats, because let's face it, without them you're just dressing up in weird clothing and creepily...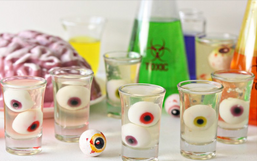 Drinks are often the most last minute, and sometimes forgotten element of a party.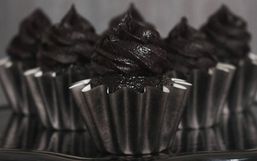 My wardrobe is a vast rainbow of black. Those who wear enough black, know there are two rules about it; one, you can never have...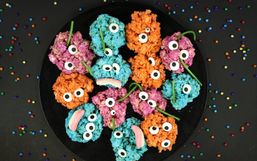 Rice Krispies treats are a classic homemade recipe, most often because they're incredibly simple and easy to make.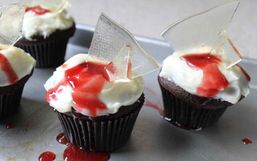 Halloween, a time to delight in all things gross, creepy, scary and spooky - and then lace that with a gallon of sugar.