Tonight is Halloween! Send your little ones off for trick or treating with a good meal. That will help discourage gorging on their candy haul and getting upset stomachs. With just a few hours to go, we need simple and quick meals that you can make and eat in a snap. We found 9 great dinners that you probably already have all the ingredients for!
1. Meatball Mummies
Surprise your little ones with some mummified meatballs! A little marinara sauce is the perfect dipping sauce.
http://www.highheelsandgrills.com/meatball-mummies-recipe/ Photos and Recipe By: High Heel Sand Grills
2. Monster Sandwiches
When your kiddie opens their lunch box at school, they may jump a little when they see their new halloween lunch friend!
http://chocolateandcarrots.com/2013/10/monster-sandwiches Photos and Recipe By: Chocolate and Carrots
3. Toxic Waste Mac and Cheese
Make your Mac and Cheese questionable for eating with the help of a little color!
http://cookingwithcurls.com/2016/09/07/toxic-waste-mac-cheese/ Photos and Recipe By: Cooking with Curls
4. Halloween Style Shredded Chicken Rice Stuffed Peppers
Serve up a healthy dose of Halloween at supper tonight with these deliciously stuffed peppers.
http://www.everydayjenny.com/shredded-chicken-rice-stuffed-peppers-halloween-style/ Photos and Recipe By: Everyday Jenny
5. Spooky Shepard's Pie
Shepard's Pie is the best supper to have before Trick Or Treating on a chilly night. To make it more festive, bring your mashed potatoes to life – or after life.
http://www.the-girl-who-ate-everything.com/2012/10/spooky-shepherds-pie.html Photos and Recipe By: The Girl Who Ate Everything
6. Halloween Pizza
Pizza is a great food that can be turned into a ghoulish supper. Use scissors to shape your cheese and pepperoni into ghastly characters, or arrange the toppings to create an image of a spider or haunted house!
https://tastesbetterfromscratch.com/mini-halloween-pizzas/ Photos and Recipe By: Tastes Better From Scratch
7. Monster Eye Asparagus Gruyere Tart
Who knew a gourmet meal like this could be so creepy?! Look at those eyes made with cheese and capers!
https://pizzazzerie.com/holidays/monster-eye-asparagus-gruyere-tart/?utm_medium=viraltag-content-network&utm_source=viraltag-post&utm_campaign=Viraltag Photos and Recipe By: Pizzazzerie
8. Halloween Roasted Vegetables
Help your little ones eat their veggies with some fun shapes and colors!
https://www.liveeatlearn.com/halloween-roasted-vegetables/ Photos and Recipe By: Live Eat Learn
9. Chicken Boo-dle Soup
Got a sicky on your hands for Halloween? No need to fret! Make some home made halloween themed chicken noodle soup that will help your little one feel all the more special.
http://www.morganmanagesmommyhood.com/chicken-boo-dle-soup/ Photos and Recipe By: Morgan Manages Mommyhood
10. Halloween Trick or Treat Pancake Recipe
Who loves breakfast for supper? I do! Serve up some pancakes that won't stop watching you!
http://www.mynameissnickerdoodle.com/2015/10/halloween-trick-or-treat-pancake-recipe.html Photos and Recipe By: My Name Is Snickerdoodle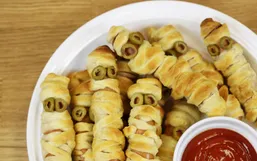 Hallowe'en is a time for spooky, silly, imaginative fun. That doesn't just mean costumes and candy, either.
When Halloween comes, people are divided into two groups- those that love candy, and those that want to spoil it for the rest of...
It's a spooky time of year but with some sweet treats. Halloween parties are a great way for parents and adults to get in the...
Halloween is a great time for children. They get to dress up as superheros, fairy princess, or what ever they like.
Halloween is a great time to go all out with decorations, costumes, and of course food!
Halloween, a time to delight in all things gross, creepy, scary and spooky - and then lace that with a gallon of sugar.
Drinks are often the most last minute, and sometimes forgotten element of a party.
It starts to get dark pretty early when October rolls around, and by October 31st (aka Halloween) you're hard pressed to get a...
Halloween is the perfect time for parties. It is a chance to dress up in a ridiculous costume and just have fun.
Halloween is almost here! People are putting the final touches on their kids costumes and prepping food for their Halloween...
Halloween is an exciting holiday because you can really go all out.
Halloween is a great time to have the excuse to do what you love - dressing up your pet hilariously.