It starts to get dark pretty early when October rolls around, and by October 31st (aka Halloween) you're hard pressed to get a decent meal on the table and into the bellies of your little trick-or-treaters before darkness strikes and they hit the streets to collect as much loot as possible. Couple that with having to get your little ones dressed and into their costumes and Halloween night can become more of a stress-fest than a scream-fest. To help save you some much needed time this Halloween, we've collected some of the best spooky-themed suppers out there that can be ready in 30 minutes or less.
1. Pork Dumplings with Chili-Sesame Sauce
Your little dumplings will love these pork dumplings, mostly because once cooked, these wrinkly red delights look just like brains! Save even more time by steaming store-bought dumplings and tossing in the chili-sesame sauce.
http://www.delish.com/cooking/recipe-ideas/recipes/a19892/pork-dumplings-chile-sesame-sauce-recipe-fw1012/ Photo by: Delish
2. Hot Dog Spaghetti Spiders
Most kids are crazy about both hot dogs and spaghetti, thankfully they both happen to be incredibly easy foods to prepare in 30 minutes or less. Make meal time extra spooky by threading spaghetti noodles through hot dogs before cooking to make these squiggly spider dogs.
https://www.babble.com/best-recipes/hot-dog-spaghetti-spiders/ Photo by: Babble
3. Pumpkin Ravioli
The pumpkin theme doesn't have to stop at your doorstep on Halloween, although we suggest leaving your jack-o-lantern where it is and instead serve these sweet pumpkin raviolis on fright night. Making your own pasts might sound time consuming but with store-bought pasta sheets these are an easy make ahead you can cook at the last minute.
http://www.recipeshubs.com/?s=pumpkin+ravioli Photo by: Recipes Hub
4. Stuffed Jack-O-Lantern Peppers
These hearty (and can I say, cute) peppers are stuffed with a rice, meat and vegetable filling and are sure to lay a solid base for hours spent pounding the pavement while trick-or-treating.
https://undergroundculinarylab.wordpress.com/tag/stuffed-peppers/ Photo by: Underground Culinary Lab
5. Mummy Dogs
This is the second spooky supper to feature hot dogs, but hey, there's no denying that kids love them and they make a quick and easy dinner. This time, they get wrapped in strips of refrigerated crescent roll dough to give them a mummy-licious look for Halloween.
https://megseverydayindulgence.wordpress.com/2011/10/03/halloweenies-crescent-mummy-dogs/ Photo by: Meg's Everyday Indulgence
6. Coffin Sandwiches
Sandwiches might sound like a bit of a dinnertime cop-out, but sometimes it's all that those hungry little ghouls are craving. Make their favorite and then give it a spooky twist by using a large coffin-shaped cookie cutter to make these frightfully-delicious little sandwiches.
http://thetimesweekly.com/news/2014/oct/30/rip-banana-pb-j-sandwiches/ Photo by: The Times Weekly
7. Spiderweb Soup
30 minutes? Try 5! All you need to create this spooky supper is some store-bought tomato soup and a bit of plain low-fat yogurt. Or if you're ambitious, try making your own tomato soup ahead of time and reheating on Halloween night.
http://www.grandforksherald.com/content/jessica-karley-spiderweb-soup-jack-o-lantern-stuffed-peppers-and-more-halloween Photo by: Grand Forks Herald
8. Fright Night Frittata
Dinner time doesn't get much easier than a puffy golden frittata and with wholesome eggs and veggie fillings it's a nutritious dinner you can feel good about. Give yours a Halloween themed look by adding cheddar cheese, diced orange bell peppers and sliced black olives for that signature black and orange look.
http://www.foodnetwork.com/recipes/ree-drummond/frittata.html Photo by: Food Network/The Pioneer Woman
9. Sloppy Cola Joe Dogs
On a night of all things sugar, why not embrace it into your dinner time as well? You've probably heard of cola used in pulled pork but it also works really well in these sloppy joe dogs. Plus there's just something a bit creepy about ground beef that makes it work for a quick Halloween supper.
http://www.myrecipes.com/recipe/sloppy-cola-joe-dogs Photo by: My Recipes
10. Slithering Calzone Snake
Pizza is always a good idea. It's a fast, filling option that the kids all love and it only gets better when it's in the form of this slithering calzone snake! Take a short cut by using refrigerated, store-bought pizza dough and fill with all your family's favorite toppings like cheese, pepperoni and bell pepper.
http://allrecipes.com/recipe/130268/spooky-calzone-snake/ Photo by: All Recipes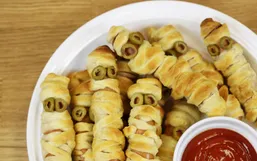 Hallowe'en is a time for spooky, silly, imaginative fun. That doesn't just mean costumes and candy, either.
When Halloween comes, people are divided into two groups- those that love candy, and those that want to spoil it for the rest of...
It's a spooky time of year but with some sweet treats. Halloween parties are a great way for parents and adults to get in the...
Halloween is a great time for children. They get to dress up as superheros, fairy princess, or what ever they like.
Halloween is a great time to go all out with decorations, costumes, and of course food!
Halloween is almost here! People are putting the final touches on their kids costumes and prepping food for their Halloween...
Halloween is all about the treats, because let's face it, without them you're just dressing up in weird clothing and creepily...
Drinks are often the most last minute, and sometimes forgotten element of a party.
Tonight is Halloween! Send your little ones off for trick or treating with a good meal.
It's that time of year when we ditch the elegant and cute desserts, for something a little more...gory.
Halloween is a great time to have the excuse to do what you love - dressing up your pet hilariously.
Halloween is an exciting holiday because you can really go all out.