It's getting chilly and the leaves are turning colors. That can only mean one thing- Halloween is coming! Children of all ages love this special day, and parents do too. It's a fantastic opportunity to spend time as a family decorating the house, making costumes, and eating candy. They're going to eat so much candy after they go trick or treating that you might want to keep their food healthy until then. We have 8 great ideas for snacks to pack in your little ones lunch bags. They're healthy but spooky at the same time!
1. Cheese Snake.
This adorable snake is made from string cheese and cherry tomatoes.
[Source: apinchofjoy.com]
2
2. Witches Broom Sticks.
Make this easy snack with string cheese, pretzels, and chives to tie it all together.
[Source: cocinandoconcatman.com]
3
3. Monster Frog.
Make a fruit monster frog with apples, seeds, and pears.
[Source: squawkfox.com]
4
4. Spooky Spider.
This scary spider is made from pretzels, black grapes, and a plum body.
[Source: kitchenfunwithmy3sons.blogspot.ca]
5
5. Ghost Eggs.
Cut the bottom off a hard boiled egg to make him stand up. Put on eyes and you have a cute little ghost!
[Source: chefmorgan.com]
6
6. Spider Sandwiches.
Cut rounds from a sandwich with a cookie cutter, and stick in baby carrots or pretzels for legs.
[Source: autismlearningfelt.com]
7
7. Spider Web Eggs.
Hard boil eggs, and then crack the shell in small sections. Refrigerate covered in black food coloring for this neat trick.
[Source: health-actually.com]
8
8. Pumpkin Muffins.
Use those holiday baking pans at the back of your cupboard and whip up some cute pumpkin muffins. You can also make a large muffin cake and cut out the shapes with cookie cutters.
[Source: vanillajoy.com]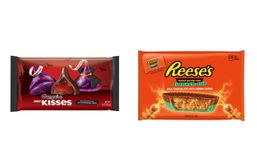 Even though we're currently in the heat of summer, fall is creeping around the corner!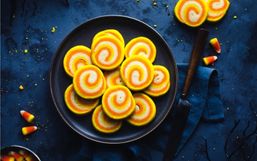 Halloween candy steals the spotlight on this spooky holiday but there are an abundance of other fun treats you can enjoy too!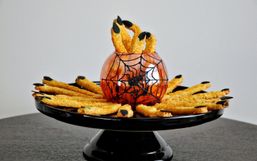 Spooky season is here and it's time go all out for this fun holiday.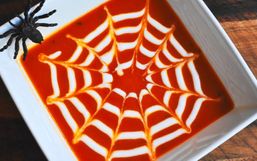 It starts to get dark pretty early when October rolls around, and by October 31st (aka Halloween) you're hard pressed to get a...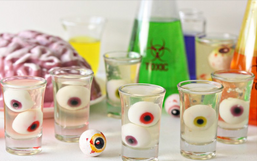 Drinks are often the most last minute, and sometimes forgotten element of a party.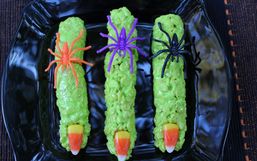 Halloween is all about the treats, because let's face it, without them you're just dressing up in weird clothing and creepily...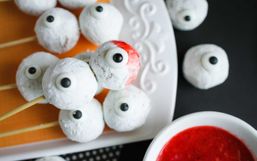 The most wonderful thing about children is the pure excitement for just about everything!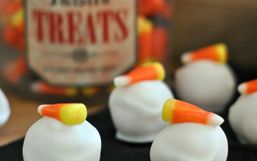 There's nothing better than a new season that brings about all your childhood favorites and those mild food addictions that come...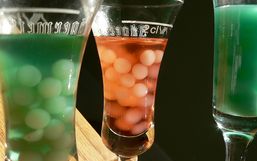 Halloween is almost here! People are putting the final touches on their kids costumes and prepping food for their Halloween...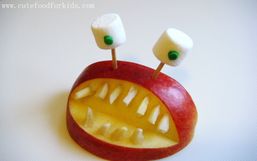 Halloween is a great time for children. They get to dress up as superheros, fairy princess, or what ever they like.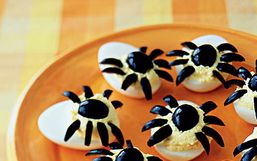 We love Halloween but it can be a very unhealthy time of year. It seems that everything is covered in chocolate and sprinkles and...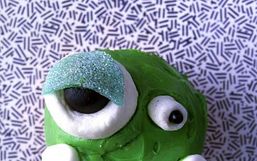 It's a spooky time of year but with some sweet treats. Halloween parties are a great way for parents and adults to get in the...