Making the transition from living at home to living in a dorm can be both exciting and nerve-racking. You're now on your own and that means you have to make meals all for yourself. Unfortunately, there are rules when living in a dorm. Some small appliances are allowed while other's aren't which truly limits your cooking capabilities.
So we're here to help you make the best of your independent living life! We've searched the web and have created a list of delicious meal ideas. These range from delicious breakfast ideas to lunches, dinners, and even snacks too! Some of these are no-bake recipes, while other's require a small kitchen appliance such as a microwave, or a hot plate! Cooking for yourself instead of going out to eat every day will only help your student debt in the long run! So let's get cooking and save your wallet some money while doing it!
1. Margherita Pizza Quesadilla
College kids love pizza, heck who doesn't love pizza? So this time enjoy the delicious flavors of Margherita pizza all wrapped up in a warm quesadilla.
All you'll need is a hot plate, a frying pan, and 4 simple ingredients. Ditch the greasy pizza and your body with thank you for these fresh ingredients!
https://thekitchenpaper.com/margherita-pizza-quesadilla/ PHOTOS AND RECIPE HERE: THE KITCHEN PAPER
2. Easy Leftover Chicken Quesadillas
It's hard to get sick of quesadillas because there are so many different flavors you can enjoy! Our easy recipe uses leftover chicken but if you don't have that on hand you can head to the grocery store and pick up a package of cooked chicken!
In addition to the chicken, you'll also need salsa, tortillas, and shredded cheese! We cooked ours on a panini press but if you don't have one accessible to you, you could cook them in a frying pan using a hot plate too. Enjoy these quesadillas with a side of sour cream, guacamole, and our personal favorite Copycat Chipotle Burrito Sauce.
http://www.forkly.com/recipes/easy-weeknight-leftover-chicken-quesadillas/ PHOTOS AND RECIPE HERE: FORKLY
3. Strawberry Microwave Breakfast Bowl
Admit it, how many times have you skipped breakfast? We get it, your mornings are busy and you're off rushing to classes but we promise this recipe is so quick, easy, and delicious that you'll never want to skip breakfast again.
It's essentially cake for breakfast but it's made from wholesome ingredients so you won't' feel groggy while you attempt to stay awake during your lecture. The best part is that this delicious breakfast cooks in a mug in the microwave. Have your breakfast ready in just a few minutes and grab your mug as you head out the door.
http://www.branappetit.com/2012/05/14/strawberry-microwave-breakfast-bowl/ PHOTOS AND RECIPE HERE: BRAN APPETIT
4. Egg and Cheese Tortillas
Being a student isn't cheap and living a budget-friendly lifestyle is key if you want to help keep that student debt down. So stop heading to the drive-thru on your way to class and make these delicious egg and cheese tortillas in your dorm!
They come together insanely fast because the eggs cook in the microwave. The eggs only need about a minute and a half in the microwave then you can assemble your delicious breakfast burrito, toss it in your bag and head out the door! Your friends are going to envy your delicious breakfast but little do they know it only took you a few minutes to make.
https://www.mrbreakfast.com/superdisplay.asp?recipeid=930 PHOTOS AND RECIPE HERE: MR BREAKFAST
5. Copycat Trader Joe's Everything But The Bagel Seasoning
Okay, I get it, this isn't exactly a meal recipe but trust me, you'll make this seasoning once and you'll find yourself putting it on everything! This popular seasoning can be found at Trader Joe's, however, if you're Canadian this seasoning is hard to come by. Plus, making your own may save you some money too.
Head to your local bulk food store and pick up the ingredients. Head back to your dorm and have this seasoning ready in just a few minutes! Then you'll be able to sprinkle it on anything you want! Some of our favorites are sprinkled on top of avocado toast, eggs, chip dips, and so much more!
http://www.forkly.com/recipes/copycat-trader-joes-everything-but-the-bagel-seasoning/ PHOTOS AND RECIPE HERE: FORKLY
6. Cheesy Broccoli Rice Casserole For One
Finally, a casserole recipe that doesn't feed a whole crowd! This delicious cheesy broccoli and rice casserole is perfect for one and prepared in the microwave which means you can make it comfortably in your dorm room.
The secret is to use microwavable minute rice! Then with a microwave-safe dish, you can have this casserole ready in no time. Make it a full meal and pick up a precooked chicken at the grocery store and enjoy it alongside your cheesy broccoli rice casserole.
https://thetiptoefairy.com/cheesy-broccoli-rice-casserole-one-2/ PHOTOS AND RECIPE HERE: THE TIP TOE FAIRY
7. Waffle Maker Grilled Cheese Sandwich
Did you bring a waffle maker to school but only find yourself using it occasionally? Here's a great way to get more use out that awesome cooking appliance!
School can be stressful and grilled cheese is here to help. After all, it is serious comfort food! With a couple of slices of bread, a dab of butter, and your favorite cheese, you can have this delicious meal whipped together in no time!
https://www.fifteenspatulas.com/waffle-iron-grilled-cheese-sandwich/ PHOTOS AND RECIPE HERE: FIFTEEN SPATULAS
8. Easy No-bake Chocolate Chip Granola Bars
You could pick up granola bars from the grocery store but we promise these are so easy to make and contain many wholesome ingredients. Our recipe is also nut-free which means they'll be safe to take around campus.
There are just enough healthy ingredients and sweet flavors to make these seriously addictive. Make a batch in your dorm room, set them in your mini-fridge and then enjoy a delicious snack all week long.
http://www.forkly.com/recipes/easy-nut-free-no-bake-chocolate-chip-granola-bars/ PHOTOS AND RECIPE HERE: FORKLY
9. 2-Minute Scrambled Eggs
You don't need a hotplate to create these delicious scrambled eggs! Instead, all you need are a microwave and a mug!
The eggs only need about 2 minutes to cook in the microwave. Then you can top them with delicious shredded cheese and your favorite spices – delicious!
http://www.wherethecookiesare.com/2012/02/03/2-minute-scrambled-eggs/ PHOTOS AND RECIPE HERE: WHERE THE COOKIES ARE
10. Peanut Butter Banana Wraps
This is sort of like a peanut butter and banana sandwich, but in my opinion, better! A soft tortilla engulfs creamy peanut butter and delicious banana. It's seriously so good, so easy to make and is seriously filling!
If you have a nut allergy, or there is a nut ban on your dorm floor, simply swap peanut butter for your favorite nut-free butter! This quick and easy meal will tide you over in between classes and/or studying!
http://everydaydishes.com/simple-food-recipes/peanut-butter-banana-wraps/ PHOTOS AND RECIPE HERE: EVERYDAY DISHES
11. Instant Mac & Cheese In A Mug
I know, a box of mac and cheese is not overly complicated to prepare but this recipe is seriously going to blow your mind. You can dig into a cheesy mug of mac and cheese in just 8 minutes – no boiling required!
Simply toss the ingredients in the mug and cook it in the microwave. You'll love the fresh homemade flavors and that it's the perfect serving size for one!
http://www.madebymonique.com/2013/07/04/the-better-instant-mac-cheese-in-a-mug/ PHOTOS AND RECIPE HERE: MADE BY MONIQUE
12. Chocolate Chip Cookie In A Mug
Sometimes you just want to dig into a delicious ooey-gooey chocolate chip cookie, and that is totally okay! Although, trying to bake a batch of cookies in your dorm room isn't exactly easy!
Store-bought cookies don't always cut it so the next time you're craving a delicious homemade cookie be sure to try this easy microwave mug recipe! You're seriously going to love this! Don't be surprised when your friends come wondering down to your dorm room wondering what that delicious smell is!
https://www.purewow.com/recipes/Chocolate-Chip-Cookie-for-One PHOTOS AND RECIPE HERE: PURE WOW
Back to school season is nearly here! We know you're excited to get the whole family back into your routine but with that comes...
Back to school can be a very stressful time for parents. There are daily battles with getting your children showered, dressed, and...
With cooler weather just around the corner, oatmeal will once again be a staple breakfast food.
Packing lunches can be a rushed chore for parents and unhealthy items might get mixed in.
It's getting chilly and the leaves are turning colors. That can only mean one thing- Halloween is coming!
Being a parent can be super fun, but it also has it's challenges.
We try and teach ourselves and our little ones to respect the earth, take care of our precious planet, and be more eco-friendly.
Back to school is coming up soon and parents are searching for great ideas for after school snacks.
Many schools have a morning snack break to help keep the children's energy levels up.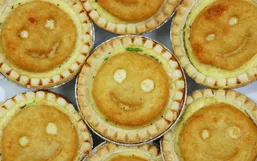 My brain has been in "back to school" mode for a while now. It's not my first rodeo, but it's always my biggest struggle (for...
Most parents love back to school season because that means you can finally get the kids out of the house and give yourself a...
Food Organization inside a lunch bag is one of those arts you must master as a parent.