These waffle puffs will blow your Nutella loving minds! Easy to make without an ove, and instead using a basic waffle iron, along with three other ingredients (yes, only three!) it's the perfect last minute dessert, or late night snack. Nutella recipes FTW!
Ingredients
Puff Pastry, thawed
1/4 cup Nutella
1 cup Mini Marshmallows
Icing/Confectioners Sugar for dusting, optional
Equipment
Waffle Iron
Spatula or knife
Bowl
Method
Heat your waffle iron to a medium heat setting.
Roll out your puff pastry (if you didn't buy a pre-rolled variety).
Using a bowl with approximately the same diameter as your waffle iron, place the bowl upside down on the puff pastry dough, and cut around to create a puff pastry circle. Repeat to have 2 circles total.
Place your puff pastry into the waffle iron, and spread nutella into the centre, spreading outwards but leaving the edges bare.
Sprinkle in mini marshmallows onto the nutella. Then place the second puff pastry circle on top.
Close the waffle iron and cook for about 5 minutes or until cooked through, puffed, and golden brown.
Carefully remove, and let cool slightly before cutting into quarters.
Using the leftover edges of the puff pastry you cut away, make tiny versions of the same in the waffle iron to make this recipe without any food waste.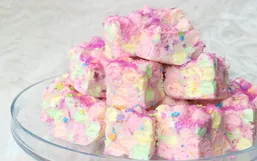 If you've spent any time on the internet at all lately, you may have noticed the growing obsession with rainbows, and pastels and...
We all have those cravings we wish we didn't have. When you're sitting at your desk and all you can think about eating for lunch...
Churros are that one treat that can break the cheat day rule any day of the week.
It's wedding season! The dresses are gorgeous, the people are ecstatic and the cupcakes are show stopping.
When the weather gets warm, the kids come outside to play, the birds start singing, and we are suddenly hot again!
The official wardrobe swap happened for me this weekend. All my knitted winter sweaters are in storage and my summer sundresses...
Summer desserts are always a good idea, especially when they are pre-portioned so you don't overeat all that delicious sugar!
Happy National Sugar Cookie Day! If you were looking for an excuse to make a batch of these chewy, heavenly wonders, this is a...
Avocados are an amazing food to incorporate into breakfast, lunch and dinner, but what about dessert?
Happy National Pecan Pie day! Pecan Pie is one of those desserts you either love or hate.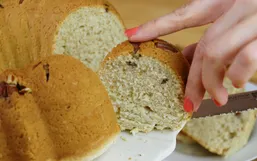 Ever come home from the store and unloaded your bags and had the devastating realization that your tub of ice cream was left too...
Baking a cake for a special occasion is never a bad idea, especially when you can make it look Pinterest worthy and super yummy.