Energy balls are a great way to stay healthy and obviously – energized, while on the go! Easily made without baking you can make these in large batches, store to enjoy over time. They're incredibly simple to make, and with the use of protein from a seed-butter as opposed to a nut-butter, it's also safe for school lunches. Health food should never really be boring though, so of course – sprinkles and the flavor of cake batter always helps 😉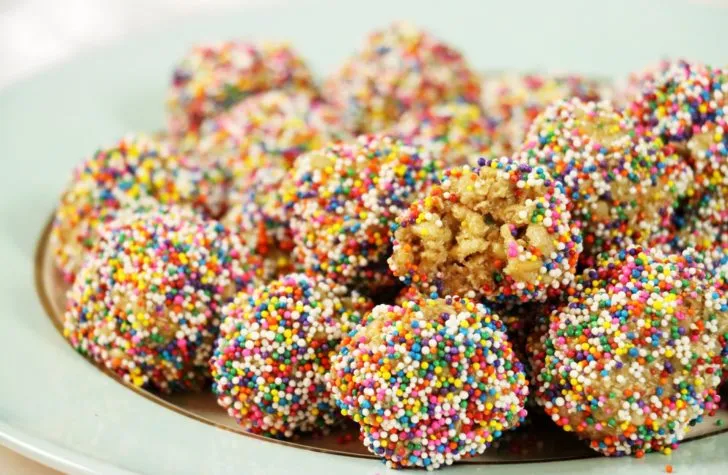 Ingredients
2 cups gluten-free brown rice krispies
1 cup of oat flour (or make your own by putting rolled oats in a food processor)
1/2 cup raw honey (substitute for agave to make it vegan)
6 tbsp sunflower seed butter (we used Sunbutter)
2 tsp vanilla extract
1/2 tsp salt
Rainbow Sprinkles
Non-stick cooking spray
Method
Combine all the dry ingredients and gently mix.
Separately, mix together your seed butter, vanilla and honey (be sure to warm it up quickly in the microwave if it's not already in a pouring liquid state).
Pour the wet mixture, over the dry mixture and add in your sprinkles. Combine well.
Using about approximately a tablespoon of the mixture at a time, roll your mixture into a ball, then into a bowl of sprinkles to coat. **you will simplify this step by spraying your hands with non-stick cooking spray before rolling**
Continue rolling, and coating in sprinkles until you've used all the mixture. Then, enjoy!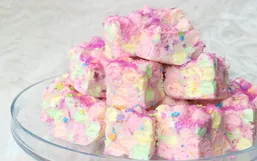 If you've spent any time on the internet at all lately, you may have noticed the growing obsession with rainbows, and pastels and...
We all have those cravings we wish we didn't have. When you're sitting at your desk and all you can think about eating for lunch...
Churros are that one treat that can break the cheat day rule any day of the week.
It's wedding season! The dresses are gorgeous, the people are ecstatic and the cupcakes are show stopping.
When the weather gets warm, the kids come outside to play, the birds start singing, and we are suddenly hot again!
The official wardrobe swap happened for me this weekend. All my knitted winter sweaters are in storage and my summer sundresses...
Summer desserts are always a good idea, especially when they are pre-portioned so you don't overeat all that delicious sugar!
Happy National Sugar Cookie Day! If you were looking for an excuse to make a batch of these chewy, heavenly wonders, this is a...
Avocados are an amazing food to incorporate into breakfast, lunch and dinner, but what about dessert?
Happy National Pecan Pie day! Pecan Pie is one of those desserts you either love or hate.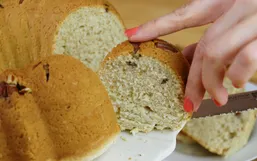 Ever come home from the store and unloaded your bags and had the devastating realization that your tub of ice cream was left too...
Baking a cake for a special occasion is never a bad idea, especially when you can make it look Pinterest worthy and super yummy.