We tried out this "ice cream bread" thing not only once, but twice! We first made a light and nutty butter pecan ice cream bread, but were dying to try a more coloful and exciting way to enjoy one of our all time favorite ice cream flavors – CAKE BATTER!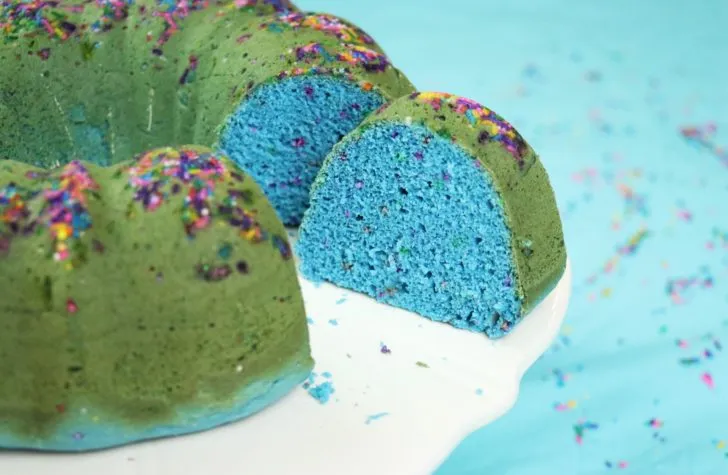 With only two ingredients + sprinkles, you can take some melted ice cream, and turn it right into bread.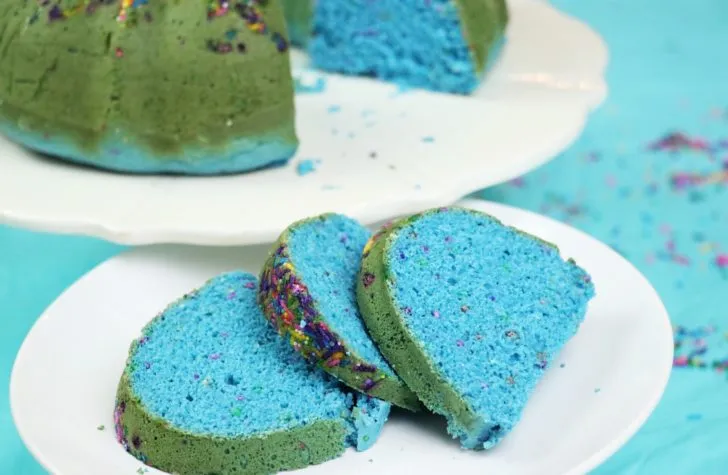 Seriously! It works!
Ingredients
1.5L (or 1.5 quart) Tub of Birthday Cake Ice Cream
3 cups Self-rising Flour
Blue Food Dye
Rainbow Sprinkles
Equipment
Bundt Pan
Mixing Bowl
Non-stick Cooking Spray
Method
If your ice cream isn't already a little melty, let it sit out at room temperature for 10-15 minutes.
Preheat your oven to 350 degrees Fahrenheit.
In a large mixing bowl, pour out your melty ice cream, and add one cup of self-rising flour at a time until it's well blended as a cake batter. Add blue food coloring and extra sprinkles here if you'd like. Set aside.
Spray your bundt pan with a non-stick cooking spray, and add sprinkles to the bottom (which will be the "top" of your bread when finished).
Pour batter evenly into the bundt pan, and spread to make it even.
Bake for 35-40 minutes or until a toothpick inserted comes out clean.
Allow it to cool completely before turning the bundt pan upside-down and gently allowing the bread to come out. Slice and serve, however you please!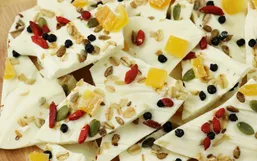 Looking for a healthier version of a chocolate bark? With bulk stores now selling greek yogurt chips, we decided to try our hands...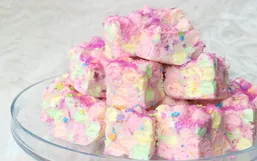 If you've spent any time on the internet at all lately, you may have noticed the growing obsession with rainbows, and pastels and...
We all have those cravings we wish we didn't have. When you're sitting at your desk and all you can think about eating for lunch...
Dessert is just about everyone's favorite part of a meal. All those brownies and cakes can make even the most nutritious person's...
It's wedding season! The dresses are gorgeous, the people are ecstatic and the cupcakes are show stopping.
When the weather gets warm, the kids come outside to play, the birds start singing, and we are suddenly hot again!
Each summer, parties are happing in the street, at the park or on the water.
Summer desserts are always a good idea, especially when they are pre-portioned so you don't overeat all that delicious sugar!
Happy National Sugar Cookie Day! If you were looking for an excuse to make a batch of these chewy, heavenly wonders, this is a...
Rainbow foods are all the rage right now and we aren't mad at it! Rainbows make everyone feel good and can often fill your plate...
Happy National Pecan Pie day! Pecan Pie is one of those desserts you either love or hate.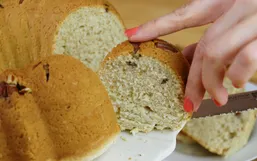 Ever come home from the store and unloaded your bags and had the devastating realization that your tub of ice cream was left too...