Chicken breast is an incredibly popular dinner main. Popular for its light taste, lean protein benefits, low price tag, and versatility across so many recipes, it's an obvious choice. Despite all that, it can get boring (fast) if you're not finding new recipe inspirations to keep you going. Especially if you're like me and buy a bulk pack of chicken and then begin looking for creative ways to use them up! Whether it's wrapped, stuffed, shredded, diced, or grilled you'll never have a boring meal with chicken breast ever again. Well, not if you use one of these recipes, that is!
1. Bacon Wrapped Jalapeno Popper Stuffed Chicken Breast
It may look like a lot of work, but it's not! With only 5 ingredients, this recipe requires minimal work and less than 30 minutes.
2. Rosemary Almond Crusted Chicken Breast
When you're constantly looking for new ways to serve up chicken breast for dinner, remaining a creative and culinary kick-ass can be difficult. But crusting your chicken in rosemary and almonds is certainly a good way to go!
3. Greek Chicken Souvlaki
By cutting your chicken breasts into 1-inch cubes and brushing with a homemade marinade, this is a really fun (a-ha, not boring!) way to enjoy chicken breast. Meat on a stick is always a good idea after all!
4. Instant Pot Buffalo Chicken Sliders
These sliders are perfect for a party or potluck! All you need is your Instant Pot, about 30 minutes, and 8 simple ingredients (you probably have at least half of them at home already) to whip these up. Everyone will think you've been hard at work in the kitchen when you really will have only spent a few minutes on the dish, drinking a glass of wine in between the four easy steps.
5. Slow Cooker Ritz Chicken
It doesn't get any easier than this. With canned chicken soup, sour cream, Ritz crackers, a bit of butter and of course – chicken breast, these will cook all day and be ready for you when you get home from work. Plus, it's a totally kid-friendly recipe, too!
5. Chicken Stuffed With Mozzarella, Tomato & Basil
We've all seen stuffed chicken breast…but in an armadillo style like this? Things are getting exciting! Any reason for cheese, am I right?
6. Instant Pot Chicken Pot Pie
From cooking the fillings on the stove top to rolling out the pie dough to baking the whole dish in the oven – just thinking about making traditional chicken pot pie is exhausting! While it was one of my favorite meals as a child, my now busy lifestyle doesn't accommodate labor-intensive recipes! With that said we set out to find a way to make this family-favorite meal easy, without sacrificing flavor. Thanks to the Instant Pot, we have the perfect solution.
7. Maple Glazed Skillet Chicken Breasts With Sweet Potato Hash
Here's a one-pan dinner that is served with an amazing maple glaze. Plus, it's a 30-minute meal, keeping your weeknights easy and delicious.
8.  Healthy Baked Chicken Parmesan
These chicken breasts are coated in cheese and breadcrumbs, topped with marinara sauce and more cheese, then baked (instead of fried) for a healthier chicken parm. Don't be intimidated! It's only about 10 minutes of prep before the oven takes over and does the rest of the work.
9. One-Pan Balsamic Chicken & Veggie Dinner
When it comes to an easy weeknight dinner, cooking a meal for the family all on one pan is certainly the answer. Using this recipe for balsamic chicken, along with any veggies you have kickin' in the fridge, is sure to keep you happy, healthy, and full.
10. Instant Pot Kung Pao Chicken
Ordering fast food is a great option for when you want to dine in or takeout with friends, for busy weeknights, and for when you're truly just too exhausted to cook. However, nothing beats the satisfaction of knowing exactly what goes into your meal by preparing it yourself. We were determined to find a way that combines the convenience of takeout Kung Pao Chicken with good ole' home cooking. And we did just that with our Instant Pot!
11. Kung Pao Chicken
Don't have an Instant Pot? No problem! We've got you covered with this stovetop version. With only 20 minutes of prep time, you can have a perfect copycat recipe that goes head-to-head with your favorite take-out variety of Kung Pao. With a full pound of chicken breast, you'll be happy you bought that family size pack of chicken.
12. Chicken with Bacon Mustard Sauce
Mustard chicken is a favorite in my house. The gluten-free one-pan part of this dinner made me pin it for my own menu plan. Mmmm…bacon….
13. Chicken Lazone
Chicken breasts pan-fried and served with linguine and an "out-of-this-world" cream sauce, that's simple to make, delicious and easy to serve.
14. Candied Chicken
The sticky sweet, tangy delicious coating on these chicken breasts are exactly what you need to get your kids out of thinking nuggets are the only way to enjoy chicken. With a brown sugar and ketchup-based sauce, it'll bake in a sauce that will "candy" it just enough to make this an unforgettable dish.
15. Quick & Easy Instant Pot Chicken Ramen
There's nothing quite like a pressure cooker to make a complex dish come together in a record amount of time and this ramen is no exception. The depth of flavor in this easy homemade ramen can't be beaten and you don't even have to leave your house. Now that's anything but boring!
16. Easy Weeknight Leftover Chicken Quesadillas
These quesadillas use leftover or rotisserie chicken to make a quick lunch or dinner that's oh so easy and cheesy and toasted up just perfectly into little triangles for the whole family to devour.
17. Blackened Chicken Tacos With Pineapple Salsa
When you feel like having a weeknight in-house fiesta, this is the recipe for you. Omgosh….drool.
18. Sweet Sriracha Chicken Breast
I'm not gonna lie…I saw the word "sriracha" and immediately added it to this list. Digging in a little deeper, it looks like my hot sauce loving intuitions are right with this one. It's impossible to be boring with sriracha!
19. Instant Pot Chicken Breast
It seems like everybody and their mother got an Instant Pot this last Christmas and for good reason! This chicken breast cooks quickly in the pressure cooker and is oh-so-delicious.
20. Brown Sugar Lemon Chicken Breast
The reviews on this recipe are making this one a surefire hit, with people exclaiming it might just be their new favorite chicken recipe. If that's not a reason to try it, I'm not sure what is!
21. Sundried Tomato Spinach & Bacon Chicken
Smothered and baked, this savory chicken dinner will be your new favorite way to enjoy chicken breast. Plus, it's covered in melty cheese, so it has my vote!
22. Italian Herb Bruschetta Chicken
If you're looking for the perfect low-carb way to enjoy bruschetta, this chicken breast recipe is exactly what you need in your life! Perfect for Spring and summer grilling. Yum!
23. Stupid-Easy Slow Cooker Shredded Mexican Chicken
The title says it all. Stupid-easy. Just using chicken breast, salsa and taco seasoning, your slow cooker will infuse the flavors into your meat, and tenderize the chicken to be perfectly shredded apart, just in time for dinner. Yes, please!
24. 30-Minute Instant Pot Orange Chicken Dump Dinner
It's time to enjoy some delicious takeout-inspired food made at home! You all loved our 15-minute Instant Pot Orange Chicken so much that we wanted to take those flavors one step further and turn it into an incredibly easy dump-and-go dinner that doesn't require any sautéing! It's packed with citrusy sweet flavor that will make this a favorite in your home.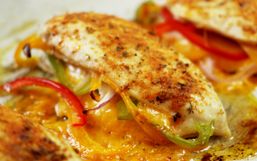 It's no surprise that chicken breast is such a popular dinner choice for so many families.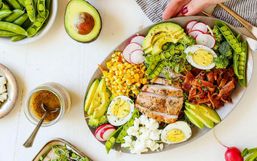 Chicken is a great staple in the kitchen. It tastes wonderful on its own and you can make it in many different styles.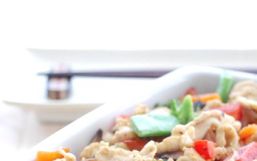 Chicken stir-fry is an easy and healthy meal that has become a staple in many households.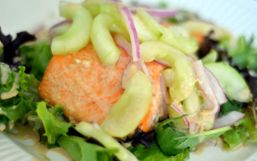 Spring is officially upon us and there's no better time than now to start dreaming up some fresh and delicious meal ideas.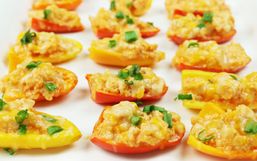 When you're starting or living on a low-carb diet, snacks and appetizers is often the biggest hurdle to overcome.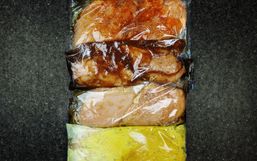 While summer brings out that desire to get marinading and grilling up a storm, these recipes for marinades will last you all year...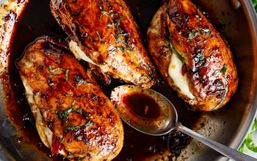 Chicken is a great go-to meal when you don't know what to make for dinner.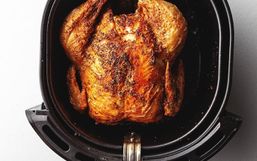 We all crave delicious fried food from time to time. However, if those cravings become a regular habit, then those fried foods can...
Chicken is a great supper option to fill up on tons of protein without overloading on fat or calories.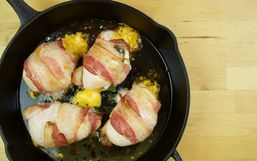 There's no denying that jalapeño poppers are a fan-favorite appetizer!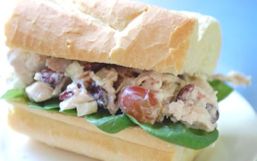 A great way to add some flavor to your sandwich or wrap is by adding chicken.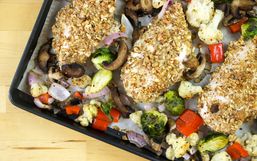 Sheet pan dinners are the answer to all your weekday dinner problems.